NVIDIA GeForce RTX 4080 (Laptop, 175W) in 42 gameplay videos with benchmarks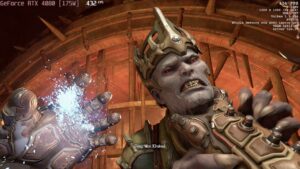 Yes, the mobile NVIDIA Ada Lovelace GPUs are here and today we're going to show you the performance of the NVIDIA GeForce RTX 4080 (Laptop, 175W). This brand-new beast has a hefty power limit and on top of that in some games the performance difference between the new fella and a high-TGP version of RTX 3080 is mindblowing. For Example, in Assassin's Creed: Valhalla on Ultra, the GeForce RTX 3080 (165W) is able to show 80FPS while the GeForce RTX 4080 (175W) achieved 147FPS which is a whopping 84% advantage for the new GPU!
The good news is that this video card is great for playing on Ultra details no matter the title – Shadow Of The Tomb Raider, God Of War, Call Of Duty: Modern Warfare II, Call Of Duty: Warzone 2.0 – you name it, everything is smooth like butter. We have a playlist with 42 gameplay videos with benchmarks including some new games like The Witcher 3 Nex-Gen Edition. You can have a look at all the gameplay videos in the playlist below:
https://www.youtube.com/playlist?list=PL5tfZxOrEucEUCjh04ZrM1fLSRPDoTkRr
As always, if you like our videos, please subscribe, hit the notification bell, leave a comment, a thumb up, or share whatever you like.
More great videos are about to come so stay tuned:
LM Benchmarks YouTube channel
All laptops equipped with the NVIDIA GeForce RTX 4080 [175W]