[Video Review] HP 15s (15s-eq3000) – Affordability is the main priority
HP 15 (15s-eq3000) in-depth review
Chances are high that the HP 15s (15s-eq3000) has appeared when you looked for affordable notebooks online. And this means that Google has done its job well because this is one of the most viable options for your search. Of course, there are laptops like the Lenovo IdeaPad 3 (15", 2022), or the Acer Aspire 3 (A315-43) that may also be good options. However, if you are looking for something with power and a really, really low price tag - the HP 15s is the place to be. But what is the hardware in question? Well, you can rely on the refreshed Ryzen 5000U series with the top-end option bein[...]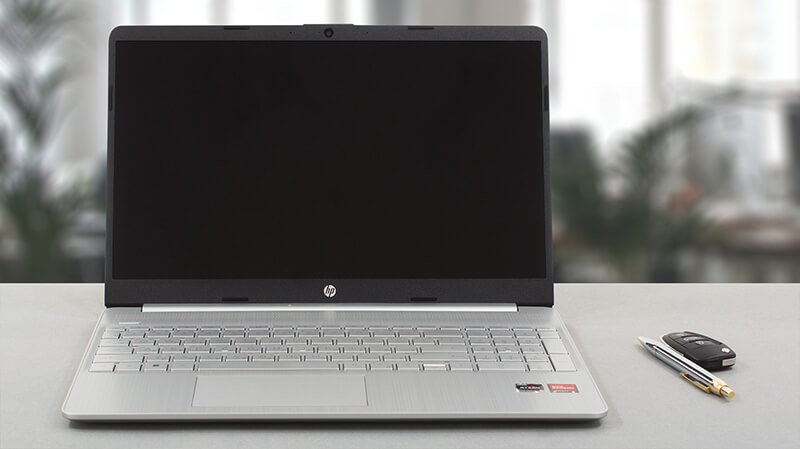 Pros
Low price
2x SODIMM + 1x M.2 PCIe x4
SD card slot
No PWM (AUO5799)
Good power efficiency
Comfortable keyboard
Optional fingerprint reader
Cons
Covers only 52% of sRGB (AUO5799)
USB Type-C is only used for data transfer
Plastic build
HDD/SSD
up to 2000GB SSD
OS
Windows 11 Pro, Windows 11 Home, No OS
Battery
41Wh, 3-cell , 41Wh, 3-cell
Body material
Plastic / Polycarbonate
Dimensions
358.5 X 242 X 17.9 mm
2x USB Type-A
3.2 Gen 1 (5 Gbps)
1x USB Type-C
3.2 Gen 1 (5 Gbps)
Card reader
SD, SDHC, SDXC
Audio jack
3.5mm Combo Jack
Fingerprint reader
optional
Web camera
HP TrueVision HD with temporal noise reduction
Backlit keyboard
optional
Microphone
Dual Array Digital Microphones
Speakers
Dual Speakers, HP Audio Center
All HP 15 (15s-eq3000) configurations
#CommissionsEarned
[Intro]
The specs and price tag of the HP 15s are very convincing by themselves if you're looking for an affordable laptop. However, let's dig deeper and see if there's more to it that will catch our eye.
[Design]
The laptop has a simple plastic construction that could do with some more rigidity. The base and lid are flexy, but on the other hand, the laptop is pretty portable, weighing only 1.69 kg and having a profile of 17.9 mm.
[Input devices]
The lid doesn't allow for a one-handed opening, however, the base does hide some gems, mainly the large speaker grill and the full-sized keyboard. It doesn't have the best feedback, but the key travel is long so typing is comfortable. The touchpad's aspect ratio doesn't match the one on the display, but we're happy with its accuracy.
[Ports]
The port selection is more good than bad. We have two USB Type-A 3.2 (Gen. 1) ports and a power plug on the left. On the other side, an HDMI 1.4b port, one USB Type-C 3.2 (Gen. 1) port, an audio jack, and an SD card reader.
[Display]
The Full HD IPS panel is great for general use, as the viewing angles are wide, and with 287 nits of brightness, content will look good. The screen is comfortable to use for prolonged sessions, thanks to the flicker-free backlight. With the hardware that's available, you will be able to do some Creator work, but you'd have to sacrifice color grading, as the display covers only 52% of the sRGB color gamut, which is to be expected from a more affordable setup.
The accuracy also doesn't improve by that much, with the dE value going as low as 3.8 with our Design and Gaming profile.
You can check out all three of our profiles in the link in the description.
[Sound]
For a budget laptop, we're happy with the speaker setup. Not only does it fire directly at you, but it also has no significant deviations across all frequencies. There is some distortion at max volume, but that doesn't change our opinion of the audio.
[Battery]
The 41Wh battery pairs well with the Ryzen 5 5625U, lasting for 9 hours and 24 minutes of Web browsing, or 8 hours and 49 minutes of video playback.
[Performance]
The Ryzen 5 is a fantastic mix of efficiency and performance, while its integrated graphics allow you to do some light gaming. The CPU is close to the Core i5-1235U in terms of Cinebench R23 scores, however, Intel CPUs are still wickedly quick in Photoshop.
[Cooling]
While the Ryzen 5 5625U is easy to cool down, it still should have gotten a better setup. The one pipe and one fan that we have here result in some of the worst long-run performance that we've seen from the CPU. On the other hand, the clock speeds, in the beginning, are good, so the laptop is performing well in short bursts, which means that 99% of the time it's great.
During these winter times, you'd like a hotspot of 46°C, while the one fan is quiet.
[Teardown and upgradeability]
The laptop has two SODIMM slots for DDR4 memory and one M.2 slot for SSDs. If you plan to game on this office machine, you should definitely add a second stick of RAM, as integrated graphics love dual-channel memory.
We have a teardown video of the HP 15s, which shows how to upgrade the RAM and storage.
[Verdict]
The HP 15s is a good budget machine that solves its issues from last gen's machine, which makes it a daily driver that would have no problem being an office machine on the side. It doesn't come with a fancy fingerprint reader or facial recognition, but unless you're CIA-bound you'd do fine. As every affordable laptop, this has its flaws, like the warm external temperature under high load, but you'll be fine if you don't use it for rendering.
For a broader look at the HP 15s, you can check out our detailed review on our website. It's available down in the description.