[Video Review] HP EliteBook 650 G9 – Covers all the necessities
HP EliteBook 650 G9 in-depth review
HP's EliteBook brand is a far more recognizable business notebook among the high profile user. It is very reliable and feels really premium. Now, the EliteBook 650 G9, which we have with us today, is something that feels a bit in the gray zone. Ever since HP makes the business 600 series, it has been calling it a ProBook. However, in 2022, it transferred the model to the more premium EliteBook family. We are yet to see if the laptop belongs to the ProBook, or can really be considered as an EliteBook. Looking at the specs sheet, we get positive notes. You can find the machine with 15W or[...]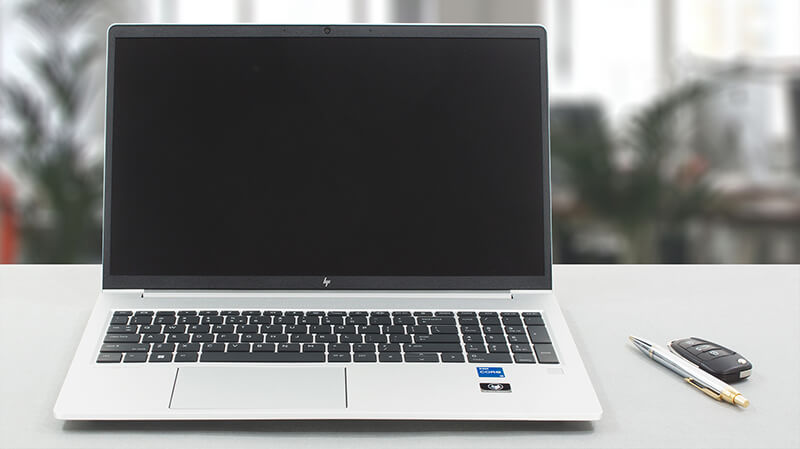 Pros
Pretty affordable
Great upgradeability
Thunderbolt 4 connector + wide I/O
Optional fingerprint reader and IR face recognition
No PWM (LG LGD071E)
Quiet under extreme load
Optional LTE support
Cons
Only 51% sRGB coverage (LG LGD071E)
No SD card slot
HDD/SSD
up to 1000GB SSD
M.2 Slot
1x 2280 M.2 PCIe 4.0 x4 + 1x 2230 M.2 PCIe See photo
OS
Windows 11 Pro, Windows 10 Home, Windows 10 Pro, Windows 11 Home
Battery
51Wh, 3-cell, 42.75Wh
Dimensions
359.4 x 233.9 x 19.9 mm (14.15" x 9.21" x 0.78")
2x USB Type-A
3.2 Gen 1 (5 Gbps)
1x USB Type-A
3.2 Gen 1 (5 Gbps), Sleep and Charge
1x USB Type-C
4.0, Thunderbolt 4, Power Delivery (PD), DisplayPort
Audio jack
3.5mm Combo Jack
Fingerprint reader
optional
Backlit keyboard
optional
Microphone
Dual Array Microphones
Speakers
Dual Stereo Speakers
Security Lock slot
Kensington Lock
The EliteBook 600-series is trying to open up the brand for more consumers, with the 640 G9 being a fantastic and portable laptop. Now, we have the bigger 15.6-inch member of the family, the EliteBook 650 G9, which brings the same hardware but in a larger chassis, so it will be interesting to see how it performs.
[Intro]
On the outside, we see a standard business-inspired design, with a silver finish, sharp edges, and rounded corners. The laptop is made from aluminum, which improves the durability by a decent amount, but there's still some flex when we twist the lid or press on the base. The EliteBook is quite portable, with a weight of just 1.74 kg and a profile of 19.9 mm.
[Input devices]
The lid opens easily with one hand, showing off thin bezels on all four sides. The top one has an HD Webcam, but you can get a Full HD model with an IR sensor for face recognition. The base comes with a fingerprint reader below and a speaker grill above the keyboard. The board itself is very good, with a backlight and spill resistance. Typing feels great, as the key travel is long and the feedback is clicky. The touchpad sways a bit to the left, however, its surface is really smooth and the tracking is quite clicky.
[Ports]
Going to the sides, the I/O shows good coverage. The left side has a LAN port, one full-sized 5-gigabit USB port, and an optional SmartCard reader. On the other side, we have the power plug, one Thunderbolt 4 port, two more full-sized 5-gigabit USB ports, an HDMI 2.0 port, an audio jack, and an optional SIM card tray.
[Display]
The display selection includes a 1366 x 768p TN panel or a Full HD IPS panel. We tested the FHD option, which is okay for daily use and office work, however, with only 51% sRGB coverage, professional color-related work is out of the question. However, the laptop isn't targeting designers or creators, so we think the display is suitable, with no PWM usage.
Since the laptop is suited for the office, we'll link our Office Work profile, which improves clarity when looking at pieces of text or tables.
[Battery]
There's definitely more space for a larger battery pack, but HP thinks it's okay to offer a 42.75Wh unit. It lasts for 9 hours and 15 minutes of Web browsing, or 7 hours and 17 minutes of video playback.
[Performance]
These results are accomplished with the Core i5-1235U, which doesn't perform as well as we would want. The Dell Latitude 15 3530 does a lot better in 3D Rendering with the same CPU, but the EliteBook is still a bit quicker in Photoshop. There are other CPU options available, including two P-series chips.
[Cooling]
The device uses one heat pipe and one fan, which is enough for a 15W CPU. We see very high clock speeds and up to 45W in the first few seconds of our test, which is more than enough for basic work and quicker tasks. In the long run, the CPU settles at 24W, so we are pretty happy. Temperatures do get high, but they can't really be felt on the outside, as the base reaches only 35°C. Noise isn't an issue as well.
[Teardown and upgradeability]
Since this is a larger laptop, it has space for two SODIMM slots for up to 64GB of DDR4 memory in total and two M.2 slots, both of which can fit Gen 4 SSDs.
We have a separate teardown video, which shows how to upgrade the HP EliteBook 650 G9. We'll leave a link in the video description.
[Verdict]
The EliteBook 650 G9 is a great business device with a solid chassis and good upgradeability. The short-load performance is good as well, so you'll have a snappy experience when using it. All in all, it might sweep the rug under the ProBook series, so HP should be pretty careful with pricing and how they position the series in their hierarchy.
For more info about the EliteBook 650 G9, you can go over our written review which shows even more tests.