[Video Review] Lenovo IdeaPad 5 Pro (14″, 2022) – Deserves the praise it's getting
Lenovo IdeaPad 5 Pro (14" , 2022) in-depth review
Lenovo is riding the tide of affordable pro-ready notebooks. In fact, its brand identity makes it some sort of a pioneer in this sphere. As such, it has a reputation to defend, rather than develop. The laptop we have in for a review is the IdeaPad 5 Pro (14", 2022). As the name suggests, it is a 14-inch device made in 2022. It is also found under the name IdeaPad 5 Pro 14 Gen 7, or IdeaPad 5 Pro 14IAP7. Regardless of what you call it, you can find it with Intel's Alder Lake P-series processors. As you can see from our CPU Ranking, the Core i7-1260P and the Core i5-1240P sit pretty high [...]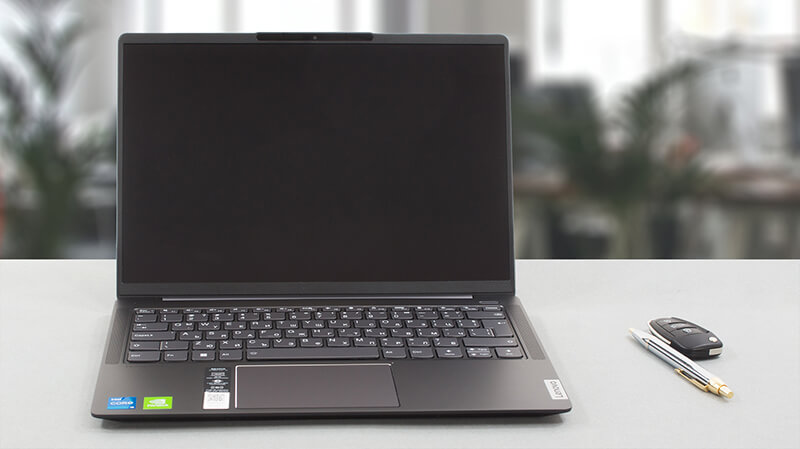 Pros
Reasonably performance
No PWM (AUO B140QAN04.0 (AUOC391))
Good build quality
Decent input devices
Populous I/O which includes an SD card reader
IR face recognition camera
97% sRGB coverage and accurate color representation with our Gaming and Web design profile (AUO B140QAN04.0 (AUOC391))
High-resolution display options with a 16:10 aspect ratio and 90Hz refresh rate)
Cons
No Thunderbolt
Unimpressive battery life
Memory is soldered to the motherboard (max 16GB)
AUO B140QAN04.0 (AUOC391)
HDD/SSD
up to 1000GB SSD
OS
Windows 11 Home, Windows 11 Pro
Dimensions
312.2 x 221 x 15.9 mm (12.29" x 8.70" x 0.63")
1x USB Type-A
3.2 Gen 1 (5 Gbps)
1x USB Type-A
3.2 Gen 1 (5 Gbps), Sleep and Charge
2x USB Type-C
3.2 Gen 1 (5 Gbps), Power Delivery (PD), DisplayPort
Card reader
SD, SDHC, SDXC, MMC
Audio jack
3.5mm Combo Jack
Fingerprint reader
optional
Web camera
FHD with IR, Fixed Focus
Microphone
Dual Array Microphone with Noise Cancellation, Support for Lenovo Voice Assistant/ Amazon Alexa
Speakers
2x 2W Stereo Speakers, Dolby Atmos
[Intro]
Lenovo is making it really easy to get a notebook for professional work, be it design or everything else. Its IdeaPad 5 Pro comes in a compact 14-inch chassis and offers the best of the performance and efficiency worlds combined: the Alder Lake P-series. Will it be your next notebook, stick around to find out.
[Design]
As we said, the IdeaPad 5 Pro is very compact. It weighs only 1.42 kg while having a profile of 15.9 mm. An aluminum construction helps a lot with that while keeping the laptop rigid. There is some slight flex from the lid, however, generally, we're happy with it. What's more important is that it opens with one hand, showing off thin bezels with an FHD webcam and an IR sensor.
[Input devices]
On the base, there are two speaker grills flanking the keyboard, as well as the touchpad. The keyboard is superb for typing. The key travel is long, while the feedback manages to stay clicky and quiet, which is very impressive. It also has a backlight, which certainly helps if you're a night owl. The touchpad has a shiny silver bezel around it, as well as a Mylar finish, which is extra smooth.
[Ports]
Going to the sides, we find two USB Type-C 3.2 (Gen. 1) ports, an HDMI 2.0 port, and an audio jack. On the opposite end, there are two USB Type-A 3.2 (Gen. 1) ports and an SD card reader, which makes us very happy. You can connect up to three additional external monitors through the HDMI and two USB Cs, which is more than enough, even if you're the biggest productivity freak in existence.
[Display]
The display is a literal shining star of the device. It's got a very high 2.8K resolution and a 16:10 aspect ratio. It also gets very bright, up to 479 nits. Even if you're not a gamer, you'll appreciate the 90Hz refresh rate, which makes scrolling and moving around the menus and tabs incredibly smooth.
Colors look spectacular, thanks to the 97% sRGB coverage, while our Design and Gaming profile significantly improves the accuracy, lowering the dE value from 4.7 to 1.7, putting it well within the usable range.
We'll link our profiles in the description below.
[Sound]
The sound system of the IdeaPad 5 Pro doesn't have any special branding from certain high-end audio companies, however, it still brings Dolby Atmos support for that special spatial sound experience. The units produce crips and loud audio while showing no deviations from clarity in our test chart.
[Battery]
Here's where we get to one of the negatives about the laptop, and it's the battery. The capacity at this size is alright, coming at 56.5Wh. However, it only lasts for 6 hours and 5 minutes of Web browsing, or 6 hours flat of video playback. Thankfully, the 100W power adapter is tiny, so it won't be a problem to take it with you.
[Performance]
The Core i5-1240P is definitely a fun CPU to play with, offering 12 cores and 16 threads. You can also go for the Core i7-1260P, which shares the same core count but has 6MB of extra cache, so the choice is up to you. When put against competitors, the IdeaPad performs worse than the Zenbook 14 OLED and the MSI Prestige 14 with the same CPU, but its discrete NVIDIA GPU is much better in the 3DMark benchmarks, despite being the exact same unit. Of course, we're talking about the MX 550, which has 2GB of GDDR6 memory and blows past the integrated solutions.
In fact, it could be a decent gaming companion at 1080p, as you can see from our Need for Speed Heat benchmark, where it maintains 40 fps at Ultra settings.
If you need extra GPU power, you can also go for the RTX 2050, with 4GB of GDDR6 memory.
Here's where we have to shout out our LaptopMedia benchmarks channel, where we've just passed 1000 subs, which we're very thankful for. Of course, we want to keep going, so go on over there for gameplay with the most popular GPUs in the latest games.
[Cooling]
Undoubtedly, the CPU is fairly easy to keep in check, so we have a simpler setup with two heat pipes and one fan. In the stress test, we see very high clock speeds and wattage in the first 10 seconds, spiking to 64W and 3.07 GHz, respectively, which is important when you're opening apps or doing work in short bursts. After that, the CPU settles at 28W and a speed of 1.77 GHz. The GPU isn't reaching really high clock speeds, trailing behind the HP Pavilion Plus 14 and the Dell Latitude 15 5531.
On the other hand, this approach makes the laptop comfortable for prolonged work, as the fan doesn't get loud, while the base warms up slightly, but doesn't get uncomfortable.
[Teardown and upgradeability]
Checking out the laptop on the inside, and there's not much to do, except upgrade the storage through the single M.2 slot. The RAM is soldered onto the motherboard, and you get only 16GB, which will run out quickly if you're a heavy user.
If you want to know how to do it, we have a separate teardown video, which shows the process.
[Verdict]
With a few misses when it comes to the battery and upgradeability, the second of which is excusable in this form factor, the IdeaPad 5 Pro is a reliable and feature-packed machine. It's small enough but brings just the right amount of power to help you handle complex video edits while looking great and running cool and quiet.
For a deeper look at it, the review over on our website has you covered, offering more comprehensive testing. You can check it out in the description.