Aorus X5 MD – Max-Q gaming notebook featuring a GeForce GTX 1080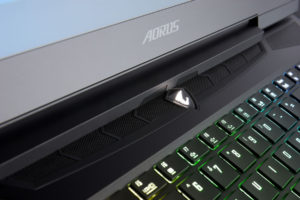 Aorus unveiled one of the first few gaming notebooks that are built using the new NVIDIA Max-Q design. The Max-Q design allows for thin and light gaming notebooks to feature high-end graphics cards like the GTX 1070 and 1080. That's the case with the Aorus X5 MD.
Aorus X5 MD features the GeForce GTX 1080 GPU, a 4K display and even an unlocked overclockable CPU – the Intel Core i7-7820HK (2.9 GHz – 3.9 GHz, 8 MB L3 cache). All this is packed inside a 22.9mm-thick chassis which is not nearly as thin as the ROG Zephyrus which measures just 17.9mm but then again X5 MD is equipped with an overclockable CPU. However, the X5 MD is 2.5 kg in weight which is by no means heavy for a gaming notebook but it's not the lightest out there.
The 15.6-inch IPS 4K display is G-Sync enabled so you will have a smooth gaming experience. Unfortunately, no 120 Hz refresh rate. The screen is also calibrated by X-Rite so it can display accurate Pantone colors. You get a Thunderbolt 3 port, HDMI 2.0 and mini DisplayPort so you can attach up to three external 4K monitors.
Storage options are not detailed but what we know is that you will get two PCIe NVMe slots and one regular 2.5-inch SATA slot. Pricing and availability are not disclosed but we expect it to release soon and the price will vary with storage.
Meanwhile, you can check all currently available Aorus products over here: http://amzn.to/2rmNPiD