Samsung Galaxy S7 has up to 58% longer battery life than its Galaxy S6 predecessor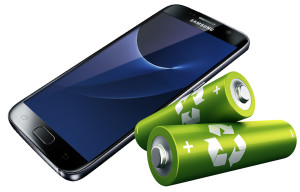 One of the upgraded components of the new Samsung Galaxy S7 compared to its S6 predecessor is the battery. S7's battery capacity is 3000 mAh, which is 18% more than S6's 2550 mAh unit. Keeping in mind that the 5.1-inch QHD Super AMOLED screen still consumes the most energy, we have good reason to expect much more endurance from the latest flagship.
In our Web Surfing test, Galaxy S7 lasted for 691 minutes (S6 got us 620 mins). The more impressive results came when we tested the battery life during HD video playback and 3D gaming. In the playback test, S7 ran for more than 16 hours – 998 minutes. Our 3D gaming test went on for 395 minutes (6 hours and 35 minutes) before the phone turned off. These results indicate a difference of 49% and 58%, respectively. It looks as though Samsung has not just increased the battery capacity, but we also have some hardware and software optimizations.
More on that in our upcoming in-depth review.
You can check the price and buy the new Samsung Galaxy S7 at Amazon.com:
http://amzn.to/1X21KEt
| | Samsung Galaxy S6 | Samsung Galaxy S7 | Difference |
| --- | --- | --- | --- |
| Web Surfing | 620 min. | 691 min. | +11% |
| HD Video Playback | 670 min. | 998 min. | +49% |
| 3D gaming | 250 min. | 395 min. | +58% |
Once all of the battery tests are concluded, the new S7 will pop up in our Top Battery Life Smartphones Ranking page.