The Witcher 3 Next-Gen: What do you need to run the game comfortably?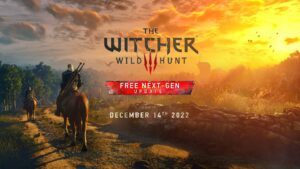 The Witcher video game series has provided endless hours of entertainment to gamers worldwide, as the Polish studio CD Project adapted the works of author Andrzej Sapkowski very well, bringing enough popularity to the IP that it spawned movies and TV shows, both animated and live action.
The last entry into the series, The Witcher 3: Wild Hunt, was released way back in 2015, but the game still has a very passionate community. With GPU hardware becoming exponentially more powerful, and with the release of the New Gen RTX 40-series and AMD's RDNA 3 graphics, we can make games look even better. This is why we're getting the new Next-Gen update to Witcher 3, which delivers Ray Tracing Global illumination, reflections, and shadows. 4K upscaling is now available as well.
As for what kind of horsepower you're going to need to run the game with the new update, today we're breaking down the updated system requirements and providing you with laptop recommendations that can handle it.
| | Minimum | Recommended |
| --- | --- | --- |
| Resolution | 1080p | 1080p |
| Processor |  Intel CPU Core i5-2500K 3.3GHz, AMD A10-5800K APU (3.8GHz) | Intel CPU Core i7 3770 3.4 GHz, AMD CPU AMD FX-8350 4 GHz |
| Graphics card | Nvidia GPU GeForce GTX 660 or AMD GPU Radeon HD 7870 | Nvidia GPU GeForce GTX 770 or AMD GPU Radeon R9 290 |
| RAM | 6GB | 6GB |
| Disk space | 50 GB | 50 GB |
For 1080p, you really don't need much, as any of the latest entry-level gaming laptops can easily run the game smoothly at max settings. With a GTX 1650, an RTX 3050, or an RTX 3050 Ti, you'll be all set. For processing power, anything with 4 cores or more will do a fine job, with the low-end 6-core Ryzen 5 and Core i5 CPUs being able to handle decently powerful graphics.
If, however, you want to get into ray tracing, you'd need to enable DirectX 12 and here we've divided the requirements into three tiers, with High settings, Ultra settings with some ray tracing, and Ultra settings with all RT features turned on and resolution up to 4K.
| | High settings (RT off) | Ultra settings (RTAO/RTGI) | Ultra settings (All RT features on) |
| --- | --- | --- | --- |
| Resolution | 1080p | 1440p (DLSS or FSR) | 4K (DLSS or FSR) |
| Processor | Intel Core i5-7400/Ryzen 5 1600 |  Intel Core i7-8700K/Ryzen 5 3600 |  Intel Core i7-9700K/Ryzen 7 3700X |
| Graphics card | Nvidia GTX 970/Radeon RX 480 | Nvidia RTX 3070/Radeon RX 6700 XT | Nvidia RTX 3080/Radeon RX 6800 XT |
| RAM | 8 GB | 16 GB | 16 GB |
| Disk space | 50 GB | 50 GB | 50 GB |
For 1080p High settings, we've got a quad-core Core i5-7400 or the Ryzen 5 1600, so any Ryzen 5 or Core i5 from the last two years will be comparable and bring similar if not better performance. In terms of graphics, the GTX 970 and the Radeon RTX 480 have both been staple GPUs on the used market, being able to match entry-level offerings for a couple of years. Nowadays, the RTX 3050 and RTX 3050 Ti offer slightly more performance than these two GPUs, so laptops with it should be your main priority if you plan on doing 1080p with no Ray Tracing. If you can find a deal on an RX 6600M, it would be even better, as it's got the similar performance to an RTX 3060 but laptops with it are relatively less expensive.
Next is Ultra settings with Ray Tracing Ambient Occlusion and Global Illumination, which lights up the game in a different matter, completely transforming the way you see The Continent. Here we see a slight increase in CPU power, with the Core i7-8700K and the Ryzen 5 3600, both with 6 cores and 12 threads. More importantly, we're jumping to an RTX 3070 or an RX 6700 XT, as the resolution increases to 1440p and we use some RT features, as well as DLSS or FSR, depending on if you have NVIDIA or AMD. Even with the RTX 3080 Ti (Laptop) or the RX 6850M XT, the most powerful laptop GPUs that are available, the desktop RTX 3070 has more performance. That's why we'll rather not bother with the last batch of settings, as currently there isn't a mainstream laptop that can compete with the desktop RTX 3080.
Whether or not you have the capability or budget to get going with Ray Tracing, there are still things you can do to make the game look better. For example, there's a Darker Nights mod, which makes the sky darker at night.
There are also mods that can upgrade and improve the gameplay itself, with a Dynamic Combat Camera mod, which changes camera positioning automatically, depending on how many enemies you're fighting in the game.