NVIDIA starts a countdown to GTX 1080 Ti's launch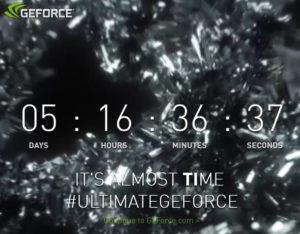 A few days back we shared with you that NVIDIA could try to steal the spotlight from AMD new Ryzen processors by launching the enthusiast GeForce GTX 1080 Ti graphics card as soon as March. Well now we can say with certainty that it will at least be officially announced even sooner. NVIDIA has updated their GeForce website to show a countdown to February 28th with the slogan "IT'S ALMOST TIME #ULTIMATEGEFORCE". The letters "T" and "I" in "TIME" are bolded to leave no doubt that this countdown is indeed for an event announcing the GTX 1080 Ti.
For those of you who haven't read the previous article, the GTX 1080 Ti will be based on the same GP102 chip as the TITAN X Pascal with probably 10GB of VRAM, 384-bit bus and a memory frequency of around 10 000MHz.
If you do not seek such power as the GTX 1080 Ti will provide you can check out all other available NVIDIA products over here: http://amzn.to/2kTctWu