Toshiba KIRA (107, KIRAbook) shows better battery performance when it comes to gaming, but fails to deliver the much-desired web browsing time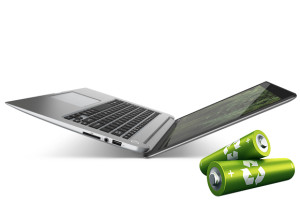 The next down the pipeline is Toshiba's best ultrabook so far – KIRA. Toshiba KIRA has a great display, design, portability and it's powerful enough to challenge the market of ultrabooks, but where devices from ASUS, Acer, Lenovo and Dell reign with their big batteries, Toshiba somehow fails to deliver.
To be more exact, we've tested the Toshiba KIRA to determine the battery performance of the notebook and it turned out to be just okay, but quite frankly we've expected more. All tests were performed under the same conditions – Wi-Fi turned on, Bluetooth is off, power saver is on, and screen brightness is set to 120 cd/m2. So, the ultrabook endured 400 minutes of web browsing – a decent result, but it's way less than the Aspire R13 and XPS 13 for example. As far as video playback is concerned – the KIRA got about 367 minutes, but the interesting part is actually the gaming test. Whooping 311 minutes of gaming is something really unlikely for a business ultrabook and it would have been better if the device performed similarly in the previous two tests.
However, we suggest that you wait for our full review on the model as we have a lot more to show you.