Genesis Thor 660 review – small mechanical keyboard loaded with features and RGB effects
Installation, Features, Setup, and Testing
As we said earlier, you can use this keyboard as a standard one by using a cable connection with your PC / laptop / TV or you can use it wirelessly because it supports (low latency) Bluetooth. Yep, no 2.4GHz connection here but the good news is, we didn't experience any lags during gaming and typing so the responsiveness is definitely there. Speaking of Bluetooth, one of the greatest features of this keyboard is the fact that it can be connected to up to three devices at the same time and you can switch between them with the left "Shift", "Ctrl", and "Alt" keys. The switching happens in a blink of an eye and this can be really handy if you're using more than one device at the same time (in our case that's very useful because we can test three laptops at the same time by using a single keyboard). By the way, the range of this thing is quite wide (up to 10m) and the signal is just fine even when it goes through a wall. Well, yeah, you're not going to use this keyboard when there is a wall between you and your PC or laptop, but we decided to test this and we are happy with the end result.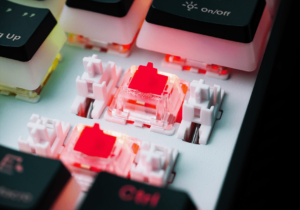 The Genesis Thor 660 has 61 keys and almost every one of them doubles as a functional key except for "Backspace", "Enter", right "Alt", and "Space". Now, that's crazy, you have 50+ functional keys in a small 60-percent keyboard! You can use the keyboard for opening the browser, volume control, fast-forwarding a movie or song, opening the Calculator, brightness adjustment, etc. The keys have a nice grippy texture which is good no matter the usage. Thanks to the Pudding PBT keycaps, there is a bigger visible area between the keys with a translucent design so you can see the RGB effects better. In addition, the space between the keys is generous so miss pressing other keys should be as low as possible.
The large keys feature factory-lubricated Gateron stabilizers (and switches) which leads to better stability and lowered noise during usage and the normal keys are equipped with Gateron Red switches with an actuation point of 2.0 mm and an actuation force of just 45 g. The sampling frequency is 1000 Hz and Genesis is mentioning 8ms response time. We played some games and it's great that there is no difference in wired and Bluetooth modes in terms of key response and overall snappiness – that is a real achievement! The keys are very stable, there are almost zero wobbles even when you want to "shake" them on purpose, and you don't feel that you're using an old typewriter which can be said for some other mechanical keyboards. That's why you can use this small fella for typing as well – it's not as quiet as a high-quality low-profile keyboard but the sound during typing can be considered normal and not-so-intrusive.
The N-Key rollover function (ergo, Anti-Ghosting) is a must, especially while gaming and pressing numerous keys at the same time – this ensures that the device will register every single key press, and the correct signal will be sent to your PC. This worked for us very well in Call Of Duty: Warzone 2, where the usage of the WASD area and the "Shift", "Alt", "Space", "F", "G", and "1 -4" keys is quite intensive. The keyboard has a built-in 3000 mAh battery which is good because when the unit is out of juice during a gaming session, you can just plug in the USB cable and you can continue to play while the keyboard will charge its battery at the same time. The built-in memory is also a nice feature because all your settings are personal preferences are saved in the gadget's memory so you can use this Genesis product on other devices without doing any type of settings configuring.

The dedicated software is user-friendly and you can use it to switch between the 19 RGB modes, tune some key settings, create macros, control the brightness, etc.