Acer Predator G1 is a new desktop gaming VR-ready rig and wants to replace your console in the living room
The new Acer Predator 17X didn't receive all the attention during the keynote. Another member of the gaming lineup received a notable upgrade mostly, besides the new Predator G1 name, in terms of portability while still incorporating the latest 6th generation Core i3, i5 and i7 processors from Intel and NVIDIA's top-shelf GeForce Titan X GPU. There's also a minor upgrade at the front so the design might appear to most users this time. We are hoping the cable management will be better this time.
Anyway, taking the side lid off doesn't actually reveal any revolutionary technology but a clear airflow path with a metal cage around the GPU to keep it safe when moving it around and to keep temperatures as low as possible. There's not much about connectivity as well – the usual USBs, display connectors, and slots are available, however, the motherboard uses a Creative Sound Blaster X-Fi chip, which should be fine for 7.1 audio. It seems that Acer thinks you will most likely use the machine with a headset instead of a full surround sound system. Speaking of which, there are now two stands popping out of the sides to keep your headphones close to you.
Configurations start at NVIDIA GeForce GTX 960 and going up to Titan X paired with up to Core i7 Skylake CPU enabled for overclocking. The starting price of the machine with GTX 960 and Core i5 is €1 199 and will surely cost more than your console for the living room, but it gives you the unmatched performance. By the way, with dimensions like this, we are still unsure how the beast will perform in our stress tests but we are eager to test it out.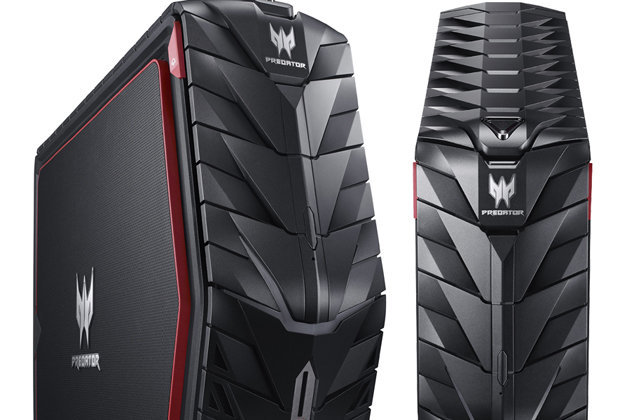 Anyway, storage options include SSDs up to 512GB, 3.5-inch HDD up to 4TB and if booth are present, this leaves room only for one more 2.5-inch drive and beware that the casing doesn't allow additional optical drive. The motherboard supports up to 64GB of 2133MHz DDR4 RAM with four DIMM slots. Keep in mind that unlike its predecessor, the machine doesn't offer that fully utilized overclocking capability, except for the Core i7 K-series CPU, of course, since the design limitations don't allow anything more than the tested limits.
We are also expecting the machine to arrive with a cool suitcase matching the Predator's appearance and it will be free of charge for the first 1000 orders. However, the offer is limited to some of the countries – USA, Canada, Belgium, Germany and more.

Specs sheet
Some of the specs may differ depending on your region.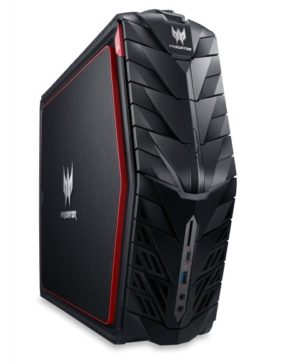 CPU
6th Generation Intel Core i5 and Core i7
RAM
up to 64GB of DDR4-2133 RAM using four DIMM slots
GPU
from NVIDIA GeForce GTX 960 up to GeForce Titan X
HDD/SSD
up to 512GB M.2 SSD + 3.5-inch 4TB HDD + free 2.5-inch slot
Optical drive
not available
Features

1x USB-C 3.1
5x USB 3.1 Gen 1 ports
Gigabit Ethernet port
audio input/output ports

Dimensions
114 x 348 x 418 mm (4.49 x 13.7 x 16.46 inches)