Acer Nitro 5
Intel Core i5-10300H
NVIDIA GeForce RTX 3050 (Laptop, 75W)
15.6", Full HD (1920 x 1080), IPS
512GB SSD
8GB DDR4
2.30 kg (5.1 lbs)
Pros
One of the best-priced gaming laptops out there
Good keyboard with decent travel, clicky feedback, and an optional RGB backlight
Two M.2 slots with RAID 0 support
The display doesn't flicker at any brightness level (LG LP156WFC-SPD5)
Has a good contrast ratio and comfortable viewing angles (LG LP156WFC-SPD5)
144Hz display option
Cons
Lacks an SD card reader and Thunderbolt support
Hot and loud during gameplay
Covers only 53% of sRGB (LG LP156WFC-SPD5)
Subpar CPU performance
Technische Daten
Intel Core i7-1165G7

1.0%

AMD Ryzen 3 5300U

1.2%

Intel Core i5-10300H

Intel Core i5-1145G7

0.3%

Intel Core i5-10400H

0.6%

Intel Core i5-9300H

1.0%
NVIDIA GeForce RTX 3050 Ti (Laptop, 60W)

0.2%

NVIDIA RTX A2000 (Laptop)

3.6%

NVIDIA GeForce RTX 3050 (Laptop, 75W)

NVIDIA GeForce RTX 3050 Ti (Laptop)

4.3%

NVIDIA GeForce RTX 3050 (Laptop, 60W)

2.5%

NVIDIA GeForce RTX 3050 (Laptop, 50W)

4.4%
LG LP156WFC-SPD5 (LGD065А)
M.2 Slot
2x 2280 PCIe NVMe 3.0 x4 RAID 0 Siehe Foto
Gehäuse Material
Plastic / Polycarbonate
Abmessungen
363.4 x 255 x 23.9 mm (14.31" x 10.04" x 0.94")
Gewicht
2.30 kg (5.1 lbs)
3x USB Type-A
3.2 Gen 1 (5 Gbps)
1x USB Type-C
3.2 Gen 1 (5 Gbps), Sleep and Charge
Es gibt 8 Acer Laptops mit den gleichen Spezifikationen (sorted by price)
#CommissionsEarned
Mehr Acer Nitro 5 Konfigurationen - 8 Laptops
#CommissionsEarned
Anzeige: 15.6-inch, 1920x1080, IPS
Name
LG LP156WFC-SPD5 (LGD065А)
PWM-Frequenz

No PWM (Flicker-Free)
Wird zu "Retina" von
24 inches (62 cm)
PWM-Bewertung

10.0: (safe)
Kaufen Sie unsere Profile für LG LP156WFC-SPD5 (LGD065А)
Mit dem Kauf von LaptopMedia-Produkten erhalten Sie nicht nur effiziente und gesundheitsschonende Profile, sondern Sie unterstützen auch die Entwicklung unserer Labore, in denen wir Geräte testen, um möglichst objektive Testberichte zu erstellen.
Acer Nitro 5 gründliche Überprüfung
Last year, the Nitro 5 was one of the first notebooks to introduce the then newly announced Turing graphics cards from NVIDIA. Now, it is the processors that are upgraded, and with Comet Lake-H, the new Nitro 5 (AN515-55) will try to assault the budget gaming market. However, it has a frightening competitor in the face of the ASUS TUF A15 (FA506) and its crazy fast Ryzen 4000H processors. Thankfully, Acer is planning on AMD-equipped laptops from the Nitro family, as well, but until that happens, we are "stuck" with what Intel has to offer. Despite all of the fuss about them, they proved to be a non-substantial upgrade over the Coffee Lake-HR CPUs, and they produce a lot of excessive heat. It is particularly interesting how the Nitro 5 (AN515-55) will counter this, especially when yo[...]
Lesen Sie die vollständige Rezension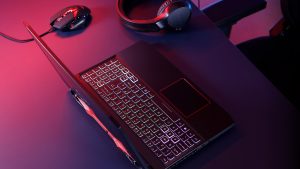 Demontage, Wartung und Aufrüstmöglichkeiten
This is another year where we see the Nitro 5 struggle to cool down its components adequately enough. However, it has a decent upgradability package, and Acer provides stickers inside the box, making it great for personalization. Check out all Acer Nitro 5 (AN515-55) prices and configurations in our Specs System or read more in our In-Depth review. 1. Remove the bottom plate Since there are no service lids here, you need to remove the entire bottom panel to access the internals. First, remove all 11 Phillips-head screws. Then pry the panel with a plastic tool and lift it away. It'[...]
Mehr lesen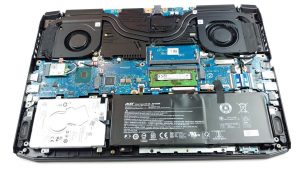 CPU-Leistung: Intel Core i5-10300H
Results are from the Cinebench 20 CPU test (the higher the score, the better)
GPU-Leistung: NVIDIA GeForce RTX 3050 (Laptop, 75W)
Die Ergebnisse sind für den 3DMark: Fire Strike (Grafik) Benchmark (je höher die Punktzahl, desto besser)
Einige Spiele, die Sie auf diesem Laptop spielen können
Zeigen Sie mir die besten Laptops für...