Lenovo Legion 5 15
AMD Ryzen 7 4800H
NVIDIA GeForce RTX 2060 (Laptop)
15.6", Full HD (1920 x 1080), 120 Hz, IPS
512GB SSD
2x 32GB DDR4, 3200 MHz
2.30 kg (5.1 lbs)
Pros
It has two RAM SODIMM slots and two M.2 drives, besides the 2.5" SATA drive bay
Great input devices with an optional RGB backlight
Lacks PWM for brightness adjustment (AUO B156HAN13.1)
Comfortable viewing angles and good contrast ratio (AUO B156HAN13.1)
Great performance from AMD's finest CPUs out there
A total of five USB 3.1 (Gen. 1) ports (some PCs have less)
Cons
Lacks an SD card reader
Slow response times, despite the 120Hz refresh rate (AUO B156HAN13.1)
Covers only 51% of sRGB (AUO B156HAN13.1)
Technische Daten
AMD Ryzen 7 5800HS

3.9%

Intel Core i7-11850H

3.6%

AMD Ryzen 7 4800H

Intel Core i7-11600H

4.5%
NVIDIA GeForce RTX 2060 (Laptop, 80W)

1.0%

NVIDIA GeForce RTX 3050 Ti (Laptop, 75W)

2.4%

NVIDIA GeForce RTX 2060 (Laptop)

NVIDIA GeForce RTX 3050 Ti (Laptop, 60W)

6.4%

NVIDIA GeForce RTX 3050 (Laptop, 90W)

10.1%

NVIDIA GeForce GTX 1660 Ti Max-Q

8.1%
AUO B156HAN13.1 (AUOD1ED)
RAM
2x 32GB DDR4, 3200 MHz
Gehäuse Material
Plastic / Polycarbonate
Abmessungen
363 x 259.6 x 23.5 ~ 26.1 mm (14.29" x 10.22" x 0.93")
Gewicht
2.30 kg (5.1 lbs)
1x USB Type-A
3.2 Gen 1 (5 Gbps), Sleep and Charge
3x USB Type-A
3.2 Gen 1 (5 Gbps)
1x USB Type-C
3.2 Gen 1 (5 Gbps), DisplayPort
Ethernet LAN
10, 100, 1000 Mbit/s
Hintergrundbeleuchtete Tastatur
Mikrofon
Dual Array Microphone
Lautsprecher
2x 2W, Harman Kardon
Sicherheitsschloss Schlitz
Kensington Lock
Es gibt 10 Lenovo Laptops mit den gleichen Spezifikationen (sorted by price)
#CommissionsEarned
Anzeige: 15.6-inch, 1920x1080, IPS
Name
AUO B156HAN13.1 (AUOD1ED)
PWM-Frequenz

No PWM (Flicker-Free)
Wird zu "Retina" von
24 inches (62 cm)
PWM-Bewertung

10.0: (safe)
Kaufen Sie unsere Profile für AUO B156HAN13.1 (AUOD1ED)
Mit dem Kauf von LaptopMedia-Produkten erhalten Sie nicht nur effiziente und gesundheitsschonende Profile, sondern Sie unterstützen auch die Entwicklung unserer Labore, in denen wir Geräte testen, um möglichst objektive Testberichte zu erstellen.
Lenovo Legion 5 15 gründliche Überprüfung
Lenovo's Legion series is one of the best sellers on the market. And this is no coincidence. They are constantly delivering quality at a relatively low price, making it one of the best gaming notebooks in terms of value. While in previous years, pretty much all of the devices were powered by Intel processors, it is good to see that Lenovo is staying adequately up to date with the current situation of the market. Not only does AMD provide better performance than its long-dominating counterpart, but it does so at a lot more competitive price. Apart from that, you get pretty much the same design, Lenovo introduced with the Legion Y530, but it is now improved in a couple of departments. Additionally, your graphics card choice is spreading out from the GeForce GTX 1650, all the way up to th[...]
Lesen Sie die vollständige Rezension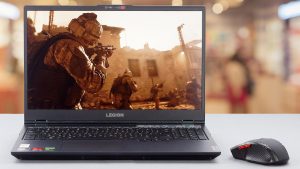 CPU-Leistung: AMD Ryzen 7 4800H
Results are from the Cinebench 20 CPU test (the higher the score, the better)
GPU-Leistung: NVIDIA GeForce RTX 2060 (Laptop)
Die Ergebnisse sind für den 3DMark: Fire Strike (Grafik) Benchmark (je höher die Punktzahl, desto besser)
Einige Spiele, die Sie auf diesem Laptop spielen können
Zeigen Sie mir die besten Laptops für...