Lenovo IdeaPad 3 15 Gaming
AMD Ryzen 7 4800H
NVIDIA GeForce GTX 1650 (Laptop, 50W)
15.6", Full HD (1920 x 1080), IPS
512GB SSD
2x 8GB DDR4, 3200 MHz
2.20 kg (4.9 lbs)
Pros
Great price/performance ratio
Sleek design and easy to open lid
Good keyboard with decent travel, clicky feedback, and an optional RGB backlight
Two M.2 slots
The display doesn't flicker at any brightness level (LM156LF-2F01)
Has a good contrast ratio and comfortable viewing angles (LM156LF-2F01)
120Hz fast display options
Cons
Lacks an SD card reader and Thunderbolt support
Covers only 53% of sRGB (LM156LF-2F01)
Especificaciones
AMD Ryzen 7 6800U

2.2%

Intel Core i9-11950H

4.8%

AMD Ryzen 7 4800H

Intel Core i7-12800H

2.9%

Intel Core i7-11600H

4.5%
NVIDIA GeForce RTX 3050 Ti (Laptop, 90W)

11.9%

NVIDIA GeForce RTX 3050 (Laptop, 40W)

3.9%

NVIDIA GeForce GTX 1650 (Laptop, 50W)

NVIDIA Quadro T2000 (4GB GDDR5)

2.5%

NVIDIA Quadro T2000 Max-Q

2.9%

NVIDIA GeForce GTX 1650 Ti Max-Q

3.5%
Ranura M.2
2x 2280 M.2 NVMe slots Ver foto
RAM
2x 8GB DDR4, 3200 MHz
Material del cuerpo
Plastic / Polycarbonate
Dimensiones
359 x 249.6 x 24.9 mm (14.13" x 9.83" x 0.98")
2x USB Type-A
3.2 Gen 1 (5 Gbps)
1x USB Type-C
3.2 Gen 1 (5 Gbps)
Ethernet LAN
10, 100, 1000 Mbit/s
Lector de huellas dactilares
Micrófono
Dual Array Microphone
Altavoces
2x 1.5W, Dolby Audio
Ranura de bloqueo de seguridad
Kensington Lock
There are 13 laptops with the same specs, All brands (sorted by price)
#CommissionsEarned
Mostrar: 15.6-inch, 1920 x 1080, IPS
Densidad de píxeles
141.21 ppi
Frecuencia PWM

No PWM (Flicker-Free)
Se convierte en "Retina" de
24 inches (62 cm)
Clasificación PWM

10.0: (safe)
Compre nuestros perfiles para AUO B156HAN02.1
Además de recibir perfiles eficientes y respetuosos con la salud, al comprar los productos de LaptopMedia también apoyas el desarrollo de nuestros laboratorios, donde probamos los dispositivos para elaborar las reseñas más objetivas posibles.
Lenovo IdeaPad 3 15 Gaming revisión en profundidad
Naturally, budget gaming laptops attract a lot of interest. And after the success of introducing the Ideapad Gaming series last year, Lenovo is trying to hit harder than ever in 2020. Quite possibly, the Ideapad Gaming 3i (15) is the hottest property in the budget gaming device market, we will see how well did Lenovo balance between the low price and the quality of execution. And we are really looking forward to seeing a better physical execution, as the Ideapad Gaming L340 (15) felt cheap and not very rigid. Enough about that, though, because this laptop now comes with the 10th Gen Coffee Lake-H processors from Intel, maxing out with the Core i7-10750H, and being able to carry the GTX 1650 Ti at most. While this is definitely not the most powerful GPU out there, it is pretty much all [...]
Leer la reseña completa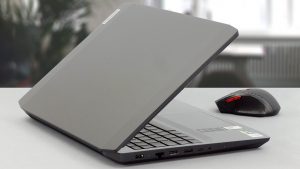 Opciones de desmontaje, mantenimiento y actualización
Let's see what you will find inside the budget-grade gaming notebook from Lenovo - the Ideapad Gaming 3i (15). Check out all Lenovo Ideapad Gaming 3i (15) prices and configurations in our Specs System or read more in our In-Depth review. 1. Remove the bottom plate Getting inside of this machine is certainly not very difficult. After you undo all of the 10 Phillips-head screws, you need to pry the bottom panel away with a plastic tool. That's it. 2. Battery In terms of battery, you will get a 45Wh unit. 3. Memory and storage Now, let's take a look at the upgradability. [...]
Leer más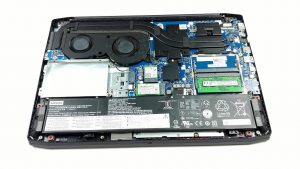 Rendimiento de la CPU: AMD Ryzen 7 4800H
Results are from the Cinebench 20 CPU test (the higher the score, the better)
Rendimiento de la GPU: NVIDIA GeForce GTX 1650 (Laptop, 50W)
Los resultados corresponden a la prueba de referencia 3DMark: Fire Strike (Graphics) (cuanto más alta sea la puntuación, mejor)
Algunos juegos a los que puedes jugar en este portátil
Muéstrame los mejores portátiles para...