Inside HP Omen 17 (2016) – disassembly, internal photos and upgrade options
Although the notebook doesn't offer a dedicated service hatch for changing or upgrading some of the hardware, the bottom piece comes off easily and gives access to the most commonly upgraded components.
You can see the available configurations and their prices here: http://amzn.to/2radFqv
1. Removing the bottom piece
Removing the bottom piece is not rocket science but you do have to make pay attention to the silicone caps placed on the screws. First, you have to remove them, as shown in the photos below, and then pry it up. The plate comes off without a hassle.
2 Storage
The storage configuration is the usual – 2.5-inch HDD + M.2 PCIe NVMe SSD. The former is an HGST 1TB 7200 rpm drive while the latter is a Samsung PM961 PCIe NVMe SSD with 256GB capacity. That's, of course, true for the model we've tested and the storage configurations may differ depending on your region. In any case, you can insert a 2.5-inch HDD/SSD and an M.2 PCIe NVMe-enabled 2280 SSD.
3. Memory, battery and Wi-Fi
The memory can be expanded up to 32GB of DDR4-2400 RAM using the two available slots but our unit came with both of them occupied by 8GB SK Hynix chips.
The Wi-Fi card can be found next to one of the cooling fans and it's Intel 7265NGW.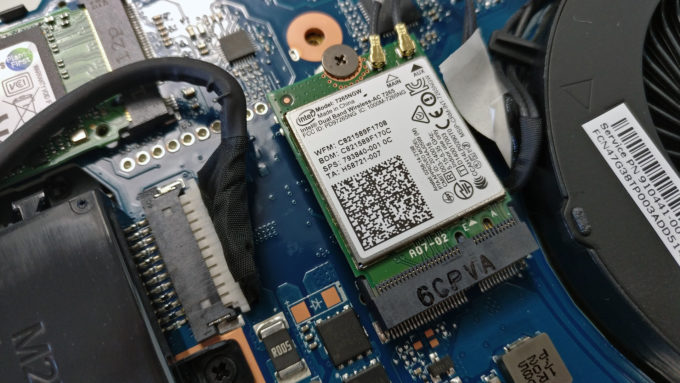 And as for the battery, it's under the wrist rest area and it's rated at the whopping 95Wh.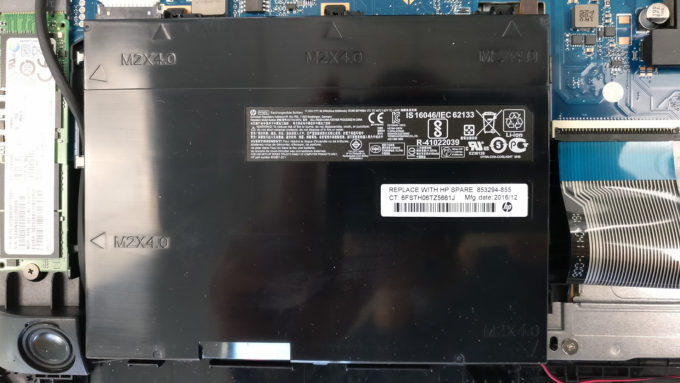 4. Cooling system
The cooling system appears to be solid at first glance and proves to be effective during our stress tests. The layout is the standard one for gaming laptops – two separate cooling fans with several heat pipes connected to the heatsinks.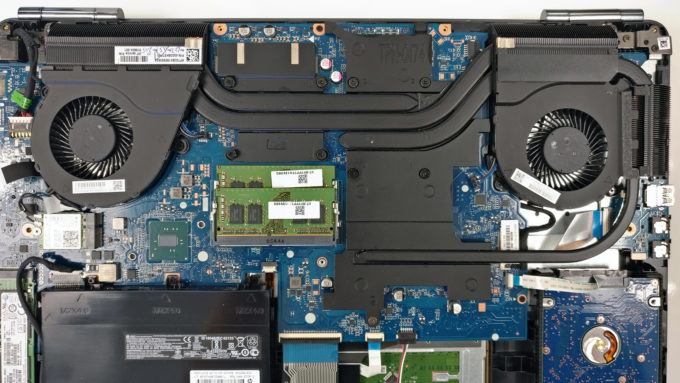 The full review of the HP Omen 17 (2016) can be found here.
You can see the available configurations and their prices here: http://amzn.to/2radFqv