NVIDIA releases new game-ready driver package – GeForce 378.49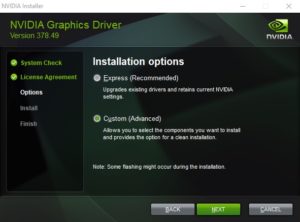 Hey, hey, hey! Another driver package update from the green company is here. It was yesterday that NVIDIA released the 378.49 edition of their GeForce game-ready drivers. As you may guess, they bring some improvements and support for newer games such as Resident Evil 7.
If you are into games, you may very well wish to check the currently available gaming PCs on the market: http://amzn.to/2jdqaNr
You may wonder why they call them game-ready but the answer is very simple. It's laziness. Exactly, you read it the right way. These packages are meant for users who do not wish to mess around with the various settings – they just want to play.
In addition to Resident Evil 7, you are also presented with support for other titles such as For Honor, Biohazard, Conan Exiles, and the VR-enabled version of Obduction. You could download the update from NVIDIA's official website or using the GeForce Experience software.
Here's a list with the issues that have been fixed with this update:
[GeForce TITAN X][Just Cause 3] Random flashes occur in the game.
[GeForce GTX 1080][Wargames: Red Dragon]: The system reboots after switching to
full-screen mode while playing the game.
[GeForce GTX1080]: Random TDR/black screens occur when running GPU-intensive
Direct X applications after updating to Windows 10 Anniversary Update.
[GeForce GTX 1070][Alienware Graphics Amplifier] The graphics card is not detected
upon installing the driver.
[GeForce GTX 1070][Battlefield 1] Rain puddles appear dark.
[GeForce GTX 1060] A superfluous audio end point entry appears in the Windows
Sound Devices panel after resuming from hibernate mode.
Assassins Creed – Syndicate shows intermittent flickering black or white patches on
game character faces.
[SLI][Battlefield 1]: Texture flickering occurs in the game with SLI enabled.
[Hitman pro][DirectX 12] Flickering corruption appears in the game if the multi-GPU
option is enabled from the in-game settings.
[Folding @ Home] Work unit errors occur.
[Diablo 3 DirectX 11] SLI profile needed.