This water resistant bag has an integrated 16,000 mAh battery and it's just $59.95 now (33% off)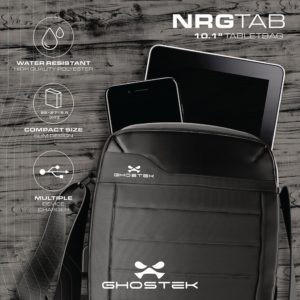 Another day, another good news about some pretty beckoning Amazon discounts. This time we are looking at an accessory which is both stylish and practical. What we have in mind is the Ghostek NRGtab 10.1″ tablet carrying shoulder bag.
If you happen to show interest in this offer, you can check its current availability over here: http://amzn.to/2wt4uVl 
And so, starting from this product's design – it is simplistic and elegant black. The exterior uses water-resistant high quality polyester which is great for two reasons – it is stylish and the material will protect your valuable smart devices whenever it's raining. Another notable aspect of this bag is that it's quite compact with dimensions of 11 x 2 x 9 inches. The manufacturer has also included an intelligent LED indicator showing the amount of charge left. Last but not least, there is an external USB port but don't worry, there are two more on the inside.
As for the interior of this accessory, it is namely there that the integrated 16000 mAh battery hides. As we already mentioned, there are two internal ports for simultaneous charging of more than one devices. Of course, there is also room for the tablet you will be using, be it an iPad, Galaxy Tab, Amazon Fire or some other such bad boy that can fit.