Razer Blade 15 (Early 2022) – Top 5 Pros and Cons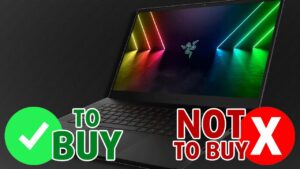 Have you wanted the elegance and portability of MacBooks but with all the gaming performance that Windows laptops offer? If you do and still haven't figured out that Razer offers exactly that, then you're either living under a rock or just new to the laptop market, in which case, stay with us as we tell you more about the Razer Blade 15 (Early 2022). The laptop is going to be a hot commodity, even in 2023, as you still get very powerful 12th Gen Alder Lake H-series processors, while the RTX 30-series GPUs are not leaving anytime soon, bringing very good performance.
Today we're presenting you with LaptopMedia's top 5 picks about the Razer Blade 15 (Early 2022).
Razer Blade 15 (Early 2022): Full Specs / In-depth Review
4 reasons to BUY the Razer Blade 15 (Early 2022)
1. Design and build quality
The Blade is an incredibly sleek gaming machine. It's entirely made from aluminum and the flat lid and boxy appearance make it a pretty thing to have. Also, the black & green aesthetic is relatively underutilized in the gaming world, with previously HP having some of its Pavilion Gaming laptops use it. It's also quite light for a 15-inch machine with this level of hardware, weighing only 2.02 kg and having a profile of 17 mm.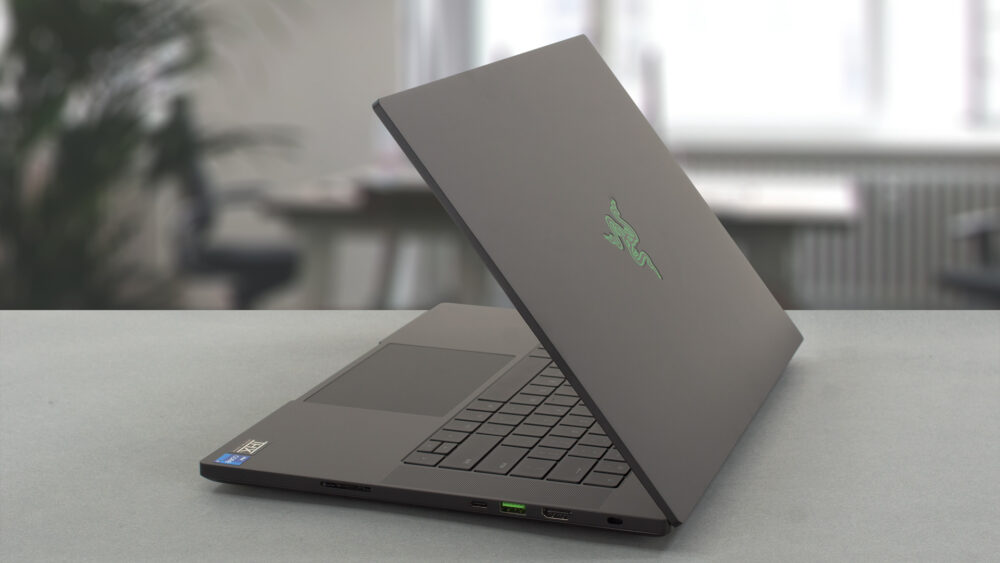 As it's a bit thinner, durability is not pixel-perfect, as the lid shows some flex, but the base is immovable. On it, you'll find a pair of speaker grills that flank the keyboard. They are well-sized and manage to output decent audio. The keyboard overall isn't the best for gaming, due to the short key travel, but for other types of work, it's great, as the feedback is super clicky.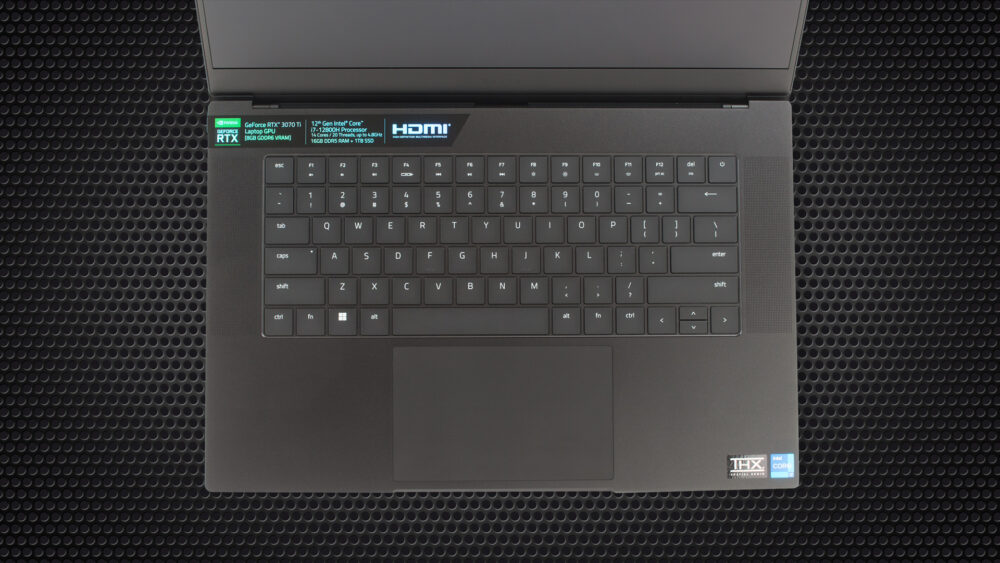 2. Upgradeability
The portability of the notebook doesn't mean poor upgradeability, as it's offered with two SODIMM slots for DDR5 memory in dual-channel mode, as well as two M.2 slots for Gen 4 SSDs. To save space, the storage slots are stacked over each other.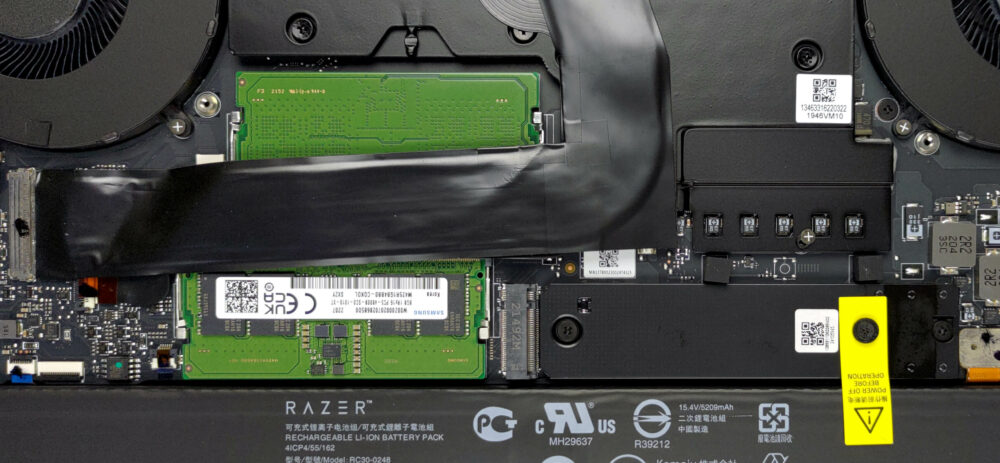 Here is our teardown video, which shows how to access both the RAM and SSD slots.
3. Display quality
Razer always outfits its laptops with good displays. The notebook that we have here sports a Full HD IPS panel with a 360Hz refresh rate, but there are higher-res options, including a QHD 240Hz panel and a 4K 120Hz panel. The Full HD panel has great viewing angles and reaches 340 nits of brightness, with a deviation of only 9%, so the brightness is generally uniform and even, across the entire area. It also covers 96% of the sRGB gamut, so you can get your hands dirty with Creator work if you want to, as well as enjoy your games looking better.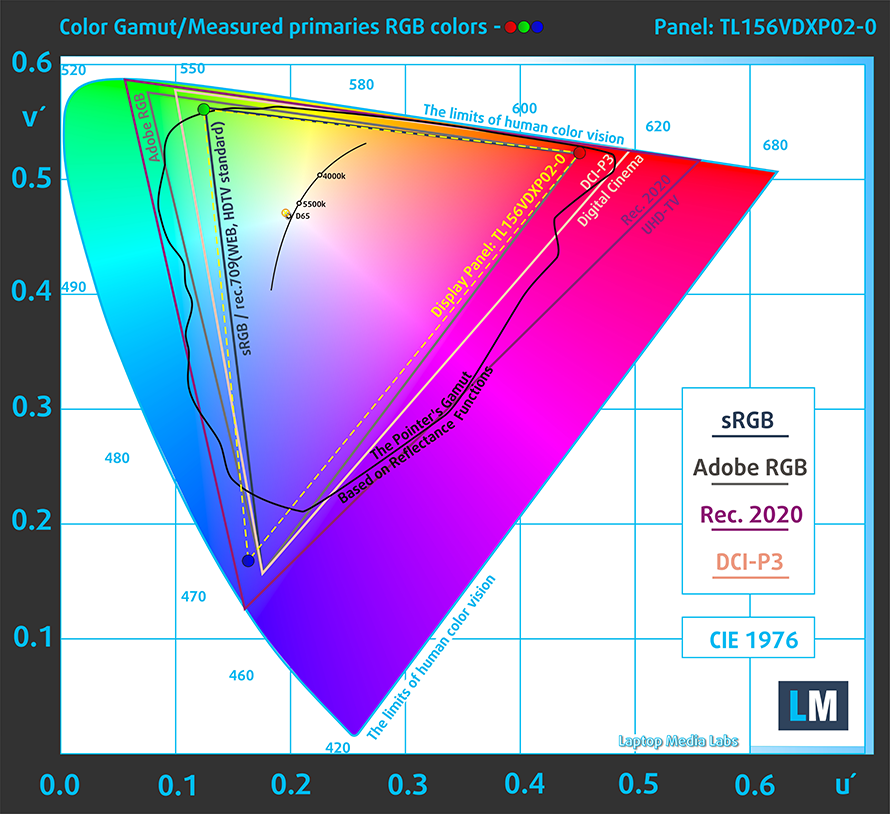 What's more the panel gets fairly accurate even with the stock settings, giving us a dE value of 2.2. Once we apply our Design and Gaming profile, we get a value of 1.0 which is even better. Here are the results of our test with the stock settings (left) and with our profile applied (right).
Buy our profiles
Since our profiles are tailored for each individual display model, this article and its respective profile package are meant for Razer Blade 15 configurations with 15.6″ TL156VDXP02-0 (TMV1560) (1920 x 1080) IPS.
*Should you have problems with downloading the purchased file, try using a different browser to open the link you'll receive via e-mail. If the download target is a .php file instead of an archive, change the file extension to .zip or contact us at [email protected]
Read more about the profiles HERE.
In addition to receiving efficient and health-friendly profiles, by buying LaptopMedia's products you also support the development of our labs, where we test devices in order to produce the most objective reviews possible.
4. Cooling
To keep up with its Core i7-12800H and RTX 3070 Ti in a smaller form factor, Razer placed a vapor chamber and two fans on top of them.

Max CPU load
| Intel Core i7-12800H (45W TDP) | 0:02 – 0:10 sec | 0:15 – 0:30 sec | 10:00 – 15:00 min |
| --- | --- | --- | --- |
| Razer Blade 15 (Early 2022) | 3.18 GHz @ 2.69 GHz @ 76°C @ 90W | 3.18 GHz @ 2.67 GHz @ 83°C @ 90W | 2.32 GHz @ 2.30 GHz @ 70°C @ 55W |
| HP ZBook Studio G9 | 3.15 GHz @ 2.72 GHz @ 83°C @ 88W | 2.93 GHz @ 2.59 GHz @ 85°C @ 76W | 2.69 GHz @ 2.42 GHz @ 78°C @ 62W |
Compared to the only other laptop with the Core i7-12800H, the Razer Blade 15 prioritizes temperatures over performance, which is to be expected from a more portable chassis.

Real-life Gaming
| NVIDIA GeForce RTX 3070 Ti | GPU frequency/ Core temp (after 2 min) | GPU frequency/ Core temp (after 30 min) | GPU frequency/ Core temp (Max Fan) |
| --- | --- | --- | --- |
| Razer Blade 15 (Early 2022) | 1403 MHz @ 74°C @ 105W | 1418 MHz @ 72°C @ 105W | – |
| MSI Stealth GS66 (12Ux) | 1277 MHz @ 71°C @ 92W | 1250 MHz @ 75°C @ 91W | 1314 MHz @ 64°C @ 92W |
| Acer Predator Triton 500 SE (PT516-52s) | 1270 MHz @ 87°C @ 115W | 1200 MHz @ 87°C @ 105W | 1320 MHz @ 87°C @ 113W |
However, it manages to squeeze out pretty high clock speeds from its 3070 Ti, so far the highest that we've seen.

Comfort during combined load
Things on the outside are calm, with the base's hotspot going as high as 43.8°C.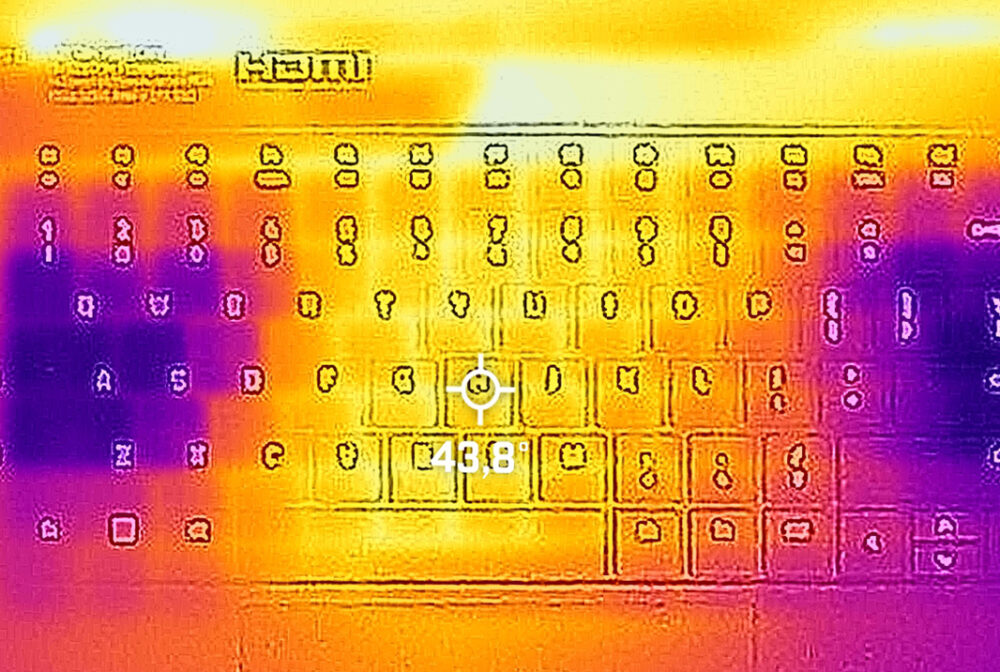 1 reason NOT to buy the Razer Blade 15 (Early 2022)
1. Battery life
Despite having an 80Wh battery, the laptop only lasts for 6 hours and 12 minutes of Web browsing, or 5 hours and 31 minutes of video playback. Now, we conduct the battery tests with the Windows Better performance setting turned on, screen brightness adjusted to 120 nits, and all other programs turned off except for the one we are testing the notebook with. If you're a heavier user, you should definitely expect worse results.

All Razer Blade 15 (Early 2022) configurations: