ASUS ROG FX502 will probably be the most affordable GTX 1060 laptop – price and availability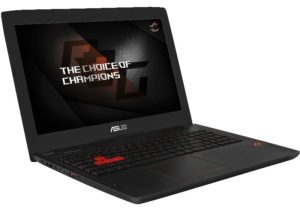 We can almost taste ASUS' upcoming affordable ROG FX502 with NVIDIA GeForce GTX 1060 but details around don't stop to emerge. After we learned about some of the specs, the notebook's price is also revealed, although not officially confirmed so take this with a grain of salt.
First off, the notebook just popped out for pre-order in one of UK's online retail stores with a price tag of £1 249, which includes a Core i5-6300HQ CPU, GTX 1060 (3GB GDDR5), 8GB of DDR4-2133 RAM, 256GB M.2 SATA SSD + 1TB HDD and a Full HD (1920×1080) TN panel. This is pretty similar configuration to what we've listed yesterday except for the CPU. So it turns out that the FX502 will be offering not only the Core i7-6700HQ as a standard but the base configuration will be equipped with a Core i5-6300HQ. This is a nice addition considering the fact that the Core i5 is perfectly capable of handling the latest games without bottlenecking the GPU.
A second source claims that the USA pricing for the same configuration will be $1 249, which seems plausible. Without the M.2 SATA SSD on board, the price might go even lower entering the same market segment in which the Acer Aspire V15 Nitro Black Edition, Lenovo Y700, ASUS ROG GL552VW and the Dell Inspiron 7559 are. However, you will have to sacrifice the delicious IPS panel, which was a standard among these laptops so you will have to pay a little bit more for better image quality.
Finally, according to our trustworthy source, the release date of the notebook is going to be on the 27th of this October. We are eager to get our hands on one of the configurations and see how it will perform. For now, you can browse the currently available GTX 1060-equipped notebooks here: http://amzn.to/2dUWt2C