Lenovo announces its new refreshed versions of the Yoga 520 and Yoga 720 convertibles – both look neat
So MWC started today and while the highlight of the convention is smartphones some manufacturers like to show their new notebooks as well. In this case, we are talking about Lenovo which announced the refreshed versions of its Yoga 520 and Yoga 720 convertible notebooks.
You can check all available Lenovo notebooks here: http://amzn.to/2mvz5MS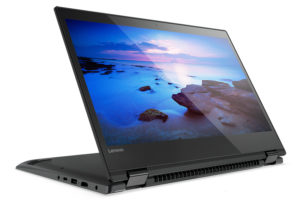 Ok, let's start with the Lenovo Yoga 520. This model comes lighter and thinner than ever now weighing 1.74kg and having a thickness of 19.9mm. The 14-inch display can be ordered with either Full HD (1920 x 1080p) or 1366 x 768 resolution. Lenovo claims that the 1080p version can last up to 10 hours so if the other model carries the same battery we can easily expect even better performance. Let's hope that's true because you will forget about the charger. The device will be powered by up to an Intel 7th generation Core i7 processors and up to 16GB of DDR4 RAM. Storage options include a variety of combinations between an SSD and HDD (up to 512GB and 1TB respectively).
Connectivity-wise Yoga 520 is well equipped with one USB Type-C port, two USB 3.0 ports, an RJ-45 and HDMI ports and a 4-in-1 card reader. Of course, Bluetooth 4.1, Wi-Fi 802.11ac and a 3.5 mm jack are present. The device also comes with some extra features like an optional Lenovo Active Pen, Harman loudspeakers with Dolby Audio Premium and a fingerprint reader.
The Lenovo Yoga 520 should be available in May with prices starting from $800.
Let's move on to the Yoga 720. Things get interesting here. We will be able to choose from a 13.3 or 15.6-inch model with either Full HD (1920 x 1080p) or 4K UHD (3840 x 2160p) resolution. It's also really slim and light – the 13.3-inch model weighs only 1.3kg and has a thickness of 14.3mm. The battery life that Lenovo claims is a bit lower but still good. This is expected as the screen resolution is higher and the 15.6-inch display is also larger. The 13.3-inch model is said to last up to 9 hours with Full HD resolution while the bigger 15.6-inch one – 8 hours.
Both models will be powered by up to Intel 7th gen Core i7 CPU and up to 16GB of DDR4 RAM. Storage options include only SSD but up to 1TB this time. What is interesting is that while the 13.3-inch version will only run on the Intel HD Graphics 620 integrated GPU the 15.6-inch model can be purchased with NVIDIA GeForce GTX 1050 thus allowing for some gaming.
The Harman speakers from the Yoga 520 are replaced by JBL ones again including the Dolby Audio Premium technology. You get a backlit keyboard too. There is a bit of a difference in connectivity between the two versions. The 13.3-inch model comes with two USB Type-C ports, one USB 3.1, one USB 3.0, DisplayPort, Thunderbolt 3.0 and an audio jack. The larger 15.6-inch model replaces one of the USB Type-C ports in favor of a second USB 3.0 port.
Both models should be available from April and prices for the 13.3-inch model will start from $860 while for the 15.6-inch model – from $1100.
You can check all available Lenovo notebooks here: http://amzn.to/2mvz5MS