The new Lenovo Yoga 920 (14″) – specs, features, configurations and prices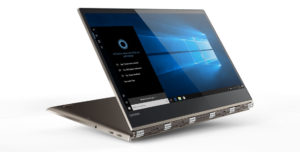 In today's article we are going to go through the key characteristics of the new Yoga 920 series. We have yet to publish a comprehensive review of Lenovo Yoga 920 (14″), so if you are curious to learn anything particular about the model, you can leave a comment in the section below.
As far as performance is concerned, the models come in configurations with up to 8th generation Intel Core i7-8550U processor which means up to 30% improvement in application performance compared to previous generations. What's more, this device is a great multitasking machine – you can run multiple programs, render videos, etc. In addition, the available GPU here is Intel UHD Graphics 620. As for the storage, you get up to 16GB of DDR4 RAM and up to 1TB PCIe SSD which means you have enough room for all your files, photos, movies, etc.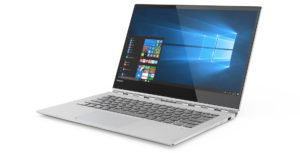 Display-wise, you have the opportunity to choose between 13.9″ configurations with either UHD (3840 x 2160) IPS panel or FHD (1920×1080) IPS one. The images will certainly pop on the Yoga 920's wide-angle display. Moreover, the razor-thin 5 mm vertical bezels will allow you to have more than amazing visual experience.
Moving on to the overall dimensions, the device has just 13.95 mm thickness while the scale tips at 1.37 kg making it your perfect companion throughout the day. What's more, Lenovo Yoga 920 supposedly lasts up to 15 hours so you don't have to worry about running out of battery. In terms of design, the intricate watchband hinge of the laptop has precisely enough resistance to provide stability in your mode of choice. Furthermore, the Wi-Fi antenna and air vents are located in the hinge providing you with smoothness across all surfaces and a more comfortable experience when typing on your lap. We would also like to note that thanks to the design your processor is protected from long-term dust damage.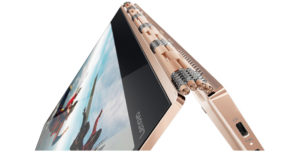 The optional Lenovo Active Pen 2 also impresses us as it gives the feeling of writing on an actual paper with twice the accuracy of competitors' pens. Another intriguing feature is the electronic assistant Cortana that can hear your voice from up to 4 meters away and answer your questions, open apps, create appointments. In addition, thanks to Constant Connect you can go on listening to music or checking your email even in standby mode. Speaking of music, you can immerse in a powerful three-dimensional audio space created by Dolby Atmos.
The available operating system here is Windows 10 Home that provides not only powerful but also smooth performance. As far as connectivity options are concerned, you are presented with a single USB 3.0 with always-on charging, two USB C (Thunderbolt, PowerDelivery & DisplayPort), as well as audio jack. The specs sheet is complemented by Wi-Fi 802.11AC (2×2) and Bluetooth 4.1.
Lenovo Yoga 920 has a starting price of around $1,329.99. You can check all available configurations and detailed specs in our Laptops Specs system: