Funsnap Capture 2 review – a good gimbal device which is affordable at the same time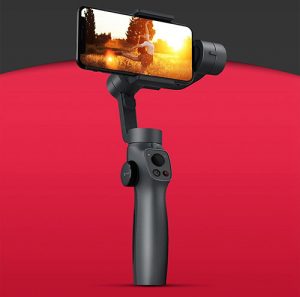 Have you seen people shooting videos with smartphones and action cameras stacked on a "stick"? This "stick" is called gimbal and if you live in a big city you may have noticed that quite a few people are using them. No matter if you are a Youtuber, photographer or you just want to take some pictures for fun – the gimbals are always useful. We will explain to you why.
Today we are going to review Funsnap Capture 2. Its predecessor was quite a good one and Capture 2 looks like a reasonable upgrade. Shortly, this is a 3-axis gimbal for smartphones (Android or iPhone) which can eliminate camera shaking. If you want to take a really steady pictures gimbal devices are your best friend. Today's market is overpopulated with so many models, let's see the performance of Funsnap Capture 2 and we will consider whether it is worth the money.
?? UK product link: https://amzn.to/2PeH7t0 [Promo Code: laptopmedia1]
Other countries: Buy from Amazon.com (#CommissionsEarned)
Contents
Official video
Specs Sheet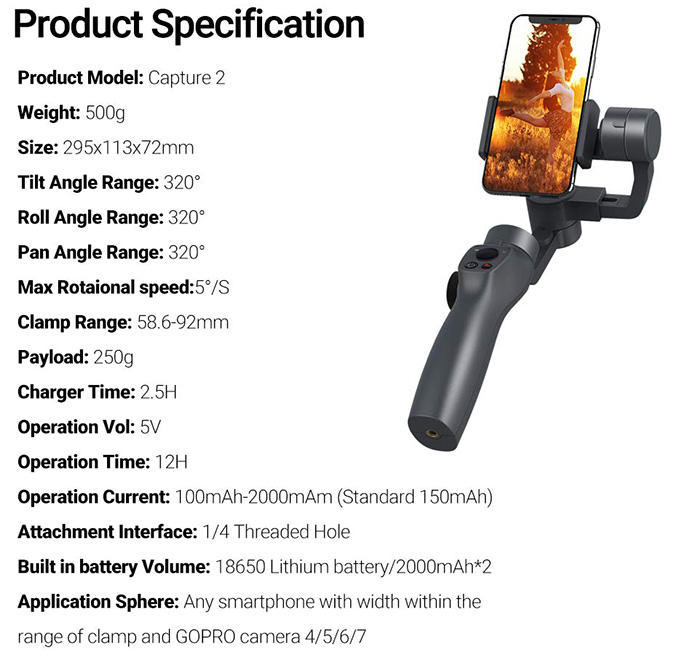 First look
This gimbal comes in a normal white box with some basic device's specs on it. Inside, Capture 2 is well secured with very hard polystyrene foam. There is a Micro USB cable for charging.
For its price tag, Capture 2 is not the most expensive device out there but the build quality feels and looks good. If you take it in your hand you'll notice that the device is solid, the grip is fine, the plastic quality is pleasant (its texture feels nice to touch) and doesn't feel cheap at all. There are no cracking sounds while holding it and no slits between the individual joints. Good job, we like it.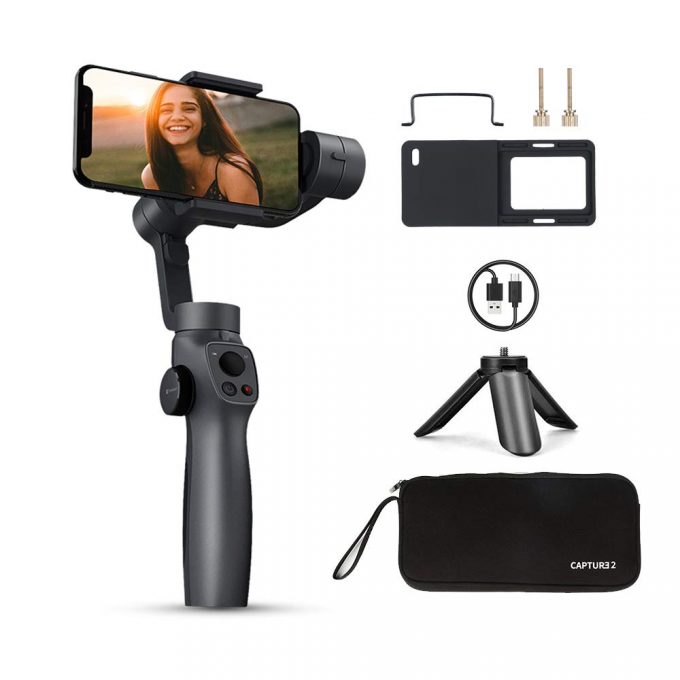 Impressions during testing
Now, let's have a closer look. For zooming, while shooting photos or videos, we have a wheel. It feels natural to zoom with it, it's an easy job and we had no difficulties while zooming during our tests. The wheel has another function – if you press and rotate, it will tilt the phone in the desired position. The trigger button is placed on the backside, press and hold is for the Locked mode and when you release it – Origin mode. Double-tap is for the power-on state.
In the upper part of the handle, there are three separated buttons (with a mode indicator light) combined into one section. The first one is the joystick – it can be slid in every direction and it'll pan or rotate the phone. Sliding the joystick is easy and we have no problems with it. A little bit below there are two smaller buttons – one is for on/off operations and the other is for shooting. It takes 3 seconds to power on or off the device. With this button, you can switch between different modes with a single tap (the next one on its right is the shooting button). Watch the indicator light color for every mode.
Green is for full-follow mode. That means the roll axis is locked. The handle movement will be followed by pan and tilt axes. Red is for locked mode. Pan, tilt, and roll axes are locked and the shooting scene is locked in the desired direction. Blue is for pitch follow mode. Tilt and roll axes are locked, the handle movement will be followed by the pan axis.
You can use the device with one arm only – hold the handle tightly, with the index finger you can press the trigger button (Lock mode and Origin mode). Use your thumb for zooming with the wheel button, tilting the device with the joystick, taking pictures with the shooting button, and changing modes with the on/off button. You control everything with two fingers.

Overall performance
The balance adjustment differs from phone to phone. For example, we had zero problems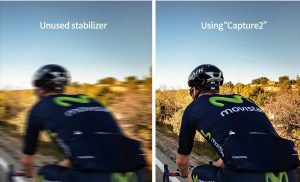 with Galaxy A6+ but the case with Xperia Z Ultra was different. Xperia Z Ultra is a big and tall phone (179.4 x 92.2 x 6.5 mm) and we used the counterweight plate for better balance. Without counterweight Capture 2 made a lot of beeping sounds and was rotating our big phone non-stop without finding the right position for it.
Even with counterweight sometimes the balance was gone again. You are shooting something and bam, the arm of the Capture 2 is going crazy. The motor of the gimbal isn't powerful enough to balance some heavy phones. The official max supported weight is 250 g but we had problems even with a 212-gram one.
The other problem with Xperia Z Ultra is that the camera was semi-blocked by the balancing arm. When we rotated the phone the volume-down button was blocked and continuously pressed by the holding mechanism. Because of that, the zoom-in / out function wasn't working in the official Android app for Capture 2. Probably this is an isolated case but keep that in mind if you have a big phone like Galaxy Note or Xiaomi Mi Max.



Using normal-sized phones was a flawless experience. The motor had no problem with horizontal and vertical orientations – a vertical-mounted phone is always a challenge, but Capture 2 did a good job here. Stabilization performance was impressive (with usual-sized phones) – we were able to take steady shots every time (with the included stand), the videos were smooth – blur-free with no jitters. The motor noise is acceptable and you will not hear its presence in your videos.
The adjustable clamp can hold phones from 55-90mm wide and that means probably every phone on the market is compatible.


Capture 2 app
Speaking of the official app, it is called Capture 2. To use it you have to pair your phone with the device (Capture 2) and the app via Bluetooth. Pairing with the Capture 2 was fast, but we have some issues with the app. With some phones, pairing with the app directly through the Bluetooth menu is impossible. First, you have to enable Bluetooth and Location (GPS) and then start the app, it'll ask for pairing. If you forget to turn on the GPS, the program will crash (at least in our case it is like that). We have trоuble getting the app through three different QR scanner software.
The strange thing was that the provided link has double "https" in it and you have to manually copy the link, remove the first "https", and paste the link in your browser. Hm, not a very pleasant experience for such an ordinary thing like a QR code.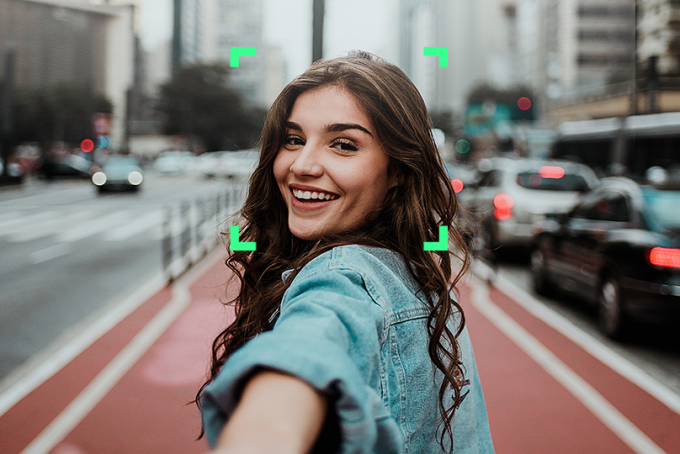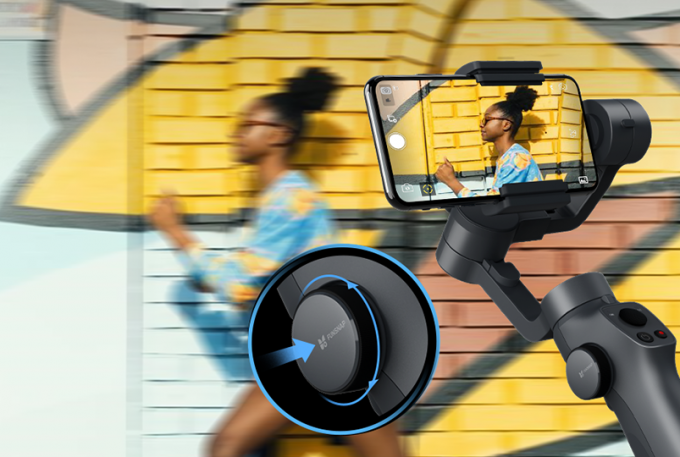 Now, the good things about the app. The menu is easy to navigate, it is a basic software but you don't need more in this scenario. You can take photos and record videos with the shooting button or you can zoom in / out with the wheel button while recording. Other options are motion timelapse and 320-degree panoramas.
It's a simple app and effective at the same time, with an easy menu, nothing unnecessary in it.
Battery life
Battery life is really impressive. We aren't able to drain it for two days of testing. We think this is clear enough.

We like it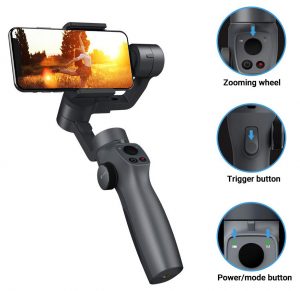 At the end of the day, we like the Funsnap Capture 2. Ok, it has some flaws like not-so-good balance adjustment with big and tall phones and some troubles with the official app. Overall the device is fine, especially for its price. The build quality is very good, the battery is really strong, you can take superb pictures and videos even when you walk.
The device is very easy for use, you control it with two fingers. The grip is there too so don't worry if you need to run-and-jump while recording. It is compatible with action cameras too – adapter for GoPro Hero is included in the box.
Funsnap Capture 2 is a great gadget for modern people – the ones who love to record every beautiful moment of their lives and for those who like to share videos with the world via Youtube.
?? UK product link: https://amzn.to/2PeH7t0 [Promo Code: laptopmedia1]
Other countries: Buy from Amazon.com (#CommissionsEarned)
Pros
Good build quality
Grippy device
Works well with horizontal and vertical orientations
Included adapter for GoPro Hero
Strong battery
Simple to control
Good stabilization
Cons
Little problems with the official app
The motor has some trouble with heavy phones