Get this 13.3-inch (IPS) notebook with Core i7, 8GB RAM and 256GB SSD for just $585.99 with LaptopMedia's coupon code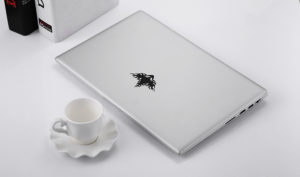 You may have noticed that throughout the last couple of weeks we shared a good number of publications dealing with the great variety of offers suitable for Christmas gifts on a tight budget. However, few words have been devoted to mid or high-end devices. For this reason we decided to present this short article to you.
We are happy to discuss the Martian A8 ultrabook which can be purchased from our GearBest partners' store. What is more, we have a coupon code that you can use to reduce the product's price to $585.99 – "Martiani7".
Among the most notable features of this device are its 13.3-inch IPS display with Full HD resolution, Intel Core i7 processor and 8GB of RAM but let us have a closer look as to why these are so special.

Display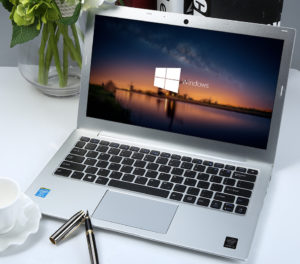 Alright, so this bad boy is a 13.3-inch device and is suitable for those of you who are after good performance on the go without spending too much cash. Martian A8 boasts a 13.3-inch IPS display whose resolution is Full HD (1920 x 1080 p).
What this means is that you are presented with a screen providing saturated and contrasty colors in addition to good viewing angles. What is more, the Full HD resolution on a smaller screen size translates into higher pixel density or very decent image detail.
But why should you care about all these? Well, these merits are of utmost importance for good multimedia experience – when playing your favorite games or just watching some movies.

Design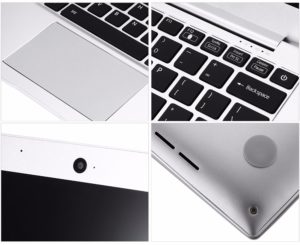 Design-wise, the notebook does not have any aggressive features. No, Martian A8 keeps it simple with a silver body paint, a somewhat alien-looking logo on the lid, which surely attracts one's eyes, and a couple of rubber feet on the base, meant to reduce vibrations.
As far as the interior is concerned, you will find the IPS display above which stays a 0.3MP front-facing web camera for video calls. Additionally, the manufacturer has included a black keyboard without the NumPad panel, as one could expect from a 13.3-inch device.

Ports and Hardware
A very important aspect of a device is the arrangement of its connectivity options. But why are we so obsessed with this? Well, if you read our publications, you would know that a good port distribution is one which allows you to conveniently use an external mouse on the right side of your laptop. Is this the case with Martian A8? We could say so. The image below displays the way the manufacturer has placed all of the jacks and connectors and you can see that the right has more of them. However, they are located near to the back side (where the hinge is) and this does not cause that much of an inconvenience when using an external mouse.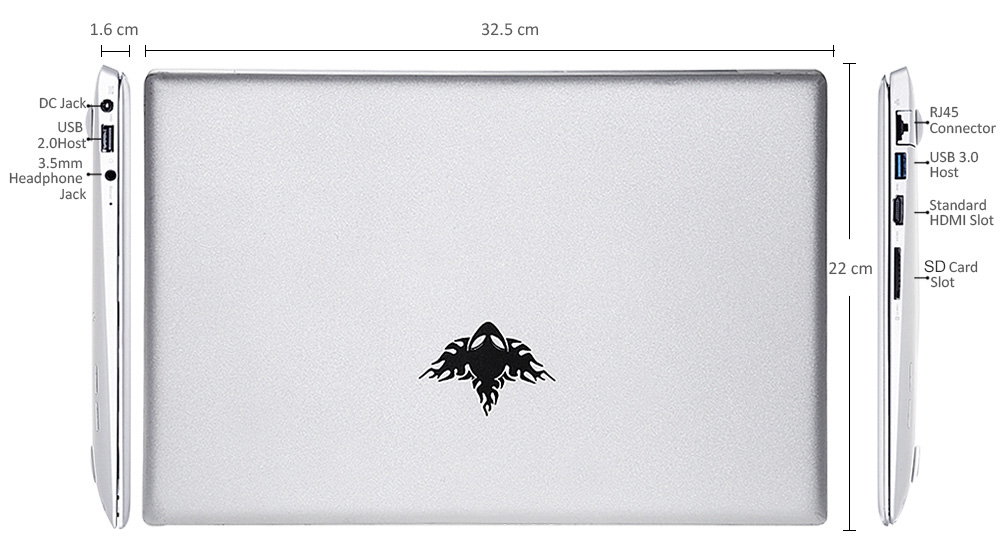 Now, let's talk about the most pleasant part in Martian A8. Yes, the choice of "in" is by no means random. It is on the inside that you find some very appealing hardware components – a dual-core Intel Core i7-7500U processor, accompanied by Intel HD Graphics 620 graphics card and 8GB of RAM. This combo should ensure flawless operation when browsing the Web, and should also provide you with the opportunity to play some of your favorite games on the go. What's more, the notebook comes with a 256GB SSD for faster completion of more time-consuming tasks as well as faster data transfer.
If you happen to show interest in this product, you can use this link to check price and availability. And don't forget the coupon code – Martiani7.

Specs sheet
OS
DOS
CPU
Intel Core i7-7500U (2-core, 2.7GHz, 4MB cache)
RAM
8GB DDR3L
Storage
256GB SSD
GPU
Intel HD Graphics 620
Display
13.3-inch Full HD IPS display (1920 x 1080 p)
Connectivity
Bluetooth v4.0, WLAN, LAN
Features

microSD card slot
1x USB 2.0
1x USB 3.0
dual-channel loudspeaker
3.5 mm audio jack
RJ 45 connector
integrated microphone
webcamera

Battery
2520mAh
Dimensions
32.50 x 22.00 x 1.60 cm
Weight
1.400 kg
Gearbest is running a flash sale with great promotions – check it out here: GEARBEST Flash Sale