Lenovo's monstrous battery keeps the show running for hours despite the powerful hardware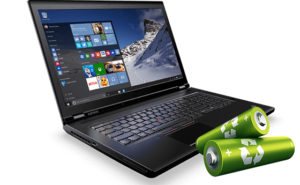 We've got some pretty good news about the battery life of the ThinkPad P70 – Lenovo's top-shelf workstation. And you'd assume that for a 17-incher packed with a powerful hardware meant for heavy and prolonged workloads, the battery will go out in minutes but the P70 got you covered with an insane 8-cell 96Wh battery pack that keeps the 17.3-inch Full HD IPS display, Core i7-6820HQ processor and the NVIDIA Quadro GPU running for hours beating some 15-inch laptops with less demanding hardware.
You can find the Lenovo's ThinkPad P70 current price and configurations here: http://amzn.to/2ciZMQg
In our web browsing test, the laptop endured an impressive 500 minutes (8 hours and 40 minutes) but fell short in terms of video playback 393 minutes (6 hours and 33 minutes). Still, the latter is rather impressive given the form factor of the device. Even gaming machines with huge batteries like the Alienware 17 R3 and the Predator 17, which both sport similar battery packs, can't compete with the Lenovo ThinkPad P70.
Stay tuned for the full review with much more insightful information regarding performance, screen quality and temperature management.