ACER Aspire 7
AMD Ryzen 5 5500U
NVIDIA GeForce GTX 1650 (Laptop)
15.6", Full HD (1920 x 1080), IPS
512GB SSD
8GB DDR4
2.15 kg (4.7 lbs)
Pros
Hervorragende Kühlung, die mehr Leistung bietet, als wir erwartet haben
Wi-Fi 6 + 2x SODIMM-Steckplätze
Gute Akkulaufzeit
PWM-freier Bildschirm (AUO B156HAN02.1 (AUODF87))
Angemessener Preis
Cons
Kein Thunderbolt-Anschluss oder SD-Kartenleser
Deckt nur 51 % des sRGB-Farbraums ab (AUO B156HAN02.1 (AUODF87))
Vollplastikgehäuse (obwohl es sich nicht billig anfühlt)
Technische Daten
Intel Core i7-1255U

3.9%

AMD Ryzen 7 PRO 4750U

3.3%

AMD Ryzen 5 5500U

AMD Ryzen 7 4700U

1.1%

AMD Ryzen 5 PRO 4650U

1.8%

Intel Core i7-11370H

2.1%
NVIDIA Quadro P620 (4GB GDDR5)

11.8%

Intel Iris Xe Graphics G7 (96EU)

8.6%

NVIDIA GeForce GTX 1650 (Laptop)

AMD Radeon RX Vega 8 (R4000/5000, 15W)

8.0%

NVIDIA GeForce MX330 (4GB GDDR5, 25W)

13.8%

AMD Radeon RX Vega 7 (R4000,5000 35/45W)

13.8%
Gehäuse Material
Plastic / Polycarbonate
Abmessungen
363.4 x 254.5 x 22.9 mm (14.31" x 10.02" x 0.90")
Gewicht
2.15 kg (4.7 lbs)
1x USB Type-A
3.2 Gen 1 (5 Gbps)
1x USB Type-A
3.2 Gen 1 (5 Gbps), Sleep and Charge
1x USB Type-C
3.2 Gen 1 (5 Gbps)
Ethernet LAN
10, 100, 1000 Mbit/s
Audio jack
3.5mm Combo Jack
Hintergrundbeleuchtete Tastatur
Sicherheitsschloss Schlitz
Es gibt 2 Acer Laptops mit den gleichen Spezifikationen (sorted by price)
#CommissionsEarned
Anzeige: 15.6-inch, 1920 x 1080, IPS
PWM-Frequenz

No PWM (Flicker-Free)
Wird zu "Retina" von
24 inches (62 cm)
PWM-Bewertung

10.0: (safe)
Kaufen Sie unsere Profile für AUO B156HAN02.1
Mit dem Kauf von LaptopMedia-Produkten erhalten Sie nicht nur effiziente und gesundheitsschonende Profile, sondern Sie unterstützen auch die Entwicklung unserer Labore, in denen wir Geräte testen, um möglichst objektive Testberichte zu erstellen.
ACER Aspire 7 gründliche Überprüfung
Acer gehört zu den Top-Marken auf dem Markt. Allerdings liegt das Unternehmen in Sachen Marktanteil immer noch hinter Lenovo, HP und Dell zurück und muss sich daher steigern. Kürzlich hat das Unternehmen seine Predator-Gaming-Serie mit einem neuen, frischen Look verbessert. Dann folgten die Swift- und Spin-Serien, aber wie bei den anderen Herstellern gibt es eine Sache, die sich am besten verkauft - günstige Laptops. Daher ist die Untermarke Aspire wohl die wichtigste in Acers Portfolio. Aber was ist, wenn Sie ein günstiges Notebook suchen, das mehr kann als nur tägliche Aufgaben zu erledigen? Vielleicht möchten Sie ein oder zwei Spiele spielen, oder Sie haben einige Produktivitätsaufgaben zu erledigen. Nun, das Aspire 7 (A715-42G) ist da, und es hat etwas Interessantes für Sie. Eines [...]
Lesen Sie die vollständige Rezension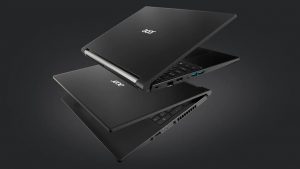 Demontage, Wartung und Aufrüstmöglichkeiten
The Aspire 7 (A715-42G) is a pretty interesting device, which combines a ULV processor with a full-blown graphics card. Check out all Acer Aspire 7 (A715-42G) prices and configurations in our Specs System or read more in our In-Depth review. 1. Remove the bottom plate and battery To get this notebook disassembled, you will need to remove the bottom panel. This happens by undoing 13 Phillips-head screws and prying the panel with a plastic tool. 2. Battery The battery pack has a capacity of 50.3Wh, and it is the first thing you need to unplug before you proceed with the teardo[...]
Mehr lesen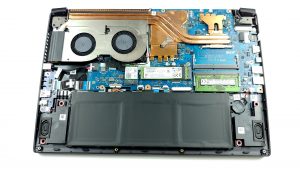 CPU-Leistung: AMD Ryzen 5 5500U
Die Ergebnisse stammen aus dem Cinebench 20 CPU-Test (je höher die Punktzahl, desto besser)
GPU-Leistung: NVIDIA GeForce GTX 1650 (Laptop)
Die Ergebnisse sind für den 3DMark: Fire Strike (Grafik) Benchmark (je höher die Punktzahl, desto besser)
Einige Spiele, die Sie auf diesem Laptop spielen können
Zeigen Sie mir die besten Laptops für...