Intel Core i5-10300H
NVIDIA GeForce RTX 2060 (Laptop)
15.6", Full HD (1920 x 1080), 144 Hz, IPS
512GB SSD
2x 4GB DDR4, 2933 MHz
2.46 kg (5.4 lbs)
Pros
Good cooling setup
Two M.2 PCIe slots and two RAM SODIMM slots
The display doesn't flicker at any brightness level (AUO B156HAN08.2)
Covers 91% of sRGB and has a decent color accuracy (with our Gaming and Web design profile) (AUO B156HAN08.2)
144Hz panel has great pixel response times (AUO B156HAN08.2)
Wi-Fi 6 and Thunderbolt 3 support, plus an SD card reader on board
Its keyboard is comfortable for typing and gaming at the same time
Cons
Bizarre location of the Power button
The hinges seem unstable
Technische Daten
Intel Core i7-1165G7

1.0%

AMD Ryzen 3 5300U

1.2%

Intel Core i5-10300H

Intel Core i5-1145G7

0.3%

Intel Core i5-10400H

0.6%

Intel Core i5-9300H

1.0%
NVIDIA GeForce RTX 2060 (Laptop, 80W)

1.0%

NVIDIA GeForce RTX 3050 Ti (Laptop, 75W)

2.4%

NVIDIA GeForce RTX 2060 (Laptop)

NVIDIA GeForce RTX 3050 Ti (Laptop, 60W)

6.4%

NVIDIA GeForce RTX 3050 (Laptop, 90W)

10.1%

NVIDIA GeForce GTX 1660 Ti Max-Q

8.1%
AUO B156HAN08.2 (AUO82ED)
RAM
2x 4GB DDR4, 2933 MHz
Gehäuse Material
Plastic / Polycarbonate, Aluminum
Abmessungen
357.9 x 239.7 x 22.6 mm (14.09" x 9.44" x 0.89")
Gewicht
2.46 kg (5.4 lbs)
1x USB Type-C
DisplayPort, Sleep and Charge
1x USB Type-A
Sleep and Charge
Ethernet LAN
10, 100, 1000 Mbit/s
Audio jack
3.5 Combo Jack
Hintergrundbeleuchtete Tastatur
Mikrofon
Dual Array Digital Microphone
Lautsprecher
2 Speakers, Bang & Olufsen
Anzeige: 15.6-inch, 1920 x 1080, IPS
Name
AUO B156HAN08.2 (AUO82ED)
PWM-Frequenz

No PWM (Flicker-Free)
Wird zu "Retina" von
24 inches (62 cm)
PWM-Bewertung

10.0: (safe)
Kaufen Sie unsere Profile für AUO B156HAN08.2 (AUO82ED)
Mit dem Kauf von LaptopMedia-Produkten erhalten Sie nicht nur effiziente und gesundheitsschonende Profile, sondern Sie unterstützen auch die Entwicklung unserer Labore, in denen wir Geräte testen, um möglichst objektive Testberichte zu erstellen.
HP OMEN 15 gründliche Überprüfung
Ever since 2017, HP has used pretty much the same design for their Omen series. Indeed it was a fresh new feature back then, but quite honestly, it looked a bit too aggressive. Fast-forward to 2020, and we see that HP has taken some notes from Lenovo and their Legion series, which are one of the most incognito gaming notebooks on the market. However, looks are not the only difference we see. HP now provides the laptop with both Intel (10th Gen) and AMD (Zen 2) processors, and we see that the NVIDIA RTX Super GPUs are slowly creeping on the market. And what would be a decent gaming laptop without at least a 144Hz display, right? So, we are extremely excited about this laptop, as it is probably the biggest rebranding/design change in quite a while. Actually, do you remember the old[...]
Lesen Sie die vollständige Rezension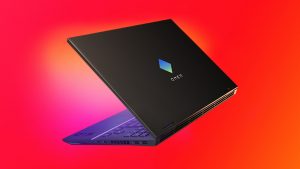 Demontage, Wartung und Aufrüstmöglichkeiten
The new HP Omen 15 looks really fresh on the outside. How does it look on the inside? Check out all HP Omen 15 2020 (15-ek0000) prices and configurations in our Specs System or read more in our In-Depth review. 1. Remove the bottom plate To get inside this notebook, you have to undo 8 Phillips-head screws. Ultimately, this is an easy job to do, and prying the bottom panel is not harder at all. 2. Battery In terms of power away from the grid, there is a 71Wh unit. 3. Memory and storage Memory-wise, there are two RAM SODIMM slots, which work in dual-channel mode and we a[...]
Mehr lesen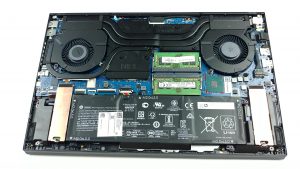 CPU-Leistung: Intel Core i5-10300H
Die Ergebnisse stammen aus dem Cinebench 20 CPU-Test (je höher die Punktzahl, desto besser)
GPU-Leistung: NVIDIA GeForce RTX 2060 (Laptop)
Die Ergebnisse sind für den 3DMark: Fire Strike (Grafik) Benchmark (je höher die Punktzahl, desto besser)
Einige Spiele, die Sie auf diesem Laptop spielen können
Zeigen Sie mir die besten Laptops für...