Acer Nitro 5
AMD Ryzen 7 5800H
NVIDIA GeForce RTX 3070 (Laptop, 100W)
17.3", Full HD (1920 x 1080), 144 Hz, IPS
1000GB SSD
2x 8GB DDR4, 3200 MHz
2.70 kg (6 lbs)
Pros
It has two RAM SODIMM slots and two M.2 drives, besides the 2.5" SATA drive bay
Optional RGB backlight
Lack of PWM (AUO B173HAN04.9)
Comfortable viewing angles and good contrast ratio (AUO B173HAN04.9)
Decent gaming comfort
Cons
Lacks an SD card reader
Slow response times, despite the 144Hz refresh rate (AUO B173HAN04.9)
Covers only 51% of sRGB (AUO B173HAN04.9)
Plastic build
Especificaciones
Intel Core i7-1280P

4.6%

AMD Ryzen 7 6800H

9.4%

AMD Ryzen 7 5800H

Intel Core i7-11800H

0.2%

Intel Core i9-11900H

0.5%

Intel Core i7-11850H

1.3%
NVIDIA GeForce RTX 3070 (Laptop, 95W)

13.0%

NVIDIA GeForce RTX 2080 SUPER Max-Q (90W)

12.7%

NVIDIA GeForce RTX 3070 (Laptop, 100W)

NVIDIA GeForce RTX 3060 (Laptop, 130W)

5.6%

NVIDIA GeForce RTX 3070 (Laptop, 85W)

17.1%
AUO B173HAN04.9 (AUO978F) - Acer Nitro 5 (AN517-41)
RAM
2x 8GB DDR4, 3200 MHz
Material del cuerpo
Plastic / Polycarbonate
Dimensiones
403.5 x 280 x 24.9 mm (15.89" x 11.02" x 0.98")
2x USB Type-A
3.2 Gen 1 (5 Gbps)
1x USB Type-A
3.2 Gen 2 (10 Gbps), Sleep and Charge
1x USB Type-C
3.2 Gen 2 (10 Gbps)
Ethernet LAN
10, 100, 1000 Mbit/s
Audio jack
3.5mm Combo Jack
Lector de huellas dactilares
Micrófono
Dual Built-in Microphones with Acer Purified Voice
Altavoces
Speakers by DTS X: Ultra Audio
Ranura de bloqueo de seguridad
Kensington Lock Slot
Mostrar: 17.3-inch, 1920x1080, IPS
Nombre
AUO B173HAN04.9 (AUO978F) - Acer Nitro 5 (AN517-41)
Densidad de píxeles
127.34 ppi
Se convierte en "Retina" de
27 inches (69 cm)
Clasificación PWM

10.0: (safe)
Compre nuestros perfiles para AUO B173HAN04.9 (AUO978F) - Acer Nitro 5 (AN517-41)
Además de recibir perfiles eficientes y respetuosos con la salud, al comprar los productos de LaptopMedia también apoyas el desarrollo de nuestros laboratorios, donde probamos los dispositivos para elaborar las reseñas más objetivas posibles.
Acer Nitro 5 revisión en profundidad
The Acer's Nitro series is very popular because these machines offer decent hardware at a reasonable price. Of course, as you may expect, there are better laptops with the same hardware and they come with better build quality and features, but in most cases, their price is heftier compared to the Nitro series. The main focus here is gaming performance without too many bangs and whistles and that leads to a good price / performance ratio. Speaking of which, the Acer Nitro 5 (AN517-41) is a big 17.3" laptop that can be configured with mouth-watering hardware. The AN517-41 devices can be found with a decent variety of mobile AMD Zen 3 CPUs - starting with the AMD Ryzen 5 5600H and the top dog is the AMD Ryzen 9 5900HX. GPU-wise, some good NVIDIA Ampere video cards can be fitted under t[...]
Leer la reseña completa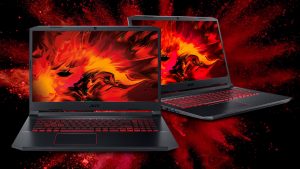 Opciones de desmontaje, mantenimiento y actualización
The Nitro 5 (AN517-41) is shaping to become a surprising flagship, considering the beast hardware it sports. Check out all Acer Nitro 5 (AN517-41) prices and configurations in our Specs System or read more in our In-Depth review. 1. Remove the bottom plate On the inside, this laptop looks like the 15-inch Nitro 5 hiding in a bigger chassis. Nevertheless, you still got 12 Phillips-head screws before you have access to the internals. After you undo them, you'll find it easier to start prying the bottom panel from one of the front corners. 2. Battery The battery is the same 57.[...]
Leer más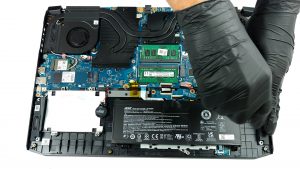 Rendimiento de la CPU: AMD Ryzen 7 5800H
Results are from the Cinebench 20 CPU test (the higher the score, the better)
Rendimiento de la GPU: NVIDIA GeForce RTX 3070 (Laptop, 100W)
Los resultados corresponden a la prueba de referencia 3DMark: Fire Strike (Graphics) (cuanto más alta sea la puntuación, mejor)
Algunos juegos a los que puedes jugar en este portátil
Muéstrame los mejores portátiles para...