MSI Katana GF66
Intel Core i5-11400H
NVIDIA GeForce RTX 3060 (Laptop, 85W)
15.6", Full HD (1920 x 1080), 144 Hz, IPS
512GB SSD
16GB DDR4
2.25 kg (5 lbs)
Pros
Competitively priced
Two SODIMM slots, and up to two M.2 PCIe x4 slot
Rigid structure
Lacks PWM (AUO B156HAN08.4 (AUOAF90))
144Hz refresh rate (AUO B156HAN08.4 (AUOAF90))
Cons
53% sRGB coverage (AUO B156HAN08.4 (AUOAF90))
Slow pixel response times and low maximum brightness (AUO B156HAN08.4 (AUOAF90))
No SD card reader and Thunderbolt 4
Runs hot
Unimpressive battery life
Especificaciones
AMD Ryzen 7 5700U

0.3%

Intel Core i5-1240P

1.1%

Intel Core i5-11400H

AMD Ryzen 5 4600H

0.8%

AMD Ryzen 5 5625U

3.4%

Intel Core i5-1245U

3.5%
NVIDIA GeForce RTX 2070 SUPER Max-Q (90W)

1.5%

NVIDIA GeForce RTX 3060 (Laptop, 75W)

0.4%

NVIDIA GeForce RTX 3060 (Laptop, 85W)

AMD Radeon RX 6600M

12.1%

NVIDIA GeForce RTX 3060 (Laptop, 70W)

5.6%

NVIDIA GeForce RTX 3060 (Laptop, 65W)

3.8%
AUO B156HAN08.4 (AUOAF90)
Ranura M.2
up to 2x M.2 PCIe x4
Material del cuerpo
Plastic / Polycarbonate
Dimensiones
359 x 259 x 24.9 mm (14.13" x 10.20" x 0.98")
2x USB Type-A
3.2 Gen 1 (5 Gbps)
1x USB Type-C
3.2 Gen 1 (5 Gbps)
Ethernet LAN
10, 100, 1000 Mbit/s
Audio jack
3.5mm Combo Jack
Lector de huellas dactilares
Altavoces
Stereo Speakers by Nahimic Audio
More MSI Katana GF66 configurations - 5 laptops
#CommissionsEarned
Mostrar: 15.6-inch, 1920x1080, IPS
Nombre
AUO B156HAN08.4 (AUOAF90)
Densidad de píxeles
141.21 ppi
Frecuencia PWM

No PWM (Flicker-Free)
Se convierte en "Retina" de
24 inches (62 cm)
Clasificación PWM

10.0: (safe)
Compre nuestros perfiles para AUO B156HAN08.4 (AUOAF90)
Además de recibir perfiles eficientes y respetuosos con la salud, al comprar los productos de LaptopMedia también apoyas el desarrollo de nuestros laboratorios, donde probamos los dispositivos para elaborar las reseñas más objetivas posibles.
MSI Katana GF66 revisión en profundidad
MSI's GF series has traditionally been the manufacturer's entry-level gaming devices. Naturally, this makes it a hot property as not everybody is willing to spend a whole fortune on a laptop. However, the GF notebooks were notorious for their cooling problems, and we really hope that this year's redesign will address these issues. In addition to the mild redesign, we are happy to see that MSI has spared no effort in introducing the latest additions from Intel and NVIDIA. This includes the Tiger Lake H45 processors and the Ampere graphics cards. It is particularly interesting to see how the entry-level RTX 3050 is going to perform now that NVIDIA has given their lowest-tier GPU the ray-tracing treatment. Thankfully, you get some customization options via the MSI Center. There, you ca[...]
Leer la reseña completa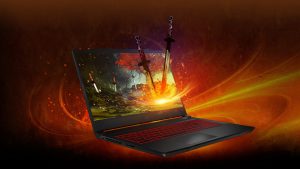 Rendimiento de la CPU: Intel Core i5-11400H
Results are from the Cinebench 20 CPU test (the higher the score, the better)
Rendimiento de la GPU: NVIDIA GeForce RTX 3060 (Laptop, 85W)
Los resultados corresponden a la prueba de referencia 3DMark: Fire Strike (Graphics) (cuanto más alta sea la puntuación, mejor)
Algunos juegos a los que puedes jugar en este portátil
Muéstrame los mejores portátiles para...