MSI Katana GF76
Intel Core i5-11400H
NVIDIA GeForce GTX 1650 (Laptop)
17.3", Full HD (1920 x 1080), 144 Hz, IPS
512GB SSD
2x 8GB DDR4, 3200 MHz
2.60 kg (5.7 lbs)
Pros
Competitively priced
Two SODIMM slots, and up to two M.2 PCIe x4 slot
Rigid structure
Lacks PWM (AUO B173HAN04.9)
144Hz refresh rate (AUO B173HAN04.9)
Cons
51% sRGB coverage (AUO B173HAN04.9)
Slow pixel response times and low maximum brightness (AUO B173HAN04.9)
No SD card reader and Thunderbolt 4
Runs hot
Unimpressive battery life
Especificaciones
AMD Ryzen 7 5700U

0.3%

Intel Core i5-1240P

1.1%

Intel Core i5-11400H

AMD Ryzen 5 4600H

0.8%

AMD Ryzen 5 5625U

3.4%

Intel Core i5-1245U

3.5%
NVIDIA Quadro T500

10.5%

NVIDIA GeForce MX450

8.6%

NVIDIA GeForce GTX 1650 (Laptop)

NVIDIA GeForce MX350 (25W)

11.7%

NVIDIA GeForce MX250 (25W)

13.2%

AMD Radeon RX Vega 8 (R4000/5000, 15W)

8.0%
AUO B173HAN04.9 (AUO978F)
Ranura M.2
1x M.2 NVMe slot
RAM
2x 8GB DDR4, 3200 MHz
Material del cuerpo
Plastic / Polycarbonate
Dimensiones
398 x 273 x 25.2 mm (15.67" x 10.75" x 0.99")
2x USB Type-A
3.2 Gen 1 (5 Gbps)
1x USB Type-C
3.2 Gen 1 (5 Gbps)
Ethernet LAN
10, 100, 1000 Mbit/s
Audio jack
3.5mm Combo Jack
Lector de huellas dactilares
Altavoces
Stereo Speakers by Nahimic Audio
Mostrar: 17.3-inch, 1920x1080, IPS
Nombre
AUO B173HAN04.9 (AUO978F)
Densidad de píxeles
127.34 ppi
Frecuencia PWM

No PWM (Flicker-Free)
Se convierte en "Retina" de
27 inches (69 cm)
Clasificación PWM

10.0: (safe)
Compre nuestros perfiles para AUO B173HAN04.9 (AUO978F)
Además de recibir perfiles eficientes y respetuosos con la salud, al comprar los productos de LaptopMedia también apoyas el desarrollo de nuestros laboratorios, donde probamos los dispositivos para elaborar las reseñas más objetivas posibles.
MSI Katana GF76 revisión en profundidad
MSI has updated its gaming weaponry with devices that stay true to Intel. As one of the most Intel-centric brands out there, the Red Dragon plans to reintroduce the trust to the Blue giant to its customers. The laptop we are going to show you today is called the Katana GF76. It happens to be the most budget-conscious 17-inch laptop in MSI's gaming laptop portfolio. They have switched the 10th Gen Comet Lake-H CPUs for the 11th Gen Tiger Lake H45 ones. As we figured in our most recent tests, they are Intel's biggest chance of a comeback in the laptop world - the only space they seem to have a chance. Nevertheless, you have to keep in mind that the budget nature of the notebook means you will have to make sacrifices. For example, there is no Thunderbolt connector, and the graphics option[...]
Leer la reseña completa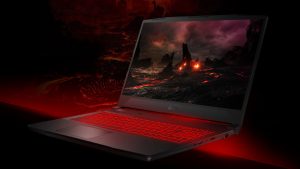 Rendimiento de la CPU: Intel Core i5-11400H
Results are from the Cinebench 20 CPU test (the higher the score, the better)
Rendimiento de la GPU: NVIDIA GeForce GTX 1650 (Laptop)
Los resultados corresponden a la prueba de referencia 3DMark: Fire Strike (Graphics) (cuanto más alta sea la puntuación, mejor)
Algunos juegos a los que puedes jugar en este portátil
Muéstrame los mejores portátiles para...