MSI GP65 Leopard 10Sx review – evolution rather than revolution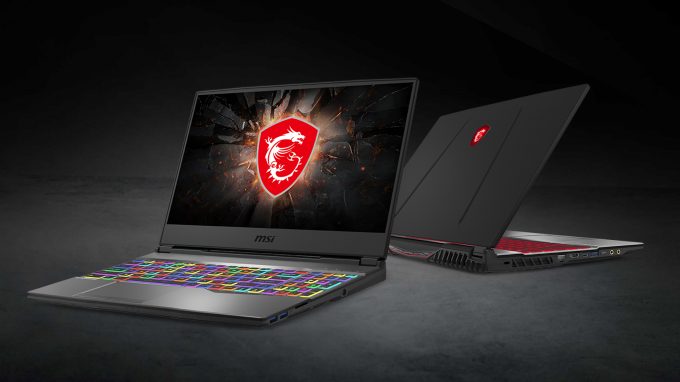 Made for gamers and creators? Are you sure MSI? Well, we are about to find out. Certainly, both of the supposed target groups would take advantage of the powerful hardware inside of this machine. We are talking about the Core i7-10750H and up to an RTX 2070 graphics card. This is no joke, guys. However, let's not forget that this is a year old design. Ultimately, the only thing that gives away the 2020 nature of the machine is the 10Sx moniker on the back of the name.
However, since we weren't able to get one of the 9Sx devices, we feel lucky to have snatched a unit of the brand new offering from MSI. Sure, it has a cool look, but it is neither the thinnest or the lightest gaming notebook out there. This suggests that the cooling is capable enough. And sure it needs to be – we found out that MSI is using the most powerful RTX 2070 graphics card iteration, using the mindblowing 115W of TGP. And yes, we are also excited to show you everything about this notebook, so enough jibberish.
You can check the prices and configurations in our Specs System: https://laptopmedia.com/series/msi-gp65-leopard-10sx/
Contents
Specs Sheet
LG LP156WFG-SPB3 (LGD0625)
HDD/SSD
hasta 7600GB SSD + hasta 2000GB HDD
Ranura M.2
1x 2280 PCIe 3.0 x4/SATA
OS
Windows 10 Home, Windows 10 Pro, No OS
Material del cuerpo
Plastic / Polycarbonate, Aluminum
Dimensiones
357 x 248 x 27.5 mm (14.06" x 9.76" x 1.08")
1x USB Type-C
3.2 Gen 2 (10 Gbps)
3x USB Type-A
3.2 Gen 1 (5 Gbps)
Lector de tarjetas
SD, SDHC, SDXC
Conector de audio
1x Mic-in, 1x Headphone-out
Lector de huellas dactilares
Altavoces
2x 3W, Nahimic 3
Ranura de bloqueo de seguridad
What's in the box?
Our unit came in a sleek black box, and on the inside, we found the mandatory paperwork, as well as a 230W power brick. In fact, you will receive a 230W adapter if you get any of the RTX-equipped GP65 Leopard 10Sx devices, however, if you go for the GTX 1650 Ti/GTX1660 Ti versions, you'll get a 180W unit, and the lowest available option – the GTX 1650, comes with a 150W power adapter.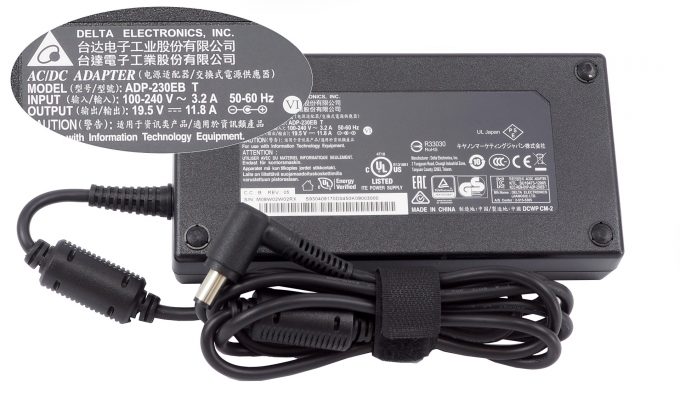 Design and construction
When it comes to the quality of build, we have a couple of things to say. First, the main material of the chassis is plastic. Indeed, this is expected, and while the base looks like its made out of metal, well… it feels plasticky as well. Perhaps the only aluminum thing out there is the lid. As of the measurements, we already mentioned that the GP65 Leopard is a thick boy – it stands at 27.5mm tall, while it weighs 2.30 kg – pretty decent result for a gaming machine.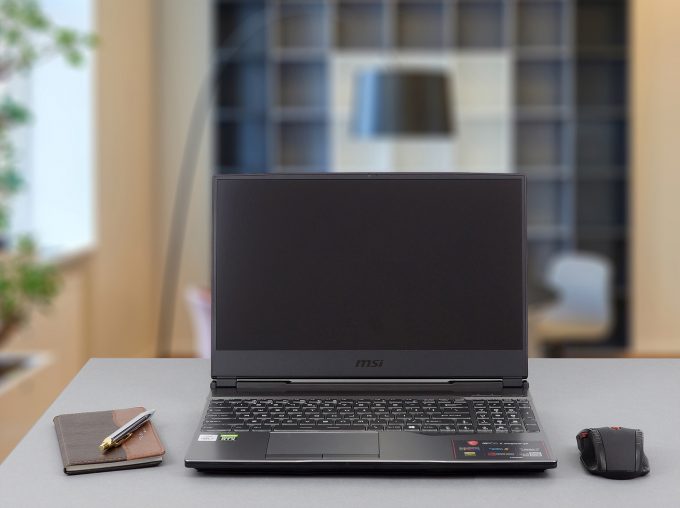 As of the lid, it opens easily with a single hand, but it bends slightly under pressure. By the way, this can also be said about the base, which even adds a little squeak to the experience. Nevertheless, the bezels around the screen are thin, providing a modern look, and kudos to MSI for cramming an HD camera in the top bezel.
Now, let's move to the base, where we can find a typical MSI-ish execution. The keyboard deck spans throughout the entire width of the base, with virtually no free space on the left and right sides. The mechanisms provide a relatively long travel and rather clicky feedback. Additionally, you can find a NumberPad section, and full-sized arrow keys, although the latter are jammed into the rest of the keys, making it slightly less comfortable, than if they were moved a centimeter below.
If you are not yet aware, MSI is selling this device with two optional backlights – a single-color (Red) one and per-key RGB by Steelseries. The latter is exactly what we've got and it is great to see that you have so much customization. Personally, we like sleeker units, so we would always prefer setting it to a white or light blue color, but it is entirely subjective. And we should not forget the presets it comes with, some of which are designed to enhance your gaming experience, depending on the type of the game.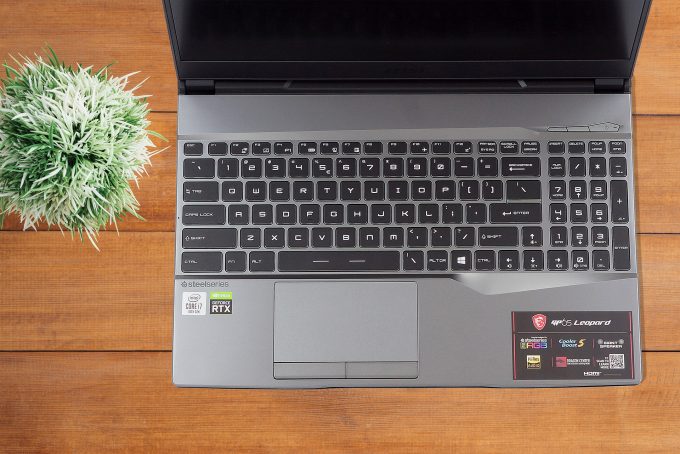 However, this is not all. On the top right corner of the base, you will find the Holy Grail of MSI laptops – a Power button, a Dragon Center shortcut, and a Vacuum Cleaner mode. While the former two are pretty straightforward, what the last mode does is it spins the fans at their maximum RPMs until you press the button again.
Still, on the base, there is a pretty big touchpad with dedicated buttons. Its surface is super smooth and it feels like glass. This makes gliding and tracking supreme, and the dedicated buttons further enhance the experience. However, you should know that they are pretty hard to press if you click them on the outer edges.
Lastly, let's take a look at the base. There, you can find some speaker cutouts and a huge ventilation grill, which kind of reveals the cooling solution. Its good to see that there is a big headroom for cold air to enter and the exhaust happens through three grills – two on the back and one on the left.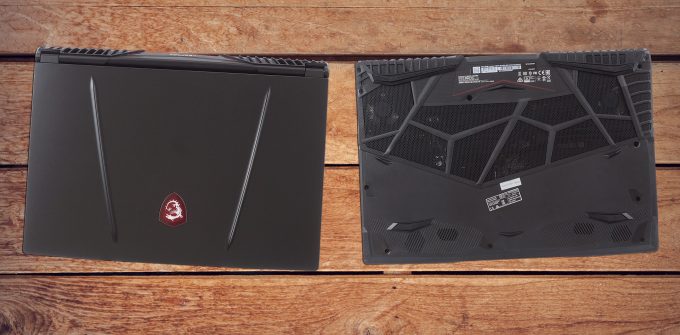 Ports
On the left side, you can find an RJ-45 Ethernet port, an HDMI connector, a Mini DisplayPort, a USB Type-A 3.1 (Gen. 1) port, a USB Type-C 3.1 (Gen. 2) port and two 3.5mm audio jacks. Then, on the left, there is an SD card reader, as well as two USB Type-A 3.1 (Gen. 1) ports.
Display quality
MSI GP65 Leopard 10Sx has a 144 Hz Full HD panel – LG LP156WFG-SPB3 (LGD0625). Its diagonal is 15.6″ (39.62 cm), and the resolution 1920 х 1080 pixels. The screen ratio is 16:9, and we are looking at a pixel density of – 142 ppi, and a pitch of 0.18 х 0.18 mm. The screen turns into Retina when viewed at distance equal to or greater than 60cm (24″) (from this distance one's eye stops differentiating the separate pixels, and it is normal for looking at a laptop).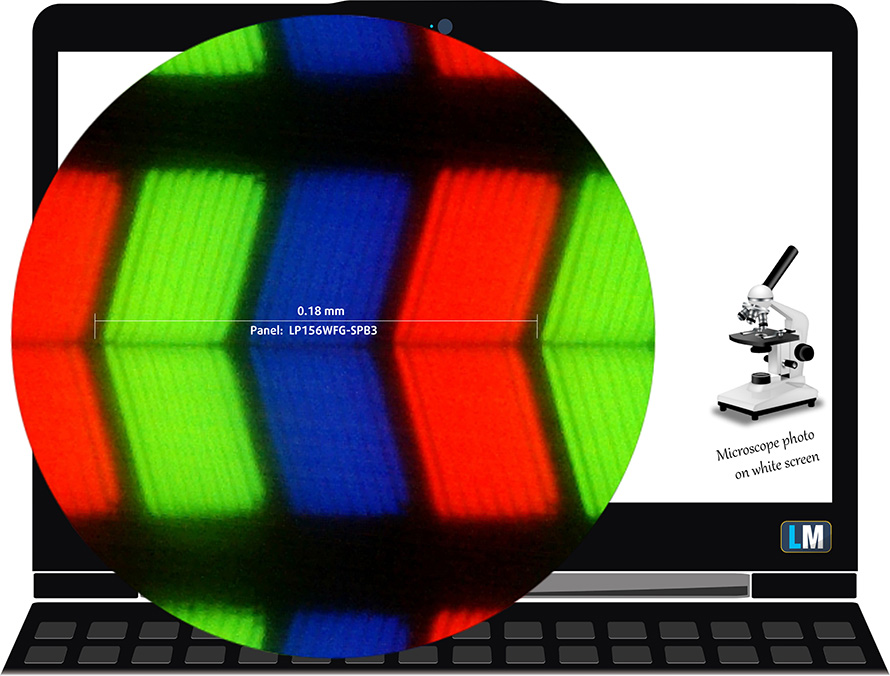 Viewing angles are excellent. We offer images at 45° to evaluate image quality.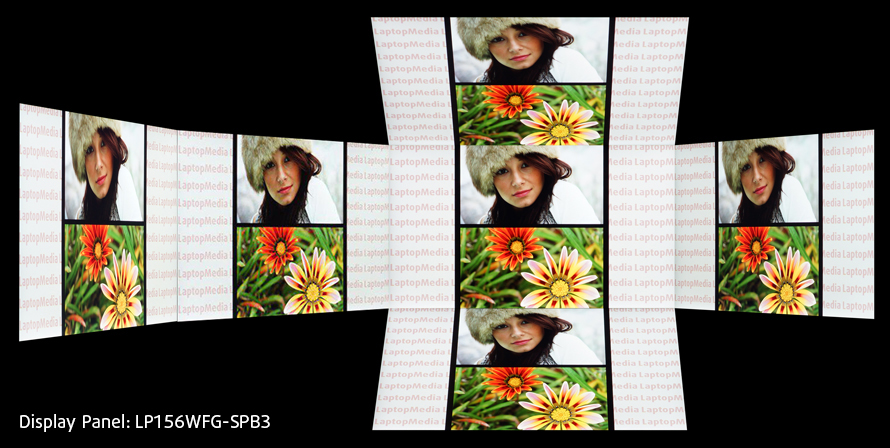 The measured a reasonably high maximum brightness of 422 nits in the middle of the screen and 385 nits as an average for the whole area, with a maximum deviation of 14%. The Correlated Color Temperature on a white screen is 6280K – slightly warmer the optimal for the sRGB standard of 6500K – not bad.
In the illustration below you can see how the display performs from a uniformity perspective. In other words, the leakage of light from the light source.
Values of dE2000 over 4.0 should not occur, and this parameter is one of the first you should check if you intend to use the laptop for color-sensitive work. The contrast ratio is decent – 800:1.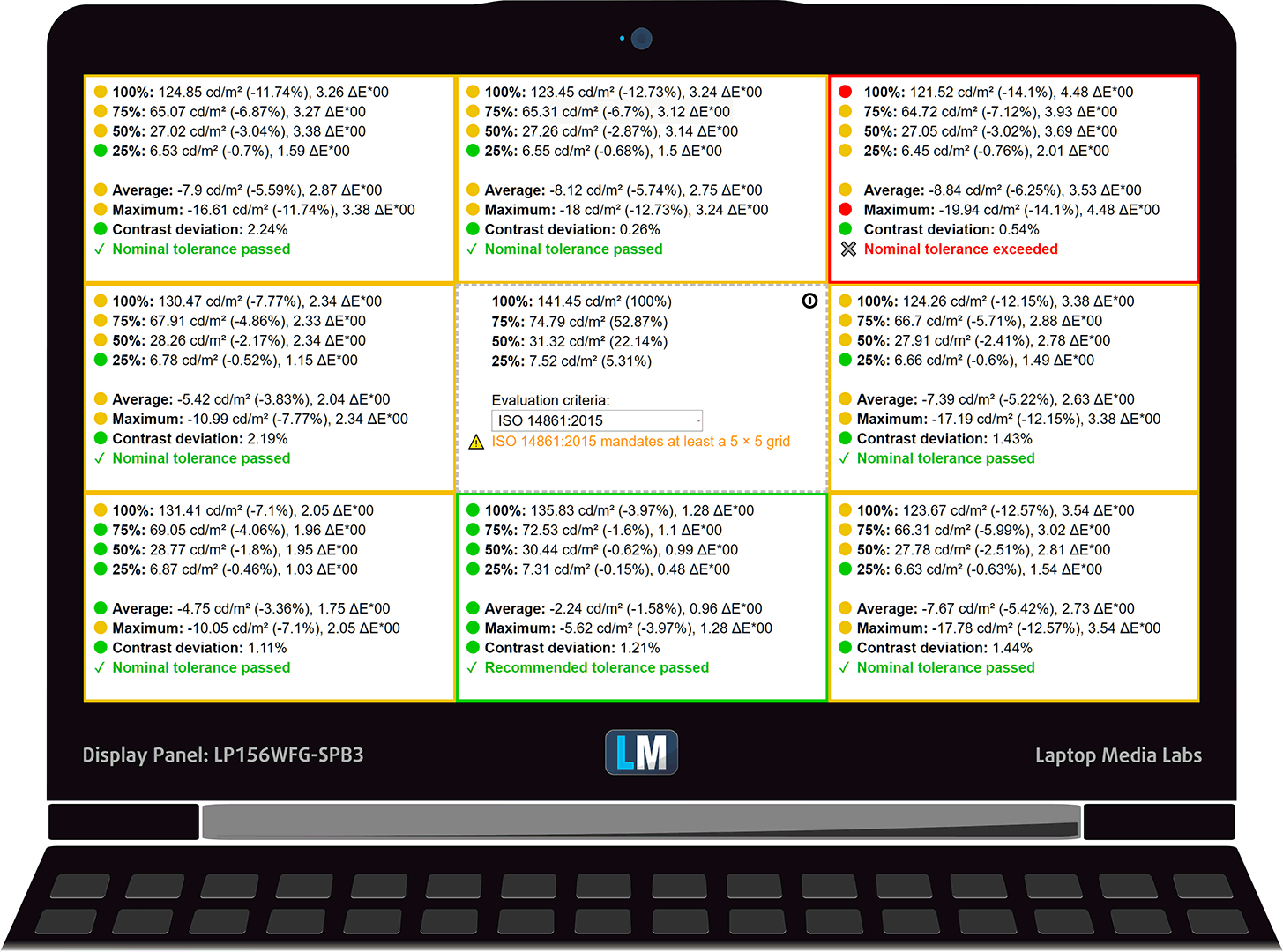 To make sure we are on the same page, we would like to give you a little introduction to the sRGB color gamut and the Adobe RGB. To start, there's the CIE 1976 Uniform Chromaticity Diagram that represents the visible specter of colors by the human eye, giving you a better perception of the color gamut coverage and the color accuracy.
Inside the black triangle, you will see the standard color gamut (sRGB) that is being used by millions of people in HDTV and on the web. As for the Adobe RGB, this is used in professional cameras, monitors, etc for printing. Basically, colors inside the black triangle are used by everyone and this is the essential part of the color quality and color accuracy of a mainstream notebook.
Still, we've included other color spaces like the famous DCI-P3 standard used by movie studios, as well as the digital UHD Rec.2020 standard. Rec.2020, however, is still a thing of the future and it's difficult for today's displays to cover that well. We've also included the so-called Michael Pointer gamut, or Pointer's gamut, which represents the colors that naturally occur around us every day.
The yellow dotted line shows MSI GP65 Leopard 10Sx's color gamut coverage.
Its display covers 94% of the sRGB/ITU-R BT.709 (web/HDTV standard) in CIE1976.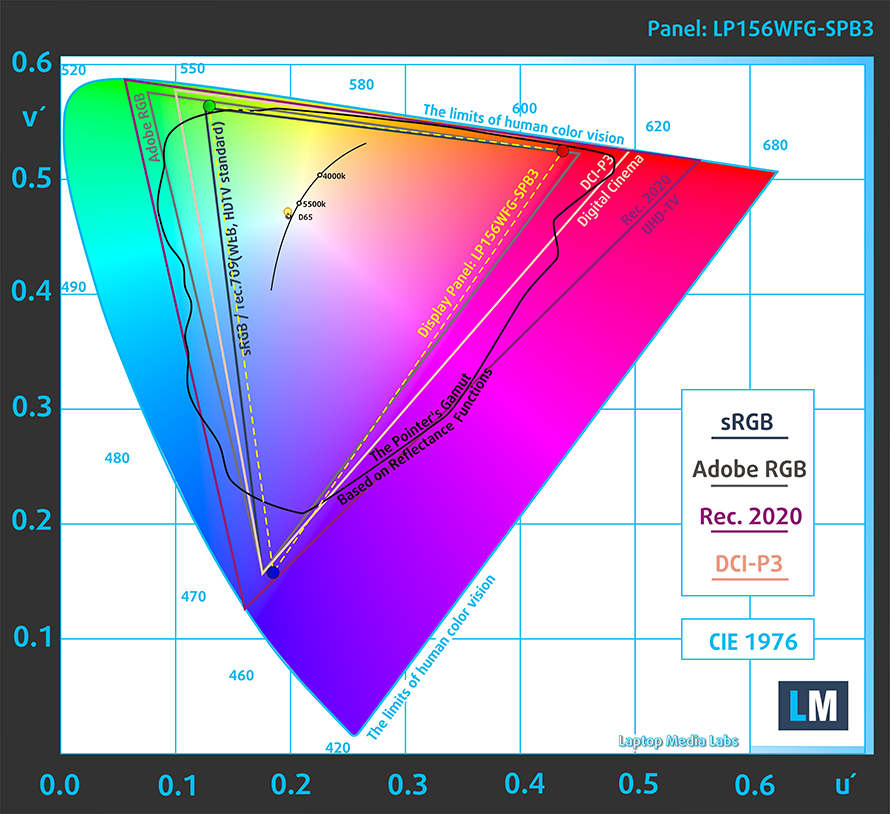 Our "Design and Gaming" profile delivers optimal color temperature (6500K) at 140 cd/m2 luminance and sRGB gamma mode.
We tested the accuracy of the display with 24 commonly used colors like light and dark human skin, blue sky, green grass, orange, etc. You can check out the results at factory condition and also, with the "Design and Gaming" profile.
Below you can compare the scores of MSI GP65 Leopard 10Sx with the default settings (left), and with the "Gaming and Web design" profile (right).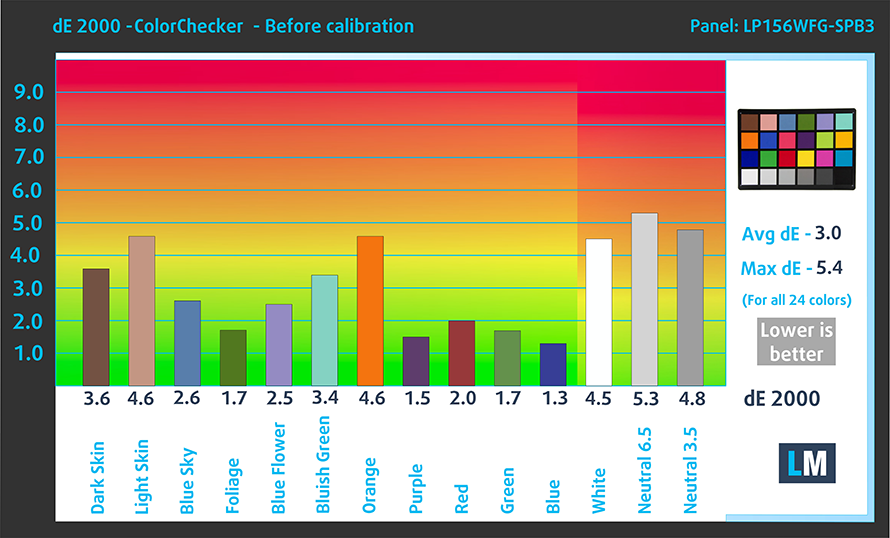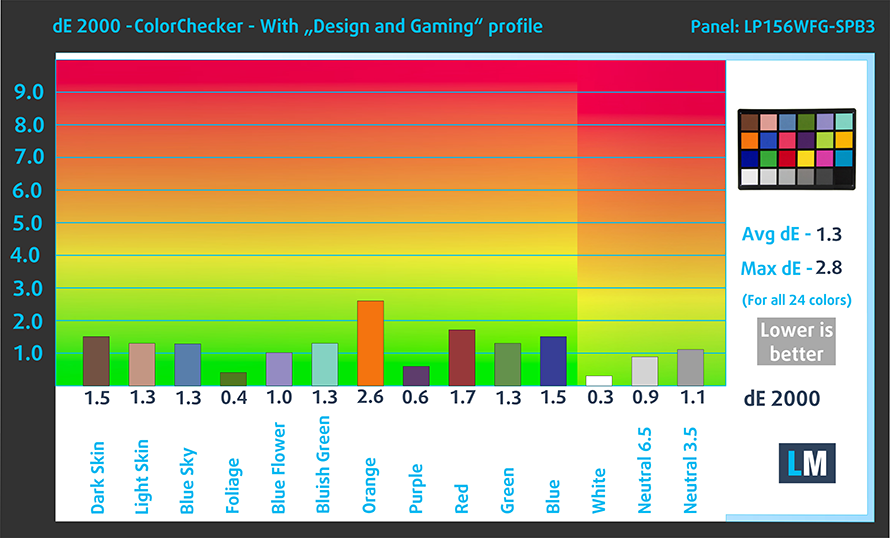 The next figure shows how well the display is able to reproduce really dark parts of an image, which is essential when watching movies or playing games in low ambient light.
The left side of the image represents the display with stock settings, while the right one is with the "Gaming and Web Design" profile activated. On the horizontal axis, you will find the grayscale and on the vertical axis – the luminance of the display. On the two graphs below you can easily check for yourself how your display handles the darkest nuances but keep in mind that this also depends on the settings of your current display, the calibration, the viewing angle, and the surrounding light conditions.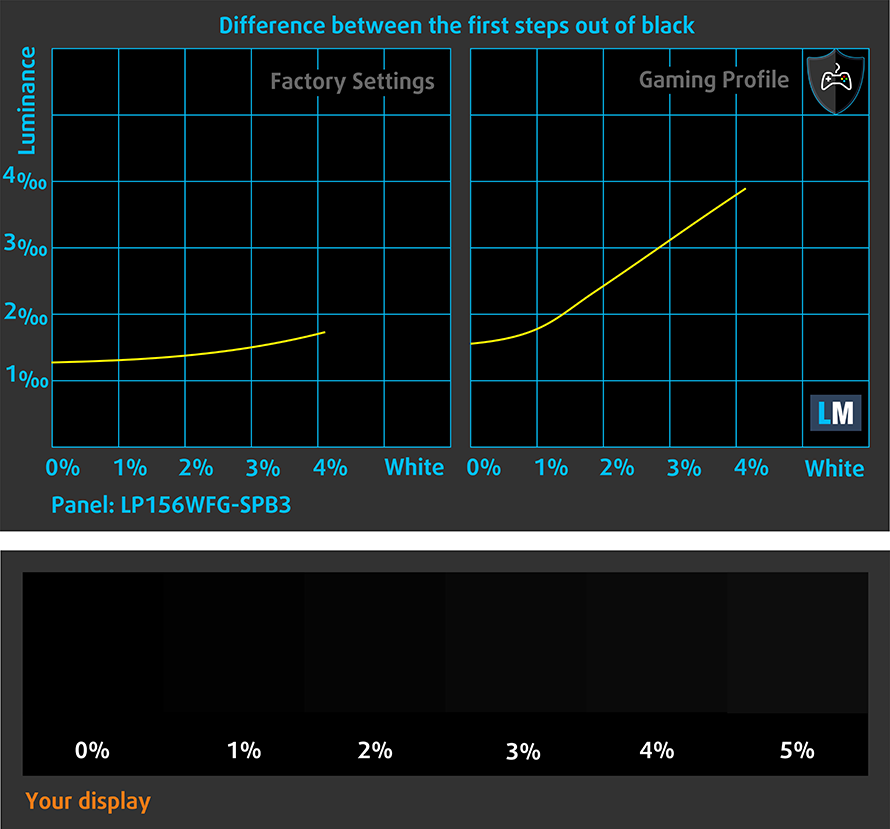 Response time (Gaming capabilities)
We test the reaction time of the pixels with the usual "black-to-white" and "white-to-black" method from 10% to 90% and vice versa.
We recorded Fall Time + Rise Time = 9 ms.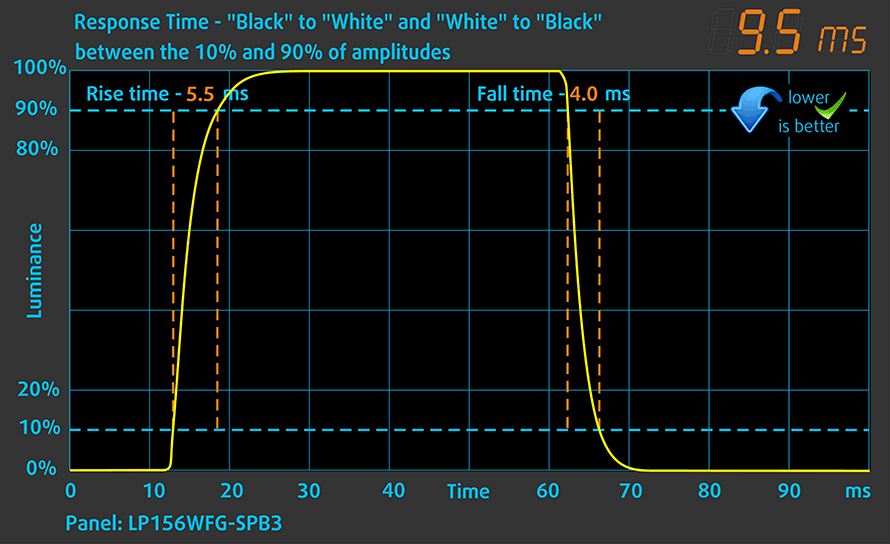 PWM (Screen flickering)
Pulse-width modulation (PWM) is an easy way to control monitor brightness. When you lower the brightness, the light intensity of the backlight is not lowered, but instead turned off and on by the electronics with a frequency indistinguishable to the human eye. In these light impulses, the light/no-light time ratio varies, while brightness remains unchanged, which is harmful to your eyes. You can read more about that in our dedicated article on PWM.
The display of MSI GP65 Leopard 10Sx doesn't use PWM to adjust its brightness at any point. This means it is comfortable for long gaming sessions without harming your eyes in this aspect.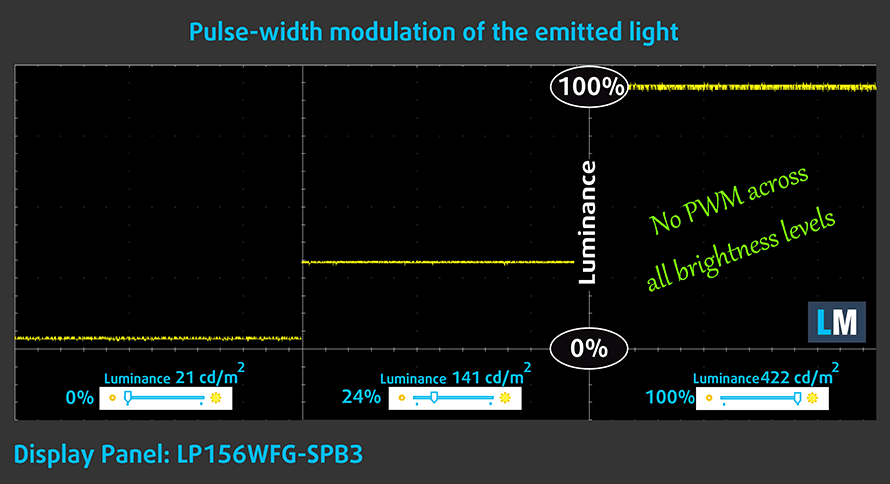 Blue light emissions
Installing our Health-Guard profile not only eliminates PWM but also reduces the harmful Blue Light emissions while keeping the colors of the screen perceptually accurate. If you're not familiar with the Blue light, the TL;DR version is – emissions that negatively affect your eyes, skin, and your whole body. You can find more information about that in our dedicated article on Blue Light.
Conclusion
MSI GP65 Leopard 10Sx's display has a 144Hz IPS panel with a Full HD resolution, reasonably high maximum brightness, and comfortable viewing angles. Additionally, it covers 94% of sRGB and its backlight doesn't flicker at all. And thankfully, from the gamer's perspective, the 144Hz refresh rate is paired with a fast pixel reaction time. What was unexpected, though, was with our Gaming and Web design profile applied, the color accuracy is below 2.0, making it good enough for people, who value the accurate color representation. However, our unit had a reasonable nonuniformity of the luminance in the top right corner of the display, making it inappropriate for Web design.

Buy our profiles
Since our profiles are tailored for each individual display model, this article and its respective profile package are meant for MSI GP65 Leopard 10Sx configurations with 15.6″ FHD IPS LG LP156WFG-SPB3 (LGD0625).
*Should you have problems with downloading the purchased file, try using a different browser to open the link you'll receive via e-mail. If the download target is a .php file instead of an archive, change the file extension to .zip or contact us at [email protected]
Read more about the profiles HERE.
Además de recibir perfiles eficientes y respetuosos con la salud, al comprar los productos de LaptopMedia también apoyas el desarrollo de nuestros laboratorios, donde probamos los dispositivos para elaborar las reseñas más objetivas posibles.
Sound
MSI GP65 Leopard 10Sx's speakers produce a rather quiet sound with relatively good quality. Its lows have some deviations, while the mids and highs are clear.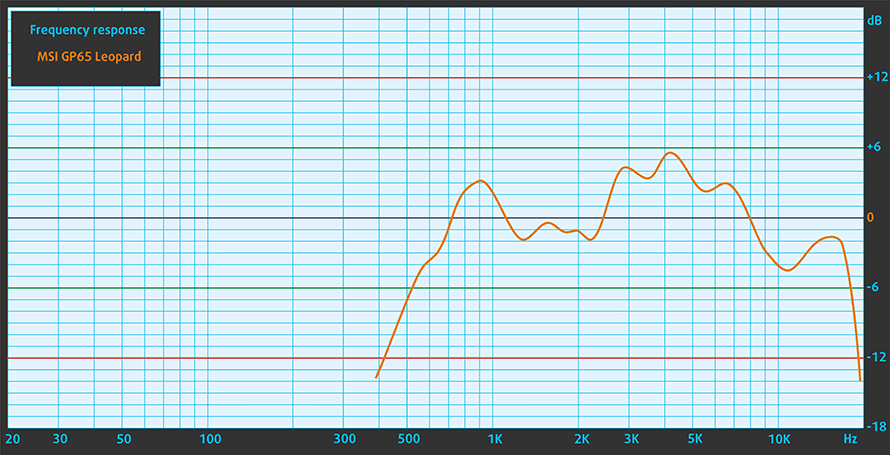 Drivers
All of the drivers and utilities for this notebook can be found here: https://www.msi.com/Laptop/support/GP65-Leopard-10SX

Battery
Now, we conduct the battery tests with Windows Better performance setting turned on, screen brightness adjusted to 120 nits, and all other programs turned off except for the one we are testing the notebook with. There is a 51Wh battery inside of this machine, and it was only able to produce 5 hours and 45 minutes of Web browsing and 3 hours and 45 minutes of video playback.
In order to simulate real-life conditions, we used our own script for automatic web browsing through over 70 websites.
For every test like this, we use the same video in HD.
CPU options
As its name suggests, this notebook comes with the latest Comet Lake-H processors from Intel. Currently, we could only find models, equipped with the Core i7-10750H, but there should always be a more budget option, featuring the Core-i5-10300H.
Results are from the Cinebench 20 CPU test (the higher the score, the better)
Los resultados proceden de nuestra prueba de referencia de Photoshop (cuanto más baja sea la puntuación, mejor)
GPU options
GPU-wise, you have quite the options, though. Starting from the GTX 1650, then the GTX 1650 Ti, GTX 1660 Ti, and the RTX 2060 finishing off with the RTX 2070. As the flagship of the series.
Results are from the 3DMark: Fire Strike (Graphics) benchmark (higher the score, the better)
Results are from the Unigine Superposition benchmark (higher the score, the better)
Gaming tests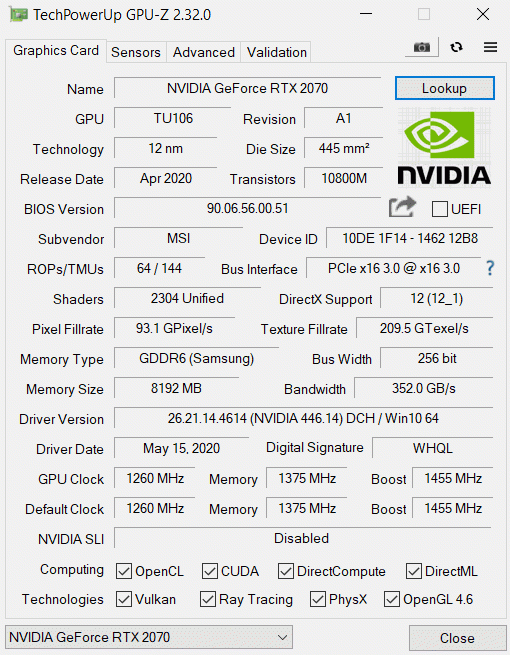 Temperatures and comfort
Max CPU load
In this test we use 100% on the CPU cores, monitoring their frequencies and chip temperature. The first column shows a computer's reaction to a short load (2-10 seconds), the second column simulates a serious task (between 15 and 30 seconds), and the third column is a good indicator of how good the laptop is for long loads such as video rendering.
Average core frequency (base frequency + X); CPU temp.
| Intel Core i7-10750H (45W TDP) | 0:02 – 0:10 sec | 0:15 – 0:30 sec | 10:00 – 15:00 min |
| --- | --- | --- | --- |
| Lenovo Legion 7 (15) | 3.78 GHz (B+45%) @ 80°C | 3.69 GHz (B+42%) @ 83°C | 3.51 GHz (B+35%) @ 83°C |
| MSI GP65 Leopard 10Sx | 3.65 GHz (B+40%) @ 95°C | 3.41 GHz (B+31%) @ 95°C | 3.30 GHz (B+27%) @ 95°C |
Well, here you can clearly see the inferiority of the orthodox heat pipe cooling solution, versus the one embodying a vapor chamber. While the Legion 7 (15) is far thinner than this guy, it manages a good 200MHz higher clock speed, while running at 12C lower temperature.
Real life gaming
| NVIDIA GeForce RTX 2070 | GPU frequency/ Core temp (after 2 min) | GPU frequency/ Core temp (after 30 min) | GPU frequency/ Core temp (Max Fans) |
| --- | --- | --- | --- |
| MSI GP65 Leopard 10Sx | 1662 MHz @ 77°C | 1636 MHz @ 80°C | 1647 MHz @ 77°C |
| MSI GE75 Raider | 1586 MHz @ 74°C | 1576 MHz @ 77°C | – |
| HP Omen 17 2019 | 1483 MHz @ 72°C | 1474 MHz @ 74°C | – |
| ASUS ROG GL704G | 1595 MHz @ 83°C | 1588 MHz @ 83°C | – |
Again, the heat coming from this laptop is immense. However, at least it is able to maintain very decent frequencies throughout the entire test.
Gaming comfort
Expectedly, the noise is very high with this machine. And while we've seen hotter surfaces, the 50C we measured on this device would surely bother the people with sausage fingers.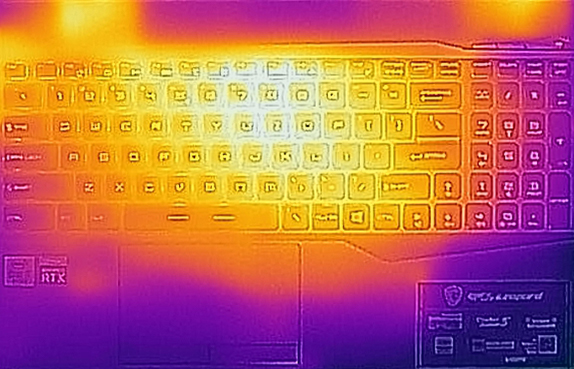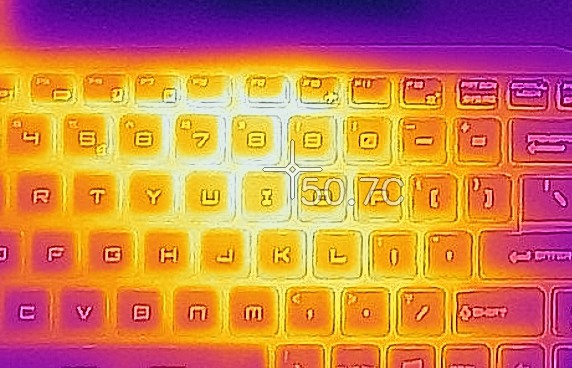 Verdict
One thing is clear – with this price/performance ratio, MSI gives you every reason to want this notebook. Especially, when you consider the huge target, provided by the wide range of graphics card options. Let's remind you that you can buy the laptop with everything from the GTX 1650, all the way up to the 115W (max power) option of the RTX 2070, and pretty much everything in between.
In addition, the processor of choice here would always be the Core i7-10750H. Ultimately, its six cores and high boost clock provide you with all you need to feed all of the aforementioned graphics solutions. However, there is one caveat – cooling. While it manages respectably high CPU and GPU clocks, the temperatures are not impressive. A quick comparison to the Lenovo Legion 7 (15), which is 8mm thinner in profile, but manages to keep the processor far cooler, at a higher frequency and less noise is indicative enough. Indeed, we are talking about a conventional heat pipe solution (for the MSI GP65 Leopard 10Sx) and a vapor chamber for the Lenovo Legion 7 (15), but this is nothing that MSI couldn't do.
So, despite all of that, this device has a PCIe x4/SATA combo M.2 slot, as well as a 2.5″ SATA drive bay, and it supports up to 64GB of DDR4 memory in dual-channel. Moreover, it works with Wi-Fi 6 and has an SD card reader for you, the photographer.
Interestingly, at the beginning of this review, we noted that MSI is targeting this notebook at gamers and content creators. At first, we were puzzled by what exactly do they mean by "made for content creators", but after we tested the display, it all came into sense.
MSI GP65 Leopard 10Sx's display has a 144Hz IPS panel (LG LP156WFG-SPB3) with a Full HD resolution, reasonably high maximum brightness, and comfortable viewing angles. Additionally, it covers 94% of sRGB and its backlight doesn't flicker at all. And thankfully, from the gamer's perspective, the 144Hz refresh rate is paired with a fast pixel reaction time. What was unexpected, though, was with our Gaming and Web design profile applied, the color accuracy is below 2.0, making it good enough for people, who value the accurate color representation. However, our unit had a reasonable nonuniformity of the luminance in the top right corner of the display, making it inappropriate for Web design.
Keep in mind that the latter could be isolated to our unit only, but it might as well be a general issue, so it would be at your own risk.
To sum up, we would have liked to see Thunderbolt 3 connection a better cooling and perhaps – a better battery life.
Pros
(Optional) Per-key RGB backlight from Steelseries
Good color coverage – 94% of sRGB (LG LP156WFG-SPB3) and accurate color representation
Doesn't use PWM to adjust brightness (LG LP156WFG-SPB3)
Super responsive 144Hz display with a lot of built-in customization options (LG LP156WFG-SPB3)
SD card reader and PCIe x4 SSD support
115W version of RTX 2070
Cons
Gets hot and loud when gaming
Lacks Thunderbolt support
Mediocre battery life
You can check the prices and configurations in our Specs System: https://laptopmedia.com/series/msi-gp65-leopard-10sx/