Acer Nitro 5
Intel Core i7-10750H
NVIDIA GeForce GTX 1660 Ti (Laptop)
17.3", Full HD (1920 x 1080), 120 Hz, IPS
512GB SSD
8GB DDR4
2.70 kg (6 lbs)
Pros
It has two RAM SODIMM slots and two M.2 drives, besides the 2.5" SATA drive bay
Optional RGB backlight
Lack of PWM (AUO B173HAN04.7)
Comfortable viewing angles and good contrast ratio (AUO B173HAN04.7)
Cons
Lacks an SD card reader
Slow response times, despite the 120Hz refresh rate (AUO B173HAN04.7)
Covers only 51% of sRGB (AUO B173HAN04.7)
Doesn't explore the full potential of the Core i7-10750H
Spécifications
Intel Core i5-1245U

3.2%

AMD Ryzen 5 5625U

3.3%

Intel Core i7-10750H

Intel Core i5-1235U

0.7%

AMD Ryzen 5 5500U

1.5%

AMD Ryzen 7 4700U

2.6%
NVIDIA GeForce RTX 2070 Max-Q

6.9%

NVIDIA GeForce RTX 2060 (Laptop, 115W)

5.5%

NVIDIA GeForce GTX 1660 Ti (Laptop)

NVIDIA RTX A2000 (Laptop)

0.2%

NVIDIA GeForce RTX 3050 Ti (Laptop, 60W)

3.6%

NVIDIA GeForce RTX 3050 (Laptop, 90W)

7.3%
AUO B173HAN04.7 (AUO479D)
Matériau du corps
Plastic / Polycarbonate
Dimensions
403.5 x 280 x 24.9 mm (15.89" x 11.02" x 0.98")
2x USB Type-A
3.2 Gen 1 (5 Gbps)
Ethernet LAN
10/100/1000 Mbit/s
Audio jack
3.5 Combo Jack
Lecteur d'empreintes digitales
Intervenants
2 Stereo Speakers
Fente de verrouillage de sécurité
Kensington Lock
Il y a 3 Acer des ordinateurs portables avec les mêmes caractéristiques (sorted by price)
#CommissionsEarned
Afficher: 17.3-inch, 1920x1080, IPS
Nom
AUO B173HAN04.7 (AUO479D)
Densité de pixels
127.34 ppi
Fréquence PWM

No PWM (Flicker-Free)
Devient "Retina" de
27 inches (69 cm)
Classement PWM

10.0: (safe)
Achetez nos profils pour AUO B173HAN04.7 (AUO479D)
En plus de recevoir des profils efficaces et favorables à la santé, en achetant les produits de LaptopMedia, vous soutenez également le développement de nos laboratoires, où nous testons les appareils afin de produire les examens les plus objectifs possibles.
Acer Nitro 5 examen approfondi
The popularity of the Nitro series worldwide is undoubtedly high. One of the main reasons for that is their low price. Indeed, most of the time, they are outsold by the Predator Helios 300 series, but this is to be expected when you take into consideration the better-built quality of the latter. However, the Nitro 5 (AN517-52), is a 17-incher that packs decent hardware - from the budget GTX 1650, all the way up to the RTX 2060, which enables ray-tracing in the titles that support it. Moreover, this notebook embodies the latest from the Intel world, including the Core i5-10300H and the Core i7-10750H. And while the Core i7 is no longer the benchmark for computing power, it is still going to deliver the optimal gaming experience. In addition to the fresh hardware, this device comes wi[...]
Lire le rapport complet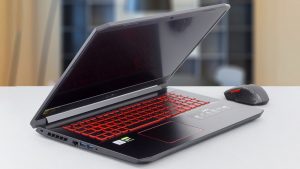 Options de démontage, d'entretien et de mise à niveau
Practically a 17-inch copy of the Acer Nitro 5 (AN515-55). Check out all Acer Nitro 5 (AN517-52) prices and configurations in our Specs System or read more in our In-Depth review. 1. Remove the bottom plate On the inside, this laptop looks like the 15-inch Nitro 5 hiding in a bigger chassis. Nevertheless, you still got 12 Phillips-head screws before you have access to the internals. After you undo them, you'll find it easier to start prying the bottom panel from one of the front corners. 2. Battery Here, the battery is the same 57.5Wh unit, seen on the 15-inch version. [...]
En savoir plus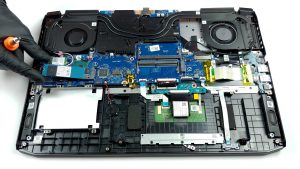 Performance du CPU: Intel Core i7-10750H
Les résultats proviennent du test CPU Cinebench 20 (plus le score est élevé, mieux c'est).
Performances des GPU: NVIDIA GeForce GTX 1660 Ti (Laptop)
Les résultats correspondent au benchmark 3DMark : Fire Strike (Graphics) (plus le score est élevé, mieux c'est)
Quelques jeux auxquels vous pouvez jouer sur ce portable
Montrez-moi les meilleurs ordinateurs portables pour...