HP Pavilion Gaming 17
Intel Core i7-10750H
NVIDIA GeForce GTX 1660 Ti Max-Q
17.3", Full HD (1920 x 1080), IPS
500GB SSD + 1000GB HDD
16GB DDR4, 2666 MHz
2.75 kg (6.1 lbs)
Pour
Fairly low price
Energy efficient
Wide and accurate color coverage (BOE NV156FHM-N4K (BOE082A))
Doesn't use PWM to adjust brightness (BOE NV156FHM-N4K (BOE082A))
Very bright panel (BOE NV156FHM-N4K (BOE082A))
Super quiet during load
Cons
Lacks Thunderbolt support
All-plastic build
Spécifications
AMD Ryzen 7 PRO 4750U

1.8%

Intel Core i5-1245U

3.2%

Intel Core i7-10750H

Intel Core i5-1235U

0.8%

AMD Ryzen 5 5500U

1.8%

AMD Ryzen 7 4700U

2.6%
NVIDIA GeForce RTX 3050 Ti (Laptop, 60W)

1.7%

NVIDIA RTX A2000 (Laptop)

5.1%

NVIDIA GeForce GTX 1660 Ti Max-Q

NVIDIA GeForce RTX 3050 (Laptop, 75W)

1.5%

NVIDIA GeForce RTX 3050 Ti (Laptop)

5.8%

NVIDIA GeForce RTX 3050 (Laptop, 60W)

1.0%
HDD/SSD
500GB SSD + 1TB HDD
Matériau du corps
Plastique / Polycarbonate
Dimensions
405 x 282 x 25.4 mm (15.94" x 11.10" x 1.00")
1x USB Type-A
3.2 Gen 2 (10 Gbps), Sleep and Charge
2x USB Type-A
3.2 Gen 2 (10 Gbps)
1x USB Type-C
3.2 Gen 2 (10 Gbps), Power Delivery (PD), DisplayPort, Sleep and Charge
Lecteur de cartes
SD, SDHC, SDXC
Ethernet LAN
10/100/1000 Mbit/s
Lecteur d'empreintes digitales
Microphone
Dual Array Digital Microphones
Intervenants
Front-firing Speakers, Bang & Olufsen
Fente de verrouillage de sécurité
Afficher: 17.3-inch, 1920x1080, IPS
Densité de pixels
127.34 ppi
Fréquence PWM

No PWM (Flicker-Free)
Devient "Retina" de
27 inches (69 cm)
Classement PWM

10.0: (safe)
Achetez nos profils pour LG LGD0623
En plus de recevoir des profils efficaces et favorables à la santé, en achetant les produits de LaptopMedia, vous soutenez également le développement de nos laboratoires, où nous testons les appareils afin de produire les examens les plus objectifs possibles.
HP Pavilion Gaming 17 examen approfondi
Pavilion Gaming 17 2019 is part of the newest budget-friendly gaming series of HP. It was released alongside HP Omen 15/17 2019, which we showed you in an in-depth review recently. This laptop may be considered as a budget Omen iteration as it trims down some of the goodies, like aluminum base and bulky cooling, RGB and big-fat RTX GPUs. In fact, the HP Pavilion Gaming 17 2019 maxes out with the NVIDIA GeForce GTX 1660 Ti Max-Q. Again, if you want RTX graphics cards, you should switch your interest to the Omens, however, you can still buy the Pavilion Gamin 17 2019 with a 9th Gen CPU- the options are Core i5-9300H and Core i7-9750H. You also have the option between a 60Hz or 144Hz 1080p IPS panel and HP should offer it with a 4K 60Hz as well. You can check the prices and configurati[...]
Lire le rapport complet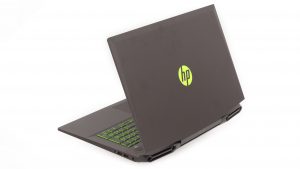 Options de démontage, d'entretien et de mise à niveau
This laptop's predecessor has made a reputation of having a hard time cooling its components down. However, as we found out, this is definitely not the case with the HP Pavilion Gaming 17 2019. Not only it works a lot cooler, but it works a lot quieter as well. Let's see what kind of black magic has been performed by HP and how it affects the device in general. Check out all HP Pavilion Gaming 17 2019 prices and configurations in our Specs System or read more in our In-depth Review. 1. Remove the bottom plate Taking the bottom panel off seems easy at the beginning. Unscrew a total[...]
En savoir plus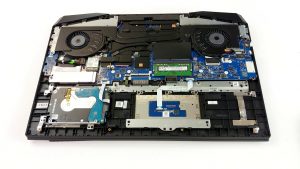 Performance du CPU: Intel Core i7-10750H
Les résultats proviennent du test CPU Cinebench 20 (plus le score est élevé, mieux c'est).
Performances des GPU: NVIDIA GeForce GTX 1660 Ti Max-Q
Les résultats correspondent au benchmark 3DMark : Fire Strike (Graphics) (plus le score est élevé, mieux c'est)
Quelques jeux auxquels vous pouvez jouer sur ce portable
Montrez-moi les meilleurs ordinateurs portables pour...