Acer Predator Triton 300 SE (PT314-51s) review – a lowkey gaming machine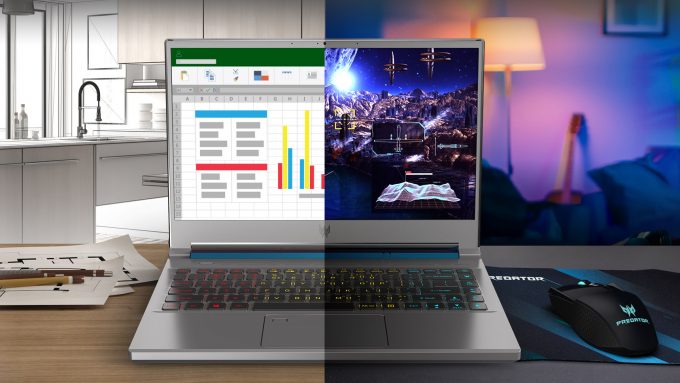 Usually, the purely gaming brands allow themselves to experiment. This is how the 14-inch Alienware and Razer laptops were born. However, last year, ASUS was one of the mainstream manufacturers that stepped into the seemingly uncharted small gaming laptop territory. And dare we say it was a success. And now, Acer is keen on exploring this space as well with their Predator Triton 300 SE (PT314-51s).
Its main advantage over the 14-inch Zephyrus is the even less intrusive design. And if it wasn't for the Predator logo, one could never tell that this laptop is aimed at gamers. When we look at the specifications, we see the first questionable choice made by Acer. It has gone for the 35W Tiger Lake processors, maxing out with the Core i7-11375H. In theory, there is nothing wrong with this CPU, except for the 4-core design, which is clearly inferior to the 6-core, and 8-core units.
We were able to prove this right, as the Core i7-11370H wasn't exactly a banger when we tested it inside of the ASUS TUF Dash F15 (FX516). It acts as a bottleneck for the more powerful RTX 3000 GPUs, and its computational performance is nowhere near the latest and greatest from both Intel, and AMD.
An interesting thing we discovered about the Triton 300 SE is that Acer has delivered a firmware update that boosts the TGP of the RTX 3060 (in our case) from 75W up to 90W, which unlocks even more performance.
You can check the prices and configurations in our Specs System: https://laptopmedia.com/series/acer-predator-triton-300-se/
Contents
Specs Sheet
Sharp LQ140M1JW49 (SHP1523)
HDD/SSD
jusqu'à 8000GB SSD
OS
Windows 11 Home, Windows 10 Home, Windows 11 Pro, Windows 10 Pro
Matériau du corps
Aluminum
Dimensions
323 x 228 x 17.9 mm (12.72" x 8.98" x 0.70")
1x USB Type-A
3.2 Gen 2 (10 Gbps)
1x USB Type-A
3.2 Gen 2 (10 Gbps), Sleep and Charge
1x USB Type-C
Thunderbolt 4, Power Delivery (PD), DisplayPort
Prise audio
3.5mm Combo Jack
Lecteur d'empreintes digitales
optional
Microphone
Dual Built-in Microphones with Acer Purified Voice
Intervenants
Speakers by DTS:X Ultra
Fente de verrouillage de sécurité
Kensington Lock Slot
What's in the box?
This device offers box-in-a-box packaging. Inside, we found a letter case, containing the manuals, and the laptop, protected inside of an anti-static bag. In another compartment, there is the 180W power adapter.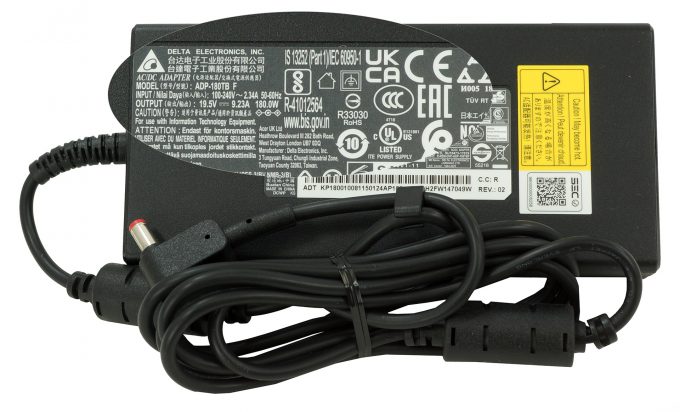 Design and construction
This laptop is dressed in aluminum construction. It is relatively sturdy, and it's painted in silver. The weight is okay at 1.70 kg, while the thickness is 17.9mm. Looking at the lid we can see a small plaque with the Predator logo, placed in the top right corner. Unlike the usual suspects from the subbrand, where the logo is located right in the middle of the lid, and more often than not features a backlight.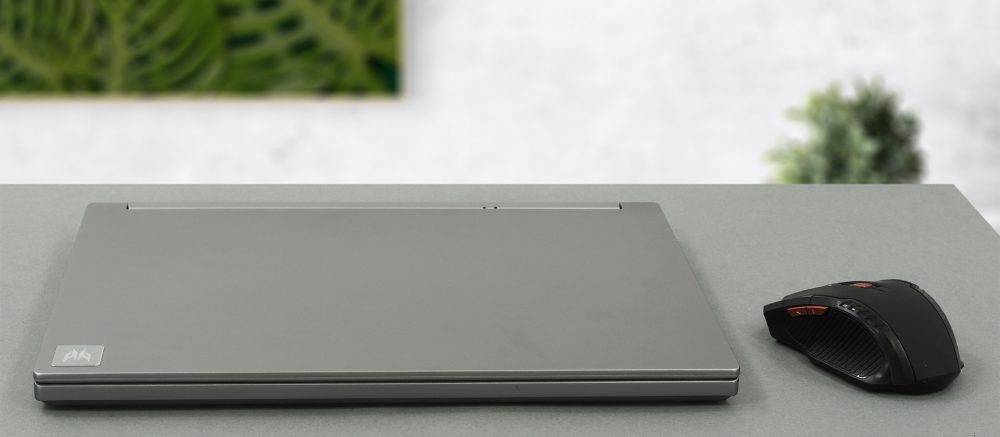 Its lid can be opened with a single hand. Around the matte panel, we see thin side bezels, a sizeable chin, and a top bezel, that houses an array of microphones and an HD Web camera.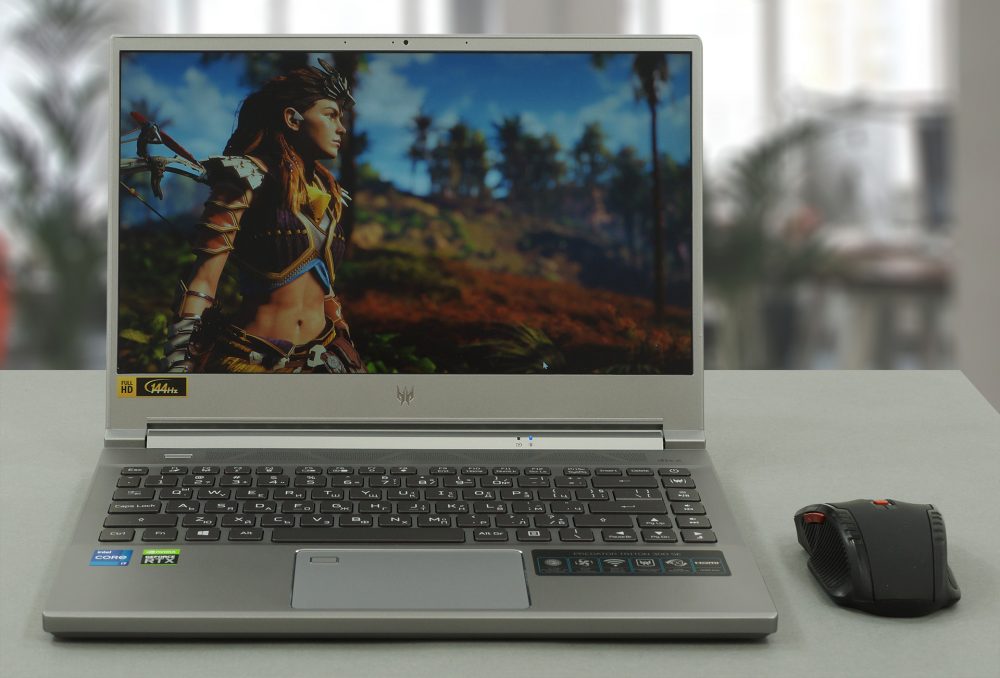 Its boxy design is complimented by square keys and large Arrow buttons. On the right side of the keyboard, you will find a media button array, including the Power button, and the Predator Sense shortcut. This device's keyboard has clicky feedback, a lowkey backlight, and key travel, which is on the short side. Above and to the right, you will see the dedicated "Turbo" button, which puts the hardware and the fans in full-power mode.

In addition to the decent keyboard, we think that the touchpad is simply great. Its glass surface offers smooth gliding, while the clicking mechanism is satisfying to use. Interestingly, the fingerprint reader, which resides in the top right corner of the touchpad, doesn't really affect the usage. This is because Acer has decided not to cut off the responsiveness in the area around the sensor.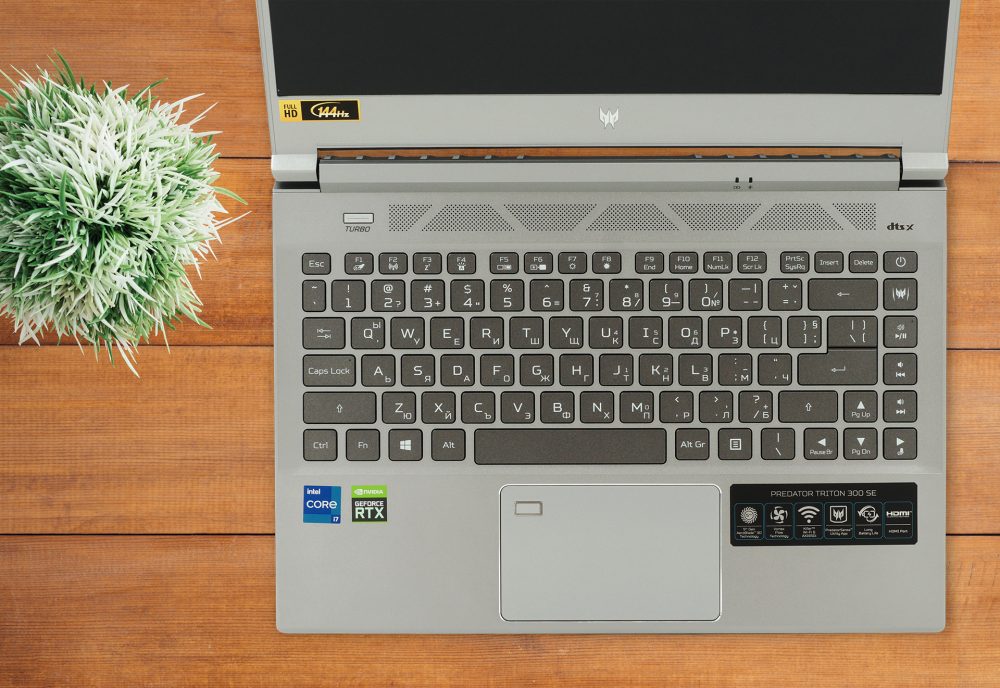 If you turn the laptop upside down, you will notice that the industrial design has left its marks there as well. Furthermore, you can see the ventilation grill, as well as the speaker cutouts. And when the cool air enters the chassis and gets warmed up by the heat sinks, it should go somewhere, right? Well, the fans spread the heat away through four vents – two on the back, and one on each side.

Ports
On the left side of the device, there is a Kensington lock slock, then the power plug, followed by a USB Type-A 3.2 (Gen. 2) port, and a Thunderbolt 4 connector. Switch sides, and you will find an HDMI connector, another USB Type-A 3.2 (Gen. 2) port, and an audio jack.
Disassembly, upgrade options and maintenance
Taking this laptop apart requires the bottom panel to be removed. You can do so by undoing 9 Torx-head screws and prying the panel with a plastic tool.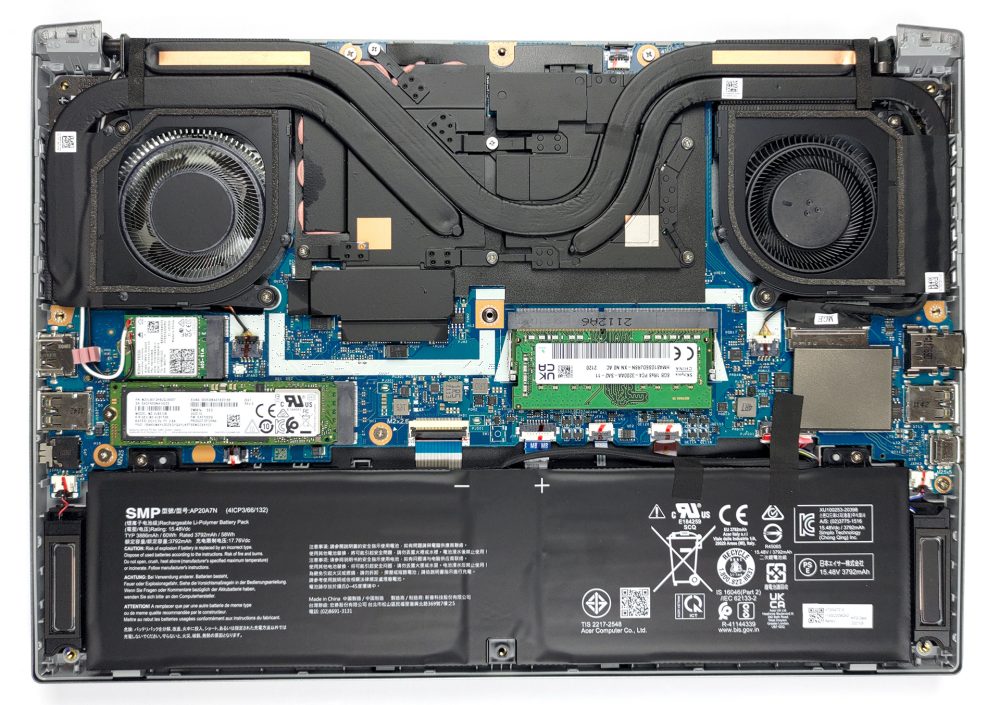 The battery pack has a capacity of 60Wh.

There is one SODIMM slot for memory upgrades. In addition to that, there is some RAM soldered to the motherboard. Respectively, the storage is only represented by a single M.2 PCIe x4 slot.

There are a total of three heat pipes here. One common for the CPU and the GPU, and one more dedicated to each of them. Interestingly, the fans here are pretty different. The one on the left has metal fins, while the one on the right is entirely plastic.

Display quality
Acer Predator Triton 300 SE (PT314-51s)'s display has a Full HD IPS panel, model number Sharp LQ140M1JW49 (SHP1523). Its diagonal is 14″ (35.56 cm), and the resolution – 1920 x 1080. Additionally, the screen ratio is 16:9, the pixel density – 157 ppi, their pitch – 0.16 x 0.16 mm. The screen can be considered Retina when viewed from at least 56 cm (from this distance, the average human eye can't see the individual pixels and is excellent for a laptop).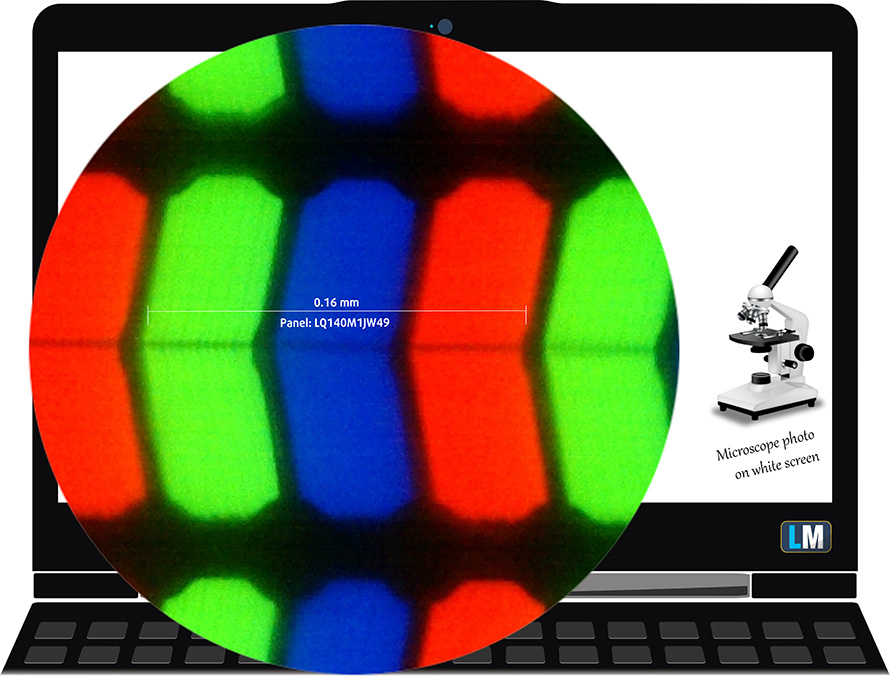 It has comfortable viewing angles. We have provided images at 45 degrees to evaluate quality.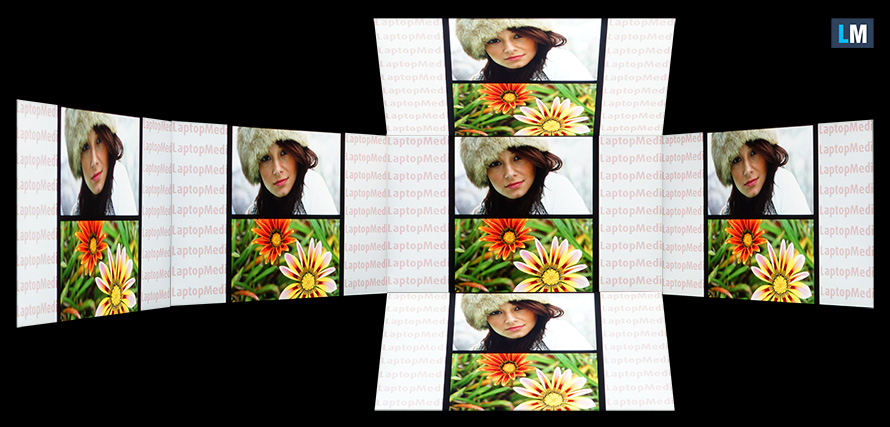 Also, a video with locked focus and exposure.
The maximum measured brightness is 284 nits (cd/m2) in the middle of the screen and 278 nits (cd/m2) average across the surface with a maximum deviation of 9%. The Correlated Color Temperature on a white screen and at maximum brightness is 7450K (average) – colder than the 6500K optimum for sRGB.
In the illustration below you can see how the display performs from a uniformity perspective. The illustration below shows how matters are for operational brightness levels (approximately 140 nits) – in this particular case at 39% Brightness (White level = 141 cd/m2, Black level = 0.07 cd/m2).
Values of dE2000 over 4.0 should not occur, and this parameter is one of the first you should check if you intend to use the laptop for color-sensitive work (a maximum tolerance of 2.0 ). The contrast ratio is very good – 1930:1.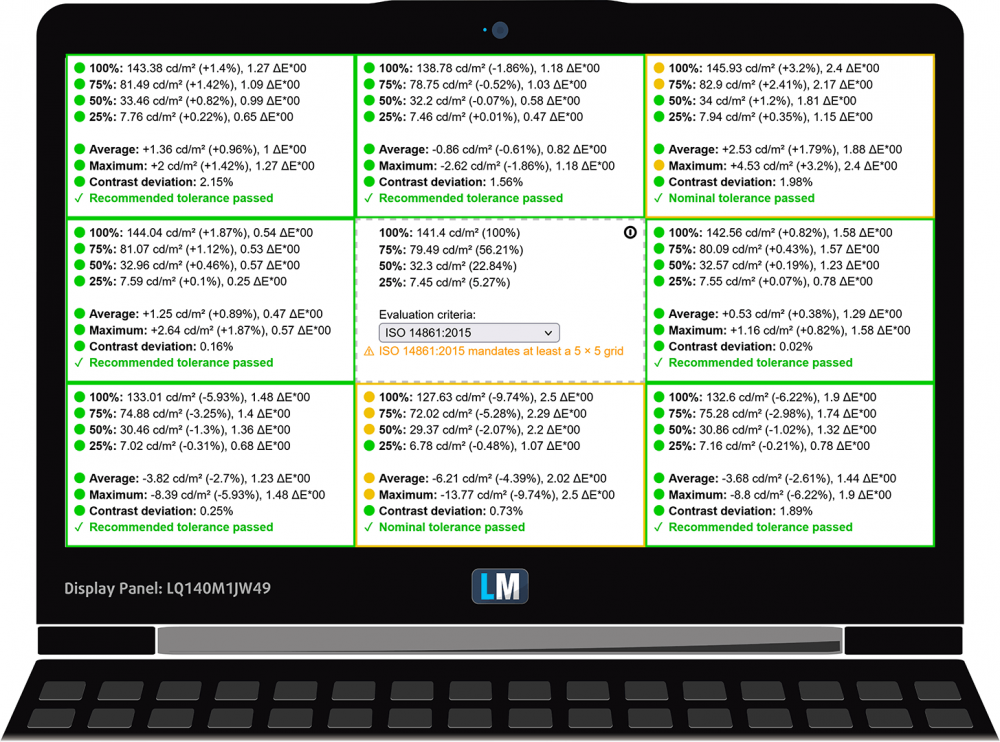 To make sure we are on the same page, we would like to give you a little introduction to the sRGB color gamut and the Adobe RGB. To start, there's the CIE 1976 Uniform Chromaticity Diagram that represents the visible specter of colors by the human eye, giving you a better perception of the color gamut coverage and the color accuracy.
Inside the black triangle, you will see the standard color gamut (sRGB) that is being used by millions of people on HDTV and on the web. As for the Adobe RGB, this is used in professional cameras, monitors, etc for printing. Basically, colors inside the black triangle are used by everyone and this is the essential part of the color quality and color accuracy of a mainstream notebook.
Still, we've included other color spaces like the famous DCI-P3 standard used by movie studios, as well as the digital UHD Rec.2020 standard. Rec.2020, however, is still a thing of the future and it's difficult for today's displays to cover that well. We've also included the so-called Michael Pointer gamut, or Pointer's gamut, which represents the colors that naturally occur around us every day.
The yellow dotted line shows Acer Predator Triton 300 SE (PT314-51s)'s color gamut coverage.
Its display covers 98% of the sRGB/ITU-R BT.709 (web/HDTV standard) in CIE1976.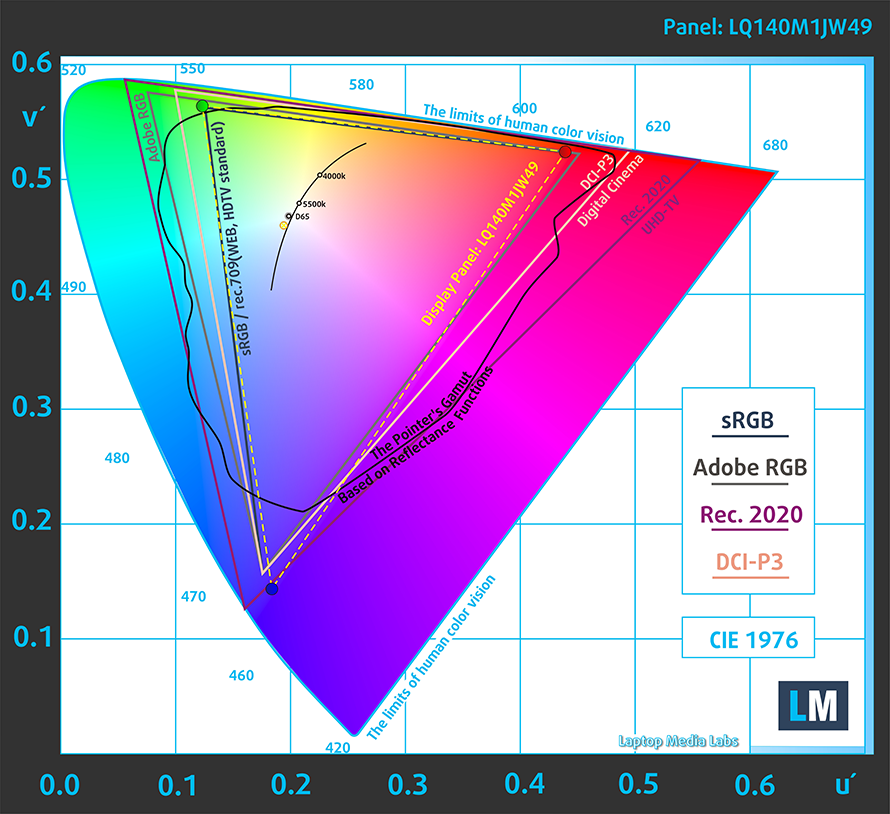 Our "Design and Gaming" profile delivers optimal color temperature (6500K) at 140 cd/m2 luminance and sRGB gamma mode.
We tested the accuracy of the display with 24 commonly used colors like light and dark human skin, blue sky, green grass, orange, etc. You can check out the results at factory condition and also, with the "Design and Gaming" profile.
Below you can compare the scores of Acer Predator Triton 300 SE (PT314-51s) with the default settings (left), and with the "Gaming and Web design" profile (right).
The next figure shows how well the display is able to reproduce really dark parts of an image, which is essential when watching movies or playing games in low ambient light.
The left side of the image represents the display with stock settings, while the right one is with the "Gaming and Web Design" profile activated. On the horizontal axis, you will find the grayscale, and on the vertical axis – the luminance of the display. On the two graphs below you can easily check for yourself how your display handles the darkest nuances but keep in mind that this also depends on the settings of your current display, the calibration, the viewing angle, and the surrounding light conditions.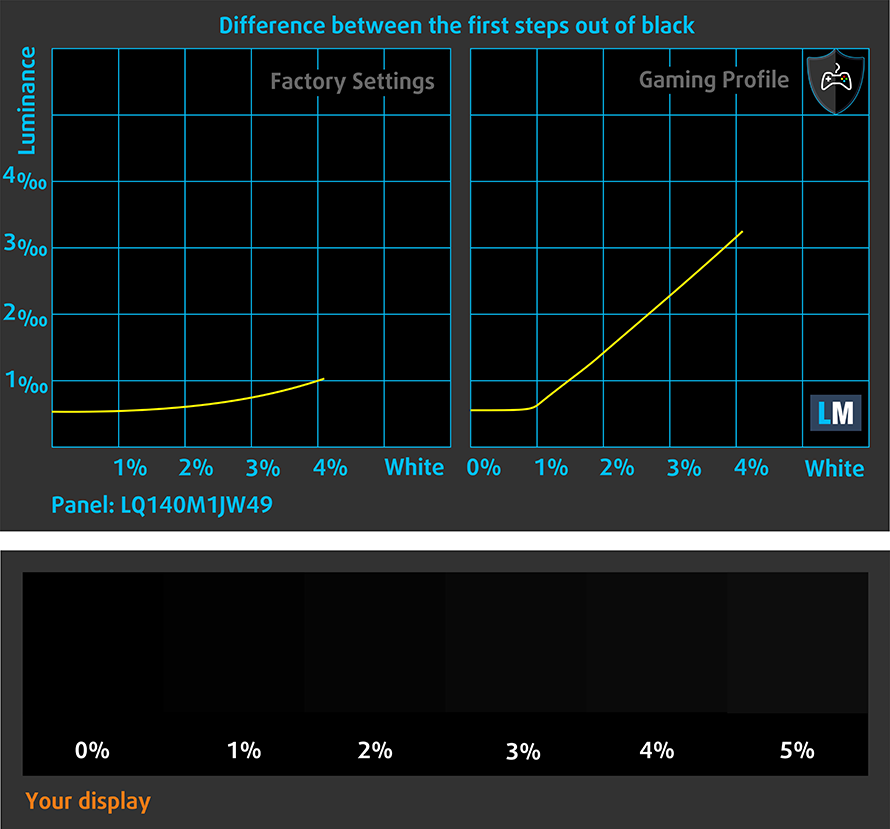 Response time (Gaming capabilities)
We test the reaction time of the pixels with the usual "black-to-white" and "white-to-black" method from 10% to 90% and vice versa.
We recorded Fall Time + Rise Time = 29 ms.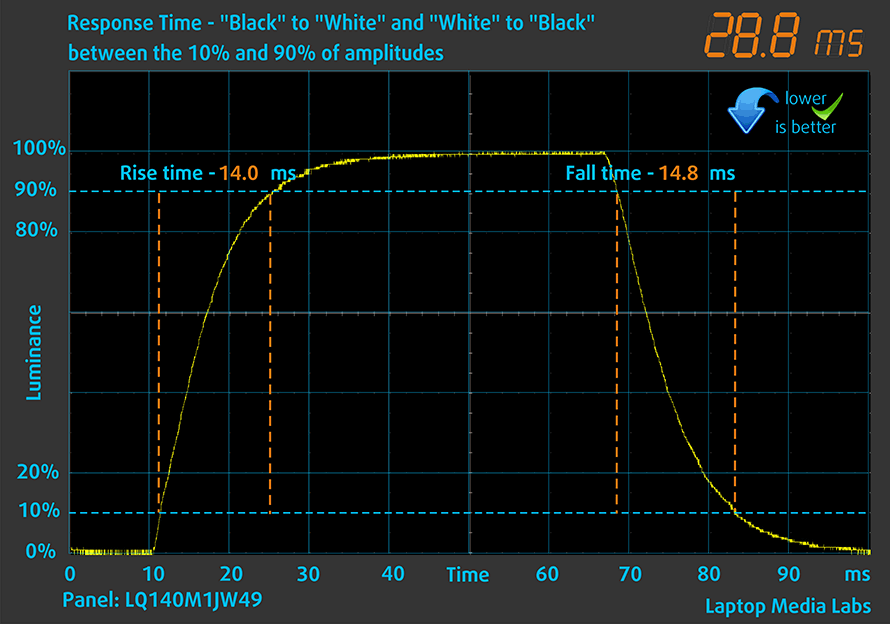 After that, we test the reaction time of the pixels with the usual "Gray-to-Gray" method from 50% White to 80% White and vice versa between 10% and 90% of the amplitude.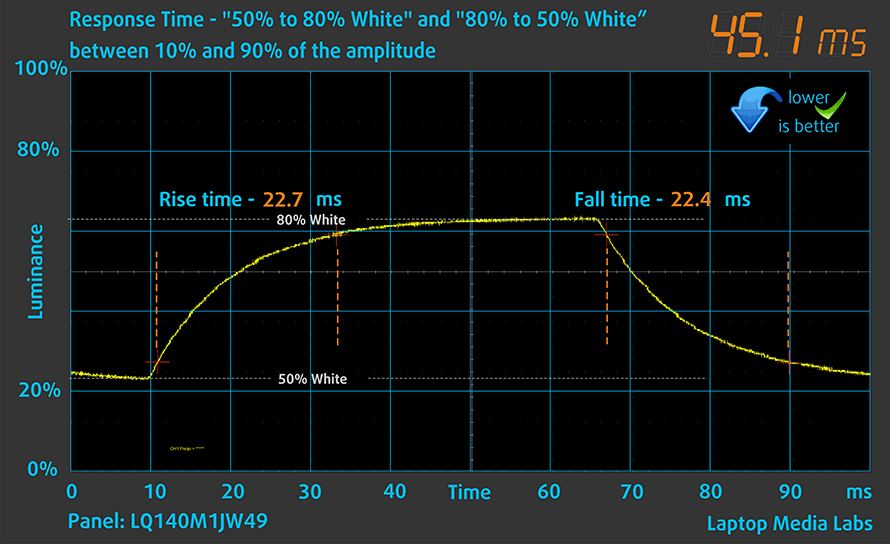 Health impact – PWM / Blue Light
PWM (Screen flickering)
Pulse-width modulation (PWM) is an easy way to control monitor brightness. When you lower the brightness, the light intensity of the backlight is not lowered, but instead turned off and on by the electronics with a frequency indistinguishable to the human eye. In these light impulses, the light/no-light time ratio varies, while brightness remains unchanged, which is harmful to your eyes. You can read more about that in our dedicated article on PWM.
Acer Predator Triton 300 SE (PT314-51s)'s display doesn't flicker at any brightness level. This makes it comfortable for use during long working or gaming periods.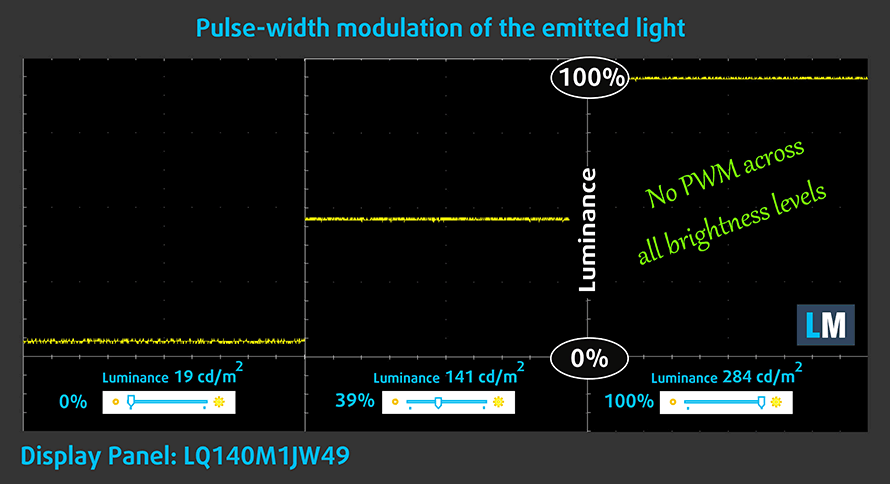 Blue light emissions
Installing our Health-Guard profile not only eliminates PWM but also reduces the harmful Blue Light emissions while keeping the colors of the screen perceptually accurate. If you're not familiar with the Blue light, the TL;DR version is – emissions that negatively affect your eyes, skin, and your whole body. You can find more information about that in our dedicated article on Blue Light.

Buy our profiles
Since our profiles are tailored for each individual display model, this article and its respective profile package are meant for Acer Predator Triton 300 SE (PT314-51s) configurations with 14.0″ Sharp LQ140M1JW49 (SHP1523) (FHD, 1920 x 1080) IPS.
*Should you have problems with downloading the purchased file, try using a different browser to open the link you'll receive via e-mail. If the download target is a .php file instead of an archive, change the file extension to .zip or contact us at [email protected].
Read more about the profiles HERE.
En plus de recevoir des profils efficaces et favorables à la santé, en achetant les produits de LaptopMedia, vous soutenez également le développement de nos laboratoires, où nous testons les appareils afin de produire les examens les plus objectifs possibles.
Sound
Acer Predator Triton 300 SE (PT314-51s)'s speakers produce a sound of relatively good quality. However, the high tones have some deviations from clarity.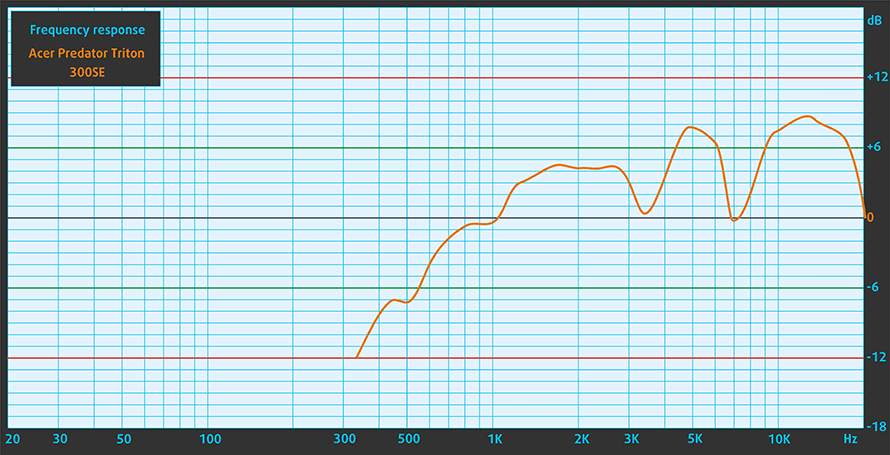 Drivers
All of the drivers and utilities for this notebook can be found here: https://www.acer.com/ac/en/US/content/support-product/8852?b=1

Battery
Now, we conduct the battery tests with Windows Better performance setting turned on, screen brightness adjusted to 120 nits and all other programs turned off except for the one we are testing the notebook with. This laptop's 60Wh battery pack lasts for 8 hours and 35 minutes of Web browsing, and 8 hours and 38 minutes of video playback.
Afin de simuler des conditions réelles, nous avons utilisé notre propre script de navigation automatique sur plus de 70 sites web.
Pour chaque test de ce type, nous utilisons la même vidéo en HD.
CPU options
This laptop can be equipped with either the Core i7-11370H or The Core i7-11375H. Both are quad-core/eight-thread Tiger Lake H35 processors.
Les résultats proviennent du test CPU Cinebench 20 (plus le score est élevé, mieux c'est).
Les résultats sont issus de notre test de référence Photoshop (plus le score est bas, mieux c'est)
GPU options
Although the Triton 300 SE debuted with the GTX 1660 Ti, it can now be configured with the RTX 3050 Ti, and RTX 3060 (90W).
Les résultats proviennent du benchmark 3DMark : Time Spy (Graphics) (plus le score est élevé, mieux c'est).
Les résultats proviennent du benchmark 3DMark : Fire Strike (Graphics) (plus le score est élevé, mieux c'est).
Les résultats proviennent du benchmark Unigine Superposition (plus le score est élevé, mieux c'est).
Gaming tests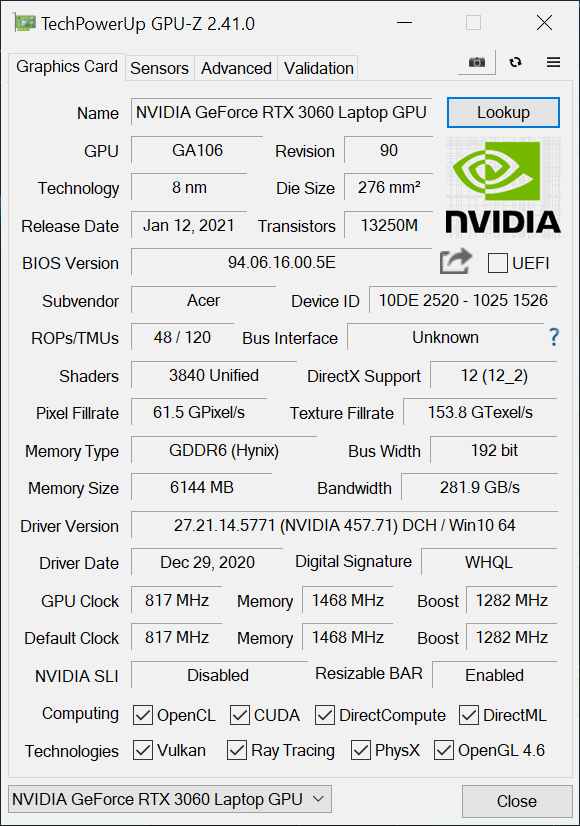 Temperatures and comfort
Max CPU load
In this test we use 100% on the CPU cores, monitoring their frequencies and chip temperature. The first column shows a computer's reaction to a short load (2-10 seconds), the second column simulates a serious task (between 15 and 30 seconds), and the third column is a good indicator of how good the laptop is for long loads such as video rendering.

Average core frequency (base frequency + X); CPU temp.
| Intel Core i7-11370H (35W TDP) | 0:02 – 0:10 sec | 0:15 – 0:30 sec | 10:00 – 15:00 min |
| --- | --- | --- | --- |
| Acer Predator Triton 300 SE (PT314-51s) | 3.97 GHz (B+20%) @ 95°C @ 64W | 4.03 GHz (B+22%) @ 97°C @ 63W | 3.87 GHz (B+17%) @ 93°C @ 50W |
| ASUS TUF Dash F15 (FX516) | 4.01 GHz (B+22%) @ 78°C @ 64W | 4.00 GHz (B+21%) @ 82°C @ 64W | 3.96 GHz (B+20%) @ 90°C @ 60W |
Apparently, the Triton 300 SE actually stays close to the TUF Dash F15, which is larger. However, it can't maintain the same frequencies at the same temperature, and this probably led to Acer letting their CPU slip to 50W during extreme loads.
Real-life gaming
| NVIDIA GeForce RTX 3060 | GPU frequency/ Core temp (after 2 min) | GPU frequency/ Core temp (after 30 min) | GPU frequency/ Core temp (Max Fan) |
| --- | --- | --- | --- |
| Acer Predator Triton 300 SE (PT314-51s) | 1593 MHz @ 75°C @ 84W | 1580 MHz @ 79°C @ 85W | 1656 MHz @ 72°C @ 83W |
| Lenovo Legion 5 (15″ AMD, 2021) | 1831 MHz @ 75°C @ 129W | 1815 MHz @ 80°C @ 129W | – |
| Lenovo Legion 5 Pro (16″) | 1803 MHz @ 76°C @ 129W | 1787 MHz @ 81°C @ 129W | – |
| MSI GP66 Leopard | 1863 MHz @ 72°C @ 124W | 1852 MHz @ 75°C @ 125W | 1849 MHz @ 69°C @ 127W |
| MSI GP76 Leopard | 1860 MHz @ 71°C @ 129W | 1857 MHz @ 73°C @ 128W | 1869 MHz @ 67°C @ 128W |
As we mentioned, Acer has introduced a firmware update that unlocks a higher TGP for this (and other) devices from their gaming lineup. However, even with Turbo mode and maximum fans, we were always at least 5W away from the target.
Gaming comfort
One major disadvantage of this machine is heat. It reaches a temperature of way over 50°C on the keyboard. Also, the noise is pretty loud.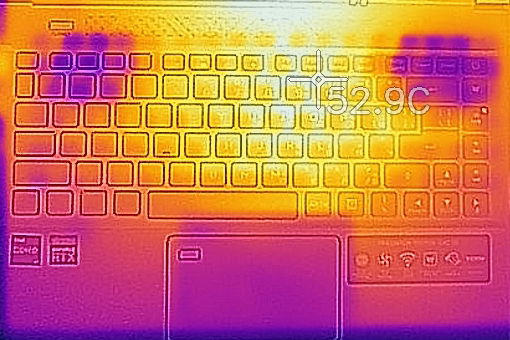 Verdict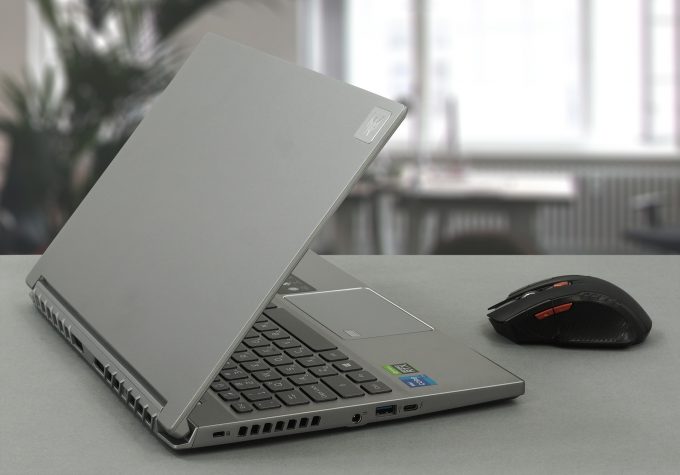 First, we have to give Acer some credit for having balls to enter the world of small-screen-size gaming computing. And more so, that they have figured a design that looks industrial and definitely not overwhelming. But undoubtedly, they have faced the expected problems like somewhat limited cooling capacity.
To be fair, though, when you take advantage of the full speed of the fans, your hardware will be happy. However, no matter what you do, the keyboard will be hot during gameplay. Especially when you are into a longer session.
Acer Predator Triton 300 SE (PT314-51s)'s IPS panel (Sharp LQ140M1JW49 (SHP1523)) has a Full HD resolution, comfortable viewing angles, and a very good contrast ratio. Thankfully, it covers 98% of the sRGB gamut, and its backlight doesn't shimmer (no PWM detected). In addition to that, the color accuracy is great when you pair the panel with our Gaming and Web design profile. Unfortunately for gamers, the pixel response time is very slow.
Well, this has become somewhat of a compromise battle. This can be seen on the inside as well. There, we found only one SODIMM slot for memory expansion, and one M.2 slot for storage. Indeed, it could have been worse, but it could have been better as well.
Thankfully, the I/O is decent, as it features a Thunderbolt 4 connection. On the other hand, there is no MicroSD card reader. Yet again, you get a fingerprint reader, a generally good keyboard, and a surprisingly decent touchpad.
Naturally, we want to ask one question. Are 14-inch gaming laptops worth it? Do you prefer the portability of a smaller device, or you are more interested in larger notebooks that make it less of a strain to your eyes when you are playing games?
You can check the prices and configurations in our Specs System: https://laptopmedia.com/series/acer-predator-triton-300-se/
Pros
Industrial design
1x SODIMM + 1 M.2 PCIe x4
No PWM (Sharp LQ140M1JW49)
98% sRGB coverage and great color accuracy thanks to our Gaming and Web design profile (Sharp LQ140M1JW49)
Thunderbolt 4 support
Cons
Lacks an SD card reader
The laptop gets loud and very warm when gaming
Slow pixel response time (Sharp LQ140M1JW49)