[Specs and Info] ASUS Chromebook Detachable CM3 (CM3000) offers versatility and a premium feel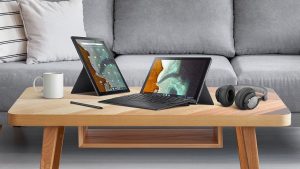 What happens when you combine ASUS's ingenuity and craftsmanship with Google's software innovations. You get the ASUS Chromebook Detachable CM3 (CM3000), which is a versatile, but powerful Chromebook. It brings with itself a multitude of features. It comes with a very well-designed stand that works both horizontally and vertically.
ASUS also offers a detachable keyboard, which is stated to have a 1.5mm key travel. ChromeOS is quite underrated as it has come a long way ever since its inception in 2011. It now supports the Google Play Store, which gives it credibility.
Today we are taking a quick look at the ASUS Chromebook Detachable CM3 (CM3000).
ASUS Chromebook Detachable CM3 (CM3000): Full Specs
Design
The device gets an aluminum unibody, which comes in a Mineral Grey color and has diamond-cut edges. It comes with a cover, which ASUS states has stain-repellent qualities, so no need to worry about getting it dirty with fingerprints and smudges, along with everything else that could damage the beautiful exterior. With a profile of 7.9 mm and a weight of only 0.50 kg, this is a very portable machine that you can carry everywhere and not worry about damages. When you attach the keyboard, it creates the Ergolift effect, lifting up the rear end of the notebook, giving you a better and more comfortable angle when typing.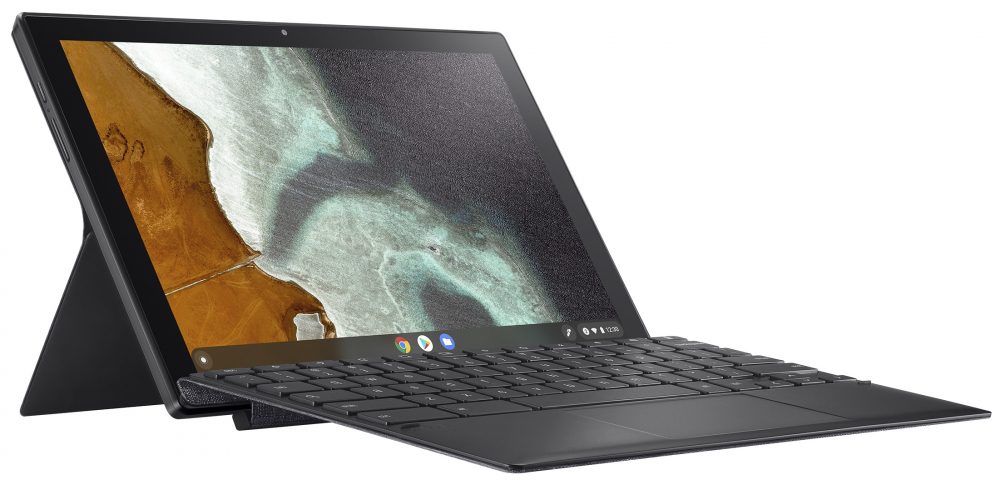 Display
The display that ASUS has chosen for this laptop has a 10.5-inch diagonal and a 16:10 aspect ratio. The panel comes in an FHD+ resolution and uses IPS technology. According to the spec sheet from ASUS, the panel has a 118% coverage of the sRGB gamut, a max brightness of 320 nits, along with a glossy cover that we hope is made from some type of shatter-proof glass such as Corning Gorilla Glass.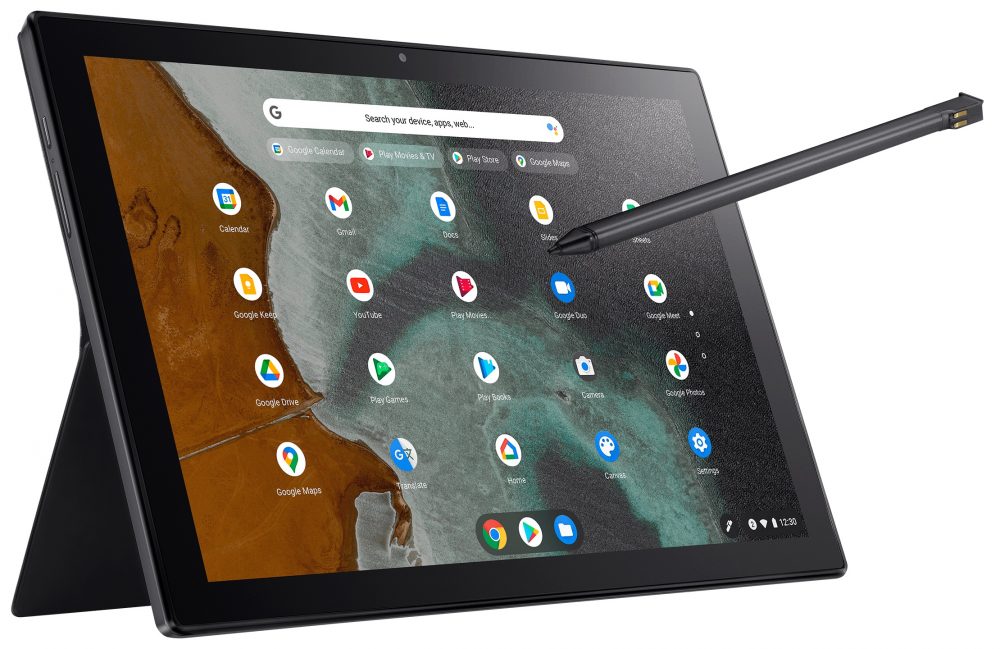 Specifications and features
The device is powered by the Mediatek MT8183, which is an SoC, that packs an octa-core processor that uses the big.LITTLE design model. Basically, the cores are divided into two pairs, with one power-efficient, low-powered pair that handles low-resource and background tasks, and one high-performance pair, which is there for when more performance is needed. This helps the device achieve up to 12 hours of battery life, according to ASUS. For the GPU, you get the ARM Mali-G72 MP3, which has three cores, and a clock speed of 850MHz.
Features-wise, you get two cameras, one on the front, with a resolution of 2MP, and one on the back, with a resolution of 8MP. The device has Google Assistant built-in, allowing for voice recognition. The hidden stylus pen offers you another way of using the machine, and with the wide color coverage of the display, you can turn it into a portable creativity device, and use it every time you find inspiration.
Dimensions
255.4 x 167.2 x 7.9 ~ 8.0 mm (10.06" x 6.58" x 0.31")
Price
Starting at £249.00
All ASUS Chromebook Detachable CM3 (CM3000) configurations: