[Video Review] ASUS Zenbook S 13 OLED (UM5302) – How does it weigh only 1kg?
ASUS Zenbook S 13 OLED (UM5302, AMD Ryzen 6000 Series) in-depth review
ASUS is the manufacturer of one of the best ultrabooks on the market. Today, we have the Zenbook S 13 OLED (UM5302), which aims to battle with the Lenovo Yoga 7 Carbon, and the Dell XPS 13 9320 Plus. But what does that mean? Who is it made for? Well, this device is aimed at young professionals who travel a lot and concentrate on office tasks. Now, if we consider the hardware it comes with, we will see that it can do more than just ordinary Word and Excel. The Ryzen 7 6800U is an incredibly powerful mobile CPU. It obliterates two-year-old desktop CPUs, so it is no surprise that the lapto[...]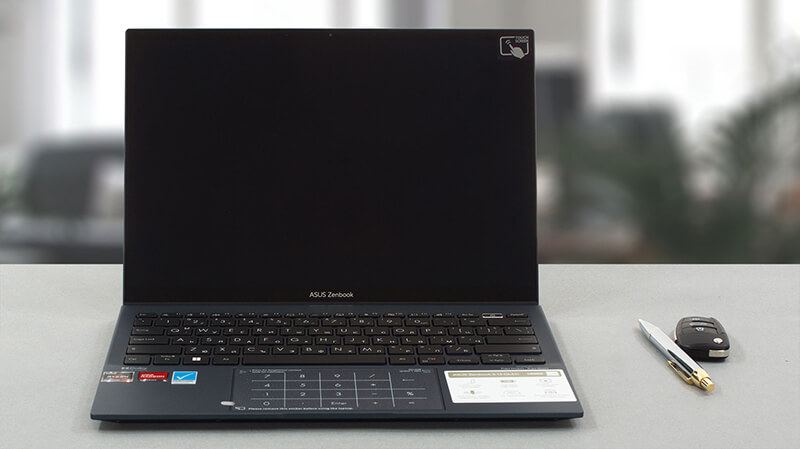 Pros
Long battery life
Rigid magnesium-aluminum chassis
Extremely thin and light device
100% sRGB and DCI-P3 coverage plus accurate color representation (Samsung ATNA33AA03-0 (SDC4172))
PWM is treated by first-party software (Samsung ATNA33AA03-0 (SDC4172))
OLED provides True Blacks and crazy fast pixel response times (Samsung ATNA33AA03-0 (SDC4172))
Charges via Type-C
Gen 4 SSD support
Fingerprint reader
Cons
Needs a dongle to expand the I/O
Soldered memory
Samsung ATNA33AA03-0 (SDC4172)
HDD/SSD
up to 1000GB SSD
OS
Windows 11 Home, Windows 11 Pro
Battery
67Wh, 4-cell , 67Wh, 4-cell
Body material
Aluminum, Magnesium alloy
Dimensions
296.7 x 210.5 x 14.9 mm (11.68" x 8.29" x 0.59")
3x USB Type-C
3.2 Gen 2 (10 Gbps), Power Delivery (PD), DisplayPort
Audio jack
3.5mm Combo Jack
Microphone
Microphone with Cortana and Alexa voice-recognition
Speakers
Speakers by Harman Kardon, Smart Amp
[Intro]
If you're in the market for a thin and light notebook, chances are high you're going to look at the new ZenBook S 13 OLED, with the codename UM5302. This device is an amazing sidekick, delivering exceptional performance and efficiency, thanks to its Ryzen 6000-series CPUs, while the OLED panel is unmatched when it comes to colors.
[Design]
The S13 gets all of this while being incredibly lightweight, weighing only a kilo and having a profile of 14.9 mm. The aluminum-magnesium alloy helps a lot to achieve such a low weight, leaving an anodized finish. The notebook complies with the MIL-STD-810H certification tests, so you can rest assured that the device is well-built and won't break down on you anytime soon.
The base and palm rest area are also treated with ASUS' Antibacterial Guard, which inhibits the growth of bacteria by 99% over a 24-hour period. It's made to last for up to three years so we hope that there won't be another virus outbreak. Like…COVID-27 or something. Anyway, The lid can be opened with one hand, showing off a well-organized base. It also lifts up the back slightly, for better cooling and ergonomics. We've got a fingerprint reader inside the power button, along with a great keyboard with long key travel and clicky feedback. The keycaps are made to be more comfortable, with a dished design that matches the shape of your fingertips. We also can't forget the NumberPad, which allows for even the smallest of devices to have an alternative to a NumPad.
[Ports]
The I/O includes two USB Type-C 3.2 (Gen. 2) ports and an audio jack on the right, while a third Type-C port is found on the left. The ports do have support for power delivery and DisplayPort 1.4. There's also a Type-A to Type-C dongle in the box.
[Display]
The laptop's most striking feature is the 2.8K OLED panel, which is super crispy at 13.3 inches. It comes with a 16:10 aspect ratio, which results in a taller display that's able to fit more pixels in the same form factor. It also supports the ASUS Pen, which has to be purchased separately. The screen has a peak brightness of 367 nits in SDR but can go up to 550 nits in HDR content so it's bright enough for working outside. Zenbook S 13 OLED covers 100% of the DCI-P3 gamut, also known as the digital cinema standard, and it has excellent color accuracy, delivering a dE value of 1.8 in both the DCI-P3 and sRGB gamuts.
There is some PWM usage below 92 nits, however, the MyASUS app includes a Flicker-Free dimming option, which eliminates the pulsations completely, while still keeping the colors fairly accurate, with a dE value of 2.1. Considering that with the PWM on, you get a dE value of 1.8, we think it's worth the sacrifice.
[Sound]
There's a competent sound setup, with two bottom-firing speakers on the bottom, which do have Dolby Atmos support. The unit has been tuned and approved by Harman/Kardon, showing no noticeable deviations from clarity across the entire frequency range.
[Battery]
The 67Wh battery is enough to sustain the Ryzen 6000U-series chips for a while. In our tests with the Ryzen 7 6800U, the unit lasts for 11 hours and 40 minutes of Web browsing, or 15 hours and 56 minutes of video playback. That's …a lot.
There's also fast charging, so you can get up to 60% in just 49 min. With the Ryzen 5 6600U, you can expect even longer battery life, as there would be two fewer cores to power up.
[Performance]
Going back to the Ryzen 7, it's a great performer inside the Zenbook S 13. Considering the size of the machine, it's able to trade blows with many competitors on the market. The RDNA 2 iGPU is also nothing to scoff at, bringing encoding support that can be used for video editing. You can also take breaks and play some games, but you should probably stick to lighter games and esports titles.
[Cooling]
Cooling inside small laptops can be tricky, as it's important to strike a balance between performing well and keeping temps within reasonable levels.
The laptop comes with one heat pipe and one fan, which are enough to sustain the Ryzen 7.
To do that, ASUS needs to lower the wattage a bit, which does lead to less performance overall, however, it means the laptop runs cooler and is quieter in the long run. The 14-inch Yoga 7 from Lenovo squeezes out higher clock speeds from the CPU while running cooler, but it also has more space to work with, so you'd have to judge for yourself what you value more.
[Teardown and upgradeability]
The Zenbook S 13 OLED is offered with up to 16GB of soldered dual-channel LPDDR5 memory, while for storage, you get one M.2 slot for Gen 4 SSDs.
Our teardown video shows how to get to the SSD, so we'll link it below.
[Verdict]
Leading the charge when it comes to performance per gram, the Zenbook S 13 OLED is more than a compact machine. It can be a fully-fledged video editing rig that you can carry everywhere with you or a premium daily driver that has style and class.
For a better look at the laptop, why don't you swing by our website and read the full in-depth review?