The new HP Spectre 13 x360 (2017) – specs, features, configurations and prices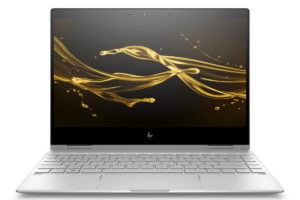 Just like HP Spectre 13 (2017), HP Spectre 13 x360 (2017) has also undergone a remarkable upgrade. As far as performance is concerned, you can choose between configurations that feature 8th generation Intel Core processors – Intel Core i7-8550U and Intel Core i5-8250U respectively. They are not only powerful but also efficient. In addition, you are presented with Intel UHD Graphics 620 GPU. As for the storage, you get up to 16GB of LPDDR3 RAM and up to 1TB PCIe SSD providing you with enough room for all your photos, movies and videos.
Moreover, HP Spectre 13 x360 is packed with the same IR sensor technology and enhanced cooling system as in Spectre 13 to keep heat within the normal and to reduce fan noise. As for the battery life, according to HP, you get up to 16.75 hours for the Full HD display configurations. What's more, thanks to the fast charge technology that can charge from zero to 50 percent in just 30 minutes you will never have to worry about running out of battery.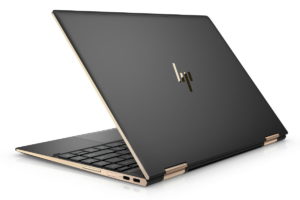 Display-wise, the 13.3-inch panel comes with either Full HD (1920 x 1080) or 4K UHD (3840 x 2160) resolution. In addition, there is a new SureView privacy screen Full HD which can be also found in the business-class EliteBook x360 G2.
Now let's take a look at the overall dimensions that the device sports. They have remained relatively the same as in HP Spectre 13 – the bezel thickness has been reduced to 13.6 mm, while the weight is now 1.26 kg which makes the laptop extremely portable. As for the design, it has also undergone a slight upgrade – the device now features a more angular profile, however, the color scheme hasn't been changed – Natural Silver or Dark Ash Silver with Copper Luxe accents.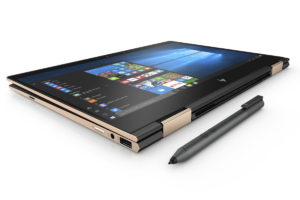 The Spectre x360 13's active pen has also been renewed. Among the features of the pen you can find the same tilt support Microsoft introduced with the latest Surface Pro, tail-end eraser and a gyro-mouse function which allows you to use it like a laser pointer during presentations. What's more, you can now recharge the pen and it also has a cap that when removed uncovers a USB Type-C charging connector.
The device works with Windows 10 Home operating system that provides not only powerful but also smooth experience. As far as connectivity options are concerned, you are presented with two USB Type-C ports with Thunderbolt 3, a USB 3.1 Type A port, a 3.5 mm audio jack, as well as an SD card reader which was missing from the previous model.
The new Spectre x360's price will start from $1,150, however, availability hasn't been announced yet. You can check all available configurations and detailed specs in our Laptops Specs system: