[Video Review] Lenovo Yoga 6 (13″, 2022) – Leading Lenovo's sustainabilty
Lenovo Yoga 6 (13", 2022) in-depth review
Sustainability is slowly but surely becoming one of the hottest topics in the laptop industry. It could be a Carbon-neutral policy for the manufacturing process, the use of recycled materials for internal and external components, or both. In the case of the Yoga 6 (13", 2022), you get recycled top cover material. This is not something unseen, of course. We've already covered the Acer Aspire Vero in its 14, and 15-inch form, which is the champion when it comes to the use of recycled components. Nevertheless, the 13-inch Yoga 6 has one more thing, which boosts its sustainability factor - [...]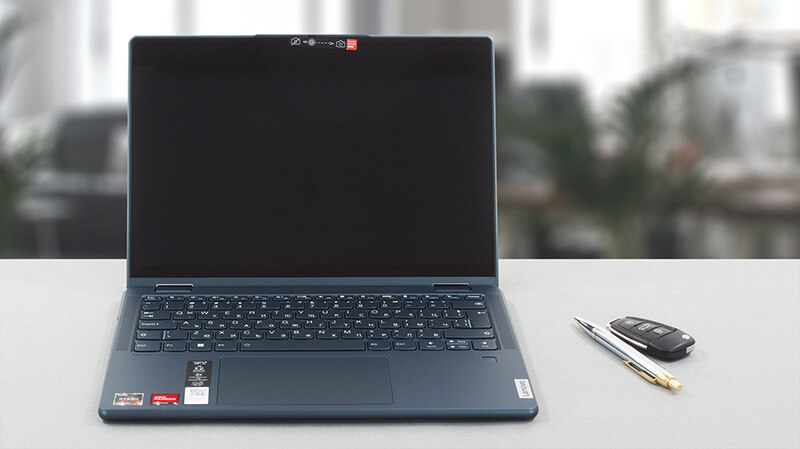 Pros
Uses recycled materials
Covers 100% of sRGB colors (BOE NV133WUM-N61 (LEN819F))
Very high color accuracy with our Gaming and Web design profile (BOE NV133WUM-N61 (LEN819F))
Good battery life
A stylus is offered inside the box
The older processors still deliver good performance
PWM-free (BOE NV133WUM-N61 (LEN819F))
IR face recognition scanner + fingerprint reader
1080 Web camera with a privacy shutter
Cons
M.2 PCIe x4 slot supports Gen 4 but is limited to Gen 3 speeds
Soldered memory
Weak chassis
HDD/SSD
up to 2000GB SSD
OS
Windows 11 Home, Windows 11 Pro
Battery
59Wh, 4-cell, 60Wh, 4-cell, 60Wh
Body material
Plastic / Polycarbonate, Aluminum
Dimensions
304 x 218 x 17.36 - 17.45 mm (11.97" x 8.58" x 0.68")
1x USB Type-A
3.2 Gen 1 (5 Gbps)
1x USB Type-A
3.2 Gen 1 (5 Gbps), Sleep and Charge
2x USB Type-C
3.2 Gen 1 (5 Gbps), Power Delivery (PD), DisplayPort
Audio jack
3.5mm Combo Jack
Web camera
2MP IR, FHD with Privacy shutter, Fixed focus
Microphone
Dual Array Microphone with Noise Cancelling, Far Field
Speakers
2x 2W Stereo Speakers, Dolby Atmos
This video is a quick recap of our detailed review of the Yoga 6 on our website. So just click this little linky link and you'll see its current price, comparisons, and much more!
But if you don't have time for it, stay with us here!
[Intro]
The Yoga 6 is a thin and light 13-inch machine for those who are always on the go and need a fast notebook suitable for content creation.
It comes in a dark teal color with an aluminum lid and a plastic base. All of the metal that's present on the laptop is recycled, while the packaging and power adapter is made from plastic from water bottles.
Despite that, the Yoga 6 looks really good. Durability is another thing entirely, as the lid uses its metal construction and glass cover to great effect, remaining flex-free. The plastic base is a different story, as the material is quite soft. Lenovo could have included some metal bracing on the inside to remedy the issue, which should be fixed with further generations. In terms of dimensions, the laptop weighs 1.37 kg and has a profile of 17.45 mm, which is good.
[Input devices]
As this is a convertible, the hinges are stiffer, which leads to some difficulty when opening the lid with one hand. However, it does lift the backside of the base, which leads to a better typing experience from the keyboard, which comes with pretty long key travel and clicky feedback. It also has a backlight, so you're covered even during the night. The touchpad is made from glass and is fast, responsive, and smooth. You can also click the entire surface, which makes us really happy. Other features you will also see on the base are the two speaker cutouts and the fingerprint reader.
[Ports]
Going to the sides, we see a well-populated I/O, with two USB Type-C 5-gigabit ports, an HDMI 2.0 port, and an audio jack on the left. On the other side, we have two full-sized USB 5-gigabit ports and a MicroSD card reader.
[Display quality]
On the front, we see a Full HD+ IPS display with a 13.3-inch diagonal. It doesn't get as bright as we want it to, reaching only 262 nits, but it still covers 100% of the sRGB color gamut. It also manages to get really accurate colors, thanks to our Design and Gaming profile, which results in a delta E value of 0.6. This is impressive, given the fact that the human eye can't really distinguish the difference between 1.0 and below.
We'll have all of our profiles linked below.
[Battery]
The Full HD display also goes easy on your battery, as the 59Wh unit here lasts for 11 hours and 40 minutes of Web browsing, or 10 hours and 30 minutes of video playback.
[Performance]
These results were accomplished with the Ryzen 7 5700U, which is a Zen 2-based 8-core 16-thread CPU. The chip offers great 3D Rendering performance when compared to most Alder Lake-U series processors. It is slower in Photoshop, but we think you'll be happy with it.
[Cooling]
Since the CPU is relatively easy to keep cool, you get only one heat pipe and one fan. The Ryzen 7 boosts to 29W in the first 10 seconds, lowering down to 25W in the next 20 seconds. In the long run, it maintains a stable 15W TDP and a temperature of just 73°C.
In terms of comfort, the laptop is both cool and quiet, with a base temperature of just 37°C.
[Teardown and upgradeability]
As this is a pretty small device, there's little space inside for RAM slots, which is why all of the 16GB of LPDDR4x memory is soldered. There's one M.2 SSD slot for Gen 4 SSDs, but since Zen 2 doesn't support it, the drive will be downgraded to Gen 3 speeds.
You can check out our teardown video, which shows how to get inside the Lenovo Yoga 6 (13", 2022).
[Verdict]
The Yoga 6 is so far Lenovo's best effort in becoming greener, and with a small change to the design and the base, it can be a fantastic portable machine for Designers and Creative professionals, who like a smaller form factor and want a portable machine. In the future, we would like to see the latest processors, which bring new and better technologies.
While we wait for the next model, you can find more information about the Lenovo Yoga 6 in our written review, which we'll have linked down below.