What is an "IPS-level" display?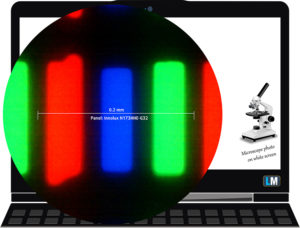 If you are currently on the lookout for a new notebook you probably have a few criteria that you base your choice upon. The quality of the display is probably one of the most important features of a notebook for both day-to-day users and professionals.
There are different technologies but you will most likely get an IPS or TN display. To keep things simple we will now cover just the basic advantages and disadvantages of the two variants. It is common for IPS displays to have excellent viewing angles but they have a slow response time which is crucial for gaming. IPS panels also tend to provide better color accuracy and gamut coverage although it is not guaranteed. On the other hand, TN panels have small viewing angles and typically low color reproduction but they offer fast response time. But what happens when you browse through specs and read "IPS-level" display?
"IPS-level" is generally not an official term but some manufacturers like to use it to stand out from the crowd. For instance, MSI notebooks are very often equipped with a so-called "IPS-level" display. But what exactly is "IPS-level"?
You should note that "IPS-level" usually means a TN display and although MSI's TN panels are a lot better than what you get from the average one, it is still a TN panel. Sometimes it happens that the specs sheet on a retailer's or manufacturer's website lists the display of a notebook as IPS when in fact it is  "IPS-level". Maybe some do it by mistake other on purpose, however, you should always do your research before committing to your purchase.
Although "IPS-level" is not really IPS it does not necessarily mean that it is bad. We have reviewed two MSI models with such a display and we can say that they are quite good. You can check out MSI GE63VR 7RF Raider's review and MSI GS73VR 7RF Stealth Pro's review and judge for yourselves.
We give our best to provide accurate information in our Laptops Specs System but sometimes we might get mislead too. You can see all currently available MSI notebooks over here: http://laptopmedia.com/specs/?q=&hPP=20&idx=laptops&p=0&dFR%5Bbrand%5D%5B0%5D=MSI&is_v=1