ASUS TUF Gaming F15
Intel Core i5-11400H
NVIDIA GeForce RTX 3050 (Laptop, 75W)
15.6", Full HD (1920 x 1080), 144 Hz, IPS + FreeSync
512GB SSD
8GB DDR4
2.26 kg (5 lbs)
Pros
Capable cooling
Two M.2 PCIe slots and two RAM SODIMM slots
The display doesn't flicker at any brightness level Innolux N156HRA-EA1 (CMN1521)
Budget-conscious
Wi-Fi 6 and an RGB backlight
A good keyboard and touchpad combo
Cons
The panel has slow pixel response times Innolux N156HRA-EA1 (CMN1521)
Tiny Arrow keys
Covers only 57% of the sRGB gamut
No SD card reader
Especificaciones
AMD Ryzen 7 5700U

0.3%

Intel Core i5-1240P

1.1%

Intel Core i5-11400H

AMD Ryzen 5 4600H

0.8%

AMD Ryzen 5 5625U

3.4%

Intel Core i5-1245U

3.5%
NVIDIA GeForce RTX 3050 Ti (Laptop, 60W)

0.2%

NVIDIA RTX A2000 (Laptop)

3.6%

NVIDIA GeForce RTX 3050 (Laptop, 75W)

NVIDIA GeForce RTX 3050 Ti (Laptop)

4.3%

NVIDIA GeForce RTX 3050 (Laptop, 60W)

2.5%

NVIDIA GeForce RTX 3050 (Laptop, 55W)

4.5%
Innolux N156HRA-EA1 (CMN1521)
Dimensiones
395 x 256 x 22.8 ~ 24.5 mm (15.55" x 10.08" x 0.90")
3x USB Type-A
3.2 Gen 1 (5 Gbps)
1x USB Type-C
Thunderbolt 4, DisplayPort
Audio jack
3.5mm Combo Jack
Lector de huellas dactilares
Micrófono
Array Microphone with AI Noise Cancelling
Altavoces
2x 2W, DTS: X Ultra
Ranura de bloqueo de seguridad
Kensington Lock
More ASUS TUF Gaming F15 configurations - 1 laptops
#CommissionsEarned
Mostrar: 15.6-inch, 1920x1080, IPS + FreeSync
Nombre
Innolux N156HRA-EA1 (CMN1521)
Densidad de píxeles
141.21 ppi
Frecuencia PWM

No PWM (Flicker-Free)
Se convierte en "Retina" de
24 inches (62 cm)
Clasificación PWM

10.0: (safe)
Compre nuestros perfiles para Innolux N156HRA-EA1 (CMN1521)
Además de recibir perfiles eficientes y respetuosos con la salud, al comprar los productos de LaptopMedia también apoyas el desarrollo de nuestros laboratorios, donde probamos los dispositivos para elaborar las reseñas más objetivas posibles.
ASUS TUF Gaming F15 revisión en profundidad
After some years, the ASUS' TUF series is clearly distinguishable from the ROG devices (in a good way). The design language of these laptops is very different compared to their more exclusive and expensive siblings. The TUF machines are bringing good performance to the table without being too expensive and at the same time, the design is a bit more stealth-ish and mature. The good news is that these devices come with a decent amount of goodies. Let's take for example our test laptop for today's article - the ASUS TUF Gaming F15 FX506HM. What this fella has to offer? The 2021 version of TUF Gaming F15 FX506 is being complemented by Intel's Tiger Lake H45 CPUs as well as some powerful NVIDIA Ampere GPUs. The default configuration has Core i5-11260H and GeForce RTX 3050 (75W with Dynamic B[...]
Leer la reseña completa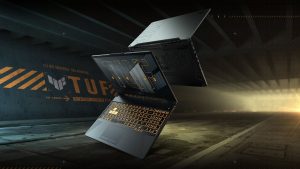 Opciones de desmontaje, mantenimiento y actualización
Este dispositivo ofrece un sólido rendimiento y es actualmente (en el momento de escribir este artículo) nuestro portátil Core i7-11800H de mayor rendimiento. Consulta todos los precios y configuraciones del ASUS TUF Gaming F15 (FX506, 2021) en nuestro sistema de especificaciones o lee más en nuestro análisis a fondo. 1. Retirar la placa inferior Para sacar la placa inferior, tienes que soltar 11 tornillos de cabeza Phillips. Como siempre, el tornillo de la esquina inferior derecha permanece unido a la placa inferior y levantará ligeramente el borde, así que ese debería ser tu pun[...]
Leer más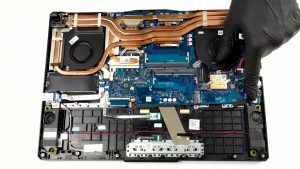 Rendimiento de la CPU: Intel Core i5-11400H
Results are from the Cinebench 20 CPU test (the higher the score, the better)
Rendimiento de la GPU: NVIDIA GeForce RTX 3050 (Laptop, 75W)
Los resultados corresponden a la prueba de referencia 3DMark: Fire Strike (Graphics) (cuanto más alta sea la puntuación, mejor)
Algunos juegos a los que puedes jugar en este portátil
Muéstrame los mejores portátiles para...