Acer Nitro 5 (AN515-55) review – can it handle the Comet Lake-H processors?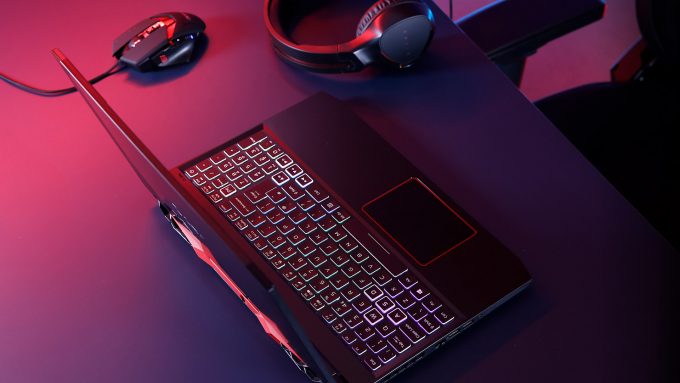 Last year, the Nitro 5 was one of the first notebooks to introduce the then newly announced Turing graphics cards from NVIDIA. Now, it is the processors that are upgraded, and with Comet Lake-H, the new Nitro 5 (AN515-55) will try to assault the budget gaming market.
However, it has a frightening competitor in the face of the ASUS TUF A15 (FA506) and its crazy fast Ryzen 4000H processors. Thankfully, Acer is planning on AMD-equipped laptops from the Nitro family, as well, but until that happens, we are "stuck" with what Intel has to offer.
Despite all of the fuss about them, they proved to be a non-substantial upgrade over the Coffee Lake-HR CPUs, and they produce a lot of excessive heat. It is particularly interesting how the Nitro 5 (AN515-55) will counter this, especially when you consider the fact that its predecessor wasn't the best in terms of cooling.
Nevertheless, there are a couple of important features making a return, like a 144Hz display and RAID 0 support – something that is still rarely seen in the budget gaming laptop market.
You can check the prices and configurations in our Specs System: https://laptopmedia.com/series/acer-nitro-5-an515-55/
Contents
Specs Sheet
LG LP156WFC-SPD5 (LGD065А)
HDD/SSD
hasta 2000GB SSD + hasta 1000GB HDD
Ranura M.2
2x 2280 PCIe NVMe 3.0 x4 RAID 0 Ver foto
OS
Windows 10 Home, Windows 11 Home, Windows 10 Pro, Windows 11 Pro
Material del cuerpo
Plastic / Polycarbonate
Dimensiones
363.4 x 255 x 23.9 mm (14.31" x 10.04" x 0.94")
3x USB Type-A
3.2 Gen 1 (5 Gbps)
1x USB Type-C
3.2 Gen 1 (5 Gbps), Sleep and Charge
Conector de audio
3.5 mm combo
Lector de huellas dactilares
What's in the box?
Besides the mandatory paper manuals, inside the package, we found a 135W power brick and some stickers. Yep, everybody is boarding this new trend. Interestingly, everybody could apply stickers to their notebook, but when you have some inside of the box, it kind of takes away from the personalization effect, doesn't it? Nevertheless, they are free, so how can something free be bad, right?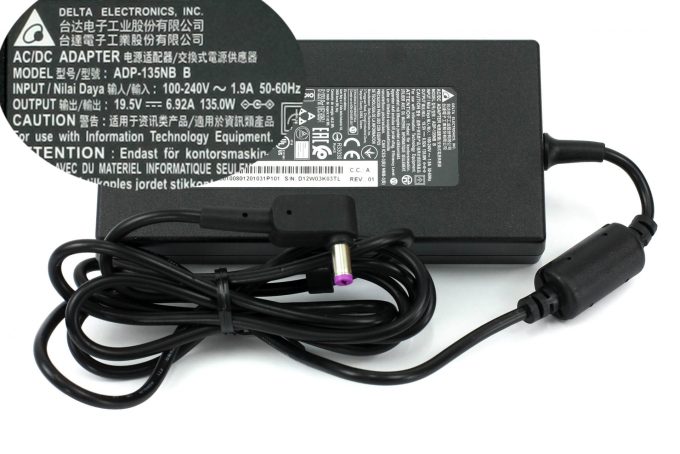 Design and construction
Last year, Nitro 5 was one of the most non-obnoxious Nitros to ever hit the market. Well, if you don't mind the red hints pretty much everywhere around the body. And now, in a similar fashion, Acer is trying to make it even sleeker than before, with a body of 23.9mm (2mm thinner than its predecessor), while maintaining the 2.30 kg weight. Surely, the build is entirely plastic, but honestly, its quality is pretty decent.
In contrast to the philosophy on the last-years device, the Nitro 5 (AN515-55) now doesn't have a flat lid cover. Instead, you will find two distinctive details on either side. Additionally, you can open the lid with a single hand, and looking at the bezels, we see thin side ones and a rather thick top and bottom ones. Thankfully, the camera remains above the display, which means there won't be any weird nose angles.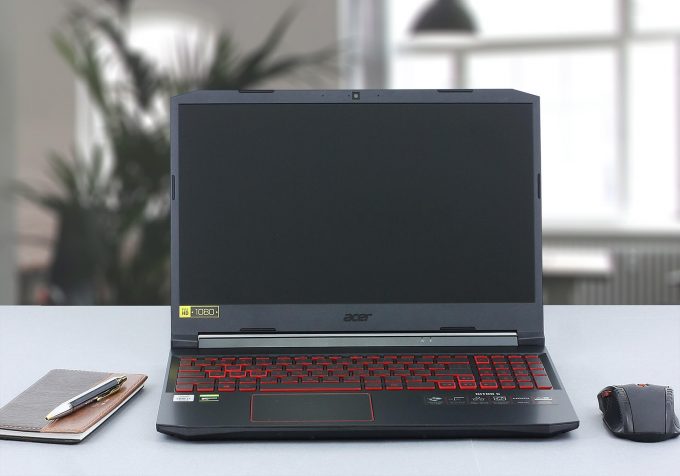 Now, when we said that the Nitro 5 follows a non-obnoxious route, we didn't mean it manages to achieve it, altogether. Huge opposition to that is the keyboard with its red accents and (again) red backlight. Although we found some RGB-equipped backlights out there, we still think that the solid color one would be the preferred choice, thanks to its lower price handicap.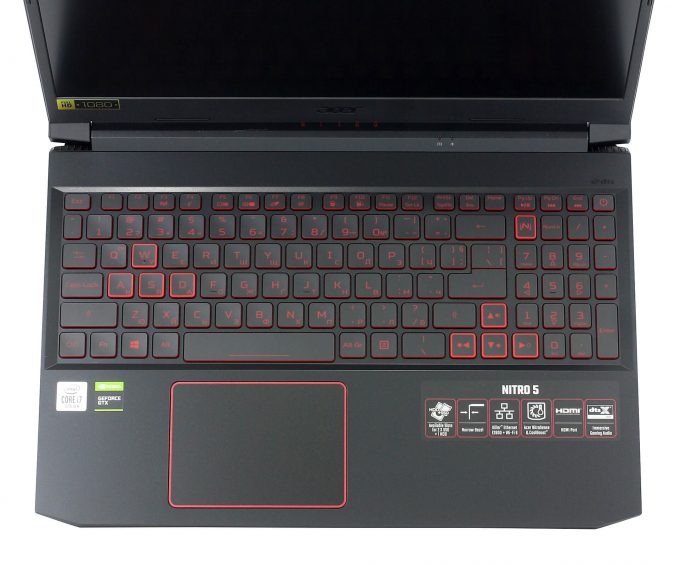 As of the keyboard, itself, it has a rather long key travel with clicky feedback, and the keycaps actually feel very stable. As you can see, the WASD and the arrow keys are highlighted, and more importantly – equal in size. However, the proximity to the NumberPad would still annoy some people. Here, the touchpad seems good, although the tracking is not the best out there. However, its big area and comfortable clicking mechanism would be enjoyed by non-gamers (effectively, any gamer would be using a dedicated mouse, no matter how good the touchpad is).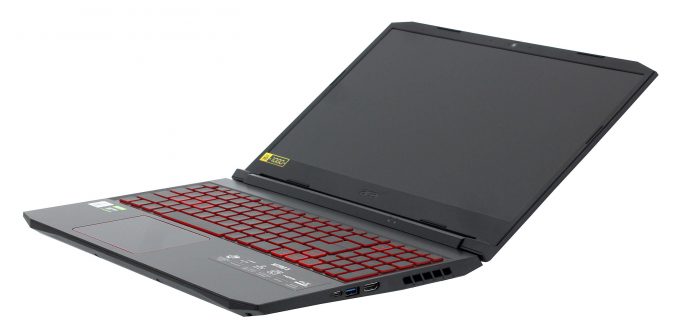 How about ventilation? Well, this time, we see a different configuration, due to the new fan location – more on that later. This means that not only it draws air more efficiently from the bottom panel, but it dissipates it through four different vents.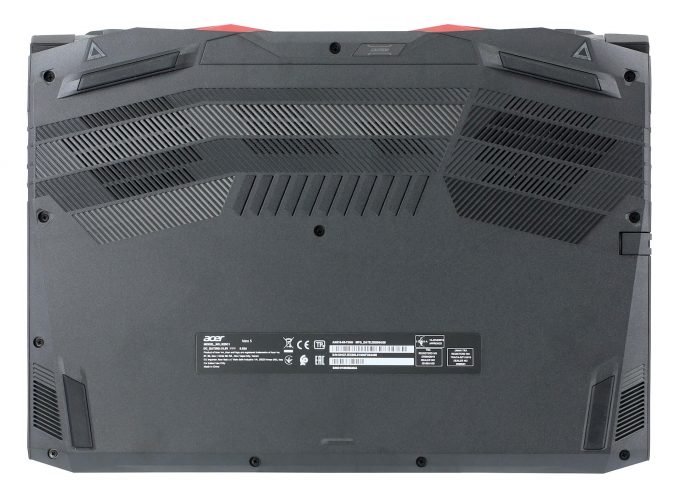 Ports
In terms of ports, there is an RJ-45 connector, two USB Type-A 3.1 (Gen. 1) ports and an audio jack on the left, while on the right, you will find an HDMI connector, another USB Type-A 3.1 (Gen. 1) port, and a USB Type-C 3.1 (Gen. 2) port. Its power connector, however, is located at the back.
Disassembly, upgrade options and maintenance
Since there are no service lids here, you need to remove the entire bottom panel to access the internals. First, remove all 11 Phillips-head screws. Then pry the panel with a plastic tool and lift it away. It's as easy as that.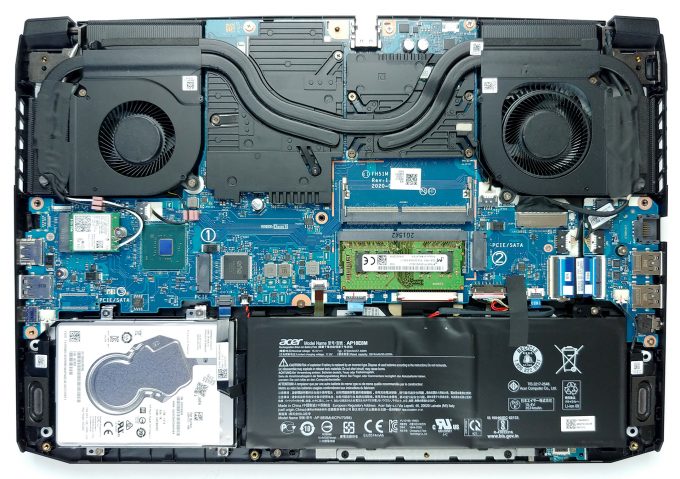 And what a surprise, the cooling is pretty much the same we saw on the Predator Triton 300 (PT315-52). There are three heat pipes and four heat spreaders, and the only difference between the two laptops is that the Nitro 5 uses two plastic fans, whereas the Triton 300 has a plastic and a metal one. Additionally, there are two cooling plates, located above the video memory and the VRMs.

In terms of memory, this device supports up to 32GB of DDR4 RAM with a maximum frequency of 2933 MHz. However, the storage compartment is more impressive. You get two M.2 slots that can work in RAID 0 mode. They are designated by numbers on the motherboard, stating that number 1 supports PCIe drives only, while number 2 can hold both PCIe and SATA drives. Not in the last place, there is a 2.5″ SATA drive bay for your gaming libraries.
Here, the battery is slightly downgraded from last year. It has a capacity of 57.47Wh, compared to 58.75Wh for its predecessor, roughly resulting in the whopping 1Wh decrease year on year.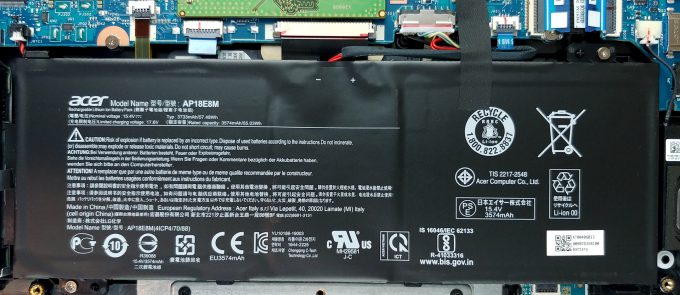 Display quality
Acer Nitro 5 (AN515-55) comes with a Full HD IPS panel, model number LG LP156WFC-SPD5 (LGD065А). Its diagonal is 15.6″ (39.62 cm), and the resolution – 1920 х 1080p. Additionally, the screen ratio is 16:9, the pixel density – 142 ppi, their pitch – 0.18 x 0.18 mm. The screen can be considered Retina when viewed from at least 60 cm (from this distance, the average human eye can't see the individual pixels).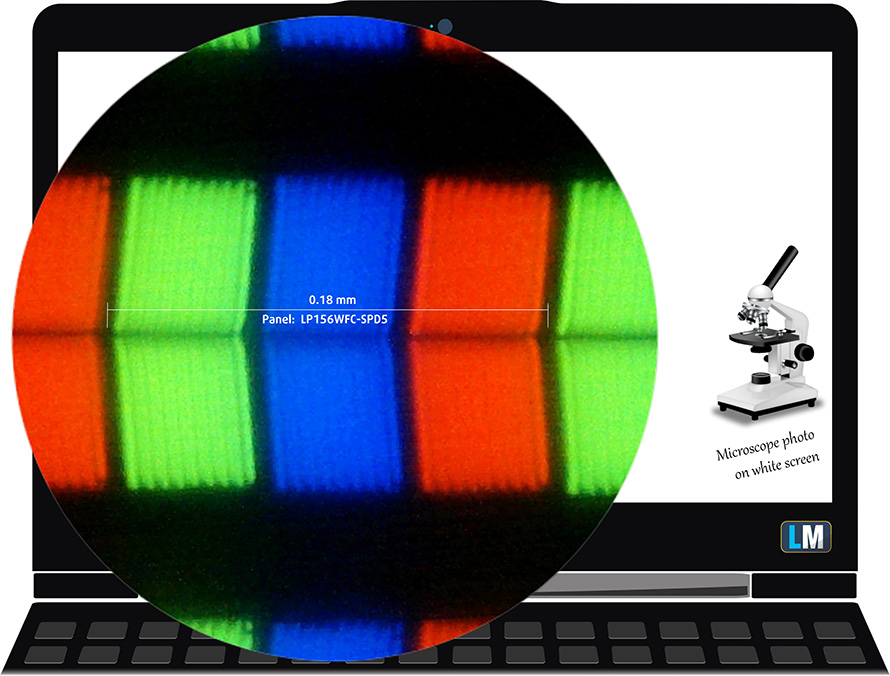 Viewing angles are good. We offer images at different angles to evaluate the quality.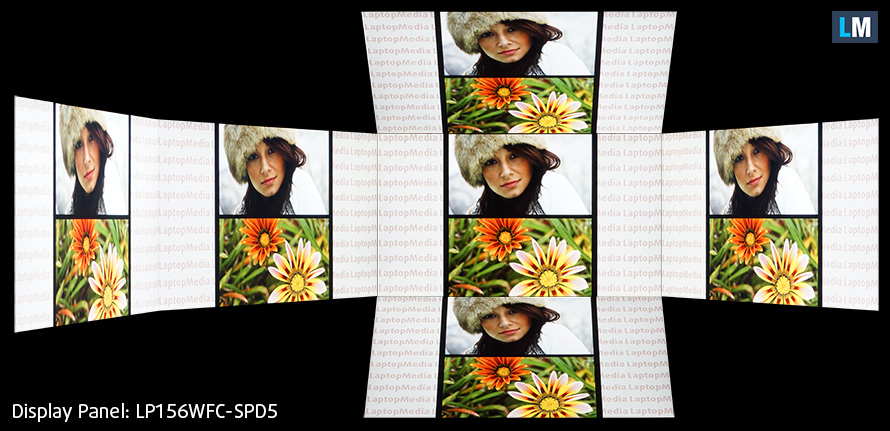 The maximum measured brightness is 270 nits (cd/m2) in the middle of the screen and 252 nits (cd/m2) average across the surface with a maximum deviation of 10%. The Correlated Color Temperature on a white screen and at maximum brightness is 6690K (average) – slightly colder than the 6500K optimum for sRGB.
In the illustration below you can see how the display performs from uniformity perspective. The illustration below shows how matters are for operational brightness levels (approximately 140 nits) – in this particular case at 54% Brightness (White level = 139 cd/m2, Black level = 0.13 cd/m2).
Values of dE2000 over 4.0 should not occur, and this parameter is one of the first you should check if you intend to use the laptop for color-sensitive work (a maximum tolerance of 2.0 ). The contrast ratio is good – 1070:1.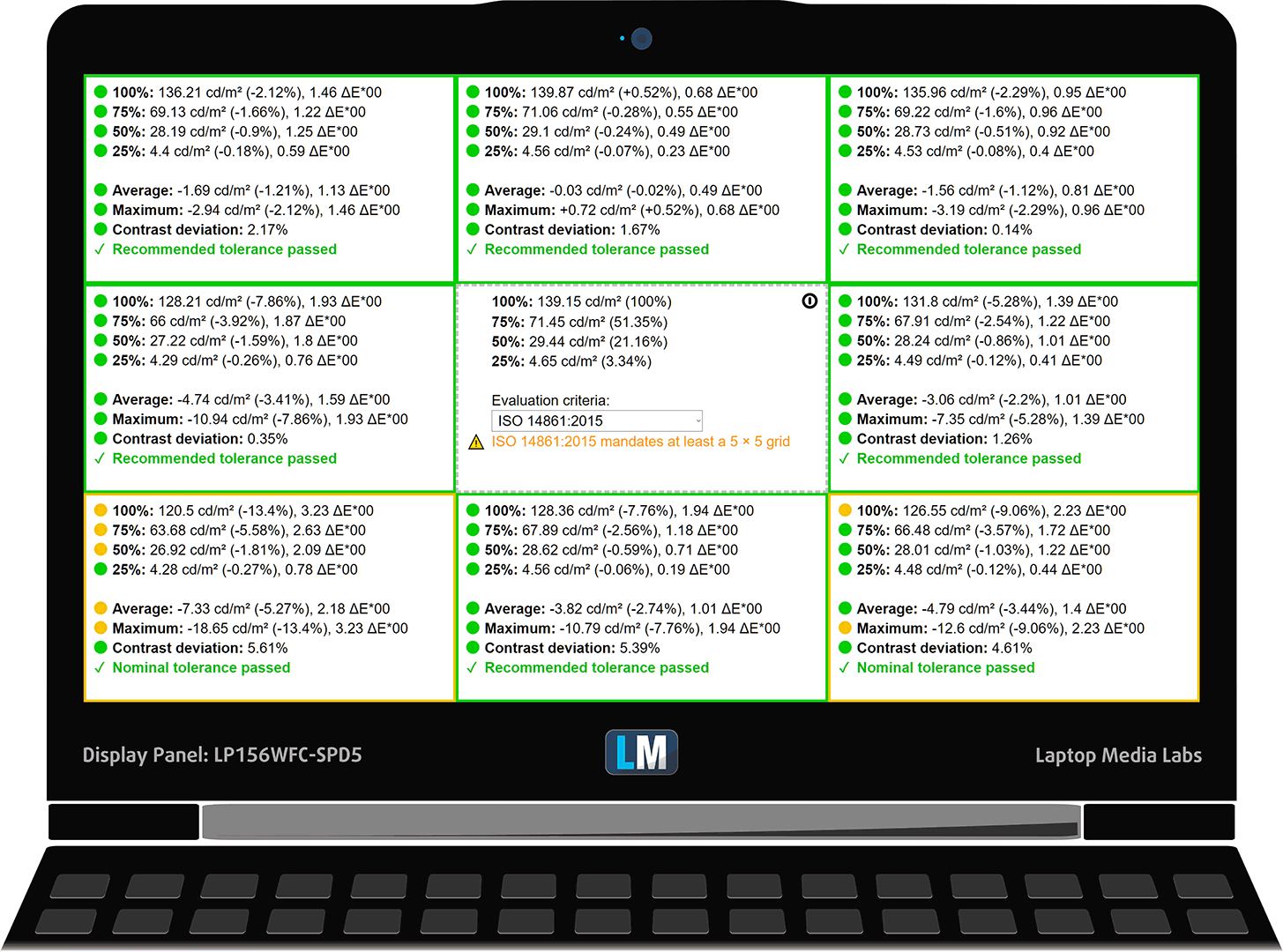 To make sure we are on the same page, we would like to give you a little introduction to the sRGB color gamut and the Adobe RGB. To start, there's the CIE 1976 Uniform Chromaticity Diagram that represents the visible specter of colors by the human eye, giving you a better perception of the color gamut coverage and the color accuracy.
Inside the black triangle, you will see the standard color gamut (sRGB) that is being used by millions of people in HDTV and on the web. As for the Adobe RGB, this is used in professional cameras, monitors, etc for printing. Basically, colors inside the black triangle are used by everyone and this is the essential part of the color quality and color accuracy of a mainstream notebook.
Still, we've included other color spaces like the famous DCI-P3 standard used by movie studios, as well as the digital UHD Rec.2020 standard. Rec.2020, however, is still a thing of the future and it's difficult for today's displays to cover that well. We've also included the so-called Michael Pointer gamut, or Pointer's gamut, which represents the colors that naturally occur around us every day.
The yellow dotted line shows Acer Nitro 5 (AN515-55)'s color gamut coverage.
Its display is limited just to 53% of the sRGB/ITU-R BT.709 (web/HDTV standard) in CIE1976.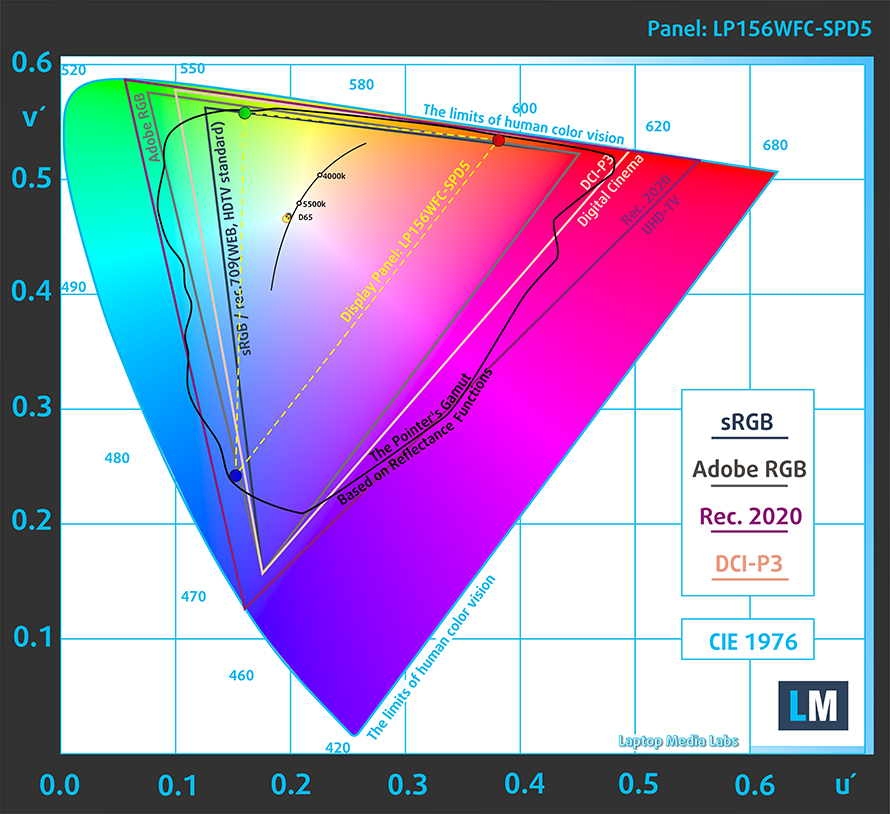 Our "Design and Gaming" profile delivers optimal color temperature (6500K) at 140 cd/m2 luminance and sRGB gamma mode.
We tested the accuracy of the display with 24 commonly used colors like light and dark human skin, blue sky, green grass, orange, etc. You can check out the results at factory condition and also, with the "Design and Gaming" profile.
Below you can compare the scores of Acer Nitro 5 (AN515-55) with the default settings (left), and with the "Gaming and Web design" profile (right).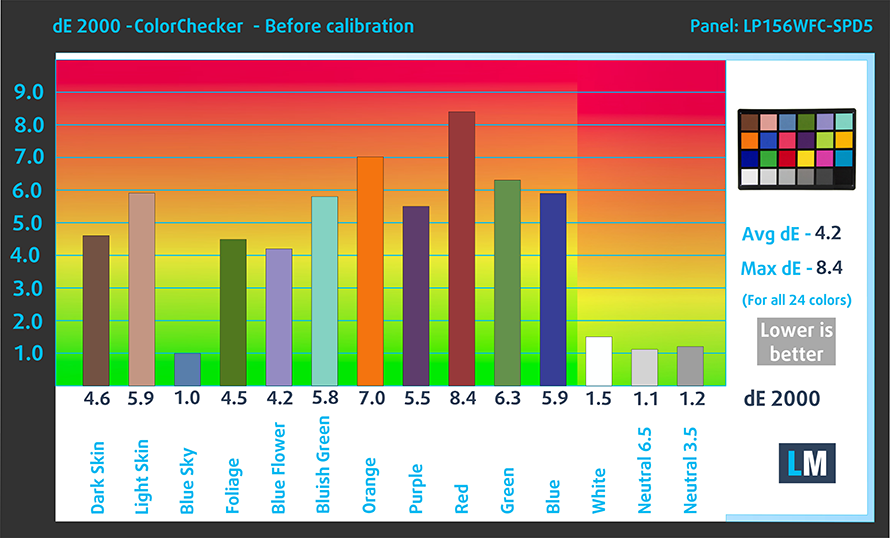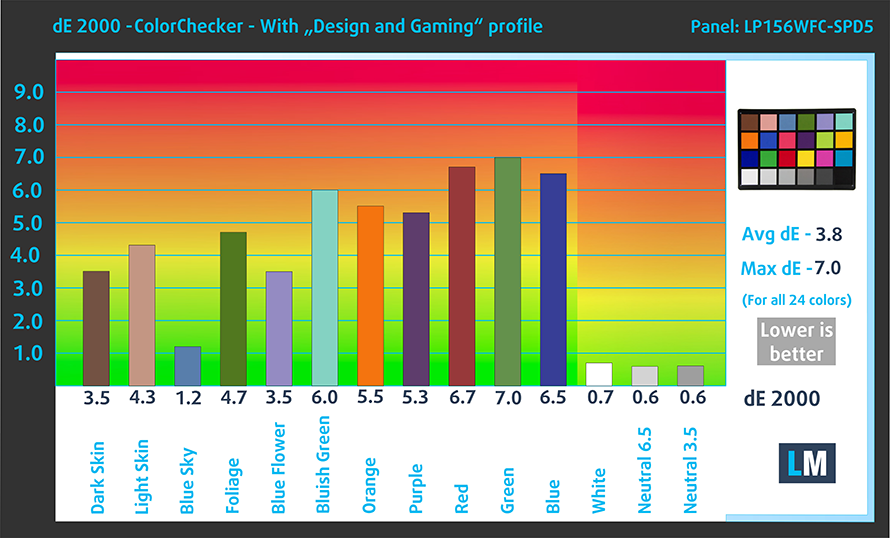 The next figure shows how well the display is able to reproduce really dark parts of an image, which is essential when watching movies or playing games in low ambient light.
The left side of the image represents the display with stock settings, while the right one is with the "Gaming and Web Design" profile activated. On the horizontal axis, you will find the grayscale and on the vertical axis – the luminance of the display. On the two graphs below you can easily check for yourself how your display handles the darkest nuances but keep in mind that this also depends on the settings of your current display, the calibration, the viewing angle, and the surrounding light conditions.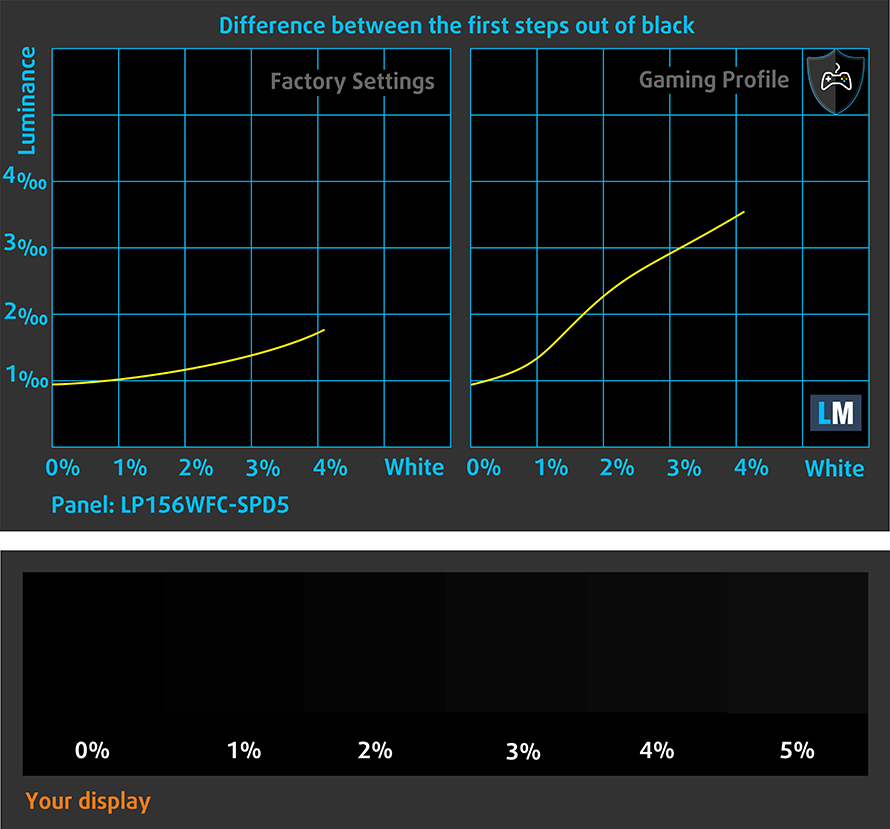 Response time (Gaming capabilities)
We test the reaction time of the pixels with the usual "black-to-white" and "white-to-black" method from 10% to 90% and vice versa.
We recorded Fall Time + Rise Time = 25 ms.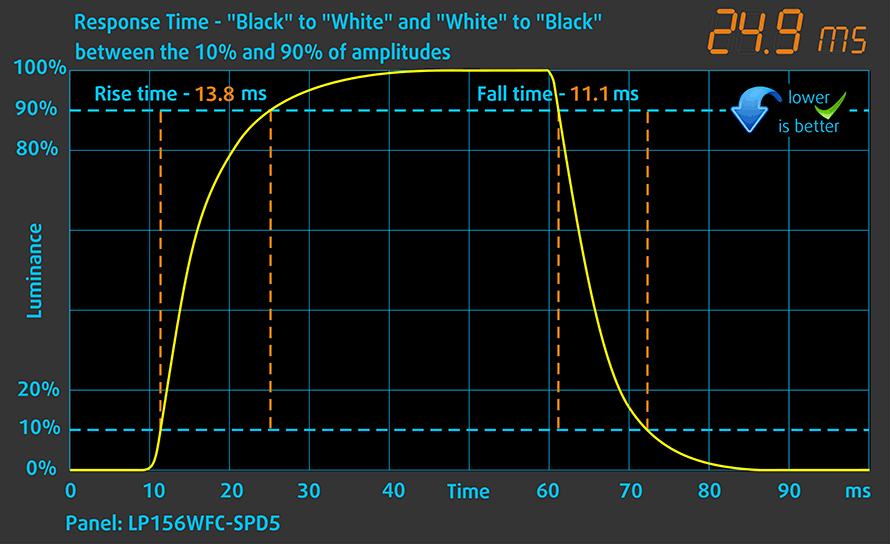 Health impact – PWM / Blue Light
PWM (Screen flickering)
Pulse-width modulation (PWM) is an easy way to control monitor brightness. When you lower the brightness, the light intensity of the backlight is not lowered, but instead turned off and on by the electronics with a frequency indistinguishable to the human eye. In these light impulses, the light/no-light time ratio varies, while brightness remains unchanged, which is harmful to your eyes. You can read more about that in our dedicated article on PWM.
Acer Nitro 5 (AN515-55)'s backlight is not PW-modulated at any brightness level. This ensures comfort to the eyes in this aspect.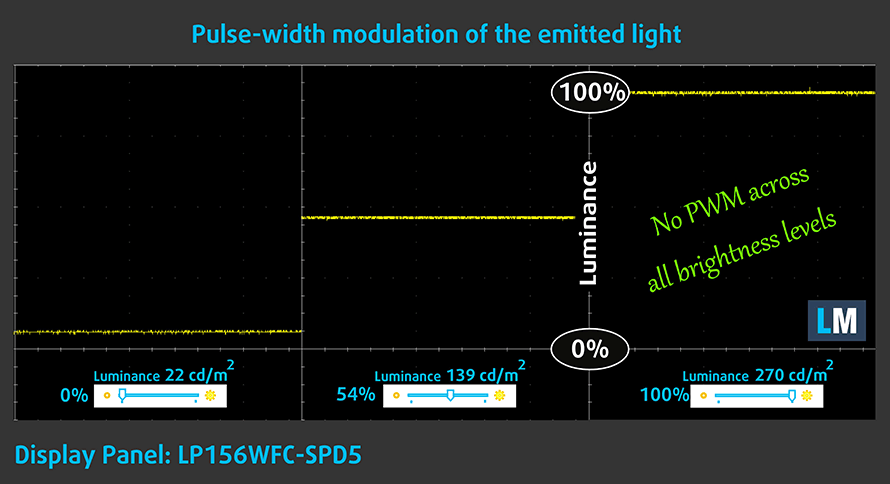 Blue light emissions
Installing our Health-Guard profile not only eliminates PWM but also reduces the harmful Blue Light emissions while keeping the colors of the screen perceptually accurate. If you're not familiar with the Blue light, the TL;DR version is – emissions that negatively affect your eyes, skin, and your whole body. You can find more information about that in our dedicated article on Blue Light.
Conclusions
Acer Nitro 5 (AN515-55)'s IPS panel has a Full HD resolution, comfortable viewing angles, good contrast ratio, and a non-flickering backlight. Its disadvantages include a narrow color coverage (53% of sRGB), and slow response time from the 60Hz panel, making it an unlikely option for gamers.

Buy our profiles
Since our profiles are tailored for each individual display model, this article and its respective profile package are meant for Acer Nitro 5 (AN515-55) configurations with 15.6″ LG LP156WFC-SPD5 (LGD065A) (FHD, 1920 × 1080) IPS.
*Should you have problems with downloading the purchased file, try using a different browser to open the link you'll receive via e-mail. If the download target is a .php file instead of an archive, change the file extension to .zip or contact us at [email protected]
Read more about the profiles HERE.
Además de recibir perfiles eficientes y respetuosos con la salud, al comprar los productos de LaptopMedia también apoyas el desarrollo de nuestros laboratorios, donde probamos los dispositivos para elaborar las reseñas más objetivas posibles.
Sound
Acer Nitro 5 (AN515-55)'s speakers produce a quiet sound with very good quality. Its low, mid, and high tones are clear of deviations.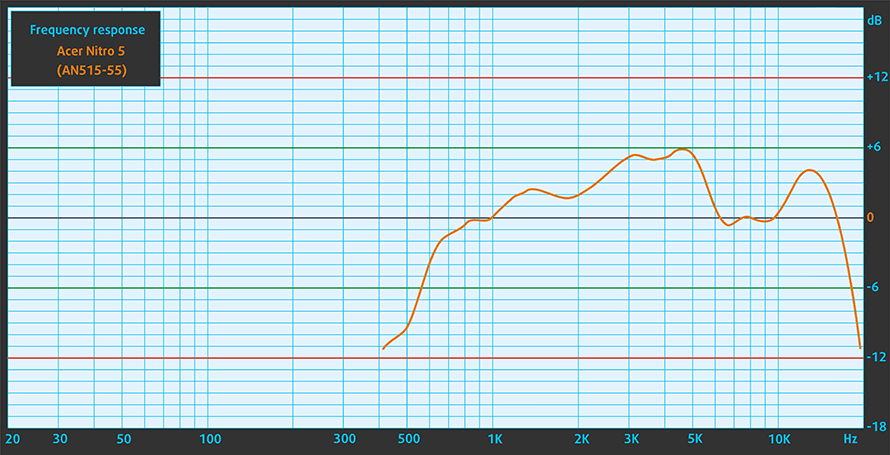 Drivers
All of the drivers and utilities for this notebook can be found here: https://www.acer.com/ac/en/US/content/support-product/8305?b=1

Battery
Now, we conduct the battery tests with Windows Better performance setting turned on, screen brightness adjusted to 120 nits, and all other programs turned off except for the one we are testing the notebook with. This device's 57Wh battery was able to deliver 6 hours and 48 minutes of Web browsing and 6 hours and 14 minutes of video playback.
In order to simulate real-life conditions, we used our own script for automatic web browsing through over 70 websites.
For every test like this, we use the same video in HD.
CPU options
As of the moment of writing this review, the Nitro 5 (AN515-55) is only available with the Core i5-10300H and the Core i7-10750H. However, we expect an AMD variant of the machine, as Acer is stating on their official page.
Results are from the Cinebench 20 CPU test (the higher the score, the better)
Los resultados proceden de nuestra prueba de referencia de Photoshop (cuanto más baja sea la puntuación, mejor)
GPU options
The graphics cards you can choose from are the GeForce GTX 1650, GTX 1650 Ti, GTX 1660 Ti, and most probably the RTX 2060.
Results are from the 3DMark: Fire Strike (Graphics) benchmark (higher the score, the better)
Results are from the Unigine Superposition benchmark (higher the score, the better)
Gaming tests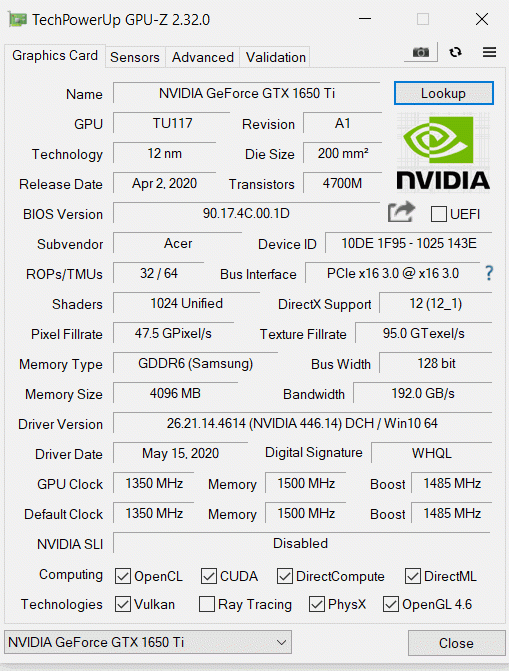 Temperatures and comfort
Max CPU load
In this test we use 100% on the CPU cores, monitoring their frequencies and chip temperature. The first column shows a computer's reaction to a short load (2-10 seconds), the second column simulates a serious task (between 15 and 30 seconds), and the third column is a good indicator of how good the laptop is for long loads such as video rendering.

Average core frequency (base frequency + X); CPU temp.
| Intel Core i7-10750H (45W TDP) | 0:02 – 0:10 sec | 0:15 – 0:30 sec | 10:00 – 15:00 min |
| --- | --- | --- | --- |
| Acer Nitro 5 (AN515-55) | 3.02 GHz (B+16%) @ 82°C | 3.04 GHz (B+17%) @ 92°C | 2.67 GHz (B+3%) @ 92°C |
| Lenovo Legion 7 (15) | 3.78 GHz (B+45%) @ 80°C | 3.69 GHz (B+42%) @ 83°C | 3.51 GHz (B+35%) @ 83°C |
| MSI GP65 Leopard 10Sx | 3.65 GHz (B+40%) @ 95°C | 3.41 GHz (B+31%) @ 95°C | 3.30 GHz (B+27%) @ 95°C |
As you can see from the table above, the Nitro 5 (AN515-55) lacks the cooling potential of its more expensive competitors. Even at 2.67 GHz at the end of the test, we monitored a temperature of 92C, which is kind of concerning.
Real-life gaming
| NVIDIA GeForce GTX 1650 Ti | GPU frequency/ Core temp (after 2 min) | GPU frequency/ Core temp (after 30 min) | GPU frequency/ Core temp (Turbo mode) |
| --- | --- | --- | --- |
| Acer Nitro 5 (AN515-55) | 1628 MHz @ 74°C | 1601 MHz @ 81°C | – |
| Acer Predator Triton 300 (PT315-52) | 1581 MHz @ 70°C | 1551 MHz @ 78°C | 1673 MHz @ 66°C |
| ASUS TUF A15 (F506) | 1566 MHz @ 68°C | 1549 MHz @ 69°C | – |
It's starting to get hot in here. More than 80C on a GTX 1650 Ti? Well, yes, it has a very similar cooling solution to that of the Triton 300 (PT315-52), and probably the 50 MHz more may justify the 3C increase in temperature, but you have to know that this laptop was very loud. Like, airplane levels of noise. Although the Triton 300 (PT315-52) is also on the loud side, it has the option of Turbo mode, which quickly reduces the temperature, thus increasing the clock speed. And a comparison to the TUF A15 is pointless.
Comfort during full load
Apart from the high noise it produces, the keyboard heats up quite a lot. You wouldn't want this anywhere near your precious gems.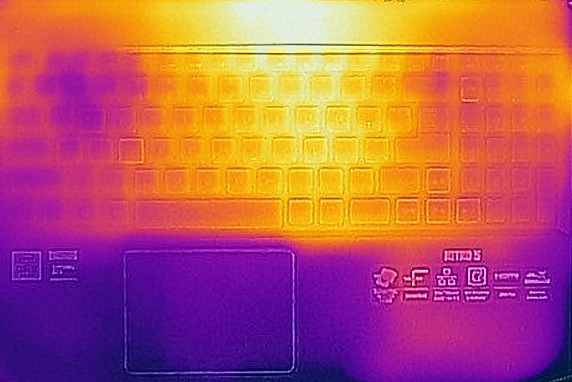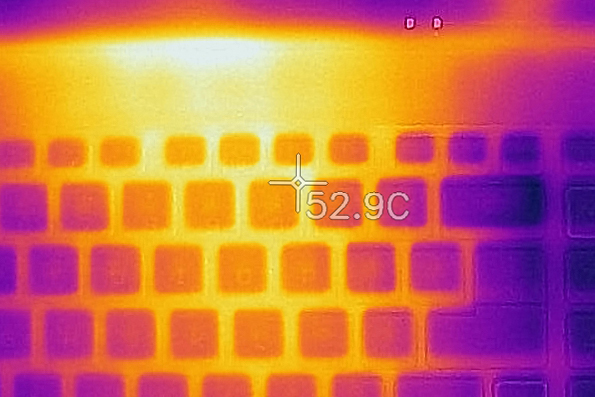 Verdict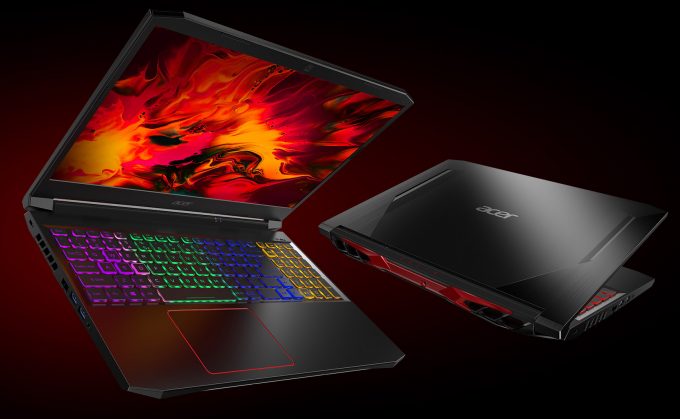 One thing is sure – the competition in the budget gaming market is fierce. So many different notebooks with so many configurations. Indeed, the choice is though, but there are a couple of devices that stand out. Sadly, as of yet, the Nitro 5 (AN515-55) is not one of them. One of the main reasons is the heat and noise it produces. And all of this for performance, which lacks behind – mainly in the CPU department.
Indeed gaming on this machine is somewhat decent, but we would highly recommend going for the 144Hz IPS display. And quite honestly, for the same amount of money, you will get the ASUS TUF A15 with its faster processor, and a 512GB NVMe SSD, instead of the 1TB HDD we got with our Nitro 5 (AN515-55). Additionally, this device lacks an SD card reader, and its red accents and keyboard backlight may not be everybody's jam.
However, we have to mention that this device comes with an RGB backlight as well, and you get two M.2 slots with RAID 0 support. Not only that, but you can add up to 32GB of DDR4 memory in dual-channel mode with a maximum speed of 2933 MHz.
Acer Nitro 5 (AN515-55)'s IPS panel (LG LP156WFC-SPD5) has a Full HD resolution, comfortable viewing angles, good contrast ratio, and a non-flickering backlight. Its disadvantages include a narrow color coverage (53% of sRGB), and slow response time from the 60Hz panel, making it an unlikely option for gamers.
Indeed, the laptop is not bad at all. You can also enjoy 15 minutes shy of 7 hours of Web browsing and just a bit more than 6 hours of video playback on battery – not bad for a gaming device.
So what are our recommendations – get the 144Hz display variant, start learning how to undervolt, or just skip all of that and go for the ASUS TUF A15 (FA506). Also keep your eyes open for Lenovo Legion 5, which is yet to hit the market.
Pros
One of the best-priced gaming laptops out there
Good keyboard with decent travel, clicky feedback, and an optional RGB backlight
Two M.2 slots with RAID 0 support
The display doesn't flicker at any brightness level (LG LP156WFC-SPD5)
Has a good contrast ratio and comfortable viewing angles (LG LP156WFC-SPD5)
144Hz display option
Cons
Lacks an SD card reader and Thunderbolt support
Hot and loud during gameplay
Covers only 53% of sRGB (LG LP156WFC-SPD5)
Subpar CPU performance
You can check the prices and configurations in our Specs System: https://laptopmedia.com/series/acer-nitro-5-an515-55/