ASUS ROG Strix G731 review – a feature-packed light bearer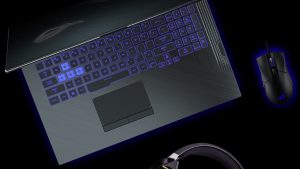 ASUS has presented the new ROG Strix devices (the G531 and G731) as direct successors to the ROG GL504/704 couple. So given the fact that either of them was actually a rather well-made device, we have high expectations. By the way, we already had a look at the ROG Strix G531, however, we've checked it out in a pretty low budget configuration.
So there is more to see about this line-up's capabilities in the laptop gaming world. For that, ASUS pairs it with the 9th generation Intel H-series processors. It can be maxed out with the Core i9-9880H, while in the graphics department it's top version comes equipped with the GeForce GTX 2070. As we already know, this GPU produces a lot of heat and currently, the laptop that is able to handle it without even breaking a sweat (and can be considered as a somewhat 17-inch laptop king for now) is the HP Omen 17 (2019). However, what is more of a fair fight would be to compare the ROG Strix G731 to its predecessor or the Dell G7 17 7790.
You can check the prices and configurations in our Specs System: https://laptopmedia.com/series/asus-rog-g731/
Contents
Specs Sheet
ASUS ROG Strix G731GW-EV001 tableau des caractéristiques techniques
Afficher
17.3", Full HD (1920 x 1080), 144 Hz, IPS
HDD/SSD
256GB SSD PCIe NVMe + 1TB HDD, 5400 rpm
Dimensions
399 x 292 x 25.9 mm (15.71" x 11.50" x 1.02")
Matériau du corps
Plastic / Polycarbonate, Aluminum
Ports et connectivité
1x USB Type-C 3.2 Gen 2 (10 Gbps), DisplayPort
3x USB Type-A 3.2 Gen 1 (5 Gbps)
HDMI 2.0b
Ethernet LAN Gigabit Ethernet
Wi-Fi Intel 9560 2x2 802.11ac Wave 2 Gigabit WiFi
Bluetooth 5.0
Prise audio 3.5mm audio jack
Caractéristiques
Caméra Web
Clavier rétro-éclairé
Microphone
Intervenants 2x 4W
Lecteur optique
What's in the box?
At first, the ROG Strix G731's packaging looks absolutely the same as the one on the smaller ROG Strix G531. However, apart from being a larger device in general, we saw a bigger charging brick as well – 230W. Of course, this is because of the RTX 2070 that is located inside of it.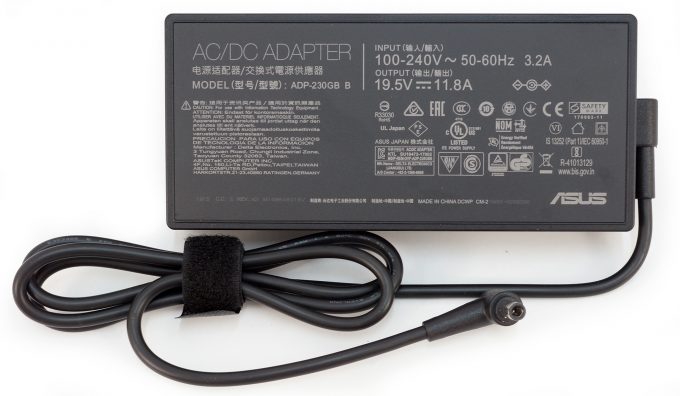 Design and construction
As soon as you take the ASUS ROG Strix G731 in your hands. They look and feel very similar to each other with a few differences here and there – the ROG Strix G731's lid uses a different hinge system that lifts it above the laptop, rather to pushing it behind it. Additionally, the back of the device is higher (like on the older ROGs) to enhance the cooling capacity. This results in the laptop being slightly bulkier than its predecessor – 25.9mm vs 24.9mm of the ROG GL704. On the other side, they both top the scale at 2.90 kg. By the way, we forgot to mention that the RGB strip that used to be on the front of the device now goes all the way around it (except for the back for obvious reasons).
Expectedly, the lid opens with a single hand, and you can see it is cut a little weird. Gone is the awkwardly placed camera this year. Gone… forever? Nevertheless, the lid is made out of aluminum but is slightly bendy.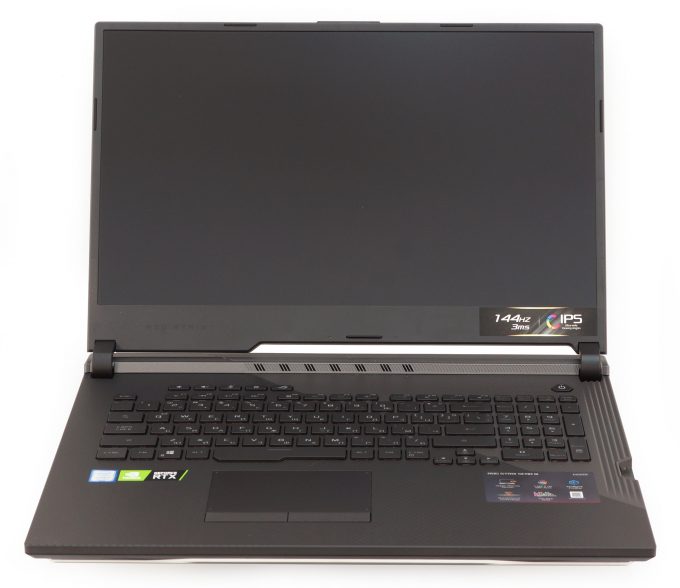 Then there is the base of the device, where you can see the per-key RGB backlight that is controlled via the Aura app. The keyboard itself has a good travel and while the keys are not exactly what we would describe as clicky they are comfortable for gaming. Further below, the touchpad is pleasant and has dedicated mouse buttons.
What is more interesting about this device is what ASUS calls The Keystone. It is basically a cutout in the right side of the chassis where you can but the aforementioned Keystones. They will give your laptop different gaming profiles, RGB setups (both on the keyboard and the strip) and some of the will unlock something called Shadow Drive. We are looking forward to seeing what developers are going to create for it and moreover, how people are going to hack it.
On the back side, you're going to see the huge ventilation grill that shares its purposes with the lifted back of the device. Additionally, hot air is exhausted from the back and from the side, while the speakers are firing from the sides.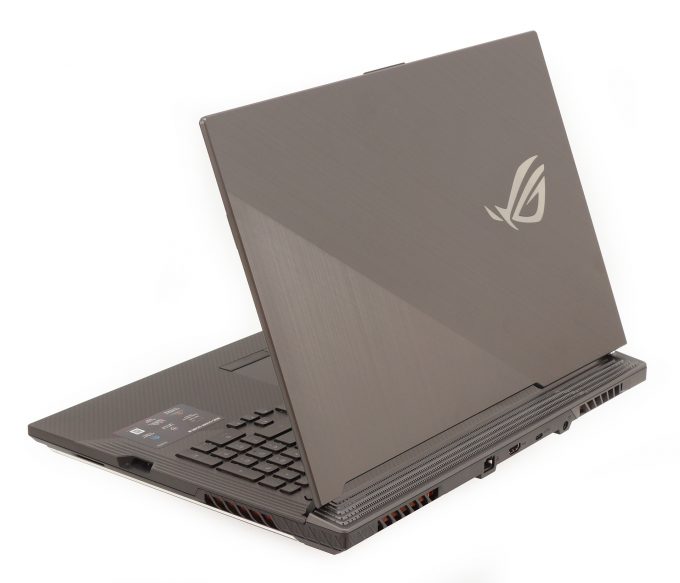 Ports
ROG Strix G731's I/O is scattered to the back and to the left side. At the back you are going to see an RJ-45 connector, HDMI 2.0b connector, a USB Type-C 3.1 (Gen. 2) with DisplayPort functions but no Thunderbolt, as well as the power plug, while on the left there are three USB Type-A 3.1 (Gen. 1) ports and an Audio jack.
Disassembly and upgrade options
Getting inside the ROG Strix G731 happens the same way as in the smaller G531. Just undo the 11 Phillips-head screws and pop the bottom plate open. By that way, it is relatively easy to do so by applying just the slightest amount of force with a plastic pry tool or even a guitar pick.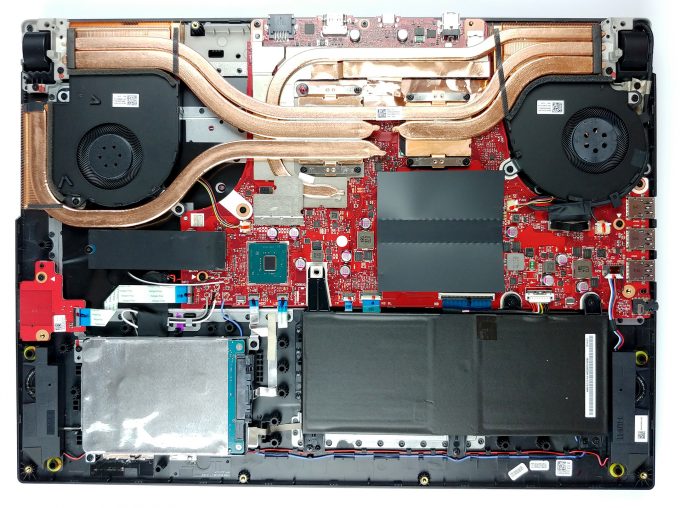 Looking at the image below reveals a lot of heat pipe action going on. There are two of them – one thick and one slim, that cool off both the processor and the graphics card. Then there is another thick one that cools only the GPU and goes to a third heatsink. Finally, there is another one, this time, thinner doing some snake movements across the motherboard in order to cool down the VRAM and the VRMs.

Just beneath the processor are located the two RAM DIMMs. They support up to 32GB of DDR4 memory. On the left side of the chassis, there are the M.2 NVMe slot as well as the SATA storage drive.
Finally, the battery packs a 66Wh capacity.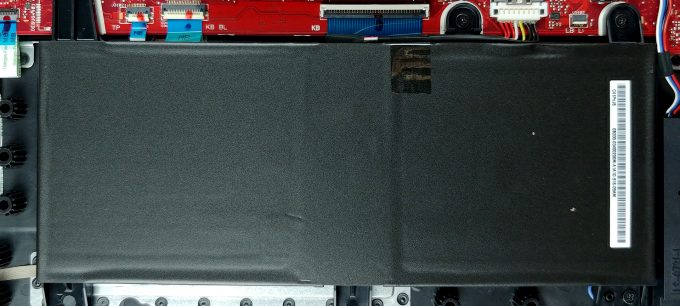 Display quality
ASUS ROG Strix G731 comes with a 144 Hz Full HD IPS screen, model number AUO B173HAN04.0. Its diagonal is 17.3″ (43.94 cm), and the resolution – 1920 х 1080. Additionally, the screen ratio is 16:9, the pixel density – 127 ppi, their pitch – 0.1995 x 0.1995 mm. The screen can be considered Retina when viewed from at least 69 cm (from this distance, the average human eye can't see the individual pixels).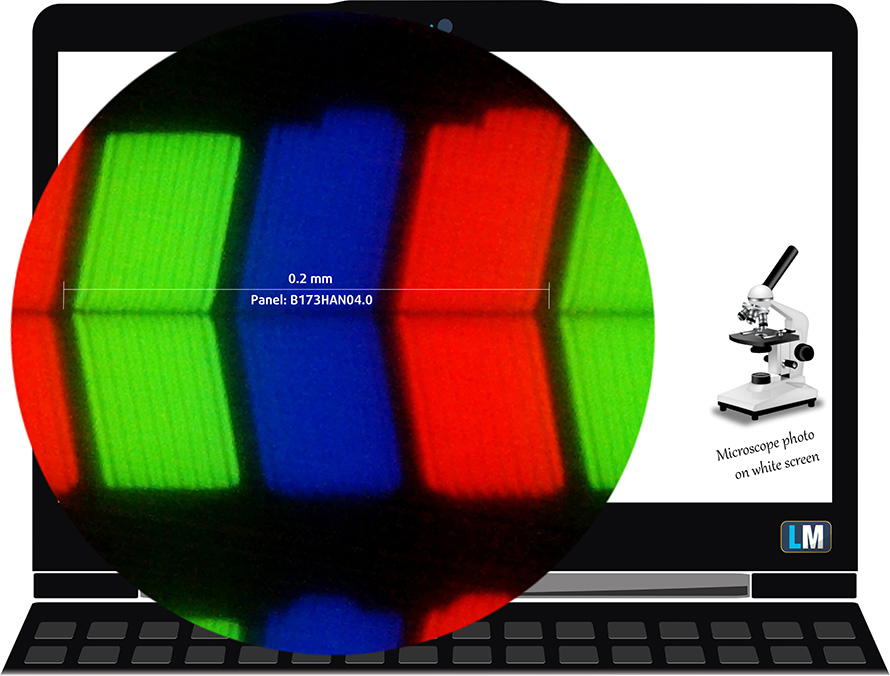 The viewing angles are excellent. We have provided images at 45 degrees to evaluate quality.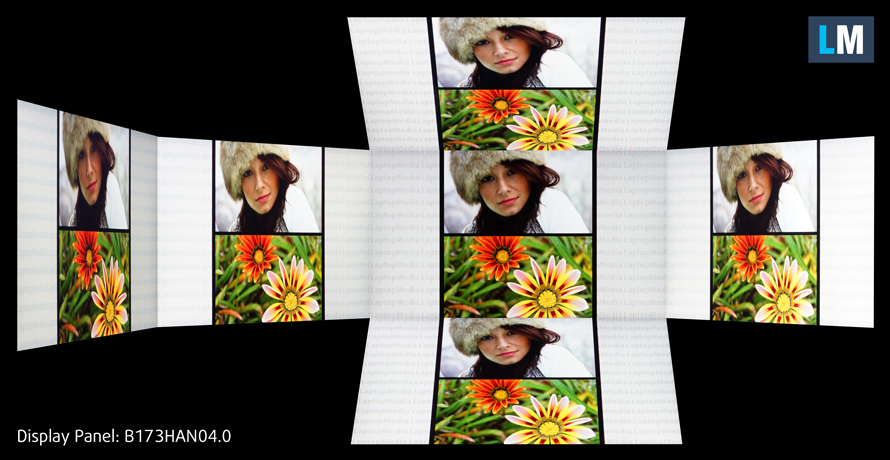 The maximum measured brightness is relatively high – 302 nits (cd/m2) in the middle of the screen and remains at the same 302 nits (cd/m2) average across the surface with a maximum deviation of just 4%. The Correlated Color Temperature on a white screen and at maximum brightness is 7460K (average) – colder than the 6500K optimum for sRGB. The average color temperature through the grey scale before profiling is 7700K.
In the illustration below you can see how the display performs from uniformity perspective. The illustration below shows how matters are for operational brightness levels (approximately 140 nits) – in this particular case at 65% Brightness (White level = 141 cd/m2, Black level = 0.13 cd/m2).
Values of dE2000 over 4.0 should not occur, and this parameter is one of the first you should check if you intend to use the laptop for color sensitive work (a maximum tolerance of 2.0 ). The contrast ratio is very good – 1080:1 (980:1 after profiling).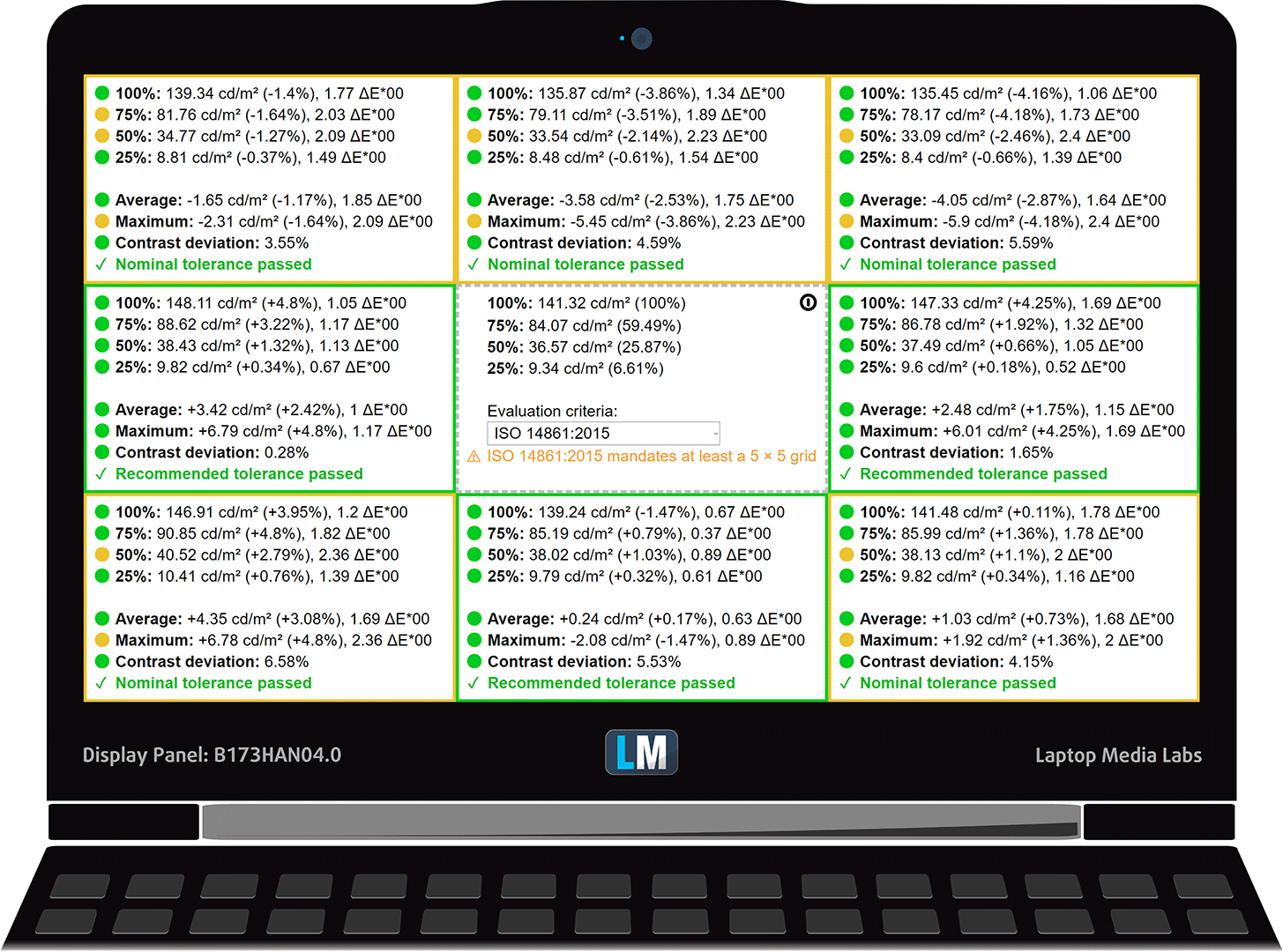 To make sure we are on the same page, we would like to give you a little introduction to the sRGB color gamut and the Adobe RGB. To start, there's the CIE 1976 Uniform Chromaticity Diagram that represents the visible specter of colors by the human eye, giving you a better perception of the color gamut coverage and the color accuracy.
Inside the black triangle, you will see the standard color gamut (sRGB) that is being used by millions of people in HDTV and on the web. As for the Adobe RGB, this is used in professional cameras, monitors etc for printing. Basically, colors inside the black triangle are used by everyone and this is the essential part of the color quality and color accuracy of a mainstream notebook.
Still, we've included other color spaces like the famous DCI-P3 standard used by movie studios, as well as the digital UHD Rec.2020 standard. Rec.2020, however, is still a thing of the future and it's difficult for today's displays to cover that well. We've also included the so-called Michael Pointer gamut, or Pointer's gamut, which represents the colors that naturally occur around us every day.
The yellow dotted line shows ASUS ROG Strix G731's color gamut coverage.
Its display covers 92% of the sRGB/ITU-R BT.709 (web/HDTV standard) in CIE1976.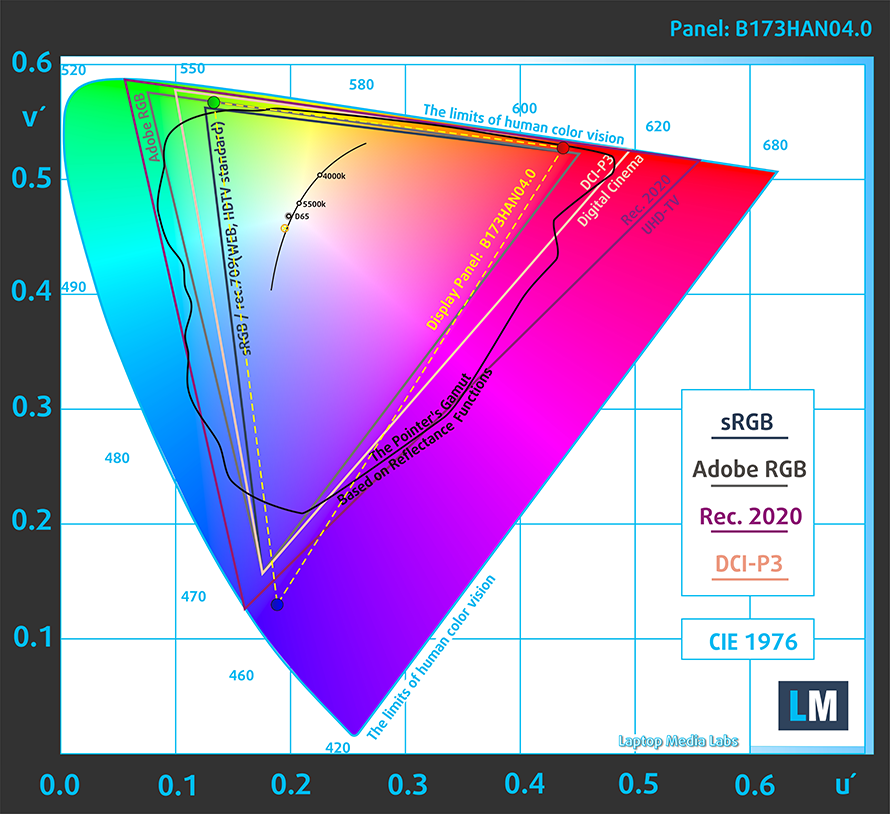 Our "Design and Gaming" profile delivers optimal color temperature (6500K) at 140 cd/m2 luminance and sRGB gamma mode.
We tested the accuracy of the display with 24 commonly used colors like light and dark human skin, blue sky, green grass, orange etc. You can check out the results at factory condition and also, with the "Design and Gaming" profile.
Below you can compare the scores of ASUS ROG Strix G731 with the default settings (left), and with the "Gaming and Web design" profile (right).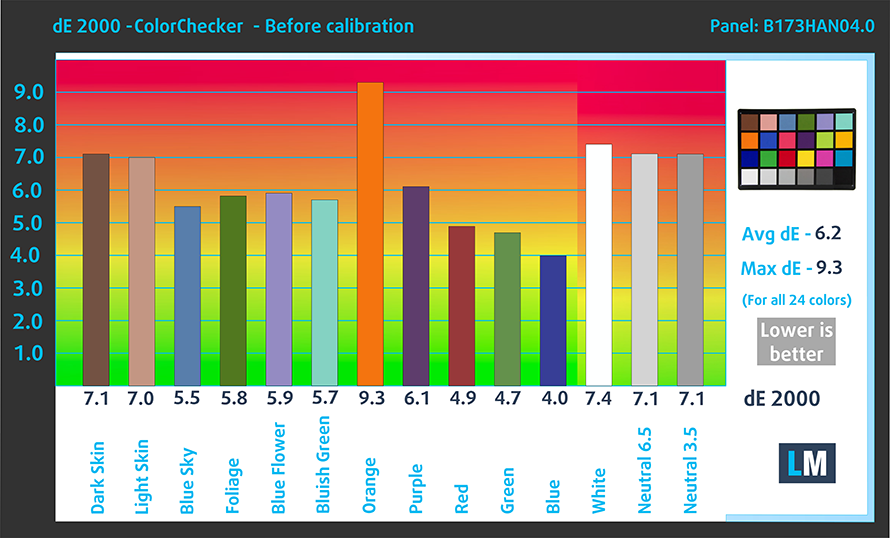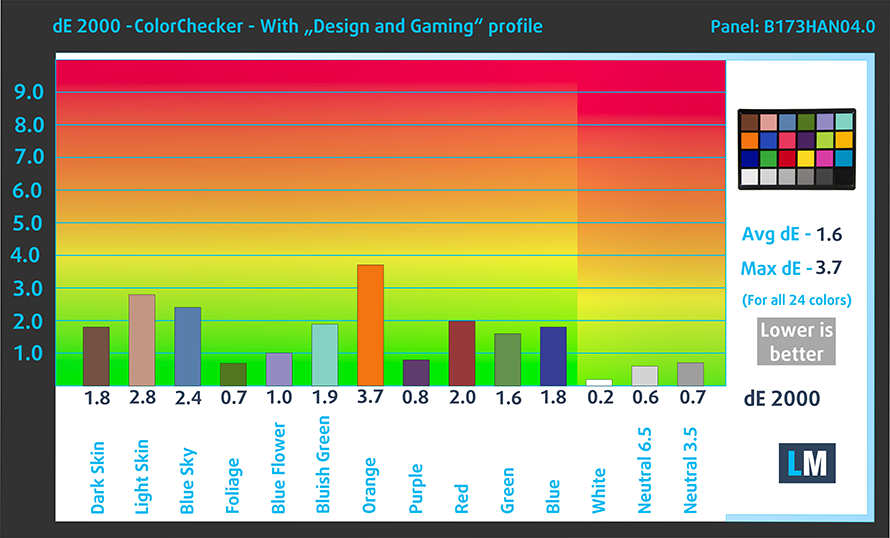 The next figure shows how well the display is able to reproduce really dark parts of an image, which is essential when watching movies or playing games in low ambient light.
The left side of the image represents the display with stock settings, while the right one is with the "Gaming and Web Design" profile activated. On the horizontal axis, you will find the grayscale and on the vertical axis – the luminance of the display. On the two graphs below you can easily check for yourself how your display handles the darkest nuances but keep in mind that this also depends on the settings of your current display, the calibration, the viewing angle, and the surrounding light conditions.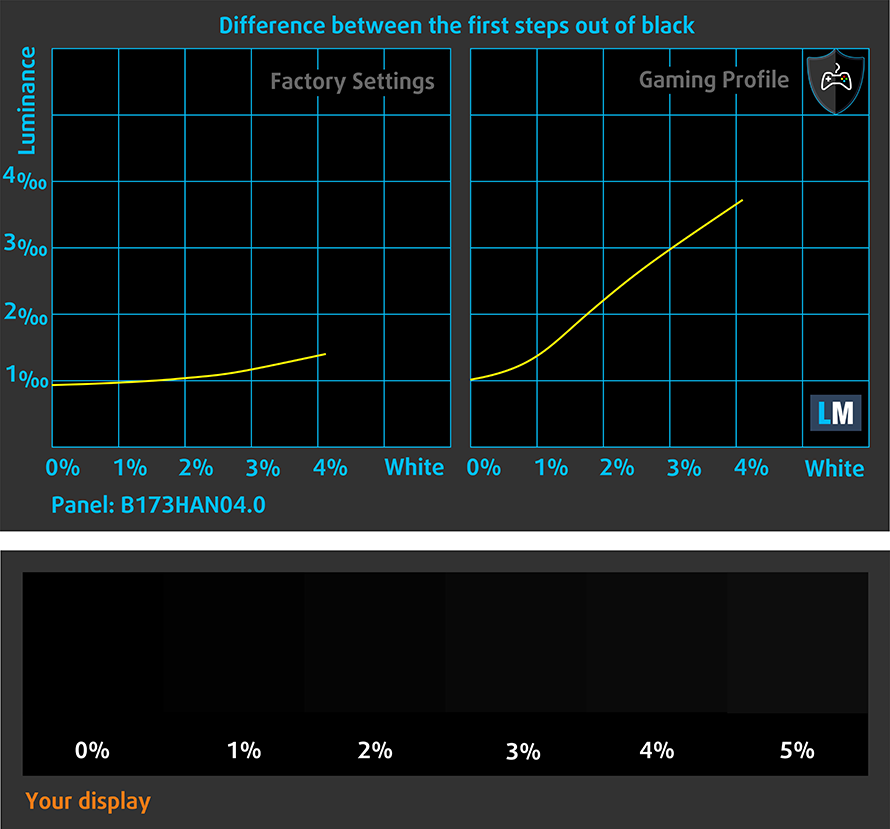 Response time (Gaming capabilities)
We test the reaction time of the pixels with the usual "black-to-white" and "white-to-black" method from 10% to 90% and vice versa.
We recorded Fall Time + Rise Time = 9 ms – super fast reaction time, typical for a 144 Hz.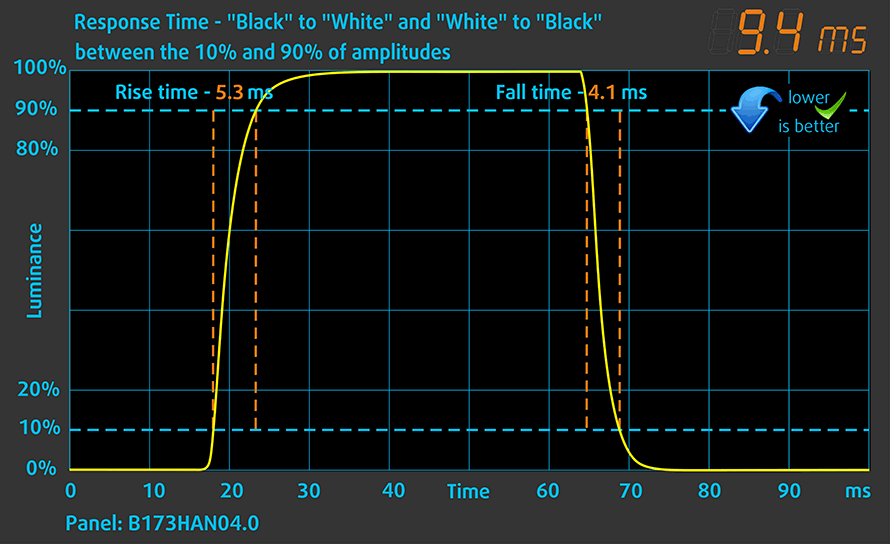 Health impact – PWM / Blue Light
PWM (Screen flickering)
Pulse-width modulation (PWM) is an easy way to control monitor brightness. When you lower the brightness, the light intensity of the backlight is not lowered, but instead turned off and on by the electronics with a frequency indistinguishable to the human eye. In these light impulses, the light/no-light time ratio varies, while brightness remains unchanged, which is harmful to your eyes. You can read more about that in our dedicated article on PWM.
ROG Strix G731'display doesn't use PWM to adjust its brightness levels. This renders it safe for use in prolonged gaming sessions, without risk of further negatively affecting your health.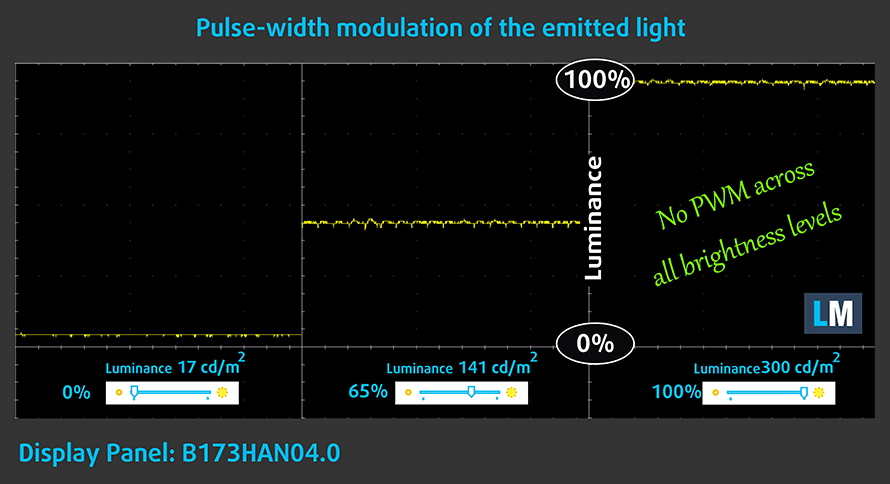 Blue light emissions
Installing our Health-Guard profile not only eliminates PWM but also reduces the harmful Blue Light emissions while keeping the colors of the screen perceptually accurate. If you're not familiar with the Blue light, the TL;DR version is – emissions that negatively affect your eyes, skin and your whole body. You can find more information about that in our dedicated article on Blue Light.

Conclusions
ASUS ROG Strix G731's display has a Full HD 144Hz panel with comfortable viewing angles, rather wide color coverage and it lacks PWM. Additionally, the reaction time is super fast and its colors become Web designer-approved after our specific profile is applied.

Buy our profiles
Since our profiles are tailored for each individual display model, this article and its respective profile package are meant for ASUS ROG Strix G731 configurations with 17.3″ AUO B173HAN04.0 (FHD, 1920 × 1080) IPS.
*Should you have problems with downloading the purchased file, try using a different browser to open the link you'll receive via e-mail. If the download target is a .php file instead of an archive, change the file extension to .zip or contact us at [email protected]
Read more about the profiles HERE.
En plus de recevoir des profils efficaces et favorables à la santé, en achetant les produits de LaptopMedia, vous soutenez également le développement de nos laboratoires, où nous testons les appareils afin de produire les examens les plus objectifs possibles.
Sound
The sound coming from ASUS ROG Strix G731's speakers is very loud and has a good punch to it without cutting the highs.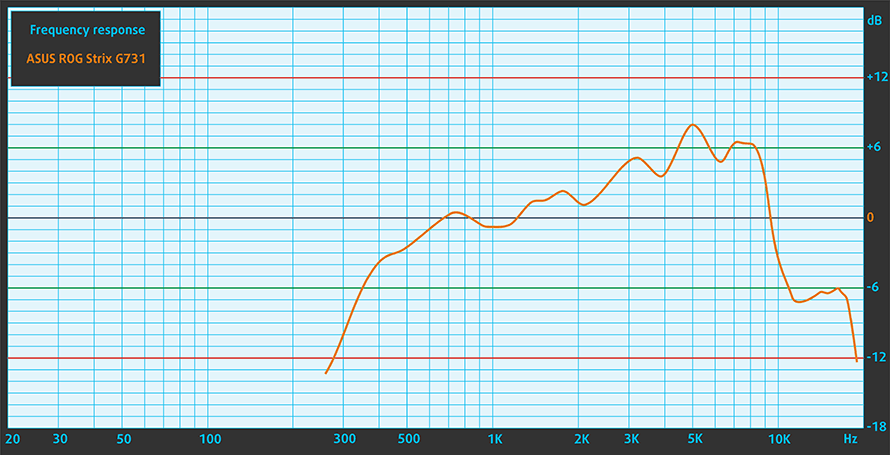 Drivers
All of the drivers and utilities for the ASUS ROG Strix G731 can be found here: https://www.asus.com/Laptops/ROG-Strix-SCAR-III/HelpDesk_Download/

Battery
Now, we conduct the battery tests with Windows Better performance setting turned on, screen brightness adjusted to 120 nits and all other programs turned off except for the one we are testing the notebook with.
Expectedly, battery life is mediocre – just over five hours of web browsing and less than four hours of video playback.
Afin de simuler des conditions réelles, nous avons utilisé notre propre script de navigation automatique sur plus de 70 sites web.
Pour chaque test de ce type, nous utilisons la même vidéo en HD.
Nous utilisons le benchmark intégré de F1 2017 en boucle afin de simuler un jeu réel.
CPU options
ASUS offers the ROG Strix G731 with a quad-core Core i5-9300H, six-core Core i7-9750H, and the monstrous octa-core Core i9-9880H.
Les résultats proviennent du test CPU Cinebench 20 (plus le score est élevé, mieux c'est).
Les résultats sont issus de notre test de référence Photoshop (plus le score est bas, mieux c'est)
GPU options
At the same time, the graphics options comprise the GTX 1660 Ti, RTX 2060 and the top end RTX 2070.
ASUS ROG G731 Variantes du GPU
Vous pouvez voir ici une comparaison approximative entre les GPU que l'on peut trouver dans les modèles de la [série] sur le marché. Vous pourrez ainsi décider par vous-même quel modèle de la [série] vous offre le meilleur rapport qualité/prix.
Remarque : Le tableau présente les configurations de GPU les moins chères. Vous devez donc vérifier les autres spécifications de ces ordinateurs portables en cliquant sur le nom de l'ordinateur portable / GPU.
Gaming tests







Temperatures and comfort
Max CPU load
In this test we use 100% on the CPU cores, monitoring their frequencies and chip temperature. The first column shows a computer's reaction to a short load (2-10 seconds), the second column simulates a serious task (between 15 and 30 seconds), and the third column is a good indicator of how good the laptop is for long loads such as video rendering.
Average core temperature (base frequency + X); CPU temp.
| Core i7-9750H (45W TDP) | 0:02 – 0:10 sec | 0:15 – 0:30 sec | 10:00 – 15:00 min |
| --- | --- | --- | --- |
| ASUS ROG G731 | 3.38 GHz (B+30%)@ 87°C | 3.43 GHz (B+32%)@ 94°C | 2.63 GHz @ 73°C |
| ASUS ROG G531 | 3.41 GHz (B+31%)@ 95°C | 3.23 GHz (B+24%)@ 95°C | 2.72 GHz (B+5%)@ 79°C |
| HP Omen 17 2019 | 3.44 GHz (B+32%)@ 86°C | 2.74 GHz (B+5%)@ 71°C | 2.67 GHz (B+3%)@ 71°C |
From the table above, you can see that ASUS has employed pretty much the same performance curve on their both ROG Strix devices. Additionally, it makes sense for the bigger G731 to have better thermal efficiency than the smaller one. However, we should note that the laptop produced a substantial amount of noise in this test. Contrary to the HP Omen 17 2019 which was barely audible during the CPU torture.

Real gameplay
| NVIDIA GeForce RTX 2070 | GPU frequency/ Core temp (after 2 min) | GPU frequency/ Core temp (after 30 min) |
| --- | --- | --- |
| ASUS ROG Strix G731 | 1461 MHz @ 73°C | 1398 MHz @ 79°C |
| HP Omen 17 2019 | 1483 MHz @ 72°C | 1474 MHz @ 74°C |
| ASUS ROG GL704G | 1595 MHz @ 83°C | 1588 MHz @ 83°C |
Similarly, the ROG Strix G731 was very loud during gaming as well. What is interesting, though, is that it manages clock speeds that are 130-200 MHz lower than its predecessor. At least the temperature is significantly lower as well and despite being loud, it is nowhere near the hairdryer of a laptop ASUS ROG GL704.

Gaming comfort
On the outside, the device was warm but not hot by any means, especially for a gaming laptop. We measured a maximum temperature of 44C next to the "M" key.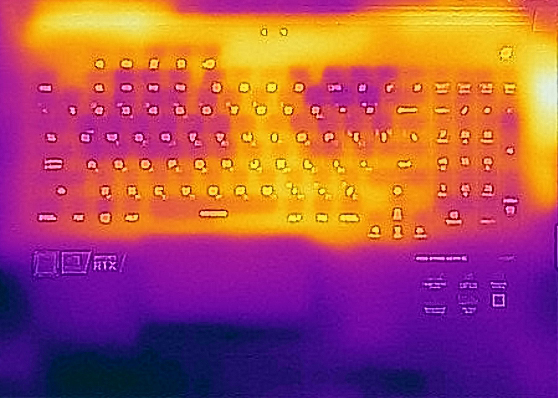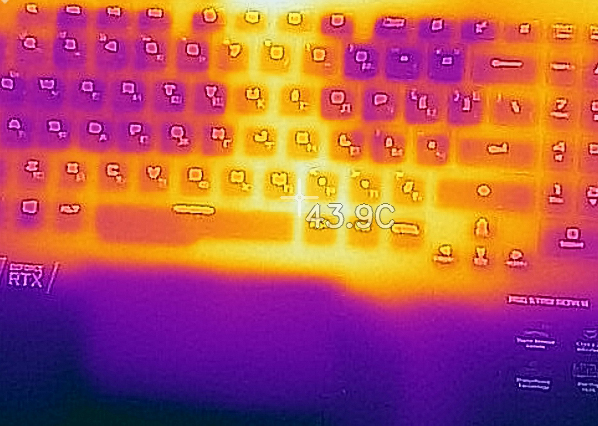 Verdict
ASUS ROG Strix G731 builds on the strong sides of its predecessor by improving them and adding more to the overall package. In fact, the Strix G731 is loaded with features – some that you're going to use daily, and some that are there just for the sake of being there.
For example, we were impressed with the amount of RGB light that this laptop has. As soon as you shut the lights in the room the laptop starts giving you Christmas vibes. We wouldn't brand it as useless because it doesn't impede other features of the device, plus – it looks super cool, doesn't it?
However, ASUS tries to somewhat revolutionize the laptop world with the so-called Keystones. It seems like it is going to appeal to the younger users but it is a shame they didn't include a trial one. Plus, unless we see them work, it looks like a gimmick.
In terms of display, there is nothing more a gamer could have asked for – the panel is Full HD and it has a 144Hz refresh rate. Additionally, it can reproduce 92% of the colors found on the Internet and moreover, when you apply our Gaming and Web design, they are in the range of Web design standard. Its brightness can reach 300 nits and the display proved to be pretty uniform across its entire area and more importantly, it doesn't use PWM to adjust the level of its brightness.
Performance-wise there is nothing unexpected. Our unit managed to extract the most out of the Core i7-9750H and it still had some headroom (in our opinion) for the Core i9-9880H. Add the RTX 2070 to the mixture and you get a pretty capable device. However, it's worth noting that the laptop was pretty noisy under load, unlike the HP Omen 17 2019, but it appears to be a trait to the ROG Strix gaming laptops. Well, if we have to be completely honest, the HP Omen 17 2019 and the MSI GE75 Raider produced a lot higher framerates than the ROG Strix G731.
Should you buy it, though? Well, if you're okay with the noisy nature of the device, and by the way the speakers on this notebook are stunning, so they might compensate for that. However, we couldn't forgive it the fact that it lacks an SD card reader and Thunderbolt support on the Type-C port.
Pros
Loaded with RGB
144Hz IPS panel option
Covers 92% of sRGB
Uniform in terms of brightness across its entire area and doesn't use PWM
Accurate colors with the help of our Gaming and Web design profile
A wide choice of configurations, suiting your budget
Incredibly loud and well sounding speakers
Cons
No Thunderbolt support
No SD card reader
Fans get really loud under load
You can check the prices and configurations in our Specs System: https://laptopmedia.com/series/asus-rog-g731/