MSI GF63 8RD/10Sx review – looks better than it works

Every year there is a lot of new CPU and GPU options and the manufacturers are updating their machines since there is better hardware available. This is the case with the MSI GF63 Thin 10SCXR – it's almost the same device as the MSI GF63 8RD, there are no visual exterior changes. Nothing bad in it, the design is still OK for us and the machine doesn't look like an old laptop. The changes are hidden under the hood and the biggest one is the CPU platform – this time we have an Intel Comet Lake-H CPU and more specifically, it's the Core i7-10750H.
This processor is a refreshed version of the Core i7-9750H which is a Coffee Lake chip and surprisingly the latter it's not that different than the i7-8750H (again, it's a 14nm Coffe Lake product with lower clocks and smaller cache size). So, at least on paper, the differences between the Intel Core i7-10750H, Core i7-9750H, and i7-8750H are not that significant and it'll be interesting for us to see how big is the performance gap in terms of CPU power between the GF63 Thin 10SCXR (Intel Core i7-10750H) and the MSI GF63 8RD (Core i7-8750H). For more info about the differences between the Core i7-10750H and its two predecessors, you can check our dedicated articles here and here. This time our test device comes with the Max-Q version of the NVIDIA GeForce GTX 1650 which is a decent mid-range GPU that doesn't consume too much power and that why it's suitable for thin and light machines.
MSI is best known for its gaming products. Would it be Graphics cards, motherboards, or even laptop computers? One of their goals, as a gaming brand, is to conquer the whole notebook gaming market. If not to conquer, at least to provide their customers with a wide enough variety of notebooks so that, whatever your budget or needs are, you have an MSI laptop option.
Somewhere, on the cheap-most side of the MSI spectrum seats the GF63. It has an appealing design, relatively thin profile, and is lightweight, especially for a 15-inch gaming notebook. Obviously, MSI is following the trend with this one. However, in order to achieve a thin and light gaming body and keep the costs low, you have to prepare for some setbacks.
Being either a thermal solution and a price cutter, the GPU in action inside the GF63 8RD is GTX 1050 Ti Max-Q. The only other laptop we tested with this GPU is the mobile workstation – Dell XPS 15 9570. And while these two devices are not really in the same league, we are going to compare their performance in games and how their thermals fare against each other.
You can check the prices and configurations of the MSI GF63 8RD in our Specs System: https://laptopmedia.com/series/msi-gf63-8rx/
You can check the prices and configurations of the MSI GF63 10Sx in our Specs System: https://laptopmedia.com/series/msi-gf63-thin-10sx/
Contents
Specs Sheet
MSI GF63 Thin 10SCXR tableau des caractéristiques techniques
Afficher
15.6", Full HD (1920 x 1080), 120 Hz, IPS
RAM
8GB (1x 8192MB) - DDR4, 2666MHz
Dimensions
359 x 254 x 21.7 mm (14.13" x 10.00" x 0.85")
Ports et connectivité
3x USB Type-A 3.2 Gen 1 (5 Gbps)
1x USB Type-C 3.2 Gen 1 (5 Gbps)
HDMI [email protected]
Ethernet LAN GB Lan
Wi-Fi 802.11ax
Bluetooth 5.1
Prise audio 1x Mic-in, 1x Headphone-out
Caractéristiques
Lecteur d'empreintes digitales
Caméra Web HD ([email protected])
Clavier rétro-éclairé
Microphone
Intervenants 2x 2W, Nahimic 3
Lecteur optique
Fente de verrouillage de sécurité
What's in the box?
To keep the costs low, MSI included just some manuals and a 120W charger inside the box. Well… apart from the GF63 8RD itself.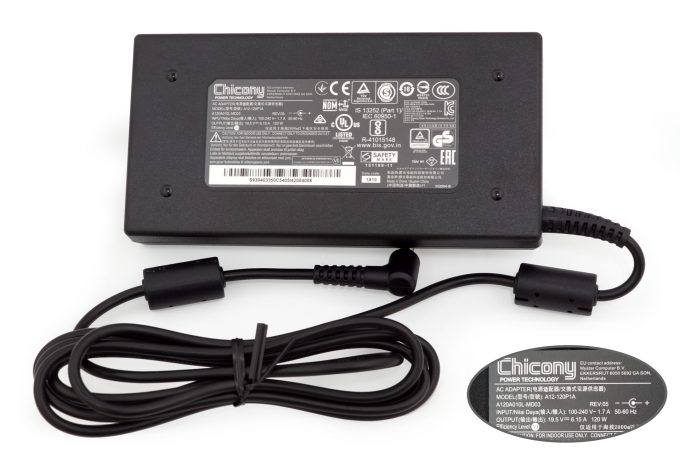 Design and construction
MSI GF63 is one sleek notebook. Certainly, it catches the eye from the first sight, and one would have a hard time differentiating it from a more premium device. Its lid cover is made of brushed aluminum and has that cool feeling to the hand. As we mentioned, the laptop has a slim profile, measuring at 21.7 mm. This is enhanced by a weigh of just 1.86 kg. Despite the good first impression from the lid cover, the entire rest of the notebook is plastic.
Thanks to the aluminum on the top, the lid itself is less susceptible to bends. On the other side of the lid, we can see a 2018 bezel-less design, with the camera on its orthodox place and an MSI logo beneath the screen.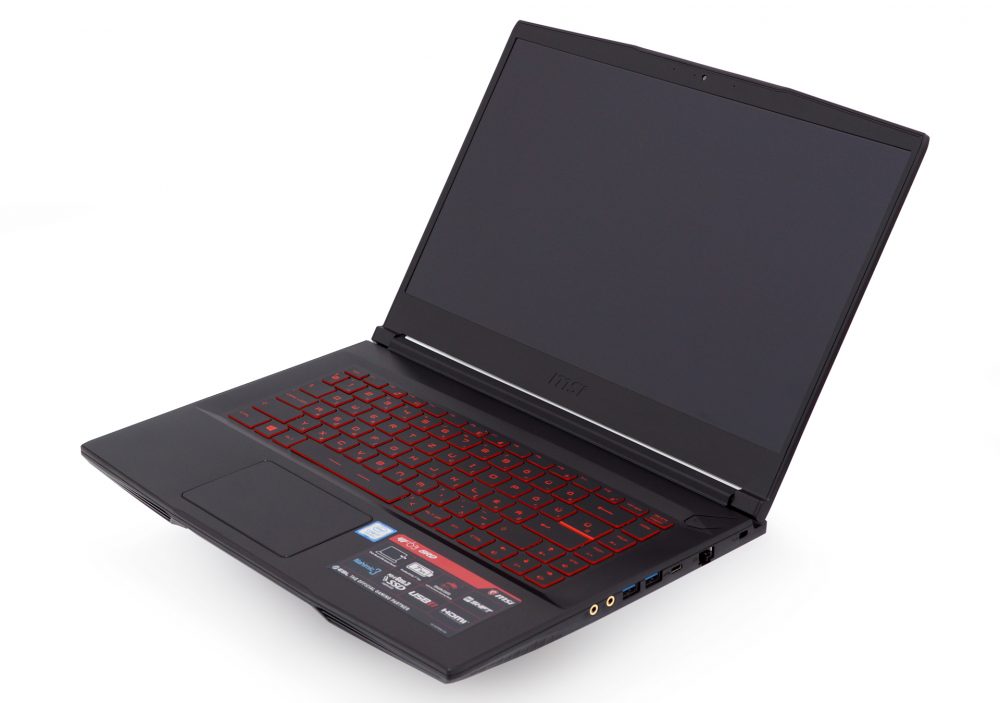 So far – so good. Next, we have the base of the machine, which as usual is home to the keyboard and the touchpad. First, let's not that the power button is carved into the chassis, which honestly looks pretty MSI-ish. The keyboard itself lacks the Numeric keys but instead of them, you can find a row of special keys.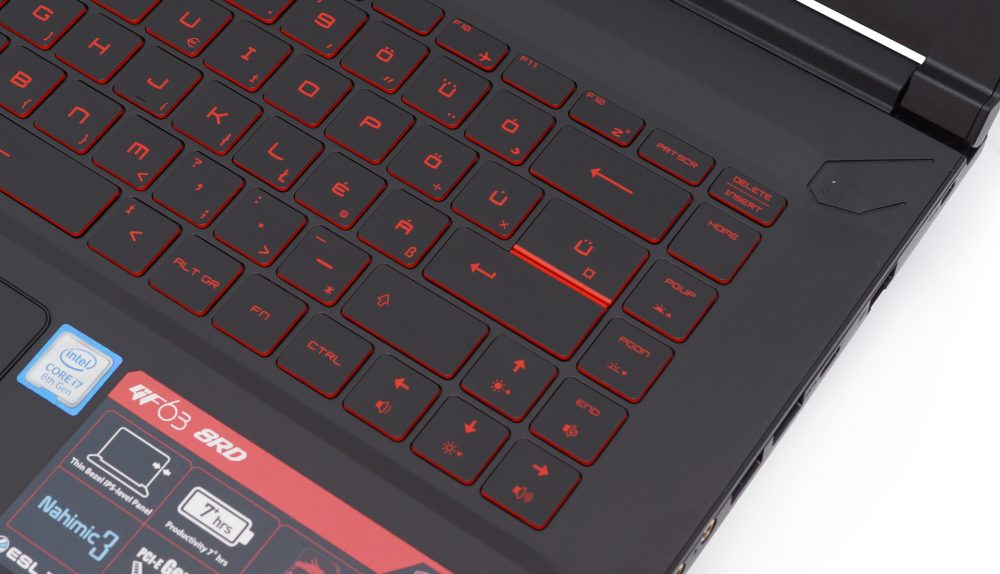 Still, on the keyboard, we found it to be a little soft and the key travel to be a little short to our likings. However, it has a backlight, although the only color it glows in is red… not that we were expecting any other color from MSI. Further below, the touchpad is not bad. It can be easily distinguished, thanks to the ledges that surround it.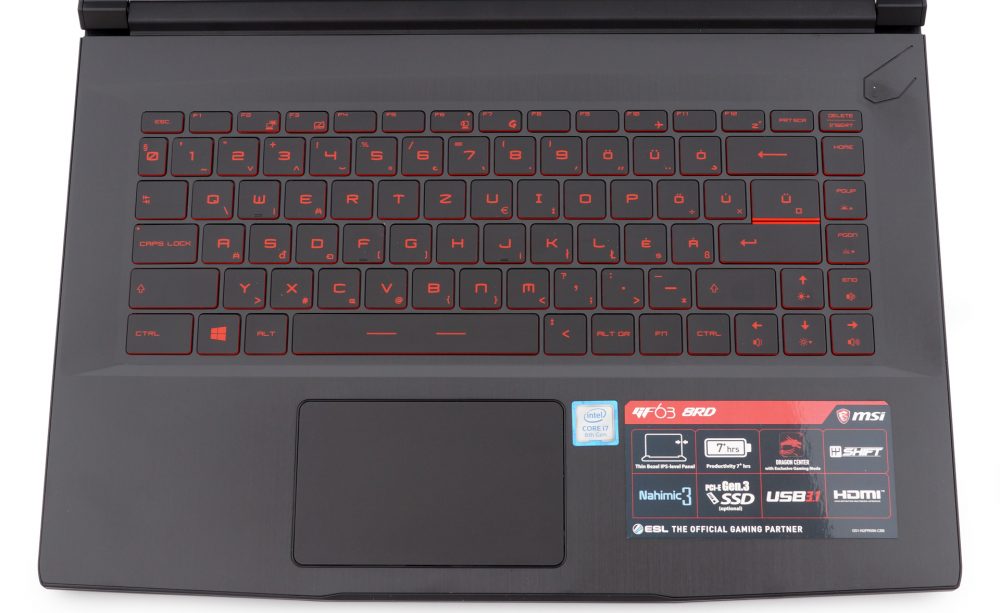 By taking a look at the bottom panel you can get an impression of how the internals is structured. Interestingly, all of the hot air is exhausted through drills that are located on the left-hand corner of the laptop.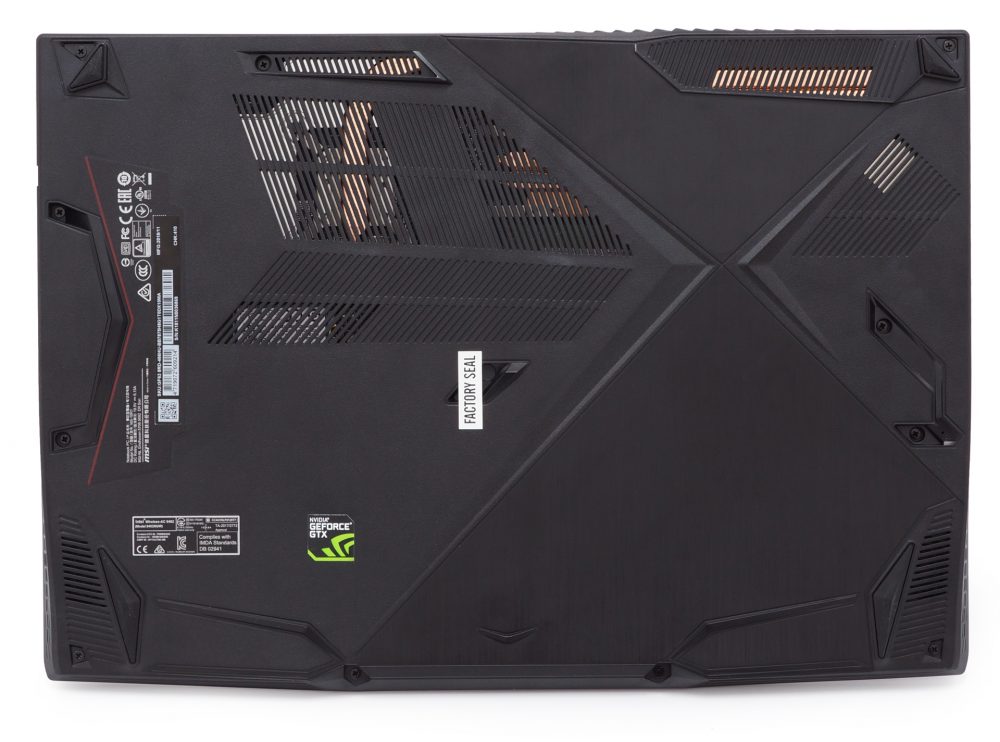 | | Width | Length | Height | Weight |
| --- | --- | --- | --- | --- |
| MSI GF63 8RD | 14.13″ (359mm) | 10.00″ (254mm) | 0.85″ (21.7mm) | 4.1 lbs (1.86 kg) |
| Dell XPS 15 9570 | 14.06″ (357mm) | 9.27″ (235mm) | 0.66″ (17mm) | 4 lbs (1.8 kg) |
Ports
The I/O is kind of weird with this one. Don't get us wrong, though, there is plenty of ports, but they are scattered around the whole device. First, on the left, we have a USB Type-A 3.1 (Gen. 1) port paired with the charging plug. Frankly, the latter is placed in a way, that the cable blocks this side's vent. Moreover, it heats tremendously under heavy load… poor decision MSI.
Let's move to the other side. There we see an RJ-45 connector, followed by three USB 3.1 (Gen. 1) ports. the first one is a Type-C (not Thunderbolt) and the other two are Type-A. Lastly, we see not one, but two dedicated 3.5 mm jacks for headphones and a microphone respectively. Wait… we almost forgot. There is a single HDMI port on the back… we bet it feels lonely most of the time.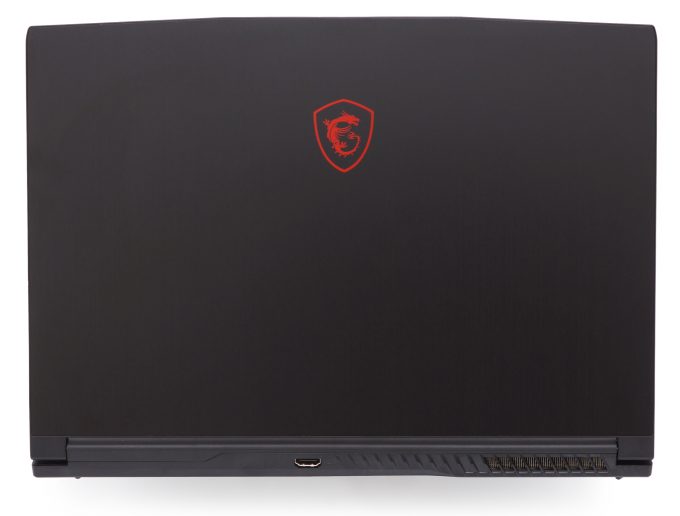 Disassembly and upgrade options
We have to inform you that in a typical MSI fashion if you try upgrading the laptop yourself, you are most definitely going to void the warranty. If you don't care about the warranty, come ride the disassembly train with us.
First, we have to deal with a total of 12 Phillips head screws from which one is hidden behind a "Factory seal" sticker. What follows is pretty straightforward – unpry the bottom panel, and you are inside. By the way, recently we see fewer and fewer laptops that implement service lids for easy access to the upgradable internals. That's sad…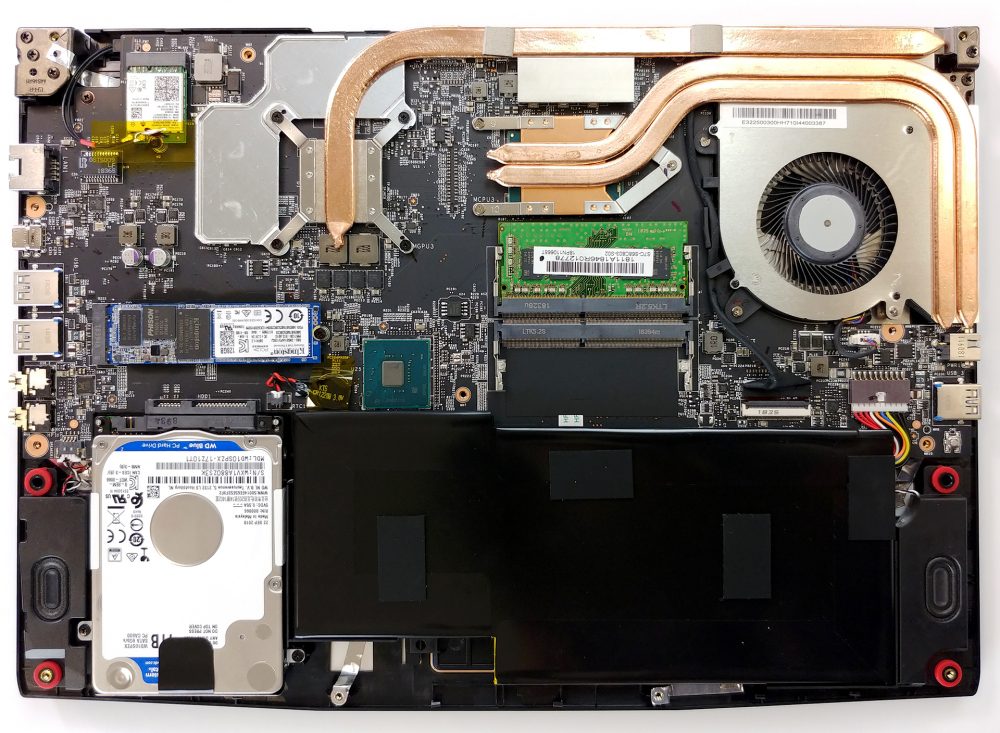 The cooling solution comprises two small heat pipes, placed on top of the CPU and one large, meant for the GPU. It is good that MSI has decided to make both chips thermally independent. As you can see from the image below, the smaller heat pipes are bent around the relatively large fan.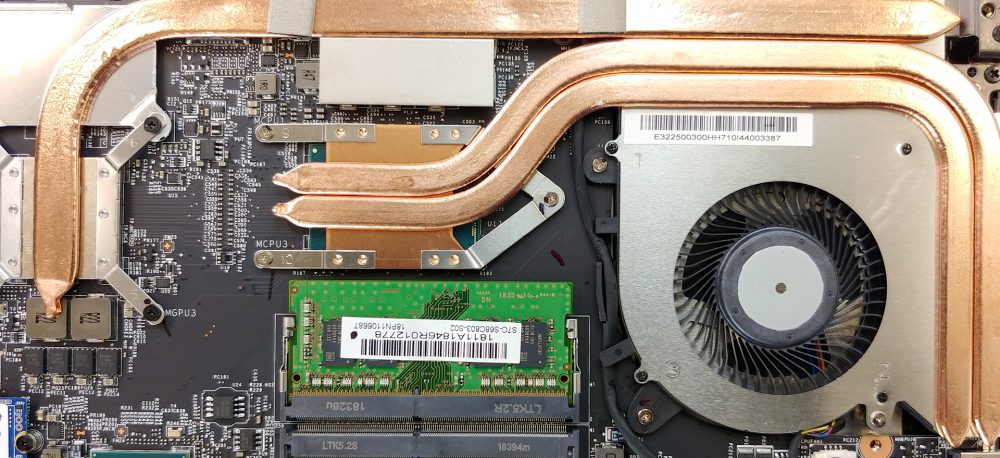 On the memory side, there are two RAM DIMMs, which support up to 32GB. In addition to that, on the left-most side of the notebook, you can see the storage devices. Currently, there is a Western Digital HDD occupying the SATA connector and a Kingston NVMe drive in the M.2 slot.
MSI GF63 is equipped with a 51 Wh battery, which is held in place by some sticky pads.

Display quality
MSI GF63 is equipped with a Full HD IPS panel, model number Innolux N156HCA-EAB (CMN15E7). Its diagonal is 15.6″ (39.62 cm), and the resolution 1920 х 1080 pixels. The screen ratio is 16:9, and we are looking at a pixel density of – 142 ppi, and a pitch of 0.18 х 0.18 mm. The screen turns into Retina when viewed at a distance equal to or greater than 60cm (24″) (from this distance one's eye stops differentiating the separate pixels, and it is normal for looking at a laptop).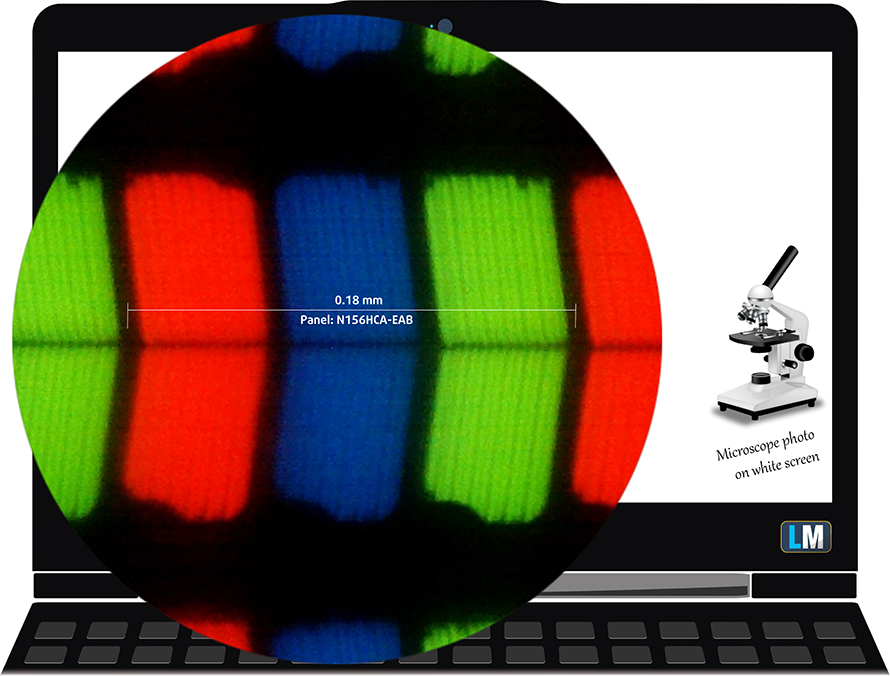 It has comfortable viewing angles. We offer images at 45° to evaluate image quality.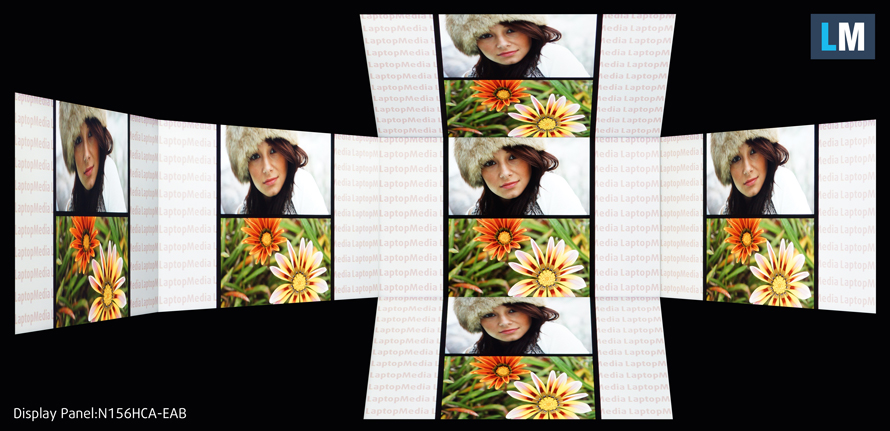 The measured maximum brightness of 210 nits in the middle of the screen and 197 nits as an average for the whole area, with a maximum deviation of 17% in the bottom right corner. The Correlated Color Temperature on a white screen is 6390K – a little warmer than the optimal for the sRGB standard of 6500K. The average color temperature through the grey scale before profiling essentially matches the optimum at 6340K.
In the illustration below you can see how the display performs from a uniformity perspective. In other words, the leakage of light from the light source.
Values of dE2000 over 4.0 should not occur, and this parameter is one of the first you should check if you intend to use the laptop for color sensitive work. The contrast ratio is very good – 1500:1.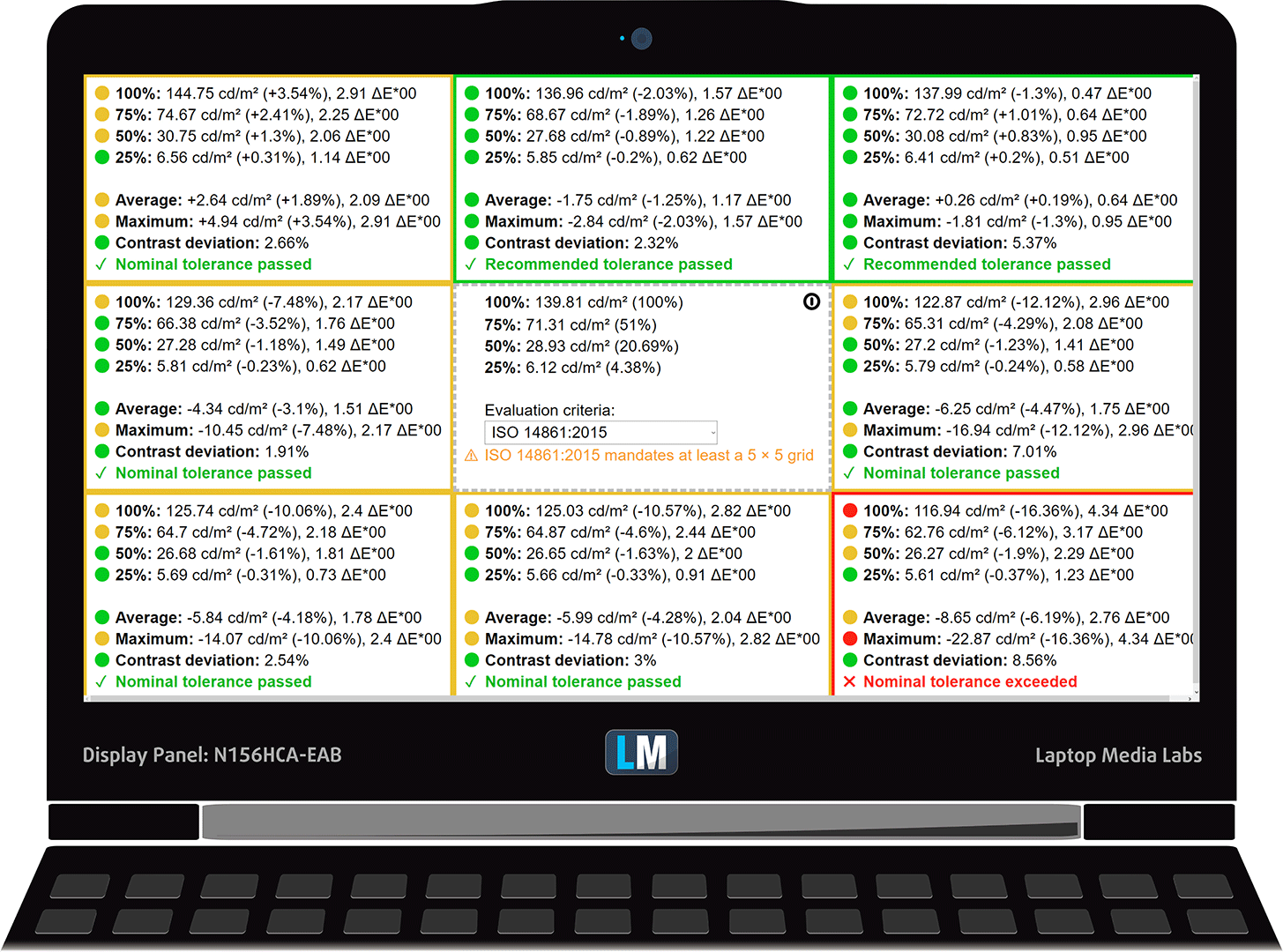 To make sure we are on the same page, we would like to give you a little introduction to the sRGB color gamut and the Adobe RGB. To start, there's the CIE 1976 Uniform Chromaticity Diagram that represents the visible specter of colors by the human eye, giving you a better perception of the color gamut coverage and the color accuracy.
Inside the black triangle, you will see the standard color gamut (sRGB) that is being used by millions of people in HDTV and on the web. As for the Adobe RGB, this is used in professional cameras, monitors etc for printing. Basically, colors inside the black triangle are used by everyone and this is the essential part of the color quality and color accuracy of a mainstream notebook.
Still, we've included other color spaces like the famous DCI-P3 standard used by movie studios, as well as the digital UHD Rec.2020 standard. Rec.2020, however, is still a thing of the future and it's difficult for today's displays to cover that well. We've also included the so-called Michael Pointer gamut, or Pointer's gamut, which represents the colors that naturally occur around us every day.
The yellow dotted line shows MSI GF63's color gamut coverage.
Its display covers only 55% of the sRGB/ITU-R BT.709 (web/HDTV standard) in CIE1976.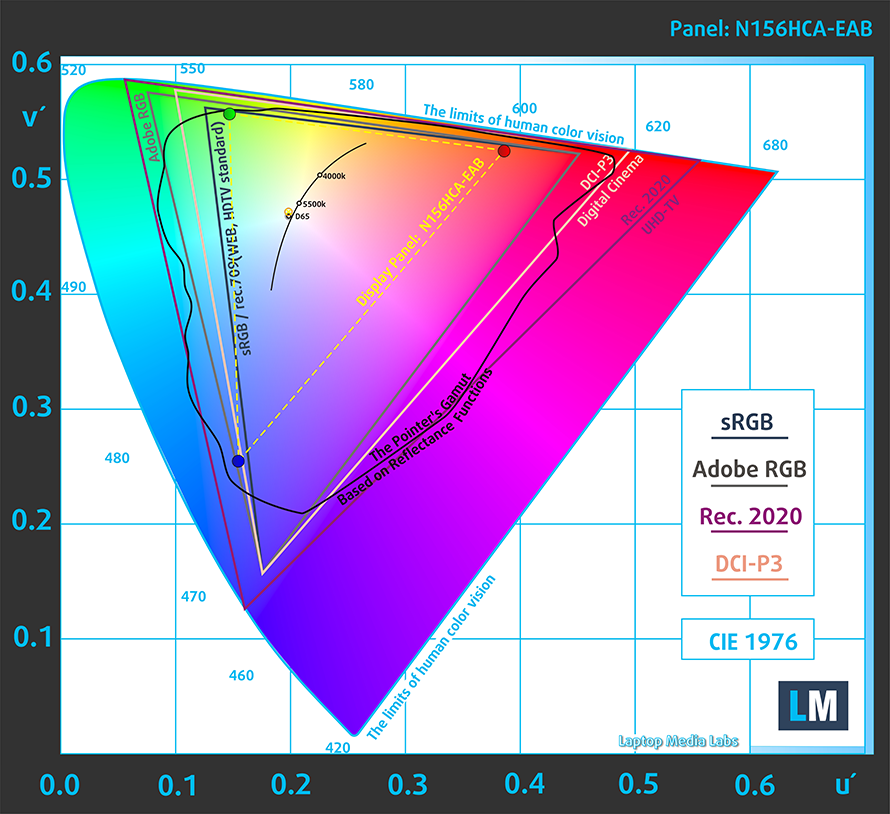 Our "Design and Gaming" profile delivers optimal color temperature (6500K) at 140 cd/m2 luminance and sRGB gamma mode.
We tested the accuracy of the display with 24 commonly used colors like light and dark human skin, blue sky, green grass, orange etc. You can check out the results at factory condition and also, with the "Design and Gaming" profile.
Below you can compare the scores of MSI GF63 with the default settings (left), and with the "Gaming and Web design" profile (right).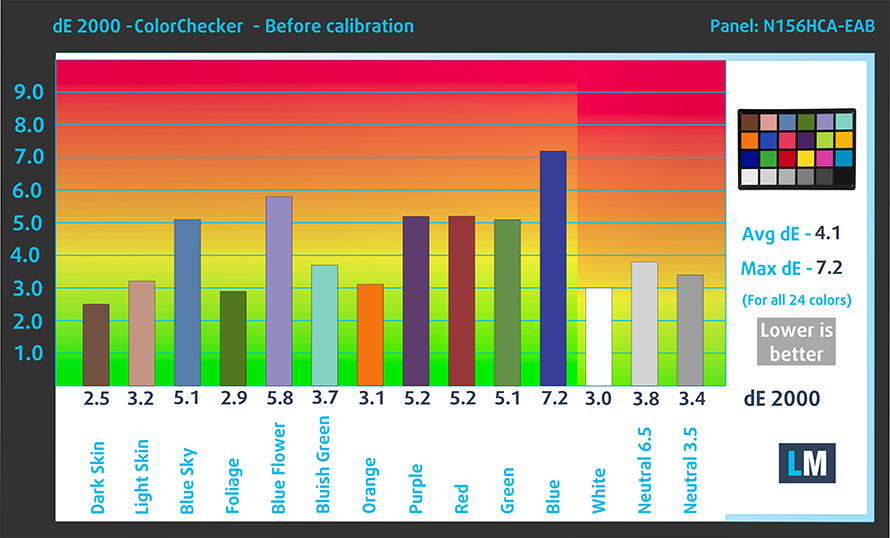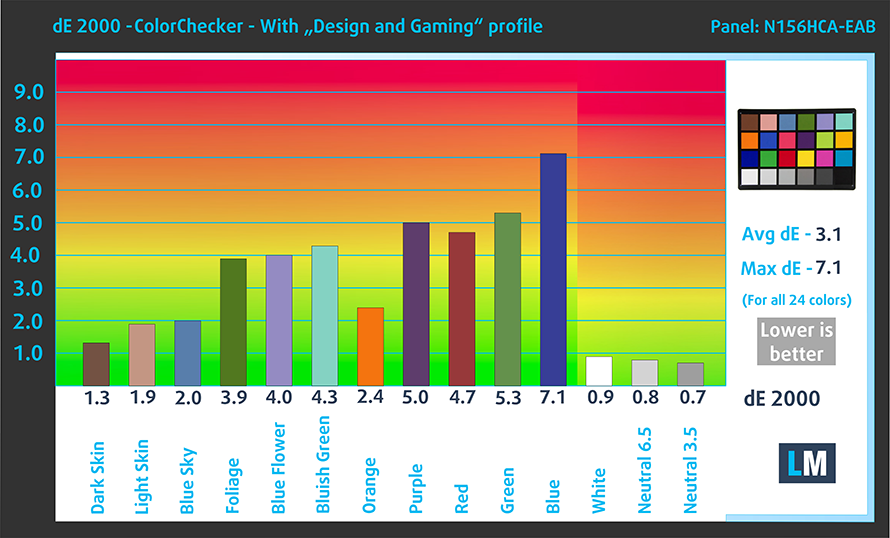 The next figure shows how well the display is able to reproduce really dark parts of an image, which is essential when watching movies or playing games in low ambient light.
The left side of the image represents the display with stock settings, while the right one is with the "Gaming and Web Design" profile activated. On the horizontal axis, you will find the grayscale and on the vertical axis – the luminance of the display. On the two graphs below you can easily check for yourself how your display handles the darkest nuances but keep in mind that this also depends on the settings of your current display, the calibration, the viewing angle, and the surrounding light conditions.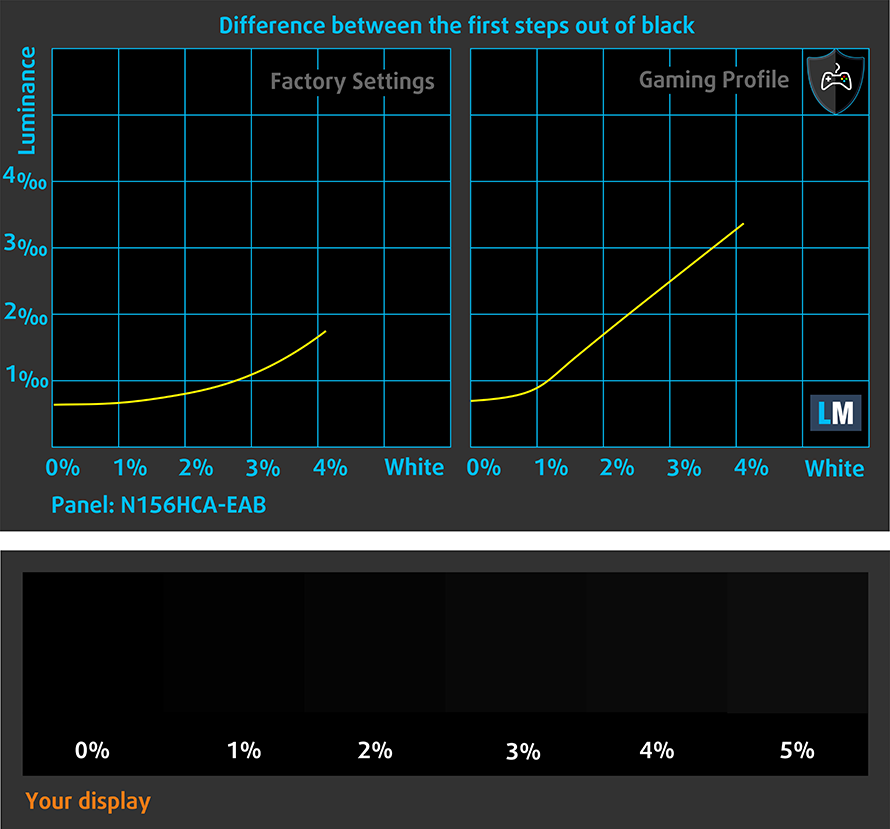 Response time (Gaming capabilities)
We test the reaction time of the pixels with the usual "black-to-white" and "white-to-black" method from 10% to 90% and vice versa.
We recorded Fall Time + Rise Time = 26 ms.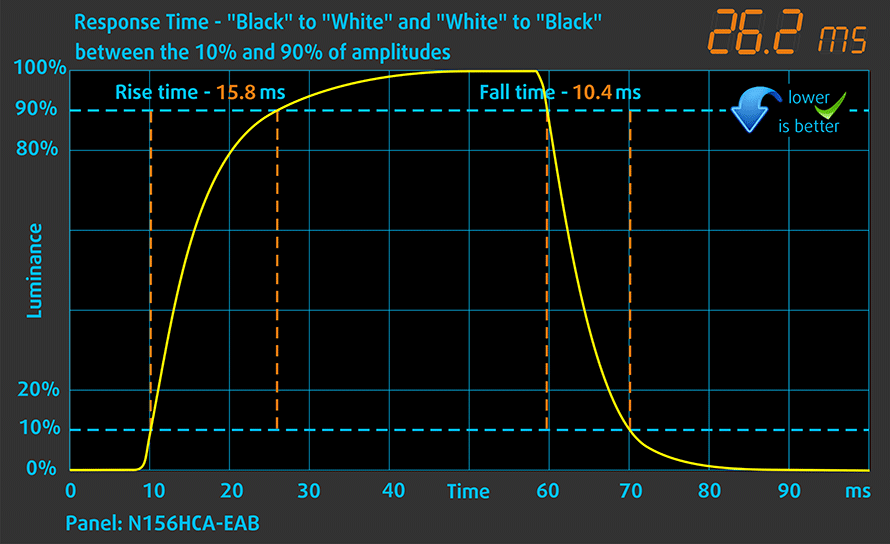 PWM (Screen flickering)
Pulse-width modulation (PWM) is an easy way to control monitor brightness. When you lower the brightness, the light intensity of the backlight is not lowered, but instead turned off and on by the electronics with a frequency indistinguishable to the human eye. In these light impulses, the light/no-light time ratio varies, while brightness remains unchanged, which is harmful to your eyes. You can read more about that in our dedicated article on PWM.
MSI's GF63 8RD has a panel that uses PWM to adjust the brightness levels. However, it does so up until 55 nits and more importantly – with a 26 000 Hz rate, which is indistinguishable by the eye and decreases the negative effect.

Blue light emissions
Installing our Health-Guard profile not only eliminates PWM but also reduces the harmful Blue Light emissions while keeping the colors of the screen perceptually accurate. If you're not familiar with the Blue light, the TL;DR version is – light emissions that negatively affect your eyes, skin, and your whole body. You can find more information about that in our dedicated article on Blue Light.
Conclusion
MSI GF63's display has comfortable viewing angles and good contrast. However, it is way dimmer than what we'd like it to be and has modest color coverage. In addition to that, its 60 Hz is not what really is meant for gamers. Although it uses PWM for brightness adjustment, the panel on this notebook uses high frequency, which greatly reduces the negative effect.

Buy our profiles
Since our profiles are tailored for each individual display model, this article and its respective profile package are meant for MSI GF63 configurations with 15.6″ FHD IPS Innolux N156HCA-EAB.
*Should you have problems with downloading the purchased file, try using a different browser to open the link you'll receive via e-mail. If the download target is a .php file instead of an archive, change the file extension to .zip or contact us at [email protected]
Read more about the profiles HERE.
En plus de recevoir des profils efficaces et favorables à la santé, en achetant les produits de LaptopMedia, vous soutenez également le développement de nos laboratoires, où nous testons les appareils afin de produire les examens les plus objectifs possibles.
Sound
MSI GF63s sound is mediocre. Low tones have some deviations, while the mids and highs are clear.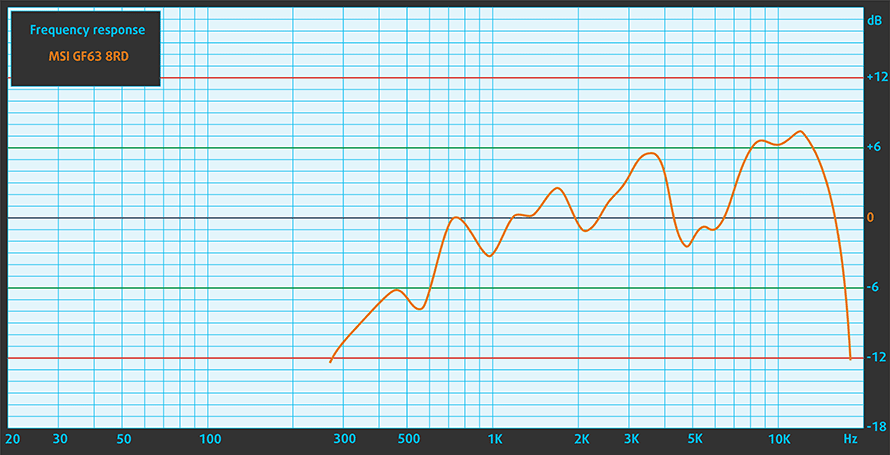 Drivers
You can get all drivers, firmware, and utilities from MSI's official web page: https://www.msi.com//Laptop/support/GF63-8RD

Battery
Now, we conduct the battery tests with Windows Better performance setting turned on, screen brightness adjusted to 120 nits, and all other programs turned off except for the one we are testing the notebook with. The GF63 8RD is equipped with a 51 Wh battery unit. We got 6 hours and 40 minutes of Web browsing and 6 hours and 15 minutes of video playback from this unit. Gaming on battery, however, will drain the battery for just over an hour.
Afin de simuler des conditions réelles, nous avons utilisé notre propre script de navigation automatique sur plus de 70 sites web.
Pour chaque test de ce type, nous utilisons la même vidéo en HD.
Nous utilisons le benchmark intégré de F1 2017 en boucle afin de simuler un jeu réel.
CPU options
For good or bad, MSI GF63 Thin 10SCXR comes with either the Core i5-10300H or the Core i7-10750H. Additionally, you can find the MSI GF63 8RD with the Intel Core i5-8300H or the Core i7-8750H. Both of them are Coffee Lake CPUs, which offer a significant upgrade over their respective predecessors (the Laby Lake chips).
Les résultats proviennent du test CPU Cinebench 20 (plus le score est élevé, mieux c'est).
Les résultats sont issus de notre test de référence Photoshop (plus le score est bas, mieux c'est)
GPU options
MSI GF63 Thin 10SCXR is bundled with the NVIDIA GeForce GTX 1650 Max-Q. If you need more power than that, you can pick the Geforce GTX 1650 Ti Max-Q as well. GF63 8RD is part of the GF63 8Rx series of laptops. Thus it is solely sold with the GeForce GTX 1050 Ti Max-Q, while the GF63 8RC can be bought with the slower GTX 1050.
Les résultats proviennent du benchmark 3DMark : Fire Strike (Graphics) (plus le score est élevé, mieux c'est).
Les résultats proviennent du benchmark Unigine Superposition (plus le score est élevé, mieux c'est).
Gaming tests
The performance of the NVIDIA GTX 1650 Max-Q is a bit higher than the GTX 1050 Max-Q but the Touring GPU consumes less power and it dissipates lesser heat so we can call it a day. Currently, another laptop with a GTX 1050 Ti Max-Q that we've tested is the Dell XPS 15 9570. Our new tests not only confirm but even embolden our statement that this GPU's performance is so close to that of the GTX 1050 Ti, that on some occasions there is no actual difference between them.


Grand Theft Auto V (GTA 5)
Full HD, Normal (Check settings)
Full HD, High (Check settings)
Full HD, Very High (Check settings)
MSI GF63 10SCXR (GTX 1650 Max-Q)
119 fps
78 fps

(+4%)

42 fps
MSI GF83 8RD (GTX 1050 Ti Max-Q)
122 fps

(+3%)

75 fps
46 fps

(+9%)


Rise of the Tomb Raider (2016)
Full HD, Lowest (Check settings)
Full HD, Medium (Check settings)
Full HD, Very High (Check settings)
MSI GF63 10SCXR (GTX 1650 Max-Q)
94 fps

(+6%)

65 fps

(+7%)

32 fps
MSI GF83 8RD (GTX 1050 Ti Max-Q)
89 fps
61 fps
36 fps

(+12%)
Tom Clancy's Ghost Recon Wildlands
Full HD, Medium (Check settings)
Full HD, High (Check settings)
Full HD, Very High (Check settings)
MSI GF63 10SCXR (GTX 1650 Max-Q)
51 fps

(+11%)

46 fps

(+10%)

40 fps

(+8%)

MSI GF83 8RD (GTX 1050 Ti Max-Q)
46 fps
42 fps
37 fps
Temperatures and comfort
Max CPU load
In this test we use 100% on the CPU cores, monitoring their frequencies and chip temperature. The first column shows a computer's reaction to a short load (2-10 seconds), the second column simulates a serious task (between 15 and 30 seconds), and the third column is a good indicator of how good the laptop is for long loads such as video rendering.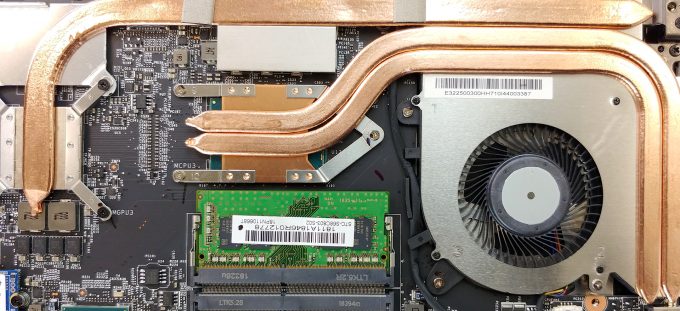 Average core temperature (base frequency + X); CPU temp.
| Intel Core i7-10750H (45W TDP) | 0:02 – 0:10 sec | 0:15 – 0:30 sec | 10:00 – 15:00 min |
| --- | --- | --- | --- |
| MSI GF63 10SCXR | 3.31 GHz (B+27%) @ 83°C | 3.20 GHz (B+23%) @ 86°C | 2.80 GHz (B+8%) @ 87°C |
| Acer Nitro 5 (AN515-55) | 3.02 GHz (B+16%) @ 82°C | 3.04 GHz (B+17%) @ 92°C | 2.67 GHz (B+3%) @ 92°C |
| Lenovo Legion 7 (15) | 3.78 GHz (B+45%) @ 80°C | 3.69 GHz (B+42%) @ 83°C | 3.51 GHz (B+35%) @ 83°C |
| MSI GP65 Leopard 10Sx | 3.65 GHz (B+40%) @ 95°C | 3.41 GHz (B+31%) @ 95°C | 3.30 GHz (B+27%) @ 95°C |
| Intel Core i7-8750H (45W TDP) | 0:02 – 0:10 sec | 0:15 – 0:30 sec | 10:00 – 15:00 min |
| MSI GF63 8RD | 3.18 GHz (B+45%) @ 84°C | 2.95 GHz (B+34%) @ 82°C | 2.66 GHz (B+20%) @ 86°C |
| Dell XPS 15 9570 | 3.16 GHz (B+44%) @ 89°C | 3.07 GHz (B+40%) @ 97°C | 2.62 GHz (B+19%) @ 87°C |
| Dell G5 15 5587 | 2.94 GHz (B+34%) @ 85°C | 2.76 GHz (B+25%) @ 82°C | 2.60 GHz (B+18%) @ 74°C |
| Acer Nitro 5 | 2.89 GHz (B+31%) @ 72°C | 2.71 GHz (B+23%) @ 78°C | 2.52 GHz (B+15%) @ 74°C |
Even though the Core i7-8750H is being cooled by a single fan, the MSI GF63 8RD was able to deal adequately with the torture test. It is on par with the Dell XPS 15 9570, although, the temperatures on the MSI GF63 8RD were slightly lower.
Real gameplay
| NVIDIA GeForce GTX 1650 Max-Q | GPU frequency/ Core temp (after 2 min) | GPU frequency/ Core temp (after 30 min) |
| --- | --- | --- |
| MSI GF63 10SCXR | 1230 MHz @ 77°C | 1250 MHz @ 78°C |
| Lenovo ThinkPad X1 Extreme Gen 2 | 1345 MHz @ 69°C | 1343 MHz @ 72°C |
| ASUS ZenBook 15 UX534 | 1229 MHz @ 77°C | 1221 MHz @ 78°C |
| NVIDIA GeForce GTX 1050 Ti Max-Q | GPU frequency/ Core temp (after 2 min) | GPU frequency/ Core temp (after 30 min) |
| MSI GF63 8RD | 1510 MHz @ 79°C | 1484 MHz @ 89°C |
| Dell XPS 15 9570 | 1348 MHz @ 77°C | 1502 MHz @ 77°C |
Remember how we said that the GPU and CPU on this device are thermally independent? Well, that statement turned out to be not quite true. The heat pipe design features a major flaw. As soon as the CPU heats up, the cooling efficiency towards the GPU's heat pipe goes to hell, since you are cooling the GPU with what is essentially the hot air from the CPU cooler. Although the frequencies were stable high, we could say the same about the temperature of the core – after half an hour of gaming, it went (and stabilized) at 89C… s-s-scortchy.
Gaming comfort
The plastic body is hardly good isolation, as the heat from the internals traveled to the base of the MSI GF63 8RD. With the hottest place exceeding 55C right on top of the "P" key. On the bright side, the palm rest area was cool enough and didn't manage to boil our veins.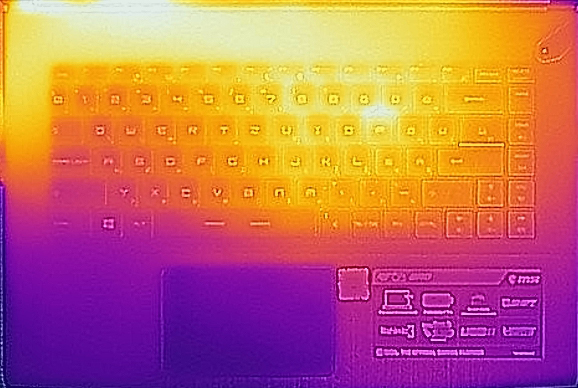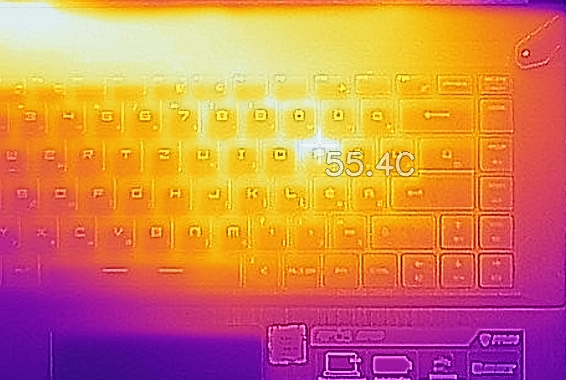 Verdict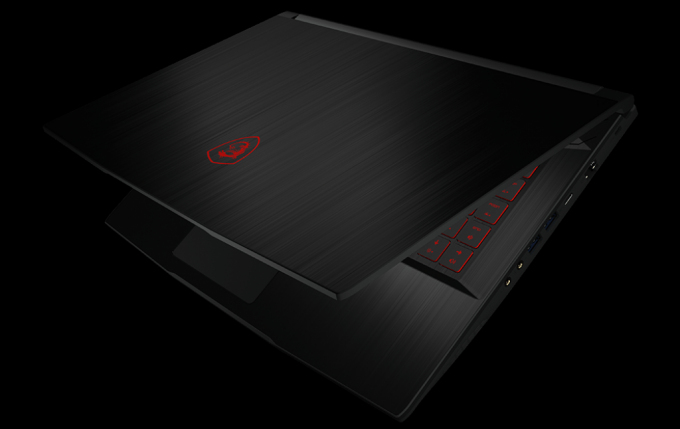 Another day, another interesting device is about to leave our office. We are usually impressed with MSI's work. However, GF63 8RD got us thinking… At first, we loved it – design, feel in the hand, start-up, Dragon center. When you add Whiskey Lake and GTX 1050 Ti Max-Q to the soup, it should result in the perfect budget low profile gaming device. You can easily go to a coffee shop in order to do some work or student stuff, without being considered as the next childish show-off. It is really fast and responsive and moreover, you can certainly play some games on it.
Everything seemed so good about it but then the problems started. First, it was the deliberately stupid location of the charging plug. Placing the cooling system in one of the corners means that there is another one completely free of heat. However, someone at MSI thought "hmm, wouldn't it be nice if we put the charging plug right next to one of the vents, so it can fry the cable every now and then?", and voila – this is what they did. It was not uncommon to measure the temperature at the cable under gaming to reach more than 60C
And as the tradition goes, we snatched a GF63 10Sx model, which is equipped with the latest Core i7-10750H. Ultimately, it proved to be a very minor upgrade in terms of performance, especially with this particular notebook. Additionally, the thermal performance of the device was not great, similarly to the GF63 8RD, but thankfully, the GTX 1650 Max-Q is far more efficient than its GTX 1050 Ti Max-Q cousin, running 10C cooler in long gaming sessions.
So, let's say you decide to use it without cable. Let's say you are outside, on a bright sunny day, everything is fine… except it is not. Now you can't see a thing, because the display is as dim as 210 nits. At least it's IPS, though. And despite the use of PWM to adjust the brightness, it is at 26000 Hz, which nearly eliminates the harm in this aspect. Up to this point, comparing it to the Dell XPS 15 9570 is pointless.
More suitable competitors would be the ASUS TUF FX505 and Dell G3 3579. Moreover, its battery life is not bad for a gaming machine – 6 hours and 40 minutes of Web browsing, and 25 minutes less in video playback.
Pros
Sleek design for a gaming device
IPS panel with high contrast ratio (Innolux N156HCA-EAB)
Lightweight (1.86kg)
Lack of aggressive PWM (Innolux N156HCA-EAB)
Cons
Upgrading voids the warranty
The screen is super dim (Innolux N156HCA-EAB)
Terrible charging plug placement
You can check the prices and configurations of the MSI GF63 8RD in our Specs System: https://laptopmedia.com/series/msi-gf63-8rx/
You can check the prices and configurations of the MSI GF63 10Sx in our Specs System: https://laptopmedia.com/series/msi-gf63-thin-10sx/