ASUS ROG Strix SCAR 18 (G834, 2023) – Top 5 Pros and Cons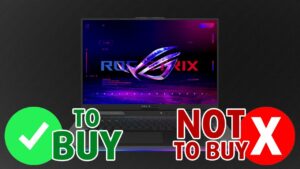 For the people expecting a budget machine, don't, as the ASUS ROG Strix SCAR 18 is nowhere near that category. What it represents, however, is the ultimate gaming performance that someone can expect from a laptop, as it pairs an RTX 4090 with a Core i9-13980HX, both with very high power limits and a high-res display that's suitable for both gaming and content creation. While it is quite bulky, you have to appreciate the large 18-inch display and all the extra pixels that its 16:10 aspect ratio provides.
Today we're giving you a quick overview of the ASUS ROG Strix SCAR 18 (G834, 2023).
ASUS ROG Strix SCAR 18 (G834, 2023): Full Specs / In-depth Review
4 reasons to BUY the ASUS ROG Strix SCAR 18 (G834, 2023)
1. Performance
The powerful pairing of the Core i9 and the RTX 4090 results in fantastic benchmark results. In the CPU tests, the i9-13980HX delivers amazing performance, thanks to its 24 cores and 32 threads. It's much better than the Core i9-13900HX inside the Acer Predator Helios 18, while easily outperforming the competition from 2022.
Results are from the Cinebench R23 CPU test (the higher the score, the better)
Results are from our Photoshop benchmark test (the lower the score, the better)
The 175W RTX 4090, on the other hand, delivers the best GPU performance that we've seen so far, taking up the #1 spot in our Top Laptop GPU Ranking. It's around twice as fast as any Ampere GPU that's available.
2. Upgradeability
The laptop brings good upgradeability to the table, with two SODIMM slots for DDR5 memory as well as two M.2 slots for Gen 4 SSDs.

Here is our teardown video which shows how to access both the RAM and SSD slots of the SCAR 18.
3. Display quality
There's only one display available, an 18-inch QHD+ IPS panel with a 16:10 aspect ratio. It's got a very fast 240Hz refresh rate as well as a 10 ms response time, which results in a snappy panel. The panel's viewing angles are great, while also reaching a peak brightness of 502 nits. It covers 100% of the sRGB and DCI-P3 gamuts, resulting in a punchy and vibrant image. You can emulate both gamuts from the Armory Crate software, depending on what work you need to do.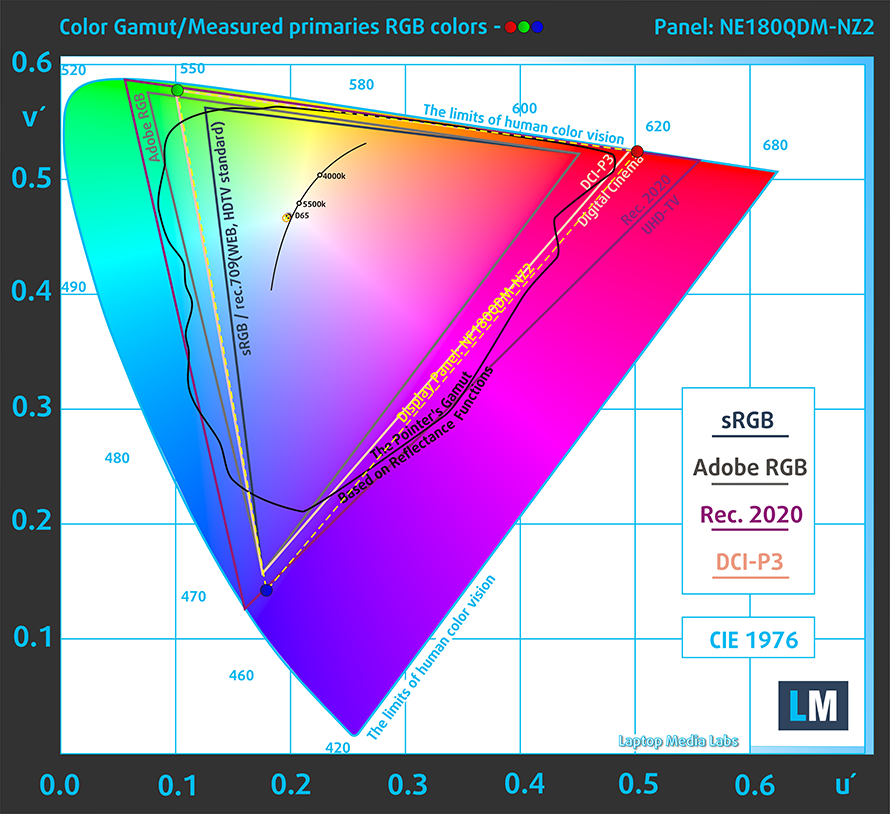 The panel comes with excellent accuracy out of the box, in both the sRGB and DCI-P3 gamuts, with a dE value of 1.3 in the sRGB gamut and 1.0 in the DCI-P3 gamut. Here are the results of our accuracy test in the sRGB gamut (left) and in the DCI-P3 gamut (right).
Buy our profiles
Since our profiles are tailored for each individual display model, this article and its respective profile package are meant for ASUS ROG Strix SCAR 18 (G834, 2023) configuration with 18.0″ BOE NE180QDM-NZ2 (BOE0B35) (2560×1600) IPS.
*Should you have problems with downloading the purchased file, try using a different browser to open the link you'll receive via e-mail. If the download target is a .php file instead of an archive, change the file extension to .zip or contact us at [email protected]
Read more about the profiles HERE.
In addition to receiving efficient and health-friendly profiles, by buying LaptopMedia's products you also support the development of our labs, where we test devices in order to produce the most objective reviews possible.
4. Cooling
The cooling setup of the SCAR 18 consists of a total of 7 heat pipes, with two, shared between the CPU and GPU, two more for each of them, as well as one heat pipe for GPU memory and one pipe for the VRMs. The 7th heat pipe is very long and connects the two heatsinks that are located at the fans. It looks robust and functions very well.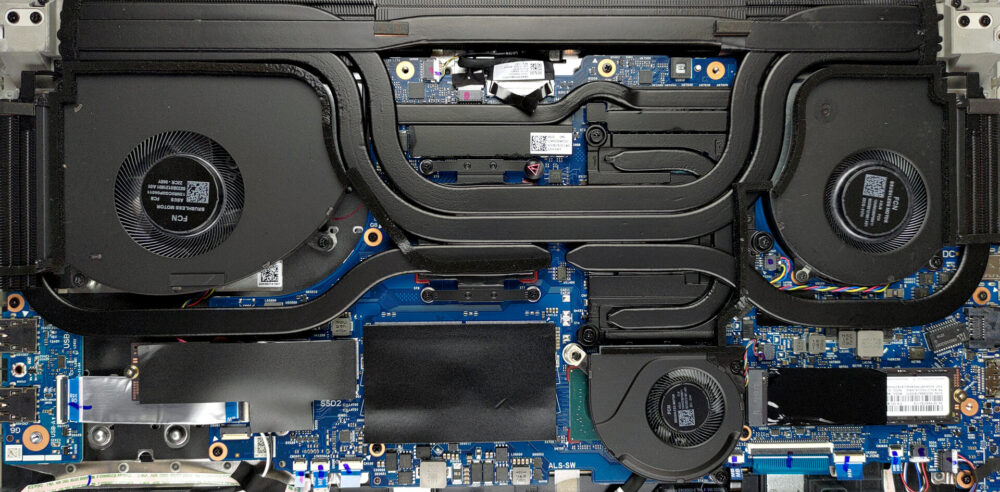 Max CPU load
Average P-core frequency; Average E-core frequency; CPU temp.; Package Power
| Intel Core i9-13980HX (55W TDP) | 0:02 – 0:10 sec | 0:15 – 0:30 sec | 10:00 – 15:00 min |
| --- | --- | --- | --- |
| ASUS ROG Strix SCAR 18 (G834, 2023) | 3.53 GHz @ 2.96 GHz @ 76°C @ 147W | 3.46 GHz @ 2.91 GHz @ 82°C @ 142W | 3.35 GHz @ 2.81 GHz @ 84°C @ 133W |
The CPU maintains very high wattages and clock speeds even after 15 minutes of full load, which speaks to the potency of the cooling and how well it works.

Real-life Gaming
| NVIDIA GeForce RTX 4090 | GPU frequency/ Core temp (after 2 min) | GPU frequency/ Core temp (after 30 min) |
| --- | --- | --- |
| ASUS ROG Strix SCAR 18 (G834, 2023) | 1901 MHz @ 72°C @ 172W | 1883 MHz @ 76°C @ 172W |
The GPU almost reaches its peak 175W TGP, while running at sub-1900MHz speeds even after 30 minutes of torture.

Comfort during full load
Despite the performance of the laptop, it doesn't show any signs of overheating or any uncomfortable noise. The base has a hotspot of only 35°C, which means a very well-insulated chassis. In terms of noise, the third fan doesn't add any additional noise, while the special curved fins on the Arc Flow fans result in a bearable amount of noise even at full load.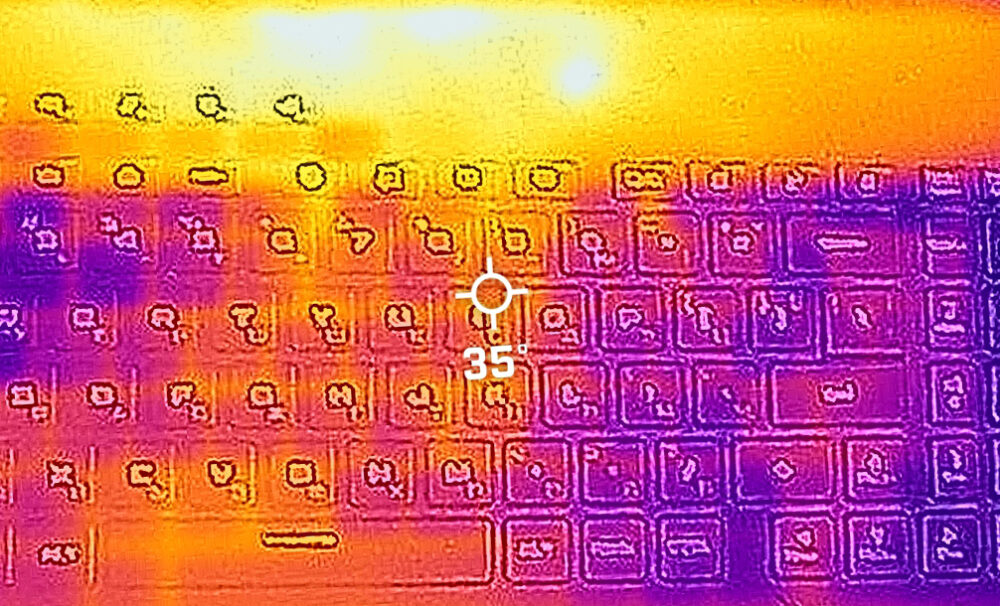 1 reason NOT to buy the ASUS ROG Strix SCAR 18 (G834, 2023)
1. I/O
Lastly, while the I/O of the laptop is still pretty wide, due to the different positioning of the vents, the ports are now only on the left and right, which will lead to more clutter the more things you connect. As for what ports you're getting, there are two USB Type-A 3.2 (Gen. 1) ports, two Thunderbolt 4 ports, a 2.5 Gbit LAN port, an HDMI 2.1 port, a power plug, and a 3.5 mm audio jack.
All ASUS ROG Strix SCAR 18 (G834, 2023) configurations: