We've updated the M.2 compatibility list with new findings – Acer Predator 17X, ASUS ZenBook Flip UX360 and more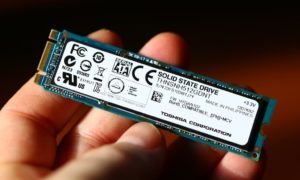 Today's report of the updated M.2 compatibility list is particularly interesting as we added only notebooks that feature M.2 slots. All three notebooks span across mid-range up to the high-end segment so if you are looking for a machine in any of those price ranges, you are in luck.
Let's start with the ASUS N552VX. It received a decent upgrade in the storage section because the older N551 offered a 2.5-inch slot and a half-size mSATA but the newer version sports an M.2 PCIe stick in a 2280 form factor. We still haven't tried out whether the notebook supports the NVMe standard but we suspect it does since the 17-inch N752 does. And the hardware here is identical.
Another laptop from ASUS supporting M.2 is one of our all-time favorite ultrabooks – the ZenBook Flip UX360. It's a fan-less and affordable ultrabook with M.2 SATA SSD stick that comes in a 2280 size. Of course, given the price point, we can't expect an M.2 PCIe connector so it's quite natural that the ultrabook will support an older controller. And finally, the Acer Predator 17X surprises with not one or two but three M.2 slots. They can be configured into a RAID 0 array using the SATA controller or they can be used as independent storage connectors supporting the latest PCIe NVMe standard. Two of the slots come in 2280 flavor but the other one is like the previous Predator 17 model – 22110. The latter is quite rare to find but the good news is that you can still manage to snatch two 2280 sticks for the other two slots.