[Specs, Info, and Prices] Acer Chromebook 516 GE (CBG516-1H) – Great value even without the gaming stuff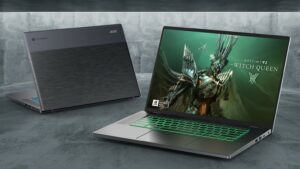 Gaming Chromebooks are starting to pop up, as today we have Acer's version. The Chromebook 516 GE (GBC516-1H) comes with many so-called Gaming features, like a big and fast display and a backlit keyboard, while relying on the cloud to deliver the best possible gaming experience. For when you're not playing games, the laptop is quite powerful, running some powerful Intel CPUs that definitely won't slow you down, especially inside ChromeOS, which is getting denser in terms of features and opportunities.
Today we're giving you a quick overview of the Acer Chromebook 516 GE (CBG516-1H).
The Acer Chromebook 516 GE (CBG516-1H) is available now with a starting price of $649.99.
Acer Chromebook 516 GE (CBG516-1H): Full Specs
Design
The laptop has a very mixed design, utilizing several techniques. The chassis looks very similar to the Aspire 3, with the back getting a reflective Acer logo on the top right corner, as well as a two-tone finish. While the entire laptop has a gunmetal grey color, most of the lid has a brushed finish. The reflectiveness drops down even to the hinges. In terms of materials, we assume that the Chromebook will be made of plastic since Acer doesn't advertise metal anywhere. Finally, in terms of dimensions, the laptop is pretty light, considering it doesn't carry much hardware inside, weighing 1.70 kg and having a profile of 21.3 mm.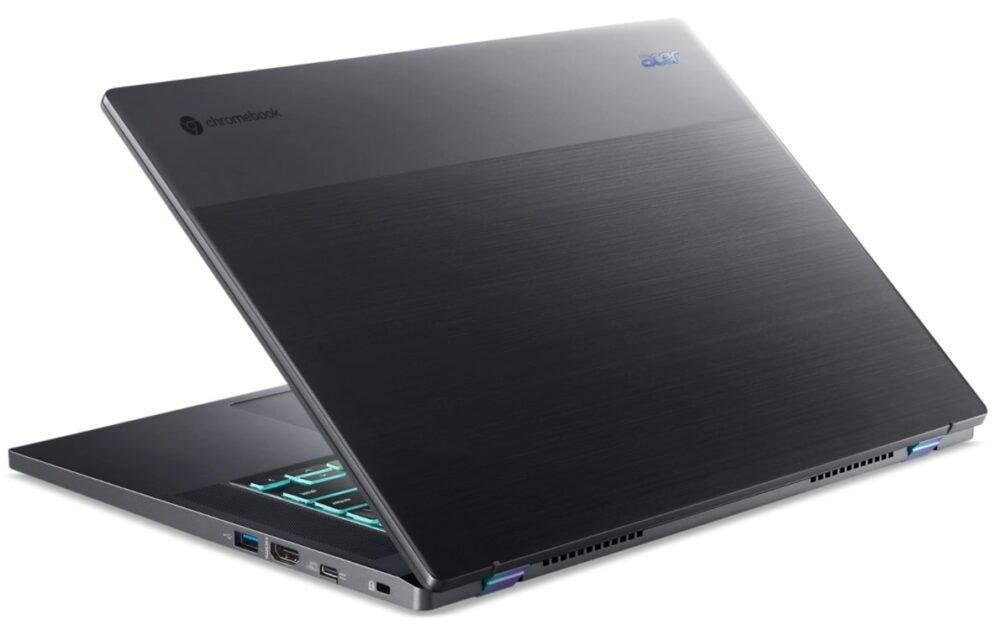 Display
The laptop has a great display, which can be used not only when you're gaming. It's got a pretty high resolution of 2560 x 1600, signifying a 16:10 aspect ratio. At 16 inches, the pixel density is good enough to deliver a punchy and vibrant image. The IPS panel has a 120Hz refresh rate, so even scrolling and everyday use will feel even smoother. The display has 100% sRGB coverage, so the colors are even better.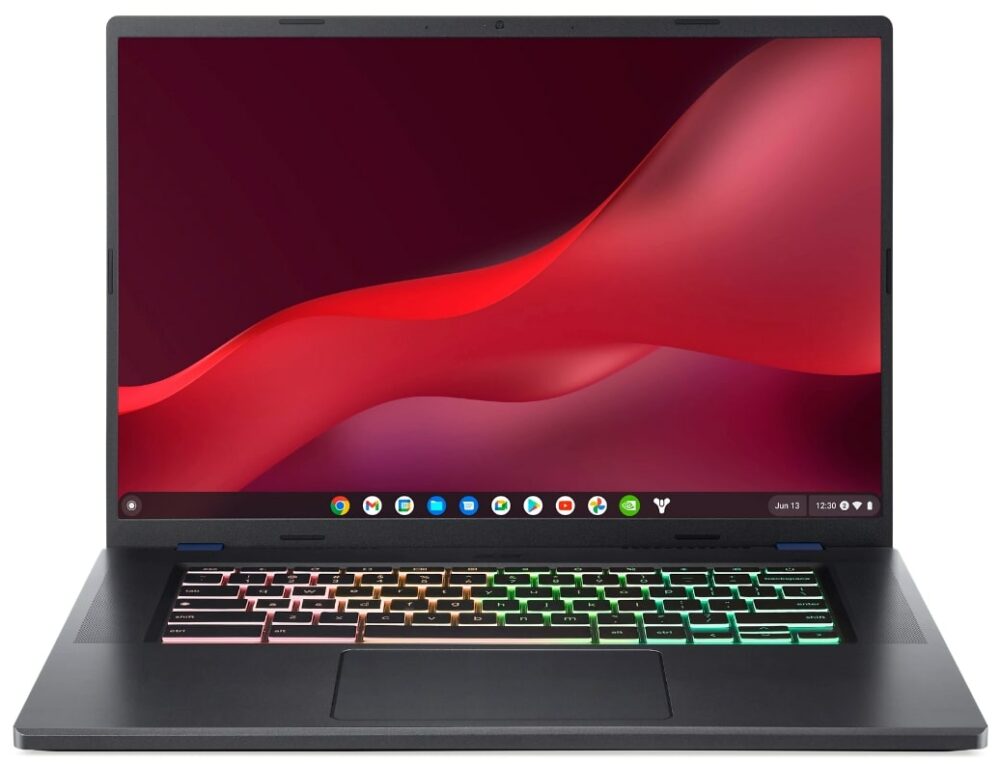 Specifications and features
The Core i5-1240P and Core i7-1260P both arrive with 12 cores and 16 threads. The chips do bring a decent amount of power inside, being snappy and well-performing for both heavier workloads and daily work, thanks to a higher base TDP of 28W, which can go even higher if the cooling is capable. There are also decent integrated graphics for when you want to do some video rendering or professional design work, which is entirely possible thanks to the display that's present. There are several features to make gaming better on the laptop, front-firing stereo speakers. There are four units in total, with two tweeters and two woofers, which cancel out unwanted vibrations and sound.
A big part of cloud gaming is your connection to the Internet, which can be the sole bottleneck with services like GeForce Now or Amazon Luna. There is an RJ-45 2.5G Gigabit LAN port and Wi-Fi 6E wireless support. The rest of the port selection includes one USB Type-A 3.2 (Gen. 2) port, two USB Type-C 3.2 (Gen. 2) ports, an HDMI port, and a 3.5 mm audio jack.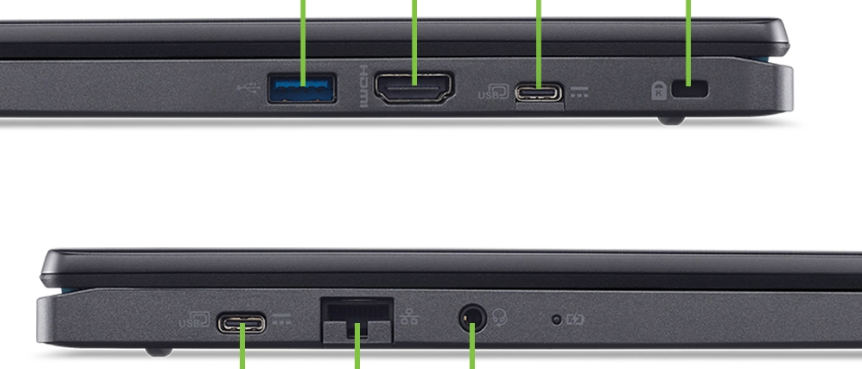 We almost forgot to mention the keyboard, which has an RGB backlight and anti-ghosting tech for several of the keys.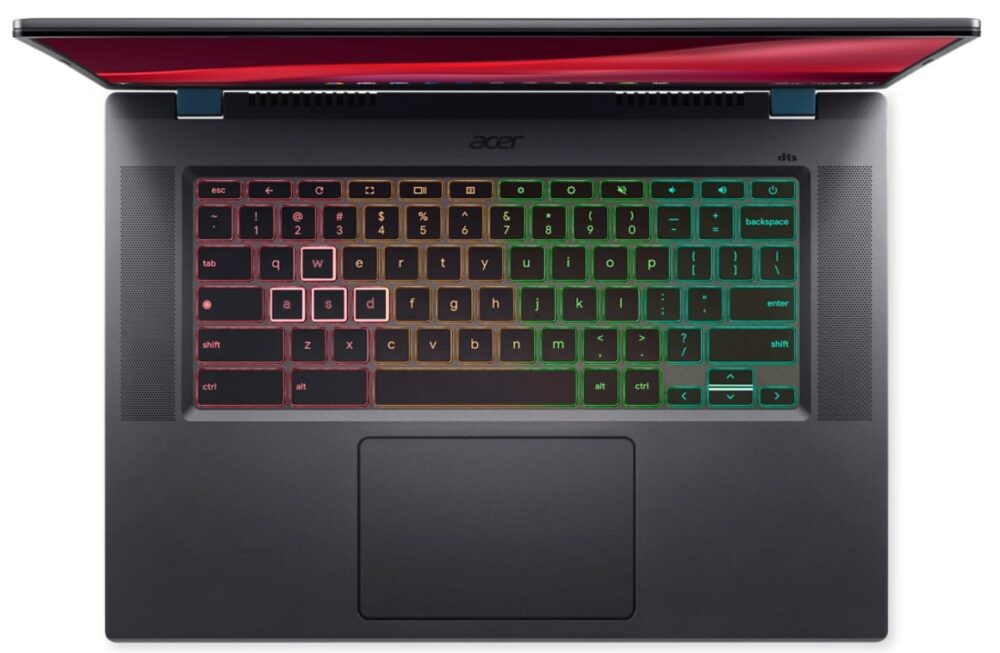 Dimensions
356.6 x 249.7 x 21.3 mm (14.04" x 9.83" x 0.84")
All Acer Chromebook 516 GE (CBG516-1H) configurations: