Acer Nitro 5 (AN515-54) (GeForce GTX 1660 Ti) review – gaming on the budget just got better

Soon after we showed you our views on the Acer Nitro 7 (AN715-51) – there was a new arrival in the office. It is the cheaper of the bunch – the Nitro 5 (AN515-54). In contrast to its brother, it is entirely made out of plastic and has the red detail on the hinge assembly – typically for a Nitro 5 laptop. While, the differences with the Nitro 7 end with the lack of SD card reader and a slower Type-C connection, we expect it to be the laptop, that is going to bring more revenue to the manufacturer.
It is going to feature the latest and greatest Core i5-9300H and Core i7-9850H from Intel and on the GPU side, you can choose from NVIDIA GeForce GTX1650 and GTX1660 Ti, as of the moment of writing this review. We expect it to compete with Lenovo Legion Y540, ASUS TUF FX505 and Dell G5 15 5590.
You can check the prices and configurations in our Specs System: https://laptopmedia.com/series/acer-nitro-5-an515-54/
Contents
Specs Sheet
Acer Nitro 5 (AN515-54) Tabelle der technischen Daten
Anzeige
15.6", Full HD (1920 x 1080), 144 Hz, IPS
HDD/SSD
2x 512GB SSD PCIe NVMe (RAID 0) + 2TB HDD, 5400 rpm
M.2 Slot
2x M.2 PCIe x4 NVMe slots with RAID 0 support
Siehe Foto
Abmessungen
363 x 255 x 25.9 mm (14.29" x 10.04" x 1.02")
Gewicht
2.30 kg (5.1 lbs)
Gehäuse Material
Plastic / Polycarbonate
Ports und Konnektivität
1x USB Type-C 3.2 Gen 1 (5 Gbps)
1x USB Type-A 3.2 Gen 1 (5 Gbps)
1x USB Type-A 3.2 Gen 1 (5 Gbps), Sleep and Charge
1x USB Type-A 2.0
HDMI
VGA
DVI
Kartenleser
Ethernet LAN Gigabit Ethernet
Wi-Fi 802.11ac
Bluetooth 4.0
Audio-Buchse 3.5mm audio jack
Merkmale
Fingerabdruckleser
Web-Kamera HD 720p
Hintergrundbeleuchtete Tastatur
Mikrofon
Lautsprecher
Optisches Laufwerk
Sicherheitsschloss SchlitzKensington Lock
What's in the box?
So, the new Nitro 5 (AN515-54) comes in a regular box. However, it is very well secured by foam and pads inside. Additionally, you get a 180W charger for the GTX 1660 Ti unit and 130W charger if you buy the laptop with GTX 1650.

Design and construction
Acer Nitro 5 (AN515-54) looks like a sleeker version of its predecessor – the (AN515-52). However, this doesn't mean that it has lost its aggression – quite the opposite. Looking at the back of the device reveals the Predator-inspired grills – half of the entire back is used for exhausting air and the rest is a pretty-plat. Actually, the predecessor used a similar design, except for the unused part of the back was covered with unamusing black plastic, rather than the red metal grill of this years unit. Additionally, the Nitro 5 (AN515-54) weighs 2.30 kg (5.1 lbs) and has a 25.9 mm (1.02″) profile.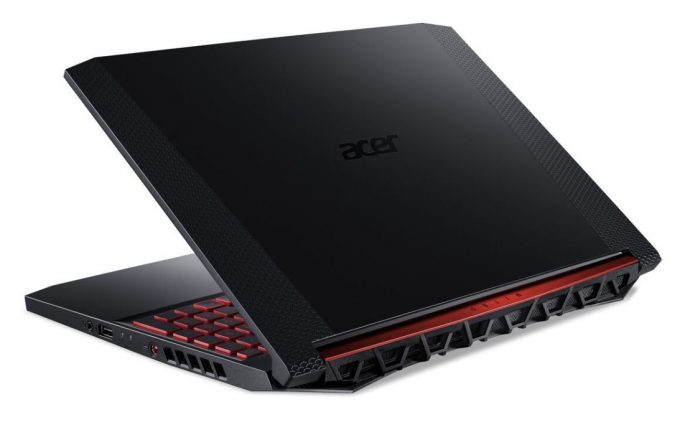 Similarly to the more expensive model, this laptop's display opens with a single hand and is susceptible to axial pressure. It has definitely narrowed down the bezels from last year, although the top one is a little larger than what we saw from Lenovo Legion since Y530.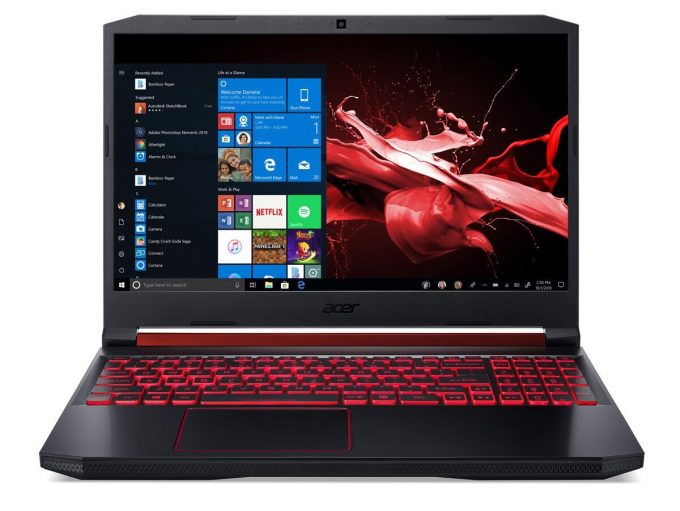 Speaking of large stuff, look at the keyboard – there are adequately-sized arrow keys – such a rarity these days. Anyways, the keyboard is pretty decent, itself. It has a relatively long travel and good feedback – all-in-all the same unit as on the Nitro 7 (AN715-51). Additionally, it has a backlight and highlighted WASD, arrow keys and a dedicated NitroSense button. Further below, the touchpad is very very responsive and combined with the 144 Hz display it is dashing through the system – good job Acer.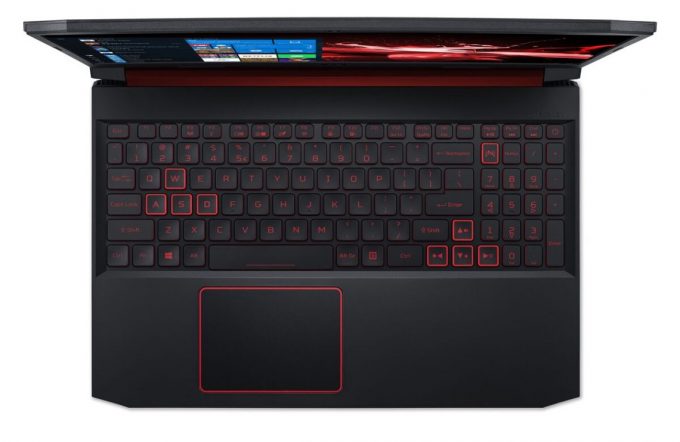 Further at the bottom, the device solidifies its aggressiveness with the cut-outs, providing cold air to the fans. Besides that, you can find the speakers on the bottom plate.
| | Height | Weight |
| --- | --- | --- |
| Acer Nitro 5 (AN515-54) | 25.9 mm (1.02″) | 2.30 kg (5.1 lbs) |
| Acer Nitro 7 (AN715-51) | 19.9 mm (0.78″) | 2.22 kg (4.9 lbs) |
| Acer Predator Triton 500 | 17.8 mm (0.71″) | 2.09 kg (4.6 lbs) |
Ports
On the left side are located an RJ-45 connector, HDMI 2.0 port, USB Type-C 3.1 (Gen. 1) and two USB Type-A 3.1 (Gen. 1), while on the right you'll find the barrel plug, a USB Type-A 2.0 and a headphone jack. Sadly, there is no SD card reader on this one, so photographers or content creators will need a dongle.
Disassembly, upgrade options and maintenance
Acer Nitro 5 (AN515-54) is pretty straightforward to disassemble. Just remove all of the 11 Phillips-head screws, and pry the bottom plate up. There is no sign of the service panels of yesteryear's device. Inside, we found pretty much exactly the same picture as in the more expensive – Nitro 7 (AN715-51).
As you can see from the image below, the cooling comprises a total of three heat pipes – two shared between the chips and one solely for the GPU. Ultimately, one thing catches our sight and it is the plate, placed above the graphics card. It aims to cool the memory modules, as well as the voltage regulators. However, contrary to the cooling we saw on the more modest GTX 1650, the plate is rather bulky and even has some segregations.
Acer Nitro 5 (AN515-54) / Acer Nitro 7 (AN715-51)
Expectedly – there are two RAM DIMMs, supporting up to 32 GB of DDR4 memory with speeds up to 2667 MHz. However, we were impressed that Acer has kept the dual M.2 SSD configuration which, on top of that, supports RAID 0. Apart from that, there are metal plates, cooling the NVMe drives, which can get pretty hot by the way. This contrasts to the way the Nitro 7 is set up, where the metal plate cooling the SSDs is actually the bottom panel of the device.
Moving on to the battery, we see a 58.75 Wh battery pack, which is a whole 8Wh improvement over the predecessor.

Display quality
Acer Nitro 5 (AN515-54) is equipped with a Full HD IPS panel with a model number BOE NV156FHM-N4K (BOE082A). Its diagonal is 15.6″ (39.62 cm), and the resolution 1920 х 1080 pixels. The screen ratio is 16:9, and we are looking at a pixel density of – 142 ppi, and a pitch of 0.18 х 0.18 mm. The screen turns into Retina when viewed at distance equal to or greater than 60cm (24″) (from this distance one's eye stops differentiating the separate pixels, and it is normal for looking at a laptop).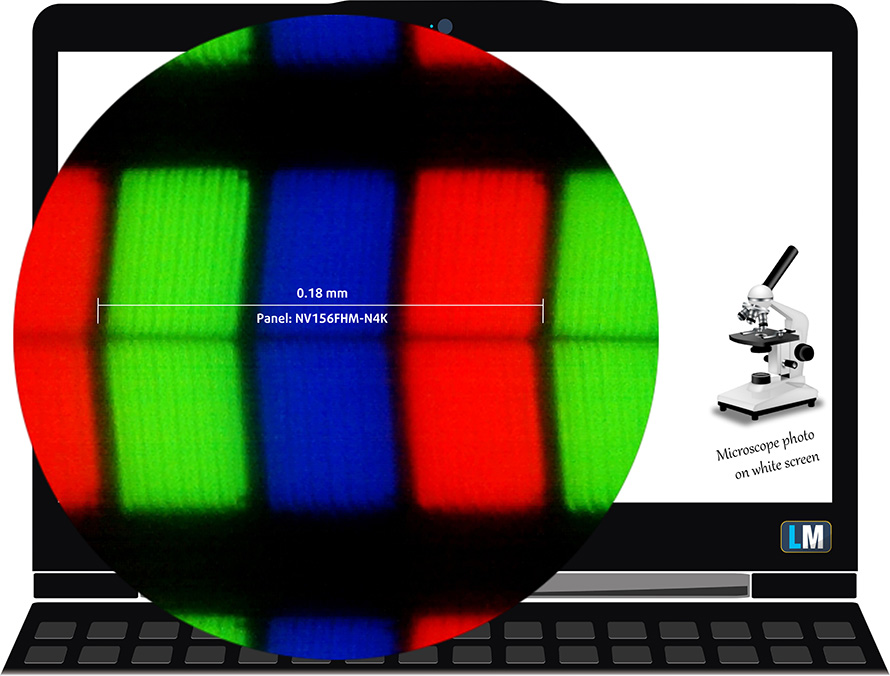 Viewing angles are excellent. We offer images at 45° to evaluate image quality.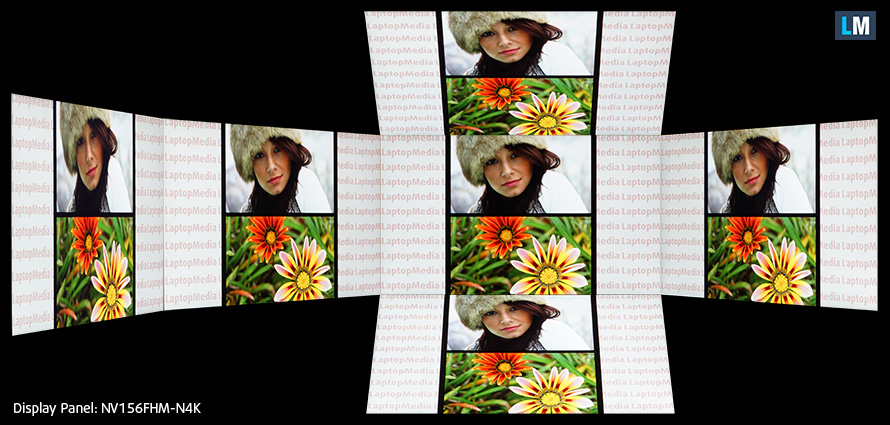 We measured a maximum brightness of 304 nits in the middle of the screen and 300 nits as an average for the whole area, with a maximum deviation of just 4%. The Correlated Color Temperature on a white screen is 7830K – colder than the optimal for the sRGB standard of 6500K. The average color temperature through the grey scale before profiling is even warmer – 7830K.
In the illustration below you can see how the display performs from a uniformity perspective. In other words, the leakage of light from the light source.
Values of dE2000 over 4.0 should not occur, and this parameter is one of the first you should check if you intend to use the laptop for color sensitive work. The contrast ratio is great – 1230:1 (1120:1 after profiling).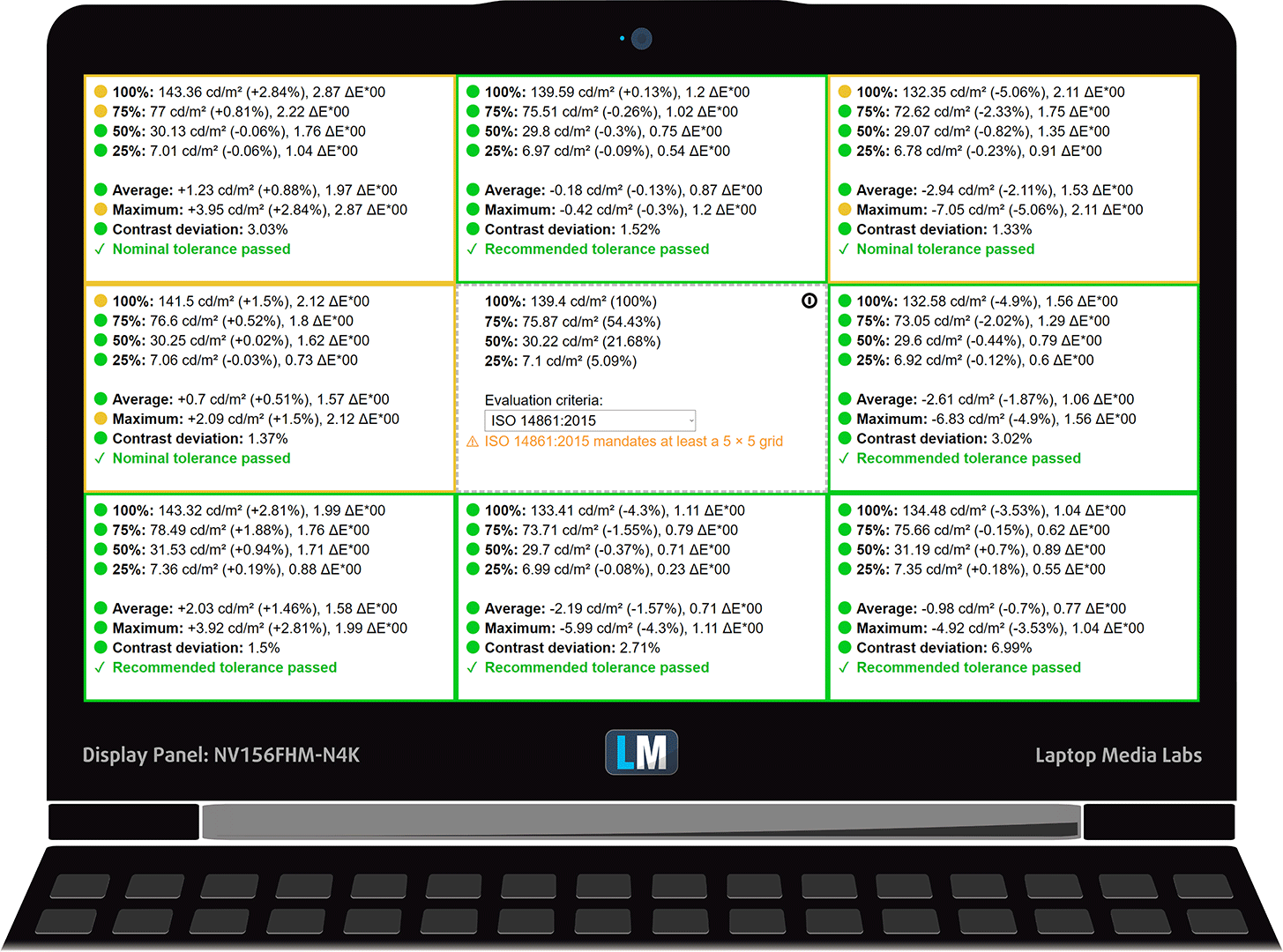 To make sure we are on the same page, we would like to give you a little introduction to the sRGB color gamut and the Adobe RGB. To start, there's the CIE 1976 Uniform Chromaticity Diagram that represents the visible specter of colors by the human eye, giving you a better perception of the color gamut coverage and the color accuracy.
Inside the black triangle, you will see the standard color gamut (sRGB) that is being used by millions of people in HDTV and on the web. As for the Adobe RGB, this is used in professional cameras, monitors, etc for printing. Basically, colors inside the black triangle are used by everyone and this is the essential part of the color quality and color accuracy of a mainstream notebook.
Still, we've included other color spaces like the famous DCI-P3 standard used by movie studios, as well as the digital UHD Rec.2020 standard. Rec.2020, however, is still a thing of the future and it's difficult for today's displays to cover that well. We've also included the so-called Michael Pointer gamut, or Pointer's gamut, which represents the colors that naturally occur around us every day.
The yellow dotted line shows Acer Nitro 5 (AN515-54)'s color gamut coverage.
Its display covers only 90% of the sRGB/ITU-R BT.709 (web/HDTV standard) in CIE1976.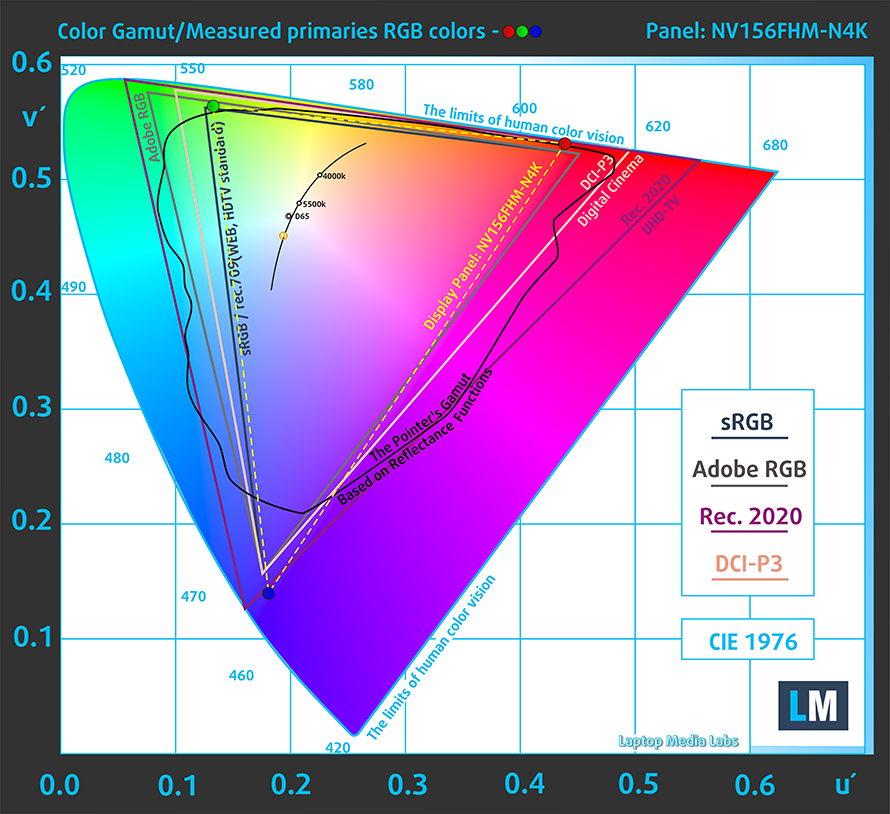 Our "Design and Gaming" profile delivers optimal color temperature (6500K) at 140 cd/m2 luminance and sRGB gamma mode.
We tested the accuracy of the display with 24 commonly used colors like light and dark human skin, blue sky, green grass, orange, etc. You can check out the results at factory condition and also, with the "Design and Gaming" profile.
Below you can compare the scores of Acer Nitro 5 (AN515-54) with the default settings (left), and with the "Gaming and Web design" profile (right).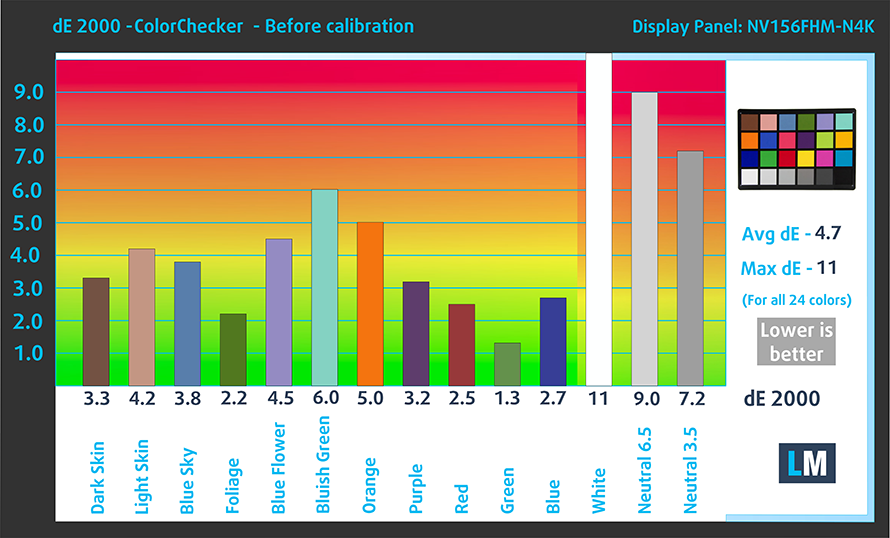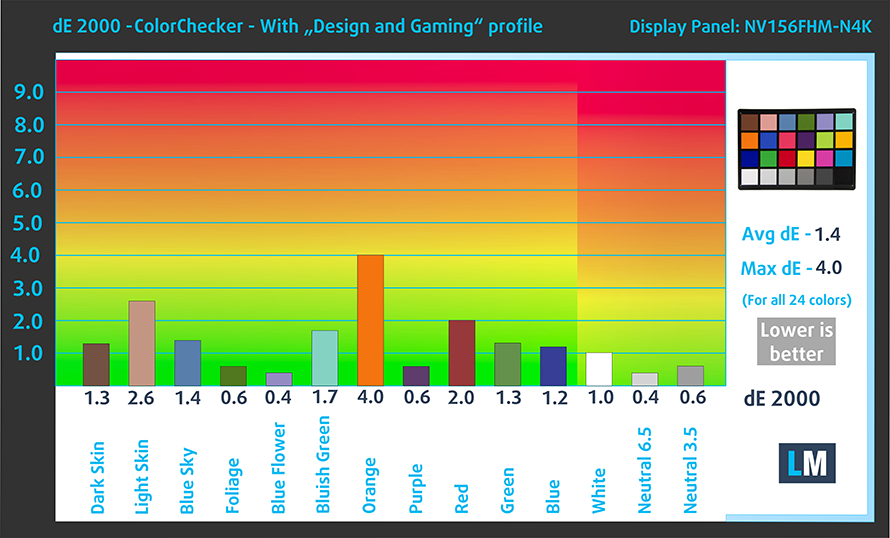 The next figure shows how well the display is able to reproduce really dark parts of an image, which is essential when watching movies or playing games in low ambient light.
The left side of the image represents the display with stock settings, while the right one is with the "Gaming and Web Design" profile activated. On the horizontal axis, you will find the grayscale and on the vertical axis – the luminance of the display. On the two graphs below you can easily check for yourself how your display handles the darkest nuances but keep in mind that this also depends on the settings of your current display, the calibration, the viewing angle, and the surrounding light conditions.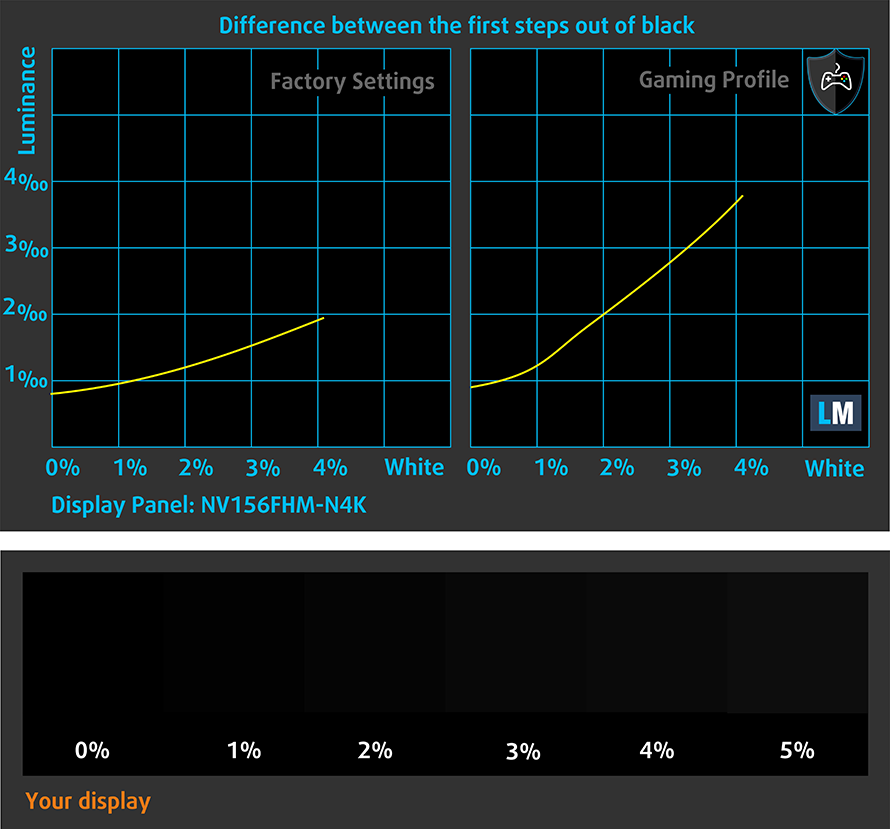 Response time (Gaming capabilities)
We test the reaction time of the pixels with the usual "black-to-white" and "white-to-black" method from 10% to 90% and vice versa.
We recorded Fall Time + Rise Time = 11 ms – a very fast reaction, even for a 144Hz IPS panel.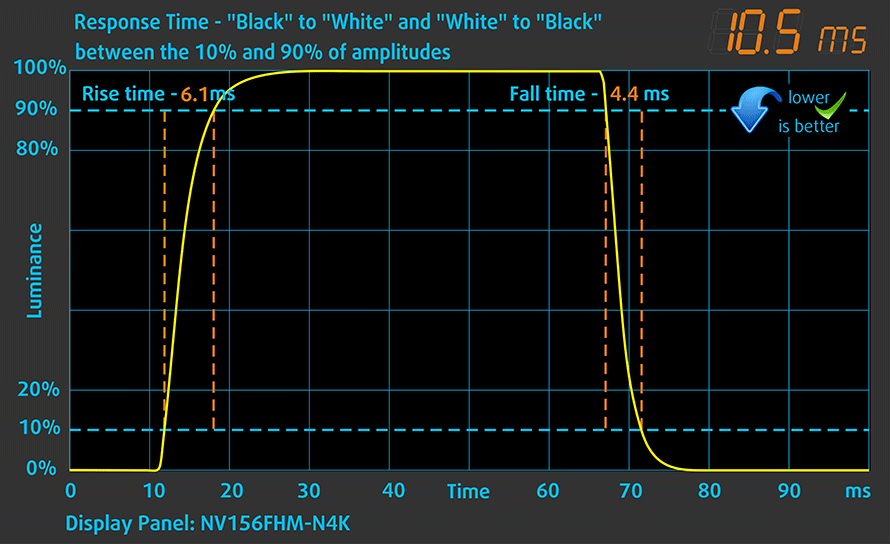 PWM (Screen flickering)
Pulse-width modulation (PWM) is an easy way to control monitor brightness. When you lower the brightness, the light intensity of the backlight is not lowered, but instead turned off and on by the electronics with a frequency indistinguishable to the human eye. In these light impulses, the light/no-light time ratio varies, while brightness remains unchanged, which is harmful to your eyes. You can read more about that in our dedicated article on PWM.
Acer Nitro 5 (AN515-54) doesn't use PWM at any brightness level. This makes it safe for extended periods of use without presenting further eye strain in this aspect.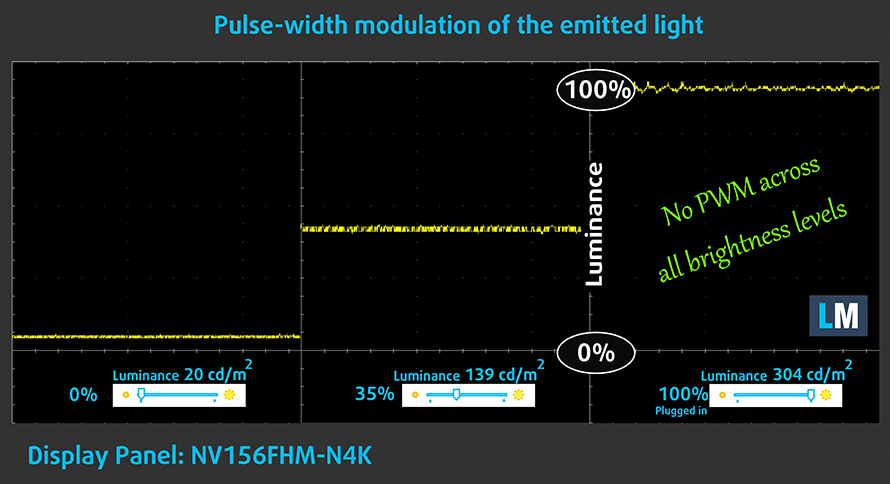 Blue light emissions
Installing our Health-Guard profile not only eliminates PWM but also reduces the harmful Blue Light emissions while keeping the colors of the screen perceptually accurate. If you're not familiar with the Blue light, the TL;DR version is – emissions that negatively affect your eyes, skin and your whole body. You can find more information about that in our dedicated article on Blue Light.

Conclusion
Acer Nitro 5 (AN515-54)'s display has a Full HD IPS panel with a 144Hz refresh rate, comfortable viewing angles, good contrast ratio and covering a good amount of sRGB. Additionally, it doesn't use PWM to adjust its brightness and is capable of reaching adequate color accuracy with the help of the Gaming and Web design profile.

Buy our profiles
Since our profiles are tailored for each individual display model, this article and its respective profile package are meant for Acer Nitro 5 (AN515-54) configurations with 15.6″ 144Hz FHD IPS BOE NV156FHM-N4K (BOE082A).
*Should you have problems with downloading the purchased file, try using a different browser to open the link you'll receive via e-mail. If the download target is a .php file instead of an archive, change the file extension to .zip or contact us at [email protected]
Read more about the profiles HERE.
Mit dem Kauf von LaptopMedia-Produkten erhalten Sie nicht nur effiziente und gesundheitsschonende Profile, sondern Sie unterstützen auch die Entwicklung unserer Labore, in denen wir Geräte testen, um möglichst objektive Testberichte zu erstellen.
Sound
Acer Nitr 5 (AN515-54) produces a crisp sound with an average volume. Its low, mid and high tones are clear from deviations.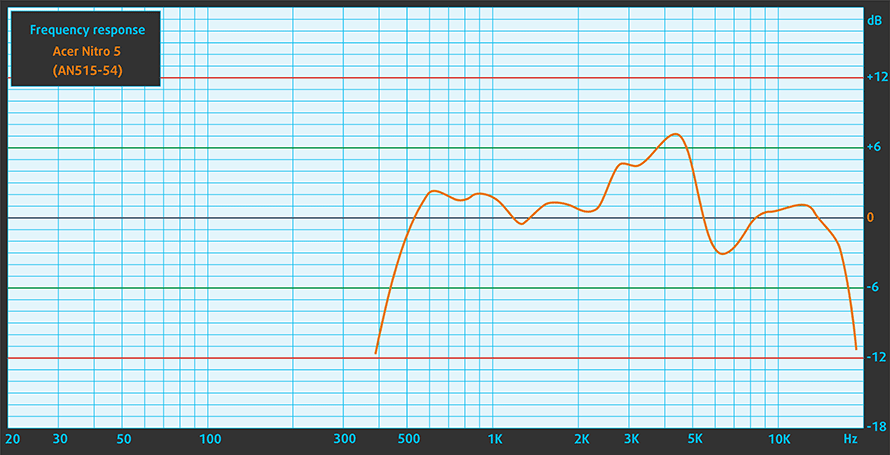 Drivers
All of the drivers, firmware, and utilities you'll need for the Nitro 5 (AN515-54) are available here: https://www.acer.com/ac/en/US/content/support-product/7964?b=1

Battery
Now, we conduct the battery tests with Windows Better performance setting turned on, screen brightness adjusted to 120 nits and all other programs turned off except for the one we are testing the notebook with. The laptop is equipped with a 58.75Wh battery pack and it was able to get it through more than 8 hours of web browsing and video playback. How about that!
Um reale Bedingungen zu simulieren, haben wir unser eigenes Skript zum automatischen Durchsuchen von über 70 Websites verwendet.
Für jeden Test dieser Art verwenden wir das gleiche Video in HD.
CPU options
Acer is offering their new Nitro 5 (AN515-54) with either the Core i5-8300H and the Core i7-8750H, or the newer 9th Gen. processors – the Core i5-9300H and the Core i7-9750H. While the second pair shares the same core count, TDP and FCBGA1440 socket (which will make integration easier), they have a higher base and Turbo speeds and they offer 128 GB maximum memory support (compared to 64 GB of the 8th Gen.).
Die Ergebnisse stammen aus dem Cinebench 20 CPU-Test (je höher die Punktzahl, desto besser)
Die Ergebnisse stammen aus unserem Photoshop-Benchmark-Test (je niedriger die Punktzahl, desto besser)
Acer Nitro 5 (AN515-54) CPU-Varianten
Hier sehen Sie einen ungefähren Vergleich zwischen den CPUs, die in den Acer Nitro 5 (AN515-54)-Modellen auf dem Markt zu finden sind. Auf diese Weise können Sie selbst entscheiden, welches Modell der [Serie] das beste Preis-Leistungs-Verhältnis bietet.
Hinweis: Die Tabelle zeigt die günstigsten verschiedenen CPU-Konfigurationen, so dass Sie überprüfen sollten, was die anderen Spezifikationen dieser Laptops sind, indem Sie auf den Namen des Laptops / CPU.
Die Ergebnisse stammen aus dem Cinebench 20 CPU-Test (je höher die Punktzahl, desto besser)
Die Ergebnisse stammen aus unserem Photoshop-Benchmark-Test (je niedriger die Punktzahl, desto besser)
GPU options
GPU-wize, there are three choices: NVIDIA GeForce GTX 1050 with 3GB of GDDR5 memory, NVIDIA GeForce GTX 1650 with 4GB of GDDR5 memory or the high tier (for this device), NVIDIA GeForce GTX 1660 Ti with 6GB of the faster GDDR6 VRAM.
Gaming tests
Well, the GTX 1660 Ti has totally lived up to the hype. It easily deals with the AAA titles at 1080p resolution and even Maxed out the eye candy. Of course, we should note that there are no RTX capabilities on this GPU.







Temperatures and comfort
Max CPU load
In this test we use 100% on the CPU cores, monitoring their frequencies and chip temperature. The first column shows a computer's reaction to a short load (2-10 seconds), the second column simulates a serious task (between 15 and 30 seconds), and the third column is a good indicator of how good the laptop is for long loads such as video rendering.

Average core temperature (base frequency + X); CPU temp.
| Intel Core i7-8750H (45W TDP) | 0:02 – 0:10 sec | 0:15 – 0:30 sec | 10:00 – 15:00 min |
| --- | --- | --- | --- |
| Acer Nitro 5 (AN515-54) | 2.69 GHz (B+22%) @ 63°C | 2.82 GHz (B+28%) @ 66°C | 2.56 GHz (B+16%) @ 74°C |
| Acer Nitro 7 (AN715-51) | 2.92 GHz (B+33%) @ 64°C | 2.65 GHz (B+20%) @ 69°C | 2.62 GHz (B+19%) @ 73°C |
| Dell G5 15 5590 | 2.86 GHz (B+30%) @ 79°C | 2.91 GHz (B+32%) @ 85°C | 2.99 GHz (B+36%) @ 90°C |
| Lenovo Legion Y740 | 3.39 GHz (B+54%) @ 75°C | 3.24 GHz (B+47%) @ 81°C | 2.89 GHz (B+31%) @ 72°C |
| Acer Predator Triton 500 | 2.89 GHz (B+31%) @ 76°C | 2.79 GHz (B+27%) @ 85°C | 2.65 GHz (B+20%) @ 77°C |
Here, the situation is very similar to what we see with a lot of gaming devices – the CPU thermals are calculated in a way that provides enough headroom for the graphics card. This is certainly not a bad thing since this means a more quiet and cooler device during high CPU loads. You can see that the Nitro 5 (AN515-54) tops out at 74C at the end of the test, whereas the Dell G5 15 5590 keeps the clock speeds high, but sacrifices the temperature level – 90C on the die. Ultimately, you have the cooling solution of Legion Y740 which is able to maintain high frequencies at very low temps – just 330 MHz higher and 2 degrees lower, respectively, compared to the Nitro 5 (AN515-54).

Real gameplay
| NVIDIA GeForce GTX 1660 Ti | GPU frequency/ Core temp (after 2 min) | GPU frequency/ Core temp (after 30 min) |
| --- | --- | --- |
| Acer Nitro 5 (AN515-54) | 1660 MHz @ 78°C | 1635 MHz @ 84°C |
Okay, this explains the good results – Acer Nitro 5 (AN515-54) is pushing the GTX 1660 Ti to the limits (and slightly above them). While the maximum Boost frequency of this GPU is stated at 1590 MHz, in this device, we've got 1660 MHz (coincidence?) at the two minutes mark, and 1635 MHz after half an hour of gameplay. This, however, comes at the expense of a very, very loud laptop and a lot of heat on the GPU die. Not what you want in the long run.

Gaming comfort
In addition to the hot graphics card, we measured a whopping 64C between keys "6" and "7". Well, if we had some bacon and eggs laying around us, we could have made a pretty tasty breakfast with the help of the Nitro 5 (AN515-54).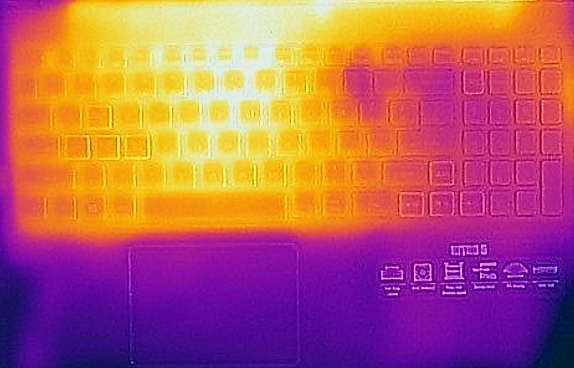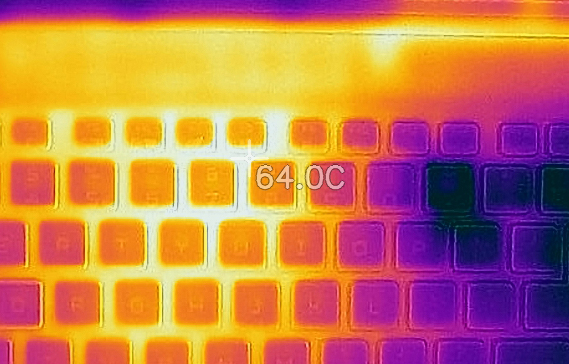 Verdict
From the short time, we had with the Acer Nitro 5 (AN515-54) we've drawn a lot of conclusions – both for the device and for the new GTX 1660 Ti graphics card. As far as gaming is concerned, expect high framerates and possibility of max settings at Full HD. Additionally, if you opt to drop the eye candy a little bit you'll be able to fully enjoy the 144 Hz display, which by the way is a very good panel. Apart from the comfortable viewing angles and high contrast, inherent to an IPS panel (BOE NV156FHM-N4K (BOE082A)), it covers 94% of sRGB and manages to represent color very accurately with the help of our Gaming and Web design profile.
Well, yes the Nitro 5 (AN515-54) handles the GTX 1660 Ti and is able to extract the most of the graphics card, but we feel like the thermals are not very sufficient in cooling the device. Here, the graphics chip runs very hotly, while on the outside, the Nitro 5 (AN515-54) is one of the hottest devices on the market.
Setting aside from the thermal issues, we have a very decent laptop. It has not one, but two M.2 slots that support RAID 0 connectivity. Additionally, the keyboard is on point with large arrow keys a backlight and relatively long travel. In fact, we feel that it is exactly the same keyboard we saw on the Acer Nitro 7 (AN715-51). Sadly for photographers, there is no SD card reader to be seen on this device.
Anyways, this device is set to compete with ASUS' TUF series and Lenovo Legion Y540, so we are looking forward to comparing them side by side with the new GTX 16xx graphics cards.
Pros
Adequate price
Long battery life for a gaming laptop
Good keyboard with decent travel, big arrows, and a backlight
Wide and accurate color coverage (BOE NV156FHM-N4K (BOE082A))
Doesn't use PWM to adjust brightness (BOE NV156FHM-N4K (BOE082A))
Blazingly fast 144Hz screen option (BOE NV156FHM-N4K (BOE082A))
Supports RAID 0
One of the first devices with GTX 16xx GPUs
Cons
Scorching hot on the surface
No Thunderbolt support
Lacks SD card slot
All-plastic build
You can check the prices and configurations in our Specs System: https://laptopmedia.com/series/acer-nitro-5-an515-54/