Dell G5 15 5590 review – aims high with its RTX capabilities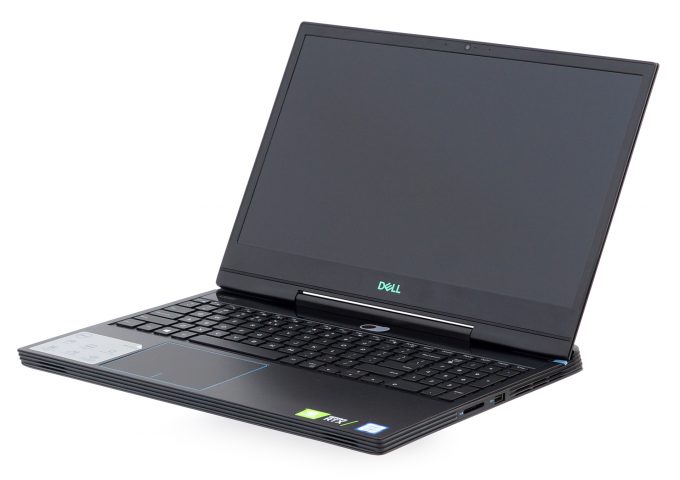 Dell's new gaming laptops are finally here. Last year, they launched a whole new series of devices, called – the G-series. However, while they were trying to fill some gaps in the budget gaming segment of the market, the other manufacturers revolutionized the market, bringing more modern-looking laptops with bezel-less screens and thinner chassis.
Nevertheless, it is Dell's turn again and they not only implemented an arguably more appealing design, but they also stuffed RTX GPUs inside it. Today, we are looking at the improved G5 15 5590 "budget" gaming laptop. This device comes in a wide variety of GPU integrations from the budget GTX 1050 Ti, up to the way to the RTX 2080 Max-Q. CPU-wise there are the usual suspects – Intel Core i5-8300H and the Core i7-8750H. However, more interesting are the display options – two Full HD IPS panels (one of them – 144 Hz) and one 4K OLED display. Here's our impression on the laptop itself.
You can check the prices and configurations in our Specs System: https://laptopmedia.com/series/dell-g5-15-5590/
Contents
Specs Sheet
Dell G5 15 (5590) tableau des caractéristiques techniques
Afficher
15.6", Full HD (1920 x 1080), IPS
HDD/SSD
128GB SSD NVMe + 1TB HDD, 5400 rpm
Dimensions
364 x 273 x 23.7 mm (14.33" x 10.75" x 0.93")
Matériau du corps
Plastic / Polycarbonate, Aluminum
Ports et connectivité
1x USB Type-C 3.2 Gen 2 (10 Gbps), Thunderbolt 3, DisplayPort, HDMI
3x USB Type-A 3.2 Gen 1 (5 Gbps)
HDMI 2.0
Lecteur de cartes SD, SDHC, SDXC
Ethernet LAN Gigabit Ethernet
Wi-Fi 802.11ac
Bluetooth 4.2
Prise audio 3.5mm audio jack
Caractéristiques
Lecteur d'empreintes digitales
Caméra Web
Clavier rétro-éclairé
Microphone
Intervenants
Lecteur optique
Fente de verrouillage de sécurité
What's in the box?
Dell sents out the G5 units in an unimpressive box, especially compared to their opponents. Not that the box makes the performance, but it does make a good impression after all. Anyways, inside it, you'll find nothing more than the laptop itself, the boring manuals and a 180W power brick.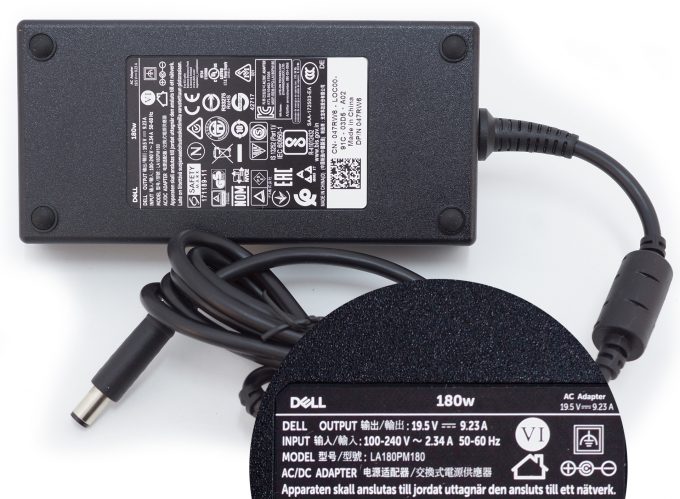 Design and construction
At first glance, Dell has implemented an all plastic build for this year's G5 line-up. However, on the inside, you'll find aluminum covering the base of the device. Anyways, when we compare it to the last years model – the G5 15 5587 we see a similar trend but executed in a more modern way. That said, the laptop, in general, is narrower, thinner, but at 2.77 kg it sits a little heavier than the 2.5 kilos of the predecessor.
Opening the lid reveals the thinner bezels of the screen – the reason for the narrowness of the laptop. Sadly, though, you won't be able to open it up with a single hand. It also bends slightly, when you twist it, but nothing too dramatic over here. There is also a slight hump on the hinge attachment place, which is seen in a closed position.
Just above the keyboard, we have a similar design feature to more expensive – G7 series – a glossy finish, housing the G5 logo and an ultra-fast fingerprint scanner. Speaking of the keyboard, the keys are a little smaller than our preferences. On the other side, the travel is acceptable and the feedback is super tactile – gamers would like it. Plus, it features the NumPad keys, unlike the Legion Y740 for example.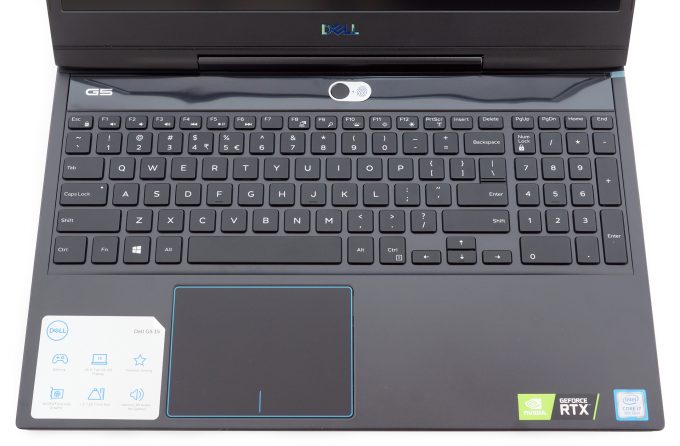 Next, below the keyboard – centered to the spacebar – there is the touchpad. It works and feels fast and accurate, although the rough plastic texture is not as pleasant as a glass cover.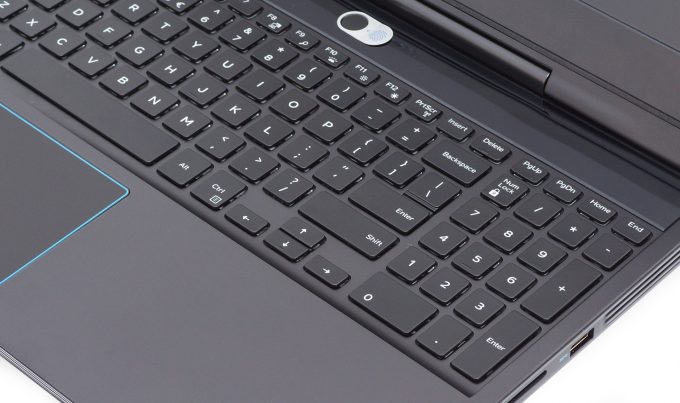 Interestingly, on the bottom, you won't find anything except for the ventilation grills. This is because the other common inhabitants of the bottom plate – the speakers – are moved to the front of the device.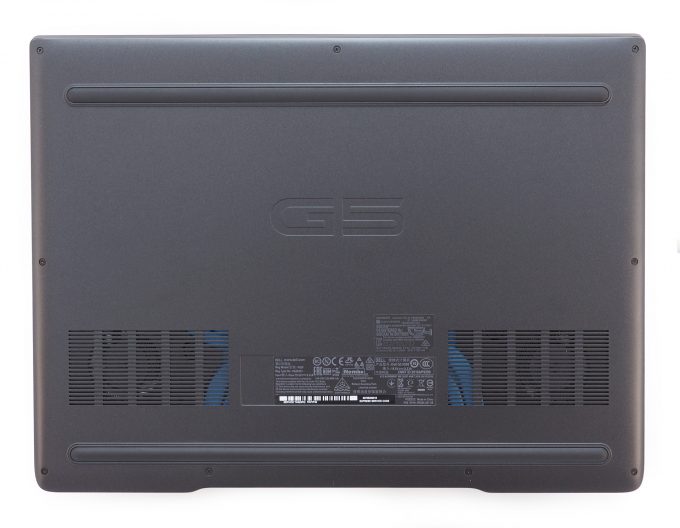 Width
Length
Height
Weight
Dell G5 15 5590
364 mm (14.33″)
273 mm (10.75″)
23.7 mm (0.93″)
2.77 kg (6.1 lbs)
Dell G5 15 5587
389 mm (15.31″)
275 mm (10.83″)
25 mm (0.98″) (

+5%

)
2.61 kg (5.8 lbs) (

-6%

)
Lenovo Legion Y740
361 mm (14.21″)
265 mm (10.43″)
23.85 mm (0.94″) (

+1%

)
2.20 kg (4.9 lbs) (

-21%

)
Ports
Its I/O connections are spread out on either sides of the device, plus a substantial part is on the back. First, on the left, there is a USB Type-C Thunderbolt connector, a USB Type-A 3.1 (Gen. 1) and a headphone jack. Then comes the back – it houses the power input, HDMI 2.0, USB Type-A 3.1 (Gen. 1), Mini DisplayPort and an RJ-45 connector. Finally, on the right side of the laptop you'll find another USB Type-A 3.1 (Gen. 1) and an SD card reader.
Disassembly and upgrade options
Opening up this pretty chassis is very simple. There are 9 Phillips-head screws securing the bottom plate. After you remove them it automatically lifts up on the back side, so you just need to unpry the rest of the clips, which can easily be done by hand.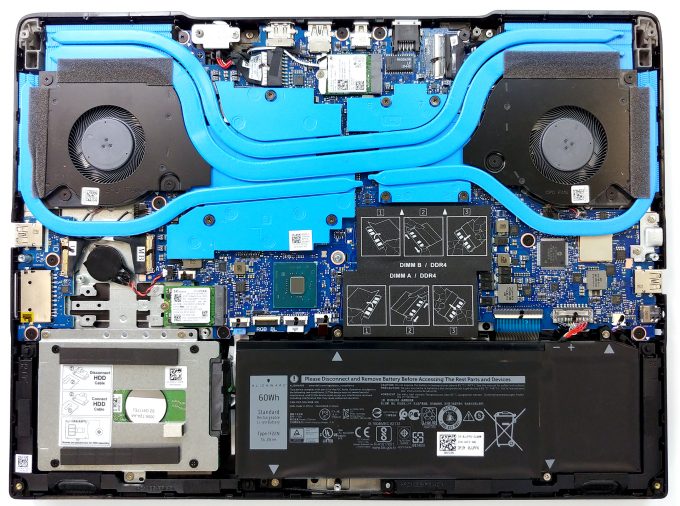 First, our eyes are swallowed by the super blue surface of the heat pipes. We'll try not to be distracted by that and talk a little bit about the cooling design itself. It features two extremely long pipes (one thin and one thick) covering both chips and leading to two heatsinks on the back of the device. However, there are two more heat pipes – roughly the same diameter as the thinner on the bunch, that are dedicated to the CPU and the GPU separately. As you can see, there are also two big planks, aimed at cooling the VRAM and the VRMs.

Next, there are two RAM DIMMs that are meant for DDR4 memory with a speed up to 2667 MHz and a maximum capacity of 32GB. Further on the left, you can find both of the storage options – one M.2 PCIe SSD slot, which has M.2 2242 and 2280 mounting points. Beneath it is located the regular SATA connector.
As of the battery – it is a 60Wh battery pack with an Alienware branding, hence we expect to find it in future Alienware reviews. However, Dell offers this laptop with a larger – 90Wh unit.

Display quality
Dell G5 15 5590 has a Full HD IPS panel with a model number AUO AUO23ED (the same as HP ProBook 450 G6). Its diagonal is 15.6″ (39.62 cm), and the resolution 1920 х 1080 pixels. The screen ratio is 16:9, and we are looking at a pixel density of – 142 ppi, and a pitch of 0.18 х 0.18 mm. The screen turns into Retina when viewed at distance equal to or greater than 60cm (24″) (from this distance one's eye stops differentiating the separate pixels, and it is normal for looking at a laptop).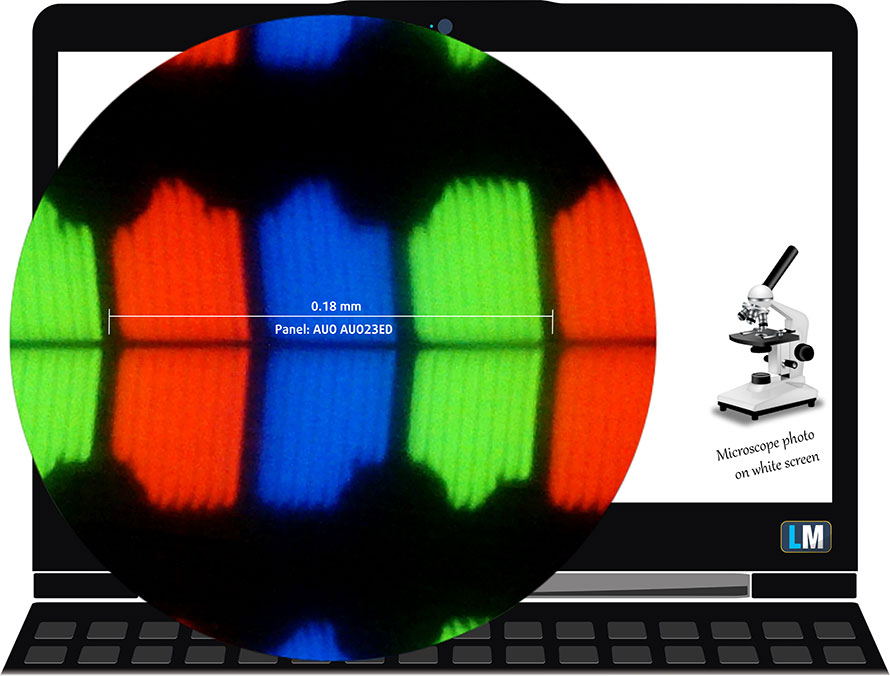 Viewing angles are excellent. We offer images at 45° to evaluate image quality.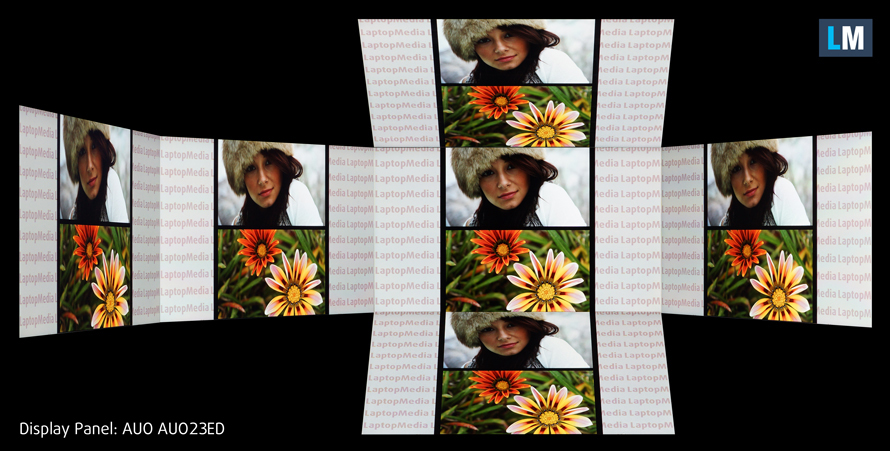 We measured a maximum brightness of 250 nits in the middle of the screen and 240 nits as an average for the whole area, with a maximum deviation of 7%. The Correlated Color Temperature on a white screen is 6280K – a little warmer than the optimal for the sRGB standard of 6500K, which is not bad at all. The average color temperature through the grey scale before profiling is even warmer – 6140K.
In the illustration below you can see how the display performs from a uniformity perspective. In other words, the leakage of light from the light source.
Values of dE2000 over 4.0 should not occur, and this parameter is one of the first you should check if you intend to use the laptop for color sensitive work. The contrast ratio is great – 1300:1.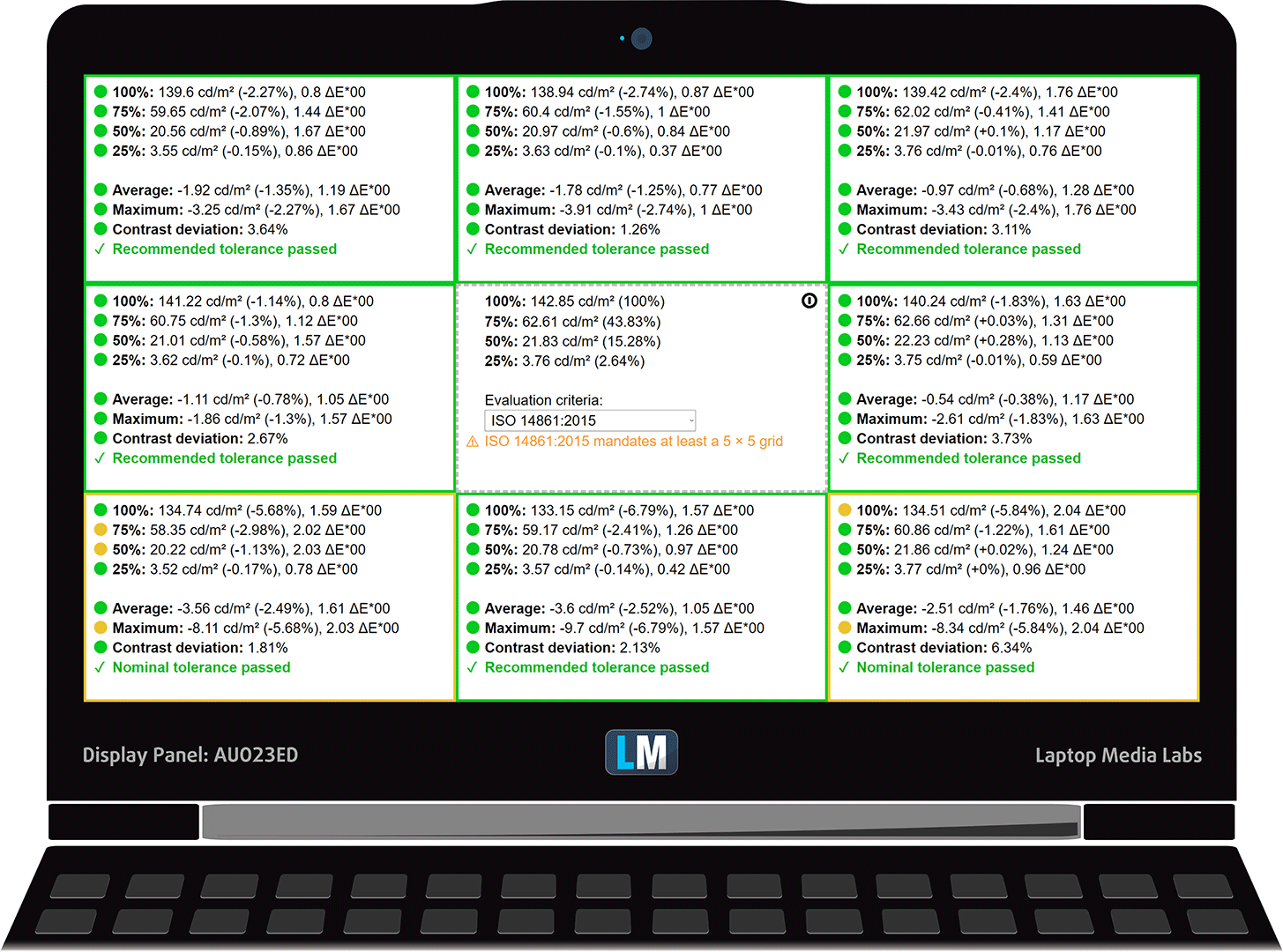 To make sure we are on the same page, we would like to give you a little introduction to the sRGB color gamut and the Adobe RGB. To start, there's the CIE 1976 Uniform Chromaticity Diagram that represents the visible specter of colors by the human eye, giving you a better perception of the color gamut coverage and the color accuracy.
Inside the black triangle, you will see the standard color gamut (sRGB) that is being used by millions of people in HDTV and on the web. As for the Adobe RGB, this is used in professional cameras, monitors, etc for printing. Basically, colors inside the black triangle are used by everyone and this is the essential part of the color quality and color accuracy of a mainstream notebook.
Still, we've included other color spaces like the famous DCI-P3 standard used by movie studios, as well as the digital UHD Rec.2020 standard. Rec.2020, however, is still a thing of the future and it's difficult for today's displays to cover that well. We've also included the so-called Michael Pointer gamut, or Pointer's gamut, which represents the colors that naturally occur around us every day.
The yellow dotted line shows Dell G5 15 5590's color gamut coverage.
Its display covers only 52% of the sRGB/ITU-R BT.709 (web/HDTV standard) in CIE1976.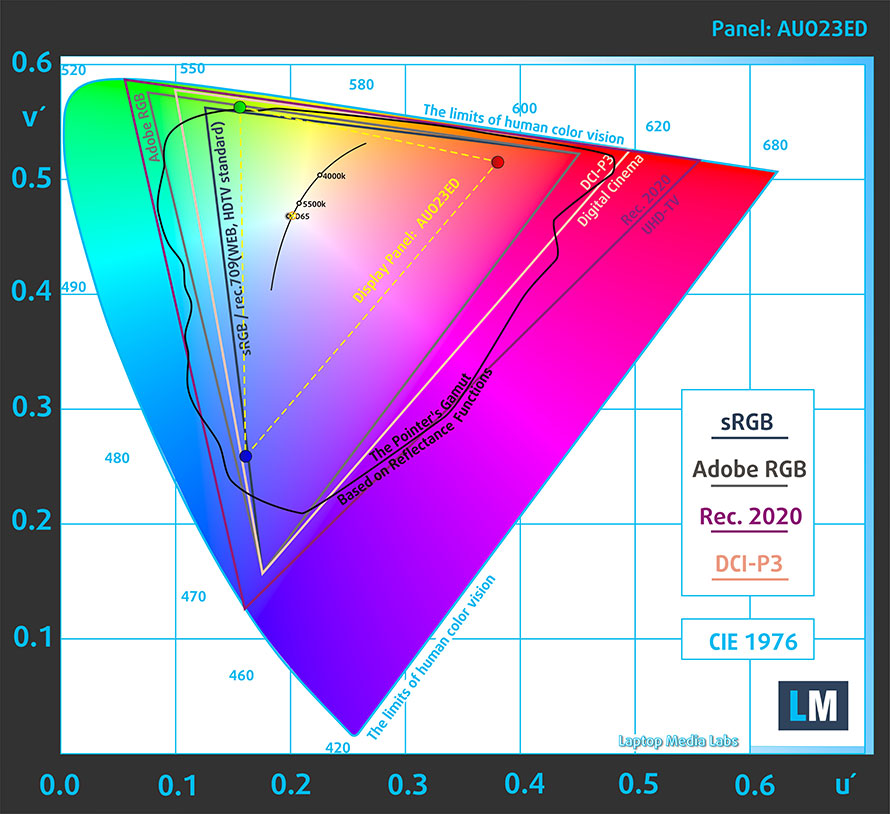 Our "Design and Gaming" profile delivers optimal color temperature (6500K) at 140 cd/m2 luminance and sRGB gamma mode.
We tested the accuracy of the display with 24 commonly used colors like light and dark human skin, blue sky, green grass, orange, etc. You can check out the results at factory condition and also, with the "Design and Gaming" profile.
Below you can compare the scores of Dell G5 15 5590 with the default settings (left), and with the "Gaming and Web design" profile (right).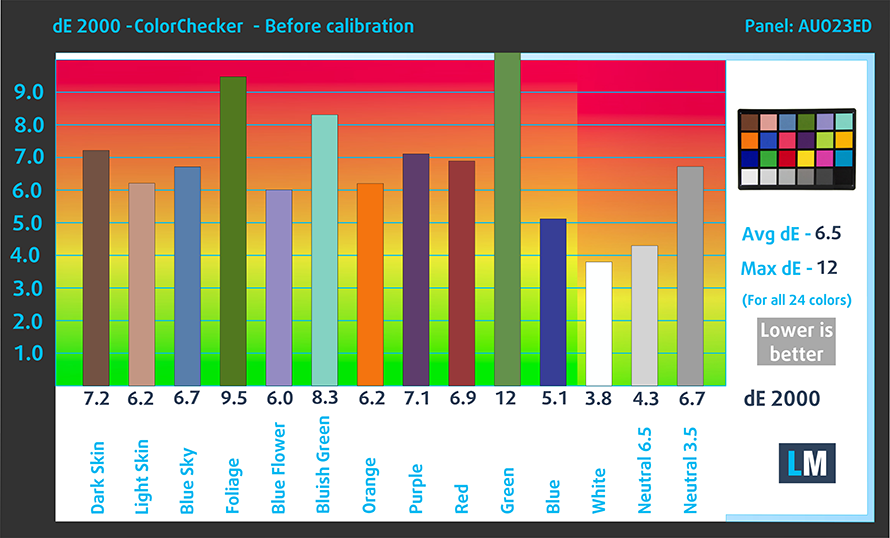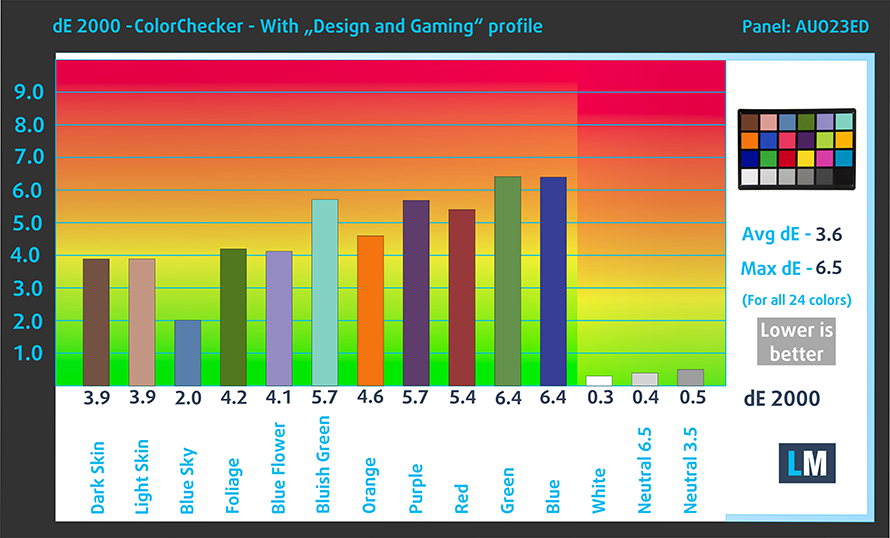 The next figure shows how well the display is able to reproduce really dark parts of an image, which is essential when watching movies or playing games in low ambient light.
The left side of the image represents the display with stock settings, while the right one is with the "Gaming and Web Design" profile activated. On the horizontal axis, you will find the grayscale and on the vertical axis – the luminance of the display. On the two graphs below you can easily check for yourself how your display handles the darkest nuances but keep in mind that this also depends on the settings of your current display, the calibration, the viewing angle, and the surrounding light conditions.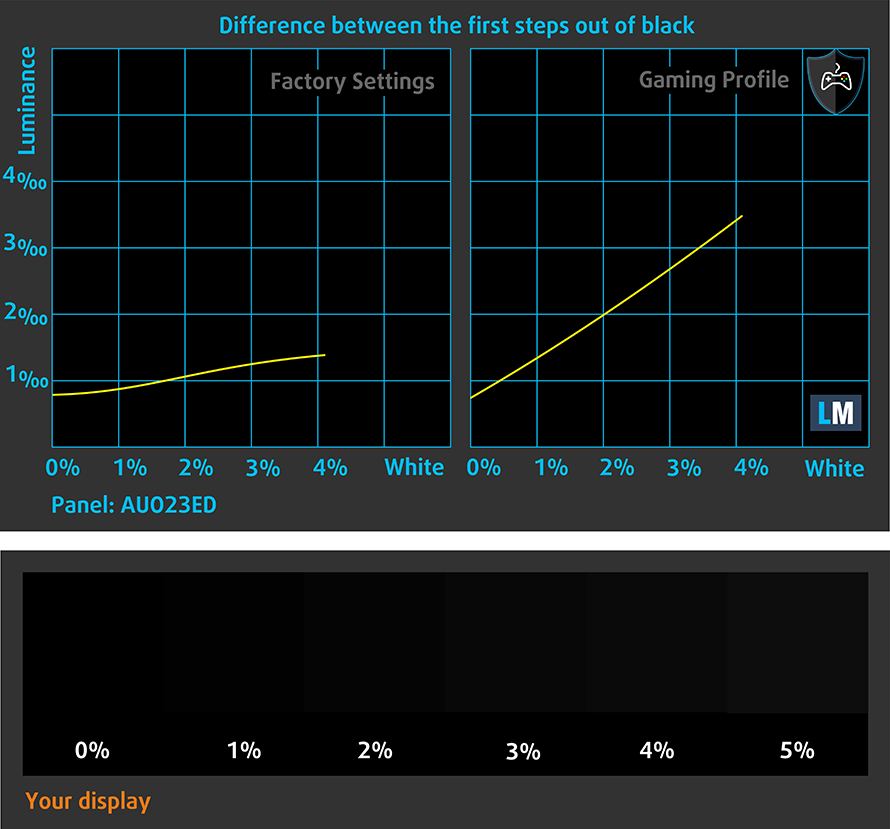 Response time (Gaming capabilities)
We test the reaction time of the pixels with the usual "black-to-white" and "white-to-black" method from 10% to 90% and vice versa.
We recorded Fall Time + Rise Time = 29 ms.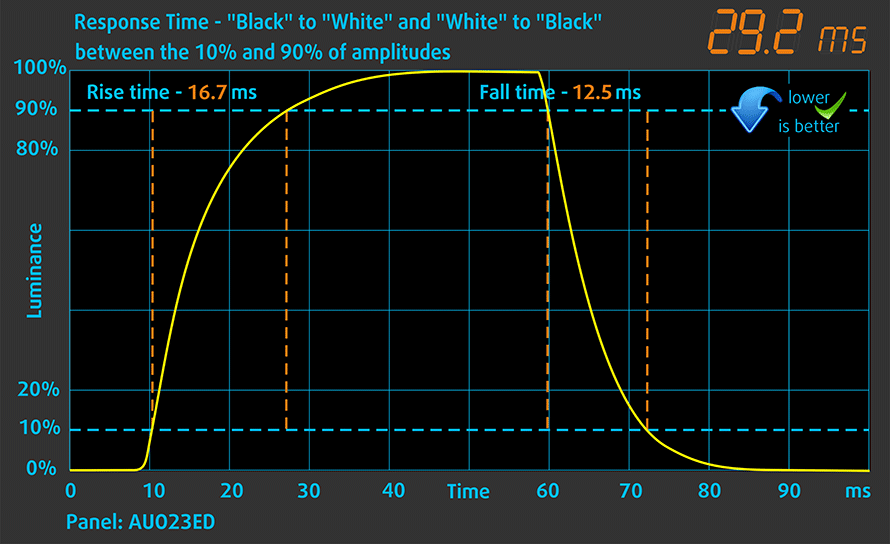 PWM (Screen flickering)
Pulse-width modulation (PWM) is an easy way to control monitor brightness. When you lower the brightness, the light intensity of the backlight is not lowered, but instead turned off and on by the electronics with a frequency indistinguishable to the human eye. In these light impulses, the light/no-light time ratio varies, while brightness remains unchanged, which is harmful to your eyes. You can read more about that in our dedicated article on PWM.
Similarly to other devices, using this panel, Dell G5 15 5590's display doesn't flicker at any brightness level. This provides comfort in extended periods of use.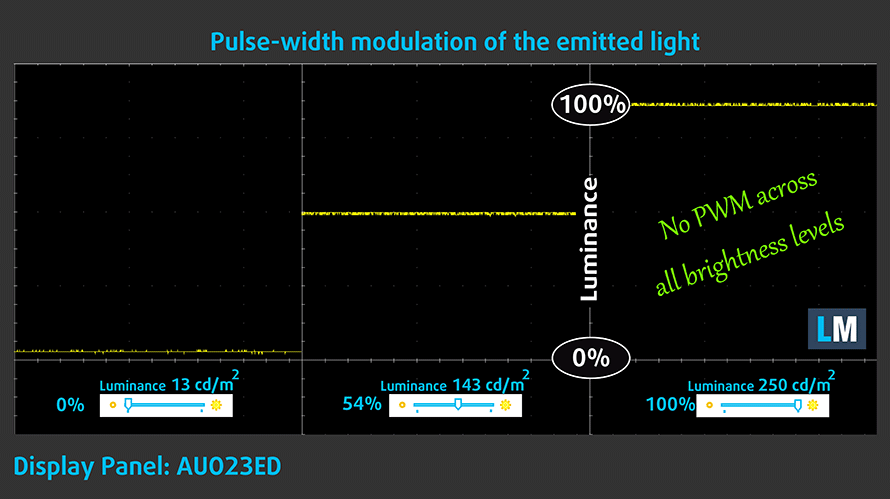 Blue light emissions
Installing our Health-Guard profile not only eliminates PWM but also reduces the harmful Blue Light emissions while keeping the colors of the screen perceptually accurate. If you're not familiar with the Blue light, the TL;DR version is – emissions that negatively affect your eyes, skin and your whole body. You can find more information about that in our dedicated article on Blue Light.

Conclusion
Dell G5 15 5590's screen has an IPS panel with a Full HD resolution, comfortable viewing angles, good contrast ratio and a non-flickering backlight. As a disadvantage may be considered the narrow color coverage.

Buy our profiles
Since our profiles are tailored for each individual display model, this article and its respective profile package are meant for Dell G5 15 5590 configurations with 15.6″ FHD IPS AUO AUO23ED.
*Should you have problems with downloading the purchased file, try using a different browser to open the link you'll receive via e-mail. If the download target is a .php file instead of an archive, change the file extension to .zip or contact us at [email protected]
Read more about the profiles HERE.
En plus de recevoir des profils efficaces et favorables à la santé, en achetant les produits de LaptopMedia, vous soutenez également le développement de nos laboratoires, où nous testons les appareils afin de produire les examens les plus objectifs possibles.
Sound
Dell G5 15 5590's speakers produce a loud sound. However, the sound doesn't sound very clear in the highs.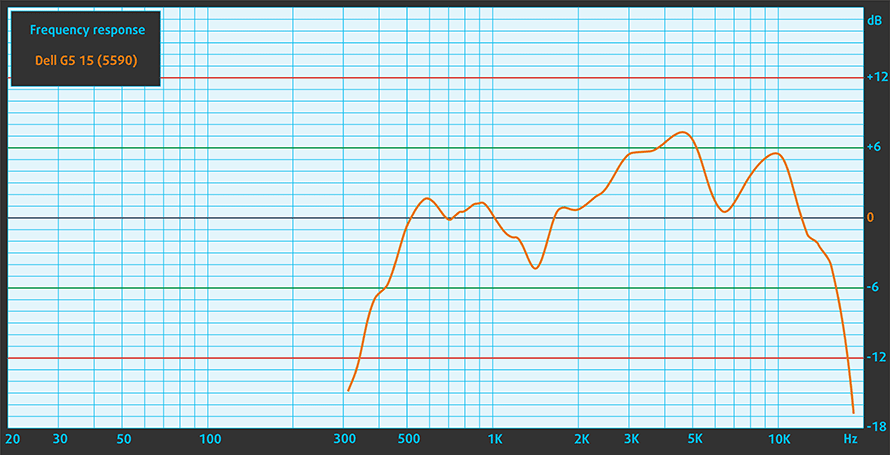 Drivers
You can find all of the drivers for the Dell G5 15 5590 on their official website: https://www.dell.com/support/home/us/en/19/product-support/product/g-series-15-5590-laptop/drivers

Battery
Now, we conduct the battery tests with Windows Better performance setting turned on, screen brightness adjusted to 120 nits and all other programs turned off except for the one we are testing the notebook with. Our model was equipped with a 60Wh, 4-cell battery pack.
We were able to extract an extraordinary amount of time for a gaming laptop – a little bit more than 8 hours of web browsing, and about the same time of video playback.

Afin de simuler des conditions réelles, nous avons utilisé notre propre script de navigation automatique sur plus de 70 sites web.
Pour chaque test de ce type, nous utilisons la même vidéo en HD.
Nous utilisons le benchmark intégré de F1 2017 en boucle afin de simuler un jeu réel.
CPU options
The CPU options for this device are pretty straightforward – four core / eight-thread Intel Core i5-8300H or the six core / twelve thread Intel Core i7-8750H. Respectively, the former works at 2.30 GHz Base frequency and 4.00 GHz in Turbo, while the latter clocks lower at the Base – 2.20 GHz but reaches higher in Turbo – 4.10 GHz.
Les résultats proviennent du test CPU Cinebench 20 (plus le score est élevé, mieux c'est).
Les résultats sont issus de notre test de référence Photoshop (plus le score est bas, mieux c'est)
Les résultats proviennent du test Cinebench 20 Multi-core (plus le score est élevé, mieux c'est).
GPU options
When choosing a GPU option, you can pick the GTX 1050 Ti, if you are not really pretentious about gaming. However, if you are buying this laptop for its graphical capabilities you should stick to the RTX family. Here the options are the RTX 2060 (6GB GDDR6) and the Max-Q versions of RTX 2070 (8GB GDDR6) and RTX 2080 (8GB GDDR6).
Gaming tests
NVIDIA's GeForce RTX 2060 is completely capable of playing all of the latest titles at maximum details and at decent frame rates. The performance is similar to the GTX 1070.






Temperatures and comfort
Max CPU load
In this test we use 100% on the CPU cores, monitoring their frequencies and chip temperature. The first column shows a computer's reaction to a short load (2-10 seconds), the second column simulates a serious task (between 15 and 30 seconds), and the third column is a good indicator of how good the laptop is for long loads such as video rendering.

Average core temperature (base frequency + X); CPU temp.
| Intel Core i7-8750H (45W TDP) | 0:02 – 0:10 sec | 0:15 – 0:30 sec | 10:00 – 15:00 min |
| --- | --- | --- | --- |
| Dell G5 15 5590 | 2.86 GHz (B+30%) @ 79°C | 2.91 GHz (B+32%) @ 85°C | 2.99 GHz (B+36%) @ 90°C |
| Lenovo Legion Y740 | 3.39 GHz (B+54%) @ 75°C | 3.24 GHz (B+47%) @ 81°C | 2.89 GHz (B+31%) @ 72°C |
| Alienware 15 R4 | 2.86 GHz (B+30%) @ 93°C | 2.32 GHz (B+5%) @ 74°C | 2.31 GHz (B+5%) @ 66°C |
| ASUS ROG GL503GE | 2.89 GHz (B+31%) @ 66°C | 2.89 GHz (B+31%) @ 69°C | 2.53 GHz (B+15%) @ 71°C |
Intel Core i7-8750H is yet to be fully tamed by a laptop's cooling. In this case, the Dell G5 15 5590 didn't off to a good start, especially when compared to its direct competitor – the Legion Y740. Its clock speeds were around 500 MHz lower than the Lenovo, while the temperature was some 5C higher. However, this wasn't a trend throughout the entire test, since G5 15 5590 was able to maintain 2.99 GHz for the final part. On the other side, the temperatures were the scorching 90C, while the likes of Legion Y740 worked at 18C less and just 100 MHz lower frequency.

Real gameplay
| NVIDIA GeForce RTX 2060 | GPU frequency/ Core temp (after 2 min) | GPU frequency/ Core temp (after 30 min) |
| --- | --- | --- |
| Dell G5 15 5590 | 1400 MHz @ 72°C | 1438 MHz @ 70°C |
| Lenovo Legion Y740 | 1526 MHz @ 70°C | 1499 MHz @ 74°C |
Dell's G5 15 5590 was running its RTX 2060 at marginally lower clock speeds and around the same temperature as its competitor. This partially explains the lower average frame rate in games. Additionally – the G5 15 5590 was running super loudly, even for a gaming laptop.

Gaming comfort
Despite the loud fans, the laptop was actually very hot on the surface with the only space not affected by the heat of the internals being the palm-rest area. We measured a fingerboiling 54C just above the "0" key. We recommend playing with gloves.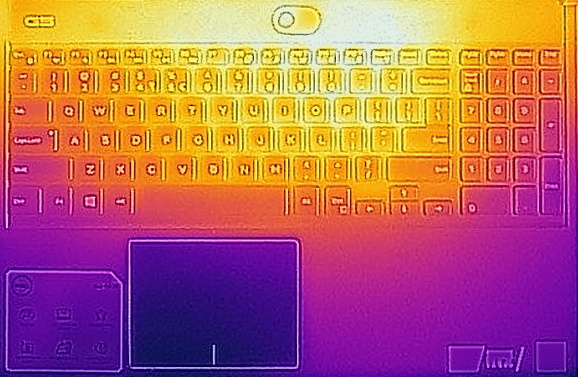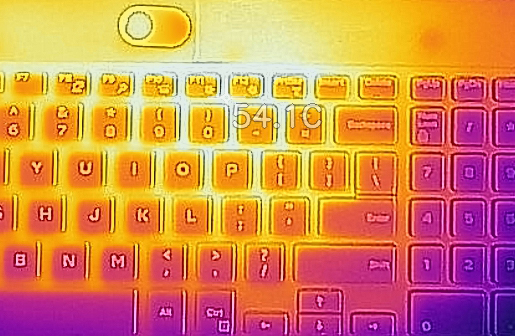 Verdict
Another day, another RTX laptop is on the market. Dell has always been a strong contender on the gaming market, especially since the acquisition of the Alienware brand. However, since they launched the G-series for more affordable gaming experience they do offer something rather interesting. However, it is still not the device we were hoping for. Yes, indeed it looks beautiful on the outside – by the way we like that lately, gaming laptops are being more and more undercover, but it just lacks in comparison to some other competitors.
First of all, the 60Hz 1080p panel (AUO AUO23ED) is average. Well, it doesn't use PWM and has a good contrast ratio, which is good, of course, but on the other side, it covers just 52% of sRGB and as a 60Hz display is not very pleasant for gaming. Thankfully, Dell has you covered with a 144Hz panel and even a 4K OLED option. However, these are coming at a price… quite literally.
Performance-wise we don't have anything to complain about. Both in benchmarks and in gaming, the laptop performed very well. Although, the RTX 2060framerates were just a tad lower than what we got with the Lenovo Legion Y740. Another super-fast feature of the laptop is its fingerprint scanner – blazingly quick. Additionally, there is a backlight (optional RGB) on the keyboard, which itself has a decent travel and tactile feedback.
Okay, actually, there is something to complain about. In order to give you this performance level, Dell has to push the RTX 2060 a little bit beyond the limits of what their design can handle. And we are not talking about the cooling system at all (yes it was loud as hell, but it did its job fine) – we are talking about the heat that reaches the outer body. More precisely – the keyboard. It was the scorching 54C with the only thing cool enough being the palm-rest area.
Enough bashing for this notebook. Let's finish this review with the amazing battery life it was able to extract from the smaller – 60Wh battery. In web browsing, we got around 8 hours, while watching videos we got 10-15 minutes less – definitely a great result, especially for a gaming device.
Pros
Exceptional battery life from the smaller 60Wh battery
Big I/O selection
Comfortable keyboard with RGB option
Lack of PWM (AUO AUO23ED)
Good build quality
Very fast fingerprint reader
Cons
Has a hot body – literally
Gets loud under stress
Covers only 52% of sRGB (AUO AUO23ED)
You can check the prices and configurations in our Specs System: https://laptopmedia.com/series/dell-g5-15-5590/