[Video Review] Acer TravelMate P2 (TMP215-54) – It gets better the more you dig in
Acer TravelMate P2 (TMP215-54) in-depth review
Acer's TravelMate lineup is often being overlooked by business customers in favor of the ThinkPads of Lenovo and Latitudes of Dell. However, in our opinion, this is purely out of popularity and image, and not because of the lack of quality from the Acer devices. Today, we're going to review the TravelMate P2 (TMP215-54). It is a 15-inch business notebook, which sits at the bottom end of the price spectrum. Acer sells it with Alder Lake-U processors. Ultimately, there is nothing too shiny about its design. This means that the manufacturer is looking for something flashy. Instead, they wa[...]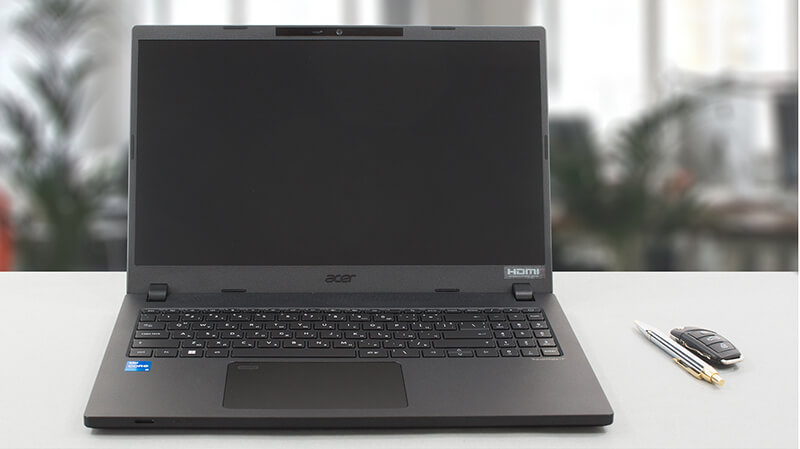 Pros
Good upgradability with two SODIMMs, M.2, and SATA ports
Great keyboard and touchpad
No PWM (Innolux N156HCA-EAB (CMN15E7))
Optional fingerprint reader + IR face recognition scanner
Decent performance (despite 45W charger)
Wide port selection with Thunderbolt 4 connector and MicroSD card slot
Cons
Covers only 52% of sRGB (Innolux N156HCA-EAB (CMN15E7))
Low-budget build
HDD/SSD
up to 1000GB SSD + up to 1000GB HDD
OS
Windows 11 Pro, Windows 11 Home, No OS
Battery
50Wh, 3-cell, 54.6Wh, 56Wh, 4-cell
Body material
Plastic / Polycarbonate
Dimensions
359.7 x 245.25 x 19.9 mm (14.16" x 9.66" x 0.78")
1x USB Type-A
3.2 Gen 1 (5 Gbps), Sleep and Charge
2x USB Type-A
3.2 Gen 1 (5 Gbps)
1x USB Type-C
4.0, Thunderbolt 4, Power Delivery (PD), DisplayPort
Ethernet LAN
10, 100, 1000 Mbit/s
Audio jack
3.5mm Combo Jack
Fingerprint reader
optional
Backlit keyboard
optional
Microphone
2x Microphones with Acer Purified Voice
Speakers
2x Stereo Speakers, Acer TrueHarmony
Security Lock slot
Kensington Lock
The TravelMate series from Acer brings quality machines that often get overlooked, in favor of Lenovo and Dell, and their ThinkPads and Latitudes. We are of the opinion that Acer simply needs better marketing to increase the popularity of its brands, as we think the TravelMate P2 that we have here is primed and ready to take on the competition.
[Intro]
Similar to a lot of other laptops in the price range, the P2 is made from plastic. This leads to some durability problems, while the surface itself is rough to the touch. The lid shows a fair amount of flex, but the base is tougher, thanks to internal bracing. What's more important is that it brings thin bezels, despite offering a Full HD webcam and an IR sensor for Windows Hello. For a 15.6-inch laptop, it stays on a strict diet, weighing 1.70 kg and having a profile of 19.9 mm.
[Input devices]
Now let's focus on the base, which has a large horizontal grill, housing stereo speakers, the keyboard, with long key travel and clicky feedback, as well as the touchpad. It has a fingerprint reader in the top left corner, which doesn't interfere with the clicking at all. It comes with an OceanGlass cover, made from ocean-bound plastic, but is just as smooth as regular glass, while also helping out the environment.
[Ports]
Moving on to the sides, we find two full-sized 5-gigabit USB ports and an audio jack on the left, as well as a LAN port, an HDMI 2.0 port, a Thunderbolt 4 port, and one more 5-gigabit USB port on the right. Lastly, there's a MicroSD card reader on the front, along with some status LEDs.
[Display]
The display on the front has a matte surface, a Full HD resolution, and an IPS panel. It's great for standard use, with good viewing angles and around 250 nits of max brightness. It also shows 0 PWM usage, so it's safe for prolonged use. In terms of professional design work, the panel covers 56% of the sRGB color gamut, while the accuracy goes down to 3.2 when using our Design and Gaming profile.
We'll leave links to all our profiles in the video description.
[Battery]
With a Full HD panel and a 54.6Wh battery pack, we're looking at 10 hours and 30 minutes of Web browsing, or 7 hours and 22 minutes of video playback.
[Performance]
We also have to mention that these results were accomplished with the Core i5-1235U, a 10-core, 12-thread CPU. The CPU performs exceptionally well, scoring well in both 3D and 2D Rendering.
[Cooling]
As the chip has a base wattage of 15W, it doesn't need a lot, cooling-wise. That's why there's only one heat pipe and one fan tucked neatly together in the center. The Core i5 does well in both short runs, with clock speeds of around 3.67 GHz and up to 55W in the first few seconds, which is great. From there, we see a drop to 33W and speeds of 2.83 GHz in the next 20 seconds. Lastly, in long runs, the CPU maintains a constant wattage of 28W and speed of 2.59 GHz.
Comfort is good, as, despite the good performance, the keyboard only heats up to 40°C.
[Teardown and upgradeability]
Finally, let's take a look inside. The TravelMate P2 has two SODIMM slots for DDR4 memory, along with one M.2 slot and space for a 2.5-inch SATA SSD drive bay. In the box of the device, there are mounting accessories, so installing one isn't a huge issue.
Our detailed teardown video shows how to access both the RAM and storage slots inside the laptop. We'll link it down below.
[Verdict]
The TravelMate P2 truly is a good business laptop, that doesn't and will not yield to the ThinkPads and Latitudes of the world. If more people open up their eyes to what's in the market, they'll find out that there are excellent devices with great features and good performance.
For more info about the laptop, check out our written review on our website, which goes further in-depth and includes more tests and benchmarks.