GPD WIN GamePad – extremely portable gaming station with Windows 10 (+ LM discount code)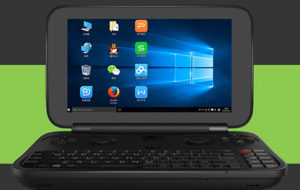 Hey there. We are back with another short but informative article about a very portable assistant that may remind you of a Nintendo game boy. We are talking about the GPD WIN gamepad – currently on promotion at our partners from GearBest.
It really is a very unusual device – it is like a downsized laptop and when opened, it will strongly remind you of the game boys of yesteryear. Why is that? Well, we believe the images here speak for themselves – you can clearly see some controls which are as if taken from an old video game controller – joysticks, a D-Pad as well as ABXY keys. These are also accompanied by a small keyboard. But to find more about it, please read on.
If you happen to show interest in this compact fellow, you could check its current availability and price here.
We would like to stress on the fact that we can knock a few dollars off the already attractive offer by providing you with a coupon code. If you type in the "GBTPC" code, you will be able to purchase this device for $311.98.

Design and Display
Alright, so this small fellow will not impress you with aggressiveness in its looks and neither will it grab you with the choice of premium materials. No. What is so charming about it, however, is its compactness (15.50 x 9.70 x 2.20 cm), on the one hand, and pretty controls that gaming fans will truly love, on the other.
We must also touch upon the display section. Since we are dealing with a pocketable device, we can't expect a huge screen. The GPD WIN offers a 5.5-inch IPS display, which is 5-point capacitive. Indeed, it is not the most immersive screen size but it will do just fine while you are playing games in the bus.

Hardware and Software
Now, let us have a look at what this gamepad has to offer in terms of hardware. Firstly, there is a quad-core Intel processor (1.6GHz – 2.4GHz) accompanied by an integrated graphics card, 4 GB of RAM and 64GB of internal storage. Of course, there is a TF card slot, so you can expand if need be. This configuration is truly a decent one for such a small entertainment station.
Additionally, you will also benefit from a large 6000 mAh battery, which sounds massive for a device of this form-factor. According tot he manufacturer, it should hold up for 80 hours of music playback, between 6 and 8 hours of online games, and 672 hours of standby.
What's more, this gamepad comes with a Windows 10 OS pre-installed. This is great because you will not have to pay additionally for an OS and worry about its installation.
If you happen to show interest in this compact fellow, you could check its current availability and price here. Don't forget to use our coupon code!

Specs sheet
OS
Microsoft Windows 10
CPU
Intel Cherry Trail Z8700 (quad-core, 1.6GHz – 2.4GHz)
RAM
4GB
Storage
64GB
GPU
Intel HD Graphics
Display
5.5-inch 1280 x 720p 5-point capacitive IPS display
Connectivity
802.11a/b/g/n/ac, Bluetooth 4.1
Features

TF card up to 128GB (not included)
micro HDMI
Type C
3.5mm audio jack
Joystick, D-pad, ABXY buttons
keyboard

Battery
6000 mAh
Dimensions
15.50 x 9.70 x 2.20 cm
Weight
300 grams
Gearbest is running a flash sale with great promotions – check it out here: GEARBEST Flash Sale