Acer Predator 8 gaming test (video)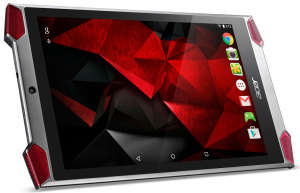 After our recent review of Acer Predator 8, we will pay more attention to its main feature, which allows the users to enjoy the gaming experience.
We did some gaming tests to examine the capabilities and performance of Predator 8. This tablet has a powerful 4-core Atom Z8700-x7 Intel processor, clocked at 2.4GHz and Intel HD Graphics video, so we have selected some of the most demanding games offered by the Google Play store.
The first one is Dead Trigger 2 – best zombie shooter ever – which failed to overwhelm the tablet – at the highest settings, we scored 38 fps.
We conducted our next test by using the Real Racing 3 racing game. It ran without any issues. You can watch the video below.
You can find more information about the price of Acer Predator 8 here:
http://amzn.to/1N2qURb